Beautiful PRIVATE TROPICAL Guest House in Topanga Canyon! Look up Cody Simpson & Ziggy Marley's video, "Love" on You Tube for video of property! 1 NIGHT STAYS ARE $225/NIGHT. MSG 4 INFO, NO DISCOUNTS on 1 night stays. Weekly & Monthly rates available, rates depend on season -- please inquire for long term stays. Rates vary per season & day of week -- please enter dates in calendar for pricing, rate as shown on listing is base rate! PLEASE READ ENTIRE DETAILS/LISTING BEFORE MESSAGING.
What guests are saying:
"It is hard for me to put into words how incredible Darrell's place is. And it's hard to be succinct because there are so many great things to say! As many previous guests have stated, it is even more gorgeous in person. If I could offer advice to future guests it would be to stock up on groceries and never leave the property! It's just so wonderful and relaxing that every minute away from it seems like a waste! The only reason we left was to check out Darrell's awesome vintage store. Which I recommend! I was worried about the lack of AC as it was supposed to be super hot when we were there. I didn't need to worry at all! There is so much shade that we never felt hot. And the fans in the house are awesome! Speaking of the house, the bed is sooooo comfy. And Darrell has all sorts of items in case you forget something. Brand new tooth brushes, lotion, even nail polish remover! The kitchen is the perfect size for two people. We cooked all of our meals and enjoyed them outside. He provides insect repellent. Definitely use some if you're prone to bites. We fell asleep outside two evenings and got some bites, so I was glad we were wearing the repellent. And speaking of the outside at night...OH MY GOODNESS. It's a dream! There are a few negative reviews regarding there being grounds people or guests seeing Darrell tending to the plants. In response to that I want to say that he tries so hard to give his guests the utmost privacy. One morning he was tending to the plants, but it was very clear that he was being very careful to give us space. He is very friendly when you chat with him, but he lets you decide on the amount of interaction, which is really nice. I think it's also important to remember that the property has a ton of tropical plants that are not native to CA. So in order to keep such beautiful grounds, they have to be tended to regularly! I honestly don't know how anyone could give Darrell a negative review. My husband asked him how many years he spent working on creating this oasis and he said about 40!!! He told us about his next project. He clearly is always working to improve the space—which is already perfect! Assuming he will have us again, we are planning to try to come back once a year or so for a few days away from the stress of every day life 🙂. One last thing, my husband and I have been taking the virus very seriously. I was worried about keeping this reservation as we booked it before CA issued stay at home orders. Darrell requires masks during his property tour, he told us more than once that he heavily disinfects the surfaces in between all stays, and in his shop he has several rules in place for a safe visit. This was the perfect place for us to continue our quarantine and we felt incredibly safe."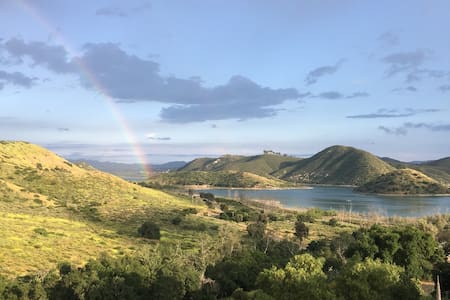 SUPERHOST
Entire guesthouse · 2 guests · 1 bed · 1 bath
Hilltop cabin retreat with lake & mountain views
Rustic hilltop cabin overlooking Lake Hodges. Queen bed & small sleeping loft. Views from front & side deck, inside cabin, & outside shower. Urban amenities just a few miles away, but this small private cabin is surrounded by open canyons. A short walk to lake with boating, fishing & miles of hiking/mountain biking trails. Property offers swimming pool, fire bowl, shaded arbor and, by arrangement, yoga & massage. SD Zoo Safari Park, Stone Brewing, & ocean beaches all within easy reach.
What guests are saying:
"Tucked away atop a hill overlooking Lake Hodges, you can find this peaceful cabin. The owner, Mara, greeted us when we dropped off our perishables and again once we checked in. Walking to the cabin you will see a variety of flora and fauna, from goats to bushes of lavender. At the very top you see a green cabin, filled with thoughtfully places trinkets that make you feel like this place is home. For example, there are magic windows that can turn in different directions. There is also a hidden loft that can only be accessed via ladder within the cabin. The outdoor shower gives you a serene look at the lake. Lastly, the ambiance makes you forget of the craziness of the outside world."
Relax around the romantic fire pit in the private yard of this bright pool house in Sherman Oaks. Unwind in the heated pool, or head inside to whip up lunch in the full kitchen. There is also a detached studio featuring a treadmill, desk, and TV. Proximity to all Los Angeles attractions. This is a private home, not a guest unit, not shared by hosts or other guests.
What guests are saying:
"I think the best place to start is with Vince. He is the heart of this home and went above and beyond to make our stay absolutely perfect! So responsive and ready to answer any questions or help with any requests we had. The house reflects Vince's spirit as well. Great attention to detail, clean and he even left thoughtful little details like hand sanitizer and wipes and snacks. The pool is awesome and was definitely the highlight for our family! The backyard space itself is huge and has lots of privacy which was nice too. We had everything we needed and appreciate having had the opportunity to stay here. Thanks for making this quarantine weekend away exactly what we needed. Hope to be back here soon!"