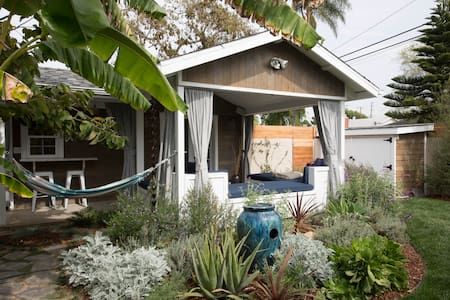 SUPERHOST
Entire guesthouse · 2 guests · 0 beds · 1 bath
Culver Urban Oasis - Relax in Total Privacy!!
We have created this secluded urban oasis for you to unwind after exploring our beautiful city, stunning mountains, or pristine beaches. We are adventure partners who love to travel, surf, and run on trails...and to build! Relax and enjoy! NEW, Now with Air Conditioning!
What guests are saying:
"I feel very lucky to have found such a beautiful, quiet spot in Culver City. The garden here is everything. It was private, filled with lavender bushes, banana tree plants, and gorgeous orange flowers. Even the rain didn't stop me from enjoying the garden. ;-) The small kitchen area had everything I needed, good coffee and coffee mugs, small pot to boil poached eggs for breakfast, and a hidden microwave. Bed-sheets are soft and pillows comfy. Smart touches all around. If I were to offer any tip, I'd say play around with the remote controls, because there are many, and they do different things, control lights, fan, ac, and maybe one opens a door to a magic door! Blessed to stay here, for sure."
Room w/ private entrance + air conditioning. Walk to beach strand/bike path. Keurig, fridge, toaster, (Netflix, amazon). Own Bath. By Wholefoods, Starbucks. Get Lyft card when booking 6 nights or more. 25 min from LAX, 45 min DTLA. Walk to Beach to Life Festival. Important note: As of Oct 1st you MUST have your Real ID card before boarding any plane. If you don't have one you will be turned away at all airports.
What guests are saying:
"I stayed for a full month in Angela's home just a short walk away from Redondo Peach Pier. It was worth every penny as Angela lived up to her super host reputation. Her sweet little loveable dog, Bailey, was truly the cherry on top. The accommodations were perfect. A private bathroom, separate entrance and the adorable patio were really nice. The decorations were perfect and complimented the aesthetics nicely. Bikes are available for you to us anytime too while street parking wa always available. Whole Foods is a block away along with my new favorite divey breakfast diner, Eat at Joe's! Western Bagels down the road was also delicious. And for dinner/dessert I highly recommend Hook & Plow in the village. It is delicious! There is a farmers market in town with well priced produce, eggs and flowers too. Angela is genuinely one of the most kind, patient, funny and love-able people I have ever met. Her presence is such a joy. She is hands down the most thoughtful host I have ever met. I can't recommend this air b n b more! If you are on the fence - just do it! You deserve it. And Angela/Bailey are waiting to greet you with open arms."
SUPERHOST
Entire guest suite · 2 guests · 1 bed · 1 bath
Guest Suite, Private Ent., 5 min LAX, Westchester
Self Checkin (door code). Studio guest suite with its own private entrance. 5 min to LAX. Cozy, quiet, cool/heat AC, queen size bed, microwave, coffee machine, big TV. Amazon TV and Netflix.
What guests are saying:
"Charming and quiet room off of a nice little patio - exactly as pictured and super clean. Nice bathroom and big closet. Very comfy bed. Easy to find and nice residential neighborhood close to LAX. Easy and safe street parking. Thoughtfully appointed and exceptionally clean. A little oasis in LA at a reasonable price. Very easy self-check-in and check-out. I highly recommend Isaac's place!"