Located in the hills above beautiful, Santa Barbara the feeling of Tuscany surrounds you. You will be staying in a separate guest apartment with its own private enterance and courtyard with a 180 degree view of the spectacular coastline. The finest amenities complete your quiet mountain "get-away" All that Santa Barbara has to offer; Restaurants, shopping, beaches and wine tasting are within 5 miles and a beautiful scenic drive away. The Zoo, Botanic Gardens and Mission are within 4 miles.
What guests are saying:
"Fantastic views and a really lovely, winding drive up to the secluded mountain retreat. We happened to be there during a rather overcast time in Santa Barbara, and it was still lovely. Tony's extra touches with the hiking maps, "honor bar" and well-stocked kitchen made it easy to relax and feel at home. It is blissfully quiet and if you get clear skies, the view is unmatched. Only about 15 minute drive to downtown and the roads are fun to navigate. Would absolutely return!"
One mile from downtown Carpinteria and the state beach. Brand new 400 sqft tiny home with a 400 sqft deck for perfect indoor/outdoor living. A relaxed, efficient and comfortable place to stay with full sized appliances, tall ceilings and 2 sleeping lofts. Plenty of space for 1-2 people, a small family, or 4 adventurous people. The large cantina window allows for beautiful natural light and easy access to deck seating. Pets welcome! Full fenced in yard surrounding property.
What guests are saying:
"We were taken back by the views and unique location of the Tiny House, giving us a memorable vacation we couldn't had possibly had if we'd stayed elsewhere especially a hotel. Well-appointed for a comfortable stay, we made it work well for 4-people. The grill is easy and nice, comfortable beds and everything we needed in the kitchen. The best part is waking up to the view! Perched amongst avocado groves, the privacy and easy access to amazing beaches and hikes will bring us back again. Great hosts too."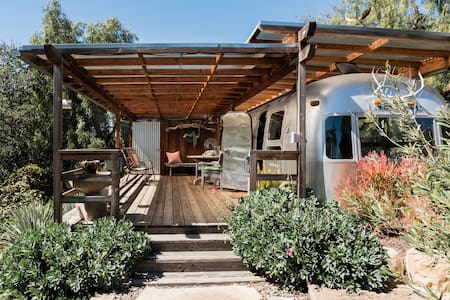 PLUS
Campervan/RV · 2 guests · 1 bed · 1 bath
Kick Back in an Iconic 1974 Airstream on an Organic Ranch
Start California dreaming in a restored 33-foot Airstream a short drive from bohemian Ojai. Tan leather and cowhide soften the metallic edge, while the intimate patio nestled in a small avocado orchard provides a peaceful place to relax.
What guests are saying:
"Such a unique and delightful experience staying in the Airstream! It was a weekend enjoying the area of Santa Barbara and we had both rain and shine. In whatever weather condition, we were so comfortable and cozy in our little piece of trailer heaven. Delia, our hostess, thought of every detail. We had cookies on the counter, organic cream for coffee in the fridge, and fresh flowers on the counter. Fair warning that the bathroom and shower is outside (but private). A robe is recommended. I would highly suggest you book this incredible hidden gem in the hills of Carpinteria."