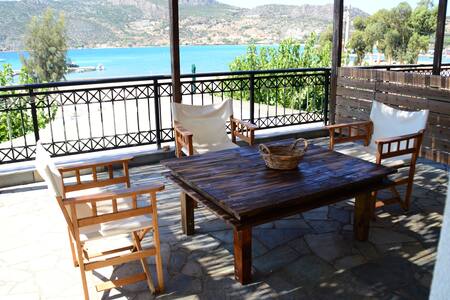 SUPERHOST
Entire apartment · 4 guests · 5 beds · 1 bath
Monemvasia-Plitra House, close to amazing beaches
The house has the most amazing view of Plytra Bay. Plytra besides having one of the most beautiful sandy beaches, is a very convenient midpoint for one day excursions to Elafonisos, Monemvasia, Kithyra, Diros Caves, Gythion, Sparta, Mani and other attractions of Lakonia. The house is located on the NE of the bay on the first floor of a private building right on the waterfront. Early morning tranquility on the spacious veranda is the most attractive aspect of this holiday house. Also for winter.
What guests are saying:
"Stylish, well organised family home with a beautiful spacious balcony looking directly on the sea. You get at the apartment everything you need. Poros is a very small village. For the first view it might seem less attractive for some, but after you explore the neighborhood a bit, the nice hidden bays, beaches, tavernas and last but not least the friendly athmosphere, you will find it perfect. The location is equally great to visit Mani peninsula, Monemvassia or Elafonisos, while Foteini is a great host with very good communication and recommendations."
ESCAPE THE CROWDS AND RETREAT TO LACONIA Enjoy our private, COVID-19 compliant clean, and stunning 530m² (5,700 sq. ft.) retreat home that sleeps up to 14 guests, overlooking azure seas in a remote and secluded Greek fishing village. Take a five-minute walk to postcard-worthy Blue Flag beaches, waterfront cafes and taverns, a stone dock full of wooden boats, and the ruins of Ancient Asopos.
What guests are saying:
"We had a wonderful stay in George's villa. The villa is just as beautiful and spacious as shown in the pictures, plus we found all sort of facilities we needed. We spent a full week there and cooked at home most times, and yet we did not to buy ANYTHING apart from food. We did not need to interact much with Ted (who gently welcomed us in place of George) but the check-in / check-out were quick and smooth. Plytra is a very quiet village and the larger beach is just amazing (crystal clear water, white sand, free parking, 4 eur/day for a full beach set including umbrella and 2 sun beds). The beach is walking distance (~15 minutes walking, or a few minutes by car). Consider need for a car to reach nearby towns (Plytra offers just one mini-market with the essentials, you may easily need to drive for proper shopping or wider food offering). There are a few tavernas in town - all of them are very cheap but there is little variety and we found the food quality average. A car is also recommended for trips to nearby Elafonissos (40 mins car + 10 min ferry boat) and Monemvasia (30 mins by car). The Mani area is also reachable with daily trips. Overall, a paradise for families with children and more in general for everyone looking for a quite stay."
Στον όμορφο και ήσυχο οικισμό "Καραβοστάσι" της Πλύτρας Λακωνίας διατίθεται διαμέρισμα, διαμπερές, με θέα θάλασσα, με: ευρύχωρη επιπλωμένη βεράντα, ενιαίο χώρο με εξοπλισμένη κουζίνα (ψυγείο, κεραμικές εστίες κλπ.), άνετο σαλόνι με καναπέ - διπλό κρεβάτι, ένα (1) υπνοδωμάτιο με διπλό κρεβάτι και ένα WC με ντουζιέρα. Απέχει μόλις 5 λεπτά με τα πόδια από την πανέμορφη αμμώδη παραλία του οικισμού. Ιδανικό για 4μελείς οικογένειες.
What guests are saying:
"This great apartment is right by the beach at a 5 minute walk. The beach itself is gorgeous!!! Sandy beaches turquoise blue, the warmest waters I have ever had the pleasure to swim in. Ideal for families with young children as you can go in the water for meters and meters and you are only until your knees. Raw nature, not too many tourists. Very close to many great attractions such as Monemvasia! Great near by restaurants serving fresh fish. Everyone here in general is very friendly. Our host Mr Andonis was very helpful and friendly bringing us fresh fruit in the morning. The apartment itself was immaculate, brand new perfect for my families of 4. I totally recommend this place :-) Nancy"