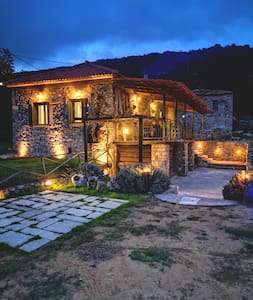 SUPERHOST
Entire house · 7 guests · 3 beds · 1 bath
Kalamata Messinia Cozy Country House Mountain View
Το παραδοσιακό αυτό σπίτι των 200 περίπου χρόνων βρίσκεται στο χωριό Πολιανή της Μεσσηνίας σε ύψος 680 μέτρων στην αγκαλιά του Ταϋγέτου. Το χωριό είναι περιτριγυρισμένο απο κατάφυτες βουνοκορφές καθώς απλωνεται μέσα σε έναν εύφορο κάμπο γεμάτο μηλιές,καρυδιές και σιτηρά που τον διασχίζουν δυό ποταμοί. Ιστορικά η Πολιανή έχει καταγεγραμμένους μέχρι και σήμερα πάνω από 45 βυζαντινούς ναούς ενώ σώζεται από τη Βυζαντινή περίοδο ο ναός Κοιμήσεως της Θεοτόκου με αξιόλογες τοιχογραφίες του 12ου αιώνα.
What guests are saying:
"Gorgeous little stone cottage tucked away in the mountains with all the modern necessities. The house has been modernised so well, but still maintains its traditional feel. Poliani as a town, is gorgeous. We had such a lovely dinner at the local tavern, with delicious local food and warm Greek hospitality. We watched birds of prey soaring on the thermals above us, and enjoyed drives through the secluded mountain roads. We would not hesitate to book with Sarantos again, and neither should you."
Fully equipped stone house at mountain Taygetos. Very close from many other picturesque villages. Ideal for relaxing into the nature,tasting traditional food,hiking in beautiful paths climbing,biking, collecting mushrooms e.t.c.Only 25 Km. away from the beaches of Kalamata and also about 85 Km from the ski centre of Menalo! An ideal destination for every season of the year!!! Free parking and super fast internet connection (50Mbps) are available
What guests are saying:
"We spent two weeks at the Dionisis house during the New Year holidays. Great place to relax from the bustle of the city! The house is located about half an hour from Kalamata on a small but good mountain road, so it's easy to get to shops and interesting sights (although it's better not to drive in the dark at night - there are stones falling from the slopes directly onto the road roadway). The village where the house is located is small, quiet - only dogs bark and roosters sing. Very bright stars at night :) The house itself is one-story, but spacious, plus there is a veranda and a back yard with a hammock. Cozy living room-kitchen, two bedrooms, shower room. There is a semi-automatic washing machine, gas stove with oven, roaster, small TV, stereo system, air conditioning in all rooms. Wonderful fireplace! True, I would like to add a kettle to the kitchen :) And it can be cool in winter - the house is at an altitude of 650 meters, it is 5-7 degrees colder here than on the coast in Kalamata. Saves the fireplace and air conditioning in heating mode, plus warm socks :)"
Traditional guesthouse "Smaro" is located in the village Artemisia, Kalamatas in 750 hight of the mountain Taygetos. Artemisia is located 20km from Kalamata and 35 km from Sparti. Guest house "Smaro" was initially built in 1800ac and completely renovated in 2006 to the highest standards. Spaces: Ground floor: Spacious Living room with fireplace, open plan kitchen Mezzanine: Dinning area 1st Floor: 2 double bedrooms with king size beds, ensuite bathrooms, studies and balconies.
What guests are saying:
"The house is just amazing!!! Located in a traditional village just 15 minutes from the city of Kalamata, so you can enjoy the quiet of the mountain and the same time you can be in a city center. This medieval house is much more beautiful than it looks at the photos, it is very clean, very specious with real Greek hospitality!!!!"