SUPERHOST
Entire apartment · 3 guests · 2 beds · 1 bath
Cozy and homely apartment w/free parking - wifi
Γωνιακή, δίχωρη, φωτεινή, με ιδιωτική είσοδο γκαρσονιέρα, με μεγάλη βεράντα (όπως φαίνεται στην φωτογραφία) και ελεύθερο χώρο στάθμευσης. Προσφάτως ανακαινισμένη (έπιπλα, τηλεόραση, κλιματιστικά) με πολύ γούστο. Απέχει από το κέντρο της Καλαμάτας περίπου 12-15 λεπτά με τα πόδια και περίπου 2 χιλιόμετρα από την παραλία της πόλης μας (θα χρειαστείτε αυτοκίνητο). Το διαμέρισμα βρίσκεται πολύ κοντά σε σούπερ μάρκετ και η στάση λεωφορείου είναι δίπλα, που οδηγεί στο κέντρο της πόλης και την θάλασσα.
What guests are saying:
"Great location, comfortable for 2 people. There is an air conditioner in both the main room and the bedroom, which was great! The only downsides are the noises from the highway, which is the next street over— not bad at night but it will wake you up in the morning— and the WiFi is VERY slow. Otherwise the space is very nice, and the homes immediately around it are well taken care of. Pleasant to sit out on the balcony in the mornings. Parking is convenient, and our host was friendly and made sure we had everything we needed. Great place!"
It is a luxurious elevated halfground apartment of 60 square metres,in a two-storied detached house built 2012.My space is near beach, activities for families, nightly life and airport. It is a bright space, suitable for pairs, activities for a individual, professional travellers, families (with children) and big teams.
What guests are saying:
"Absolutely adored Elli's beautiful children! Their welcome and attention to detail in explaining everything I needed to know about the apartment and directions to Kalamata's public square along the waterfront was polite and in a very understandible English. Thank you Anastasia & Peter!"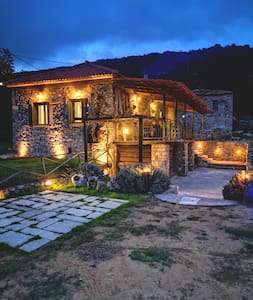 SUPERHOST
Entire house · 7 guests · 3 beds · 1 bath
Kalamata Messinia Cozy Country House Mountain View
Το παραδοσιακό αυτό σπίτι των 200 περίπου χρόνων βρίσκεται στο χωριό Πολιανή της Μεσσηνίας σε ύψος 680 μέτρων στην αγκαλιά του Ταϋγέτου. Το χωριό είναι περιτριγυρισμένο απο κατάφυτες βουνοκορφές καθώς απλωνεται μέσα σε έναν εύφορο κάμπο γεμάτο μηλιές,καρυδιές και σιτηρά που τον διασχίζουν δυό ποταμοί. Ιστορικά η Πολιανή έχει καταγεγραμμένους μέχρι και σήμερα πάνω από 45 βυζαντινούς ναούς ενώ σώζεται από τη Βυζαντινή περίοδο ο ναός Κοιμήσεως της Θεοτόκου με αξιόλογες τοιχογραφίες του 12ου αιώνα.
What guests are saying:
"Gorgeous little stone cottage tucked away in the mountains with all the modern necessities. The house has been modernised so well, but still maintains its traditional feel. Poliani as a town, is gorgeous. We had such a lovely dinner at the local tavern, with delicious local food and warm Greek hospitality. We watched birds of prey soaring on the thermals above us, and enjoyed drives through the secluded mountain roads. We would not hesitate to book with Sarantos again, and neither should you."