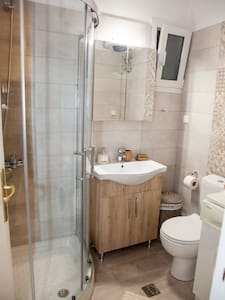 SUPERHOST
Entire apartment · 4 guests · 3 beds · 1 bath
Διαμέρισμα 50τμ-κέντρο Κοζάνη Studio Kozani centre
Το διαμέρισμα βρίσκεται στον 1ο όροφο πολυκατοικίας, 5' με τα πόδια από το κέντρο της πόλης και 3' από τα ΚΤΕΛ. Διαθέτει wifi, αυτόνομη θέρμανση 24ώρες & air-condition & είναι πλήρως εξοπλισμένο με όλες τις οικιακές συσκευές. Μπορεί να φιλοξενήσει μέχρι 4 άτομα σε ενιαίο χώρο (1 διπλό κρεβάτι και 2 καναπέδες-κρεβάτια).Παρέχει εύκολη στάθμευση στο δρόμο και βρίσκεται δίπλα σε 2 φημισμένους,αποκριάτικους φανούς (Αλώνια,Αριστοτέλης).Οι επισκέπτες θα απολαύσουν την παραδοσιακή κοζανίτικη φιλοξενία!
What guests are saying:
"The apartment is warm, bright, beautifully decorated, with modern and traditional touches, as well as very clean, in addition the neighborhood is quiet with relatively easy parking, Mr. Antonis, our host, polite, always available to serve us but also discreet. We would be happy to recommend this accommodation to others."
Ένας φωτεινός χώρος, ευάερος και ευήλιος, προσφέρει άνετη φιλοξενία σε 3 άτομα. Διαθέτει τηλεθέρμανση.Το σπίτι βρίσκεται σε απόσταση 5km από την πόλη της Κοζάνης.Υπάρχει αστική συγκοινωνία από και προς την Κοζάνη κάθε μία ώρα ξεκινώντας από τις 6:00 π.μ έως και 21:15 μ.μ. Χώρος ιδανικός για χαλάρωση και επαγγελματικά ταξίδια.
What guests are saying:
"We visited this place during really cold weather. It was really cozy and close to the town if you're using a car. Recommended for sure!"
The house offers a warm enviroment you are going to love. It wiil really make you feel like home . The utilities are great. The house is located in the center of the town so you can enjoy a walk anywhere you like. If you are looking for a cozy and beatiful house look no further
What guests are saying:
"THE HOUSE WITH ASTONISHING THAT NEED ...! FOLLOW THE HOUSE HOT ... RIGHT FROM THE CENTER ... BENEFITS OF HOUSE APISTEFTES NOT YOU MISSING FAMILY TIPOTA..I hosts very helpful and very pleasant AND THAT THE TIME IS NEAR YOU CHREIASTEIS ..! THAT'S NEVER GOING again..Thank you very much for the hospitality ..."