A small stone house amidst olive trees situated in a large private property with amazing sea view where guests can find peace and quietness. The house is of walking distance to a beautiful sea and to the village where our guests can enjoy both the crystal clear beaches and the various restaurants , coffee shops and events . While staying with us they will be able to also enjoy some of our organic fruits and vegetables , home made goat cheese, fresh eggs , olive oil and olives.
What guests are saying:
"Our top ten in "little Paradise" 10. Having great spots nearby like the open market in Kalamta or the ancient city of Koroni and Methoni, te waterfalls of Polynimnio and much more. 9. The overwhelming view every day from the terrace. Flowers in the garden, olivegroves down to the see and the snowy hills of the Taygatos. 8. A bloody beautiful sunrise every morning what you can see out of the bed. 7. The yummiest olive oil from Bob and Fontines own production. If you have the possibility to take it home, ask them to sell you some. You won't regret. They give really a lot of passion to the production. The quality is amazing 6. To reach a shop, a bakery, a grill and a restaurant by foot. 10-15 minutes of walk. 5. To reach the beach on foot in ten minutes. A nice walk through the olive groves brings you directly to a sandy beach. Completely empty in winter time. You can have a nice walk there, search for great stones or just sit and read. 4. Great hiking possibilities through the wonderful olive groves. You can start directly from the house and walk for hours at pretty field trails in each direction. 3. The perfect quietness and nature directly around us. 2. Having this cozy little wooden stove in the room which let you stay warm in winter time and makes a romantic atmosphere. 1. Get to know Fontine and Bob! The most open hearted, warmest, thoughtful,, kind and great hosts you can imagine. This could be continued for a while, so do not hesitate to visit this woderful place!"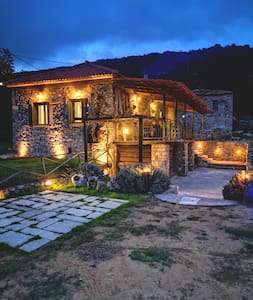 SUPERHOST
Entire house · 7 guests · 3 beds · 1 bath
Kalamata Messinia Cozy Country House Mountain View
Το παραδοσιακό αυτό σπίτι των 200 περίπου χρόνων βρίσκεται στο χωριό Πολιανή της Μεσσηνίας σε ύψος 680 μέτρων στην αγκαλιά του Ταϋγέτου. Το χωριό είναι περιτριγυρισμένο απο κατάφυτες βουνοκορφές καθώς απλωνεται μέσα σε έναν εύφορο κάμπο γεμάτο μηλιές,καρυδιές και σιτηρά που τον διασχίζουν δυό ποταμοί. Ιστορικά η Πολιανή έχει καταγεγραμμένους μέχρι και σήμερα πάνω από 45 βυζαντινούς ναούς ενώ σώζεται από τη Βυζαντινή περίοδο ο ναός Κοιμήσεως της Θεοτόκου με αξιόλογες τοιχογραφίες του 12ου αιώνα.
What guests are saying:
"Gorgeous little stone cottage tucked away in the mountains with all the modern necessities. The house has been modernised so well, but still maintains its traditional feel. Poliani as a town, is gorgeous. We had such a lovely dinner at the local tavern, with delicious local food and warm Greek hospitality. We watched birds of prey soaring on the thermals above us, and enjoyed drives through the secluded mountain roads. We would not hesitate to book with Sarantos again, and neither should you."
It is a luxurious elevated halfground apartment of 60 square metres,in a two-storied detached house built 2012.My space is near beach, activities for families, nightly life and airport. It is a bright space, suitable for pairs, activities for a individual, professional travellers, families (with children) and big teams.
What guests are saying:
"Absolutely adored Elli's beautiful children! Their welcome and attention to detail in explaining everything I needed to know about the apartment and directions to Kalamata's public square along the waterfront was polite and in a very understandible English. Thank you Anastasia & Peter!"