Cozy cottage in the countryside. Excellent position. Located at 700 m. from the town of Bezzecca. Near the bike path that leads to Lake Ledro. It has a fenced veranda with green space for the comfort and safety of your dog. Large private sunny lawn. On the first floor: equipped kitchen (fridge, dishwasher, microwave), living area (with TV and pellet stove) and bathroom. On the upper floor the open space used as a sleeping area. Bicycle storage.
What guests are saying:
"It was the first holiday with our 4 month old baby ... what to say ... we could not have chosen a better place! The house, surrounded by the Valle di Ledro mountains, is very welcoming and clean. With a pleasant walk of 5 minutes you reach the village of Bezzecca (really nice and interesting to discover) while to reach the lake it takes just a few minutes by car or 20 minutes on foot (taking the path designed for pedestrians / cyclists). Even our dog enjoyed the holiday between races in the meadows and swimming in the lake! Added value is the kindness of Germana and Carlo who have always been available for every need. We recommend this accommodation to anyone who wants to spend a pleasant holiday in the beautiful Valle di Ledro"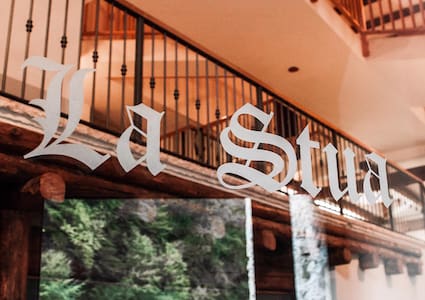 SUPERHOST
Entire apartment · 3 guests · 2 beds · 1 bath
Appartamento a Ballino, CIPAT 022083 AT 064145
Appartamento accogliente, in una casa colonica recentemente ristrutturata. Ottima tappa per i bikers. Dista 5 km dal lago di Tenno e 10km dal lago di Garda dove si può arrivare comodamente in bici, a piedi e in auto. Presente stufa a legna con fuoco a vista. Ballino è a 10 dai Mercatini di Natale di Rango e di Canale di Tenno, i più suggestivi del Trentino.
What guests are saying:
"WOW!!!!! This place is gorgeous! What an incredible hidden gym nestled in a beautiful town high up on the mountainside. If you love the mountains, this is the place to be. Perfect apartment, has everything you need. I loved the rustic look and feel of this apartment. The balcony is wonderful and I sat out there many days enjoying my coffee and the incredible views. Also, if you love cycling, this is the place to enjoy it. The town is very peaceful and quiet and just a short ride to restaurants, shopping etc. I highly recommend this place if you are looking to get away from the crowds and want to rest and relax. Check in was easy and communication was very good. Thoughtful touches included snacks, milk and fruit left for me. Also, highly recommend, the pizzeria next door, owners are wonderful and lovely people. I loved this place so much that I noticed one unit for sale and inquired how much it's selling for!! Beautiful place and will definitely will return in the future! Grazie Elena! A presto!"
Unique and bright second floor terrace 65 m2 apartment in an historical building ,straight ON the lake, feat. a private balcony facing Monte Baldo and the tiny old marina . Lately renovated in 2020, it welcomes you in a romantic suite with luxury details, no neighbors, a perfect hideaway for couples and families. Close private car park in a garage with free shuttle service. Enjoy the Garda Lake and our charming town from the best view ever!
What guests are saying:
"Great place and a 1:1 match of what we found as compared to what was promised. Cinzia and Joerg have put lots of thought into the layout and design of this 2-room appartment. The walk-in warderobe next to the sleeping room keeps all the stuff out of your way. The appartment is in top-notch condition and shows no signs of usage-all you need is there. If you want to do a picknick, hang-out at the beach of Lago die Garda or iron your dress for a dinner in one of the many restaurants: you will find everything you need. Very intimite and quite place-although situated in the heart of vivid Limone sul Garda. This is the unique thing about the appartment: centered but quiet and not to speak about the breathtaking view from the balkony. Finally, one sentence about Covid-19: We stayed one week from June 20th 2020 onwards. The public life in Lombardy and Trento region definitely feels safe. Everything is well organized, whether you shop or go out for lunch or dinner. Good signage, some check & controls, overall good leading-by-example by carabinieri and public staff. At the end it also depends on us as visitors if we stick to the rules. So, our statement as cautious fellows: we felt safe in every situation and cannot see any reason to cancel or postpone a holiday trip in this part of the world. Stay safe, Nilguen & Christian"