New cabin on the Delta islands with river, park and beach coast. Made in wood, with large windows to enjoy the island's foliage. It is reached by Interisleña collective boat from Tigre or taxi-boat to the pier itself. It has a bedroom with double bed, high density mattress, full bathroom, living-dining room with integrated kitchen. It has covered terrace with deck floor and outdoor furniture. Equipped for two people. Wifi, 2 airs split cold-heat, grill.
What guests are saying:
"Carla's house is comfortable, decorated with details that give it a lot of warmth. It is as beautiful as it looks in the photos, located in a very quiet place, ideal for resting. It is in perfect condition, equipped with everything necessary for cooking, refrigerator and electric stove. It has air conditioning and stove. There are 2 stores nearby, one can be reached on foot and the other by canoe. Another option is to make an order to Natalia a very attentive neighbor who is responsible for managing the house and also prepares meals on demand."
A stay in climate and friendly energy. Here there are no rules of stay, there are rules of coexistence based on: please, thank you, sorry. We hope you can enjoy it as much as we do, since it is a wonderful place, surrounded by life and far from metallic noises. We will put everything so that you do not feel a guest but a guest and part of the place. And with all the freedom that such a place represents.
What guests are saying:
"Beautiful stay We spent 5 days and all excellent. To get there, you have to take a very accessible boat, it is already known to the girls and they were in charge of asking us to arrive. The owners were super hospitable and friendly to everything. Both in the flexibility of the time of entry and exit (it is not a minor detail) as well as always they were predisposed to buy things for us (although the only thing that is necessary to take is food, because in the house you have everything, you can always missing something else). While the girls are 50 meters away, we had total privacy. There is a super comfortable balcony where you can have a drink under the sun. A Paraguayan hammock and grill. In the bathroom all excellent, the shower hot and with good pressure (important for us that we went in full July-winter). In the kitchen you have everything you need to cook as well as crockery. The girls brought us drums of drinking water ✌"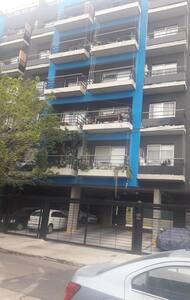 SUPERHOST
Entire apartment · 4 guests · 4 beds · 2 baths
Edif/Las Artes/3amb, Cochera!Luminoso!Tigre,centro
Category apartment "NEW" 3 rooms for 4 guests, kitchen, garage and amenitis WHOLE DEPARTMENT, 2 bedrooms (master bedroom with dressing room and en suite) 2 bathrooms, balcony Garage Pool Grill Laundry Very modern, just finished, decorated with very good taste, very comfortable and bright, in the best and safest tiger area.
What guests are saying:
"Excellent apartment, it is as shown in the photos, very well located near the train station, coast park, port, etc., everything can be done walking, has a garage, laundry and a small rooftop pool, the neighborhood is very quiet and has places to eat and supermarkets, the arrival and departure were very good thanks to the host's disposition, this apartment is a very good option to spend a few days in Bs As 40 mins from downtown In a very nice area."