This little house in the woods is the perfect getaway if you want peace and quiet. No streetlights, no WiFi and only one neighbor close by. Breath the fresh air and watch the sky. You need a car to get here, no public transportation. It is a 10 minute drive to the Icehotel in Jukkasjärvi and 30 minutes to Kiruna. There is a heating system but also a wood stove so you can stay warm and cozy. We can take care of the cleaning for 500 SEK, just let me know. Sheets and towels are 200 SEK. Welcome!
What guests are saying:
"The house is very secluded and quiet on the way to Kiruna. If you want to see the aurora, this is a good place. The house is very cozy and can burn wood. There are three beds in the attic and one bed on the first floor. The living room is very nice. It's just that if you want to eat outside, you need to be prepared for an hour's trip, so you can buy good things in advance and cook for yourself. If you do n't want to pay the cleaning fee, then you need to do the cleaning and garbage sorting, and you need to add the wood yourself. Of course, these landlords will tell you. :)"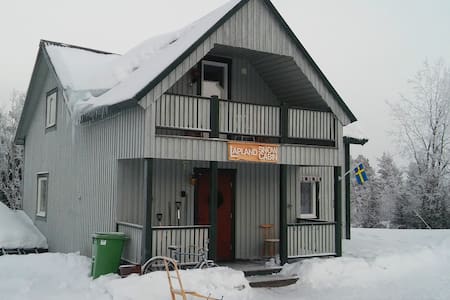 SUPERHOST
Entire house · 6 guests · 5 beds · 1.5 baths
Lapland Snow Cabin - whole house with fireplace
In the heart of Lapland, near fantastic fishing/ice fishing, rivers, forests, snowmobile tracks, skiing, this lovely house built 1929 is easily accessible. An hour from Kiruna airport. You can see the Aurora borealis from the house. Your own snowshoe/x country ski trail starts at your doorstep. Suitable for couples, families (not child-prooved) or bring a friend. Basic breakfast included. Available rentals: snowshoes, crosscountry skis, kayaks. Guided snowmobile tours.
What guests are saying:
"I stayed here for 10 days and had a wonderful stay in the snow cabin. I found everything I needed and woke up very rested every morning. Cecilia and Rickhard are wonderful people, very helpful and I am happy to have met them. The house is a bit older, not a sterile hotel room and therefore has charm. Everything was clean, warm, sheets and towels smelled good, there was a shower with really hot water and a fireplace with free firewood. The WLAN also works amazingly well here. A snowshoe path starts right at the house, from which the Aurora can be easily observed. There is a lot of wildlife to discover in the area. I saw a lot of moose and reindeer. I drove over 2500 kilometers through Lapland and would recommend a visit the Stora Sjöfallets Nationalpark. The nearest shops can be found in Vittangi or Junosuando, there is a petrol station in Vittangi, both about 20 minutes drive away. You should definitely go on a tour with Rickhard, he knows a lot about the area and is such a warm person. If you need warm clothes, you can borrow them in the snow cabin or buy them in the souvenir shop at the cabin. At the beginning of March I had temperatures down to minus 24 degrees, but I never froze with the right clothes. I would definitely recommend a stay in the Snow Cabin and hope to be able to come back soon."
The cabin is located in a small village called Moskojärvi in swedish Lapland. The cabin has electricity. But no running water. Water will be provided in canisters. There isn't a bathroom, but it has a wood heated sauna, were you can shower. The toilet is a outside "dry" toilet. The kitchen has a fridge and a gas cooker. The cabin has a woodstove. We provide wood. But we don't heat up the cabin. It's located next to my house were I live with my boyfriend and our 11 husky's.
What guests are saying:
"We had a really great stay in Lies Cabin. The location is perfect, not as close to the E10, but easy and fast to find. In a few minutes you were in the darkness to make some great pictures of aurora :) The cabin contains everything you need. Even some supplies, spices ... We loved the sauna and we had so much luck - saw a reindeer in the night right in front of the toilet 😃 Lies is a really nice and frank Person. She's there of you'll need her, answers fast and she give us the possibility to do a really great dog sled tour."