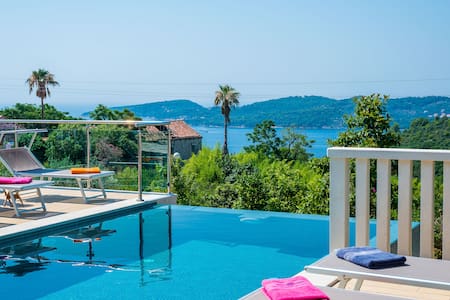 SUPERHOST
Entire apartment · 4 guests · 2 beds · 1 bath
Family two-bedroom apartment in villa with pool
This Dubrovnik Riviera villa offers accommodation in three separate apartments that were, together with the unique pool area, carefully thought out to entirely satisfy our guests' needs. Feel welcome and spend your relaxed and fulfilled holidays this year at Villa La Vagabonda, in Orašac, Dubrovnik!
What guests are saying:
"This is a lovely apartment. The space is well appointed and has everything you need. The rooms are of a good size and everything is in good working order. The kitchen is perfectly good for cooking in and has a good supply of pots/pans/glasses and cutlery. Also has a dishwasher. What makes the apartment extra special is the pool and the shared areas. All the apartments were full when we were there but it did not feel crowded. We used the pool every day and also the seating area with coffee machine is great. The views from here are stunning. The owners mother is on site and works away in the background keeping all the shared spaces immaculately clean. She can also help with questions such as where to put rubbish etc. The village itself is about a 20 minute drive from Dubrovnik. There is a small supermarket in easy walking distance which has all the essentials. There is also a small cafe/bar which is open with sea views. We used the nearby Savorni restaurant twice which is not cheap but is worth it as the food was fantastic. You can also walk down to the pizza place on the sea which would be OK in good weather. The pizza here is OK but not the best we had."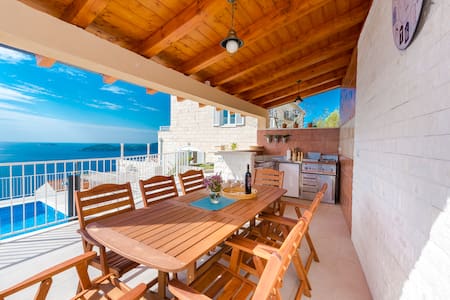 SUPERHOST
Entire apartment · 8 guests · 6 beds · 3 baths
Spacious holiday home with pool & outdoor kitchen
Spacious holiday apartment Gina with private pool, outdoor kitchen and large terrace is ideal for family holidays and great base to explore the area. House includes living room, kitchen, dining room, 3 bathrooms, 4 bedrooms and can accommodate up to 8 persons.
What guests are saying:
"WOW, This place is amazing! Where to begin ... First of all, the communication with Marija was excellent from the very start. We received a comprehensive list of things to see, places to visit and restaurants that were Marija's favourites. This turned into our itinerary for the week, and every recommendation was perfect. Marija was away during our stay, but her husband Pavo made us very welcome and gave us even more tips on places to eat out. Knowing he was always on hand to help with local queries was great. Now, the accommodation - INCREDIBLE! If possible, the views are even better than those shown in the photographs. It really is staggeringly beautiful. It is also very calming and therapeutic to just sit in the sun or shade and watch the constant flow of boats in the sea below. The highlight for us was visiting the hustle and bustle of Dubrovnik old town in the morning (a must see!) and then returning to the peace and tranquility of the house and the pool for lunch in the afternoon. Then, pick from one of the amazing local restaurants for your evening meal. You must try Orsan in Zaton - we went twice :] To sum up, the location, Dubrovnik old town, communication with Marija, and being hosted by Pavo, made for a truly amazing holiday. Do yourself a favour and stop thinking about it right now - just book it! We definitely plan to go back."
The apartment can accommodate 4+1 people and has a nice terrace with lovely sea views. During the stay the owner can organize trips and excursions to nearby islands and make your holiday more attractive.
What guests are saying:
"The apartment is located in a beautiful place! 5 minutes walk from the car park, nice walk through the arboretum (which we recommend the visit), and can be in a quiet environment, without a car and enjoy an incredible view! Nene welcomed us in a warm and practical way (a trolley for our suitcases). The apartment is beautiful, even better than the pictures. The large room has more modern furniture than the pictures and is very spacious. Small kitchen but very practical. No stay but with good weather, it is not necessary: we lived on the terrace! Aaaah this terrace! What an incredible sight! We do not get bored at any time. Table and transat available. Air conditioning, adjustable shutters: comfort is good. Possible to swim at the port below, but not very practical for small children like ours. But no worries: brcesine 5minutes north offers a small quiet beach and very nice, and Zaton 10 minutes south also offers a beautiful beach and many bars and restaurants in the water. Dubrovnik is 20 minutes away. We went there 3 times during our stay, by bus or car. Very easy to access. As recommended, we enjoyed the ride in the boat of Ivo, the neighbor, to spend a day on the island of Lopud. Highly recommended! Nene came to bring us a delicious cake and chocolate, as well as clean towels. She was charming! Maja was very responsive to our requests and a great help to the organization. We can only recommend the apartment! Everything was perfect for our little family (2 adults and 2 children aged 7 and 4)!"