It's a flower studio. Also, it's a convenient and comfortable space and welcome every travelers to stay. 2 minutes away from Shi-Lin MRT station, 5 minutes by walk to the famous Shi-Lin night market or Shi-Lin Official Residence. We provide one twin bedroom, a public living room, bathroom and kitchen. Our living room is also an beautiful flower studio, even if you don't go out, still can enjoy the time surrounded by flowers in our space.
What guests are saying:
"The Airbnb from Lily is very special! It's not often that you spend the night in a flower studio. In the large room you can stay in the evening and eat or drink, surrounded by flower decoration. We were lucky to be there over the weekend and also have room for us during the day, as there were no workshops. The bathroom is separate from the bedroom, it is located next to the kitchen area. We got to know Lily personally on the last day (Monday) because she came to work in the studio. She was very friendly and asked us for a coffee. She was also very flexible and helpful and allowed me to leave my broken suitcase next to the trash bin for disposal and the luggage after check-out until the evening in the studio. The area (Shilin) is well connected to the city center by the MRT (it's a stone's throw to the train station) and full of hip cafes, restaurants and shops. The night market through the streets of the district is huge, as everyone will find something delicious to eat or beautiful souvenirs."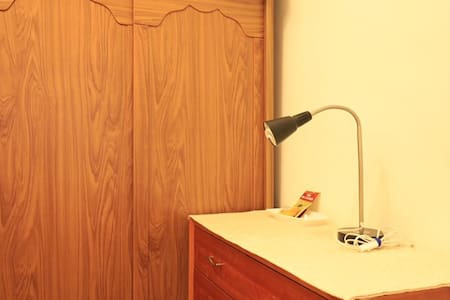 SUPERHOST
Private room · 1 guest · 1 bed · 1 shared bath
捷運站旁旅館級溫馨小房 A Hotel-level cozyroom (near MRT)
This is a mother and child's home. She has lived in this place of Shilin for more than ten years. The snacks and environment here are also quite familiar. I can also take you to the hot spring! I welcome you from all over the world if there is a need. We will try our best to help you. Because only next to the MRT station, three minutes away! PS Mommy loves the cleanliness, the room cleanliness definitely packs you satisfied, but also asks you to maintain together ★ 20 minutes to Taipei Station ★ Shopping: Sogo Department Store, Carrefour Supermarket, Watsons, Congmei, Baoya, Shihlin Night Market, Loyalty Park, URL Hidden House, Tianmu Shin Kong Mitsukoshi, etc. ★ Culture and education: Taipei City Science and Education Museum, National Palace Museum, Children's Recreation Center, Shilin Residence, Zhishan Rock, etc. ★Food: Beard Zhang, Sukiya, Beitou Carp, Luisa Cafe, Cama Cafe, Starbucks Cafe, Wind Restaurant, PIZZERIA OGGI, Ramen Ramen, Miacucina, Hanlai Harbour Restaurant Tianmu Station, Din Tai Fung, Yunzhitai Yunnan Cuisine Arirang Korean Cuisine, Liang Jia Beef Noodles, Everything ★ Sports: Sungai Riverside Park. ★ We provide internet, air conditioner, shampoo/shower gel, hair dryer, washing machine, hanger, desk, bicycle ★ There are several other precautions to maintain the quality of accommodation, as far as possible after 10:00 to reduce the voice. All-day hot water bathroom rooms are non-smoking and do not accept non-marital partners, but you can chat in the living room.
What guests are saying:
"Review written in both ENG and KOR The week with Anhui and Enoch was so heart warming experience. This was my first travel alone overseas and I had many worries, but their place soothed me with welcoming atmosphere and care. Anhui greeted me when I just left the station and a welcoming room was ready for me. So thanks to their care, I could start my travel without any fear. The place is located right next to the MRT station so it was easy to come back after travel. Next time I visit Taipei I will first book this place and then book airplane ticket. I strongly recommend this place to anyone traveling alone XD I love you here. He hugged me on the morning of the transfer, and I almost cried. I didn't want to move it. It's the first time I've traveled overseas alone, so I'm worried about it. You wash your clothes, you eat your meals often, and you're tired and stuck in the room. The next time you come to Taipei, you should check if the room is empty first, make a reservation and buy a plane ticket. Heartily. Being next to Jishan station, I wasn't scared when I came in the evening. It's recommended for those who come alone XD"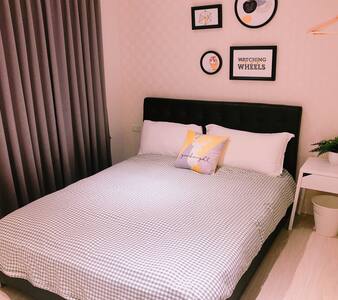 SUPERHOST
Private room · 2 guests · 1 bed · 1 private bath
士林歐洲風情4號小棧#附消毒酒精#士林夜市捷運站旁#獨立衛浴#1~2人#落地陽台抽煙#可提前自助入住
The Nordic architectural style blends nature with modern simplicity, emphasizing the closeness of the space and the sense of comfort. The space is loose, casual, and harmonious with nature. The space is very gentle and friendly. Shilin Night Market (1) minute walk is convenient! (1) (-) Shilin Mansion (2) (-) Palace Museum (3) (-) Yangmingshan / Qingtiangang / Bamboo Lake / National Park / (4) (-) Tamsui Old Street / Bali Left Bank traffic: Shilin MRT-5 minutes walk Jiantan MRT-5 minutes walk between two MRTs Charter service 5-person sedan Taipei-Taoyuan Airport $ 1000 Taoyuan Airport-Taipei $ 1000 (Including luggage) 3 hours-$ 1500 8 hours-$ 3500 10 hours-$ 4000 (Help to arrange the itinerary service can be changed at any time)
What guests are saying:
"The water pressure of the water heater is relatively small. The hot water takes more time to wait for the heat, so it takes time to take a bath Other parts have good sound insulation. They will not be affected by the crowds in the night market. At the most, some car sounds can be heard but do not affect sleep. Overall accommodation is very good "