Central three minute foots night train, bus Supermarket, restaurants, pharmacy. ect.
the house is the soul center you will find everything in hand
particularly attractive. Also building is still affordable here. Did you set up your center of life here, your job should not be too far away. you'll find a wide range of local jobs in your area. Who wants to go out at night and party, do not necessarily have to go to the big city. Even in smaller communities and rural regions, great restaurants (all restaurants, cozy pubs or classical Greater Disco Discover found. Nightlife and round.
Room Type
Private room
---
Property Type
Apartment
---
Accommodates
1
---
Bedrooms
Kornwestheim, Baden-Württemberg, Germany
Gemütliches und geräumiges Zimmer in einer 3-Zimmer Wohnung mit großem Wohnzimmer, das zum Entspannen einlädt. Der Balkon, der direkt am Zimmer anschließt, bietet sich vor allem im Sommer als eine gute Erholungsmöglichkeit an. Die Wohnung befindet sich zentral in Kornwestheim und das Kulturzentrum "K" und verschiedene Parks sind in nur wenigen Minuten zu Fuß erreichbar. In nur 10 Gehminuten ist man am Konrwestheimer Bahnhof und mit der Sbahn in 10 Minuten bei Stuttgart Hauptbahnhof.
Eine nette smarte Frau mit der man sich gut unterhalten kann. Sie lässt einem die W-Lan Einwahl Daten zukommen. Stellt Obst und Wasser ins Zimmer. Und man darf alles mitbenutzen. Parkplätze gibt es reichlich. Die Fahrt zu Porsche oder Mercedes kann schon ab 7 Uhr 1 Stunde mit PKW dauern. Man sollte um 6 Uhr aufstehen damit Sie um 7:00 Uhr ins Bad kann. Empfehlenswert.
Micha
2017-01-20T00:00:00Z
Das Zimmer war ausgesprochen sauber, (durch einen abgehenden Balkon) hell und wirkte etwas größer als erwartet. Chrisoula war stets hilfsbereit und flexibel, so dass sich das Zusammenleben als unproblematisch erwies.
Florian
2017-03-24T00:00:00Z
Die Lage ist super, die S-Bahn und Geschäfte des täglichen Bedarfs sind fussläufig erreichbar und trotz ruhigem Wohngebiet gibt es auch kein Parkproblem. Das Zimmer ist funktional eingerichtet und bietet mit Tisch und Sitzgelegenheit genug Raum sich zurückzuziehen, wenn man dies möchte. Chrisoula ist aber eine so wunderbare und lebenskluge Frau, dass man sich toll mit Ihr unterhalten, lachen und kochen kann. So wurde mir das Zimmer während des Aufenthalts zum Zuhause.
Barbara
2017-02-10T00:00:00Z
Room Type
Private room
---
Property Type
Apartment
---
Accommodates
1
---
Bedrooms
Kornwestheim, Baden-Württemberg, Germany
The private room is ideal for commuters to Stuttgart or Ludwigsburg because the driving time of Kornwestheim is the S-Bahn S4 / S5 only 3 minutes. The room is gone 1 minute from the train station. All conveniences are given.
The room has a bed (140cm), a "built-in closet", a flat-screen TV with cable channels and a desk, and WiFi (50,000) ,. Otherwise, everything is very relaxed here. What I do not like so is alcohol and tobacco ...
The neighbors are nice ... all friendly people.
The host canceled this reservation the day before arrival. This is an automated posting.
Habib
2016-01-12T00:00:00Z
Exakt wie in der Annonce beschrieben, gibt nichts zu klagen!
Marius
2017-02-16T00:00:00Z
Die Unterkunft liegt mitten in der Stadt unweit der Fußgängerzone mit einem schönen Biergarten in der Nähe. Das Zimmer ist sehr hübsch und man schläft wundervoll. Innenstadt heißt natürlich auch keine Grabesstille. Der Parkplatz dort ist goldeswert. Einkaufsmöglichkeiten und Gastromonie gibt es in ausreichender Menge in der Nähe. Die Gastgeberin ermöglicht einen angenehmen Aufenthalt, ob du nun Kontakt suchst oder nicht.
Hans
2017-04-03T00:00:00Z
Alles super, sehr nette Menschen.
Servan
2017-02-24T00:00:00Z
Gisela ist ein sehr netter Host. Alles war wie beschrieben und sehr sehr sauber. Ich komme gerne wieder!
Gerhard
2016-01-11T00:00:00Z
Bei Gisela fühlt man sich wie bei eigener Familie. Alle Bewohner sind sehr nett und jederzeit hilfsbereit. Trotztdem wird man ungestört und hat in dem Zimmer seine Ruhe. Absolut sauber. Eine bessere Lage der Wohnung für jemand, der öffentliche Verkehrsmittel nutzt, könnte man sich nicht wünschen. Die S-Bahn ist in 3 Minuten zu Fuß erreichbar. Nach Stuttgart, Ludwigsburg kommt man innerhalb weniger Minuten. Auch Einkaufsmöglichkeiten gibt es in der Nähe genug. Und die Stadt Korwestheim ist sehr schön und ruhig zum Wohnen. Auf jeden Fall empfehlenswert.
Gabriela
2017-03-25T00:00:00Z
Sehr schöne Wohnung und sehr schönes Zimmer. Alles super gelaufen, Muchas gracias!
Martin
2015-10-30T00:00:00Z
Room Type
Private room
---
Property Type
Apartment
---
Accommodates
1
---
Bedrooms
Kornwestheim, Baden-Württemberg, Germany
Alles neu renoviert und modern eingerichtet! Die Wohnung liegt in einem ruhigen Wohngebiet und das Fenster zeigt Richtung Garten. Kein Strassenlärm.
The fully equipped modern Non smoking apartment has a size of 26sqm. It offers a bright bathroom with glass-enclosed shower and a cozy living area and a fully equipped and open kitchen. HD TV on a large flat screen and a high-speed Internet access via Wi-Fi is included.
Very quiet and attentive neighborhood.
Oliver was excellent to work with. Organised and punctual in handing over the keys. The apartment is well kept, warm in the winter and fully stocked with all amenities that one would need for a stay in the area.
Konrad
2016-12-20T00:00:00Z
Gasheizung war für mich was ganz neues, hat aber nicht gestört. Ansonsten ist es für mich definitiv eine gute Adresse für die nächste Dienstreise. Das Zimmer ist groß genug, Küche ausreichend ausgestattet. Oliver selbst war hilfsbereit und gute Tipps gegeben. Meine Empfehlung.
Oleg
2016-04-30T00:00:00Z
Alles hat gut geklappt und Oliver hat auf Nachrichten immer schnell geantwortet. Die Wohnung war sauber und entsprach der Beschreibung. Das Haus ist ruhig gelegen und die Nachbarschaft problemlos. Man gelangt mit dem Auto in ca. 10 Minuten nach Stuttgart.
Eric
2016-03-31T00:00:00Z
Meine Eltern waren super zufrieden :-)
Susanne
2016-08-15T00:00:00Z
Die Wohnung hat alles was man für einen Kurztrip benötigt. Kann Sie nur weiterempfehlen. Die Kommunikation mit Oli war auch einwandfrei.
Jill
2016-11-16T00:00:00Z
Hat alles super geklappt :)
Nadja
2017-03-24T00:00:00Z
Super Gastgeber! Immer wieder gerne!
Ви
2017-03-08T00:00:00Z
Super Aufenthalt. Oliver war seht nett und Hilfsbereit. Die Wohnung war gut, alles vorhanden was man braucht. Auf jeden Fall zu empfehlen!!!
Marlon
2016-10-13T00:00:00Z
Room Type
Entire home/apt
---
Property Type
Apartment
---
Accommodates
2
---
Bedrooms
Kornwestheim, Baden-Württemberg, Germany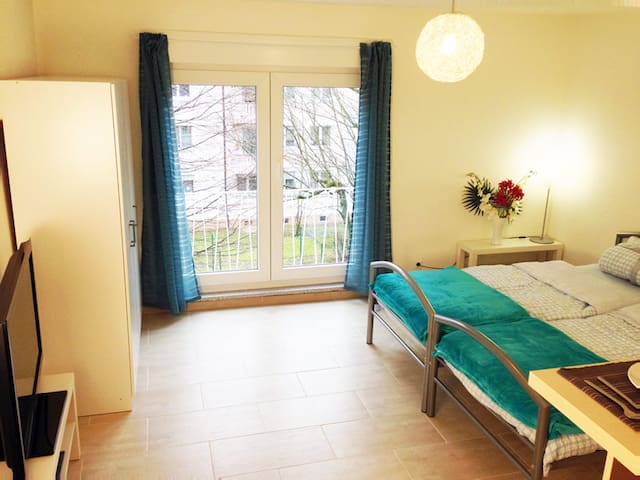 Luxurious 3-bedroom Non-smoking apartment in Kornwestheim (area Stuttgart / Ludwigsburg) for 1-4 people. Welcome, the here presented apartment has been previously used by our own and has been established by us with great love. It is a very high-equipped, bright 3-room apartment (77 squaremeter) with design elements, ideal for business travelers, vacationers, families, etc. The apartment is located on the 2nd floor of a centrally located, new apartment building. You can reach the station in 3min walk (12min travel time Stuttgart main station, 4min travel time Ludwigsburg main station, Airport / Fair 40min) The entrance is fitted with a ramp, a lift is available. To the flat belongs an oversized underground parking space. Additional parking spaces are available outside the house. The apartment has a spacious living / dining area with open kitchen (brand Leicht), 1 bedroom, 1 bed-/workroom, designer bathroom with large shower and tub and a small balcony (where smoking is allowed ;-)). Bedding: 1 double bed in the bedroom 1 single bed plus a pull out bed in bedroom / office Brühl Sofa type "RoRo" in the living area. Can be used as a folded shakedown for 2 people. Inappropriate in the long run, because not as comfortable as a bed. Facilities: Walnut parquet flooring Separately controllable floor heating for each room and bathroom Large windows Electric blinds in the living room / dining area Kitchen with ceramic hob, dishwasher, extractor hood, fridge / freezer, microwave, oven Coffee machine, crockery and cutlery for 6 people, pots, pans, knife block, accessories. Dining table + 4 chairs (6 persons possible) LCD - TV with cable connection in living and dining area. Free WLAN connections in all guest rooms. Notebook with internet access (flat rate included). Rain showers and shower - WC. All mattresses are equipped with Molton - cover for reasons of hygiene requirements. Bed linen, towels included. Change at an extra charge. Cleaning service at an extra charge If necessary, you can find in the basement a room for bicycles, prams space, wash-/dryingroom and possibly a separate basement can be used. Own washing machine and dryer are available. We have always felt very well here and we wish the same to our guests. Make yourself at home. Yours family Magin
The apartment was very clean, tidy and beautiful! The host was very helpful and welcoming. The only minus was the lack of iron and washing machine (you can't use the bathroom sink for washing due to its modern design) - you may need to find a laundry facility if you're planning a longer stay.
Kamilla
2012-09-26T00:00:00Z
Absolutely loved the location On a corner, overlooking the REWE shop. I loved the view from here. It just had some appeal. 300m from station. The shop on the corner right opposite the flat And a small park 200m away Although a bit out of the center of Stuttgart, it was in a neighbourhood of Stuttgart, getting to town was no problem at all. The convenience via the train makes it worthwhile staying here. The flat is exquisite. Decor, size of the flat and the balcony are brilliant. Harald kept in contact before our arrival. Lukas was there to meet us at the apartment. What a friendly young gentleman. Explained everything regarding the flat and the parking garage. Lukas also came the day before our departure to ensure we were happy with everything. And as per German, he was very punctual. I highly recommend this flat if you are happy to live out of the city centre. The public transport makes it perfect.
Geraldine
2015-03-28T00:00:00Z
This was the most amazing place we stayed out of 6 lodgings in Germany (and we have travelled all over the world). Everything--the hosts, the location, the view, the amenities, the price, the security, the parking, is outstanding. The hosts went far beyond necessary, staying up late for our very late arrival and helping us in the middle of the night when we had a medical emergency. Highest recommendation!
Yanti
2014-10-19T00:00:00Z
I stayed here for business purposes and needed a convenient and modern place that was good to work from and relax in. The apartment was perfect for that and more. It is conveniently located for (business) trips in the Stuttgarts area, was clean, well equiped and had lots of valuable amenities of which the shower and bath were my favourites. Harald provided us with a warm welcome and even made restaurant reservations for our night of arrival. I'd recommend anybody staying here. I know I will!
Stephan
2013-02-01T00:00:00Z
The host canceled this reservation 4 days before arrival. This is an automated posting.
sylvain
2017-03-23T00:00:00Z
It was fantastic very smooth conversation and beautiful house Good bath room to have taken it after the work strongly recommended
tomomi
2012-12-05T00:00:00Z
We have 4 friends stayed here 3 nights. On the day of check in. DB was on strike, Harald kept touch with us. Finally, we gave up the railway and took coach instead. Bettina and Harald drive 2 Cars to pick up all and the heavy luggages, it make the way of going "home" much easier. We appreciate it ! This is a great apartment with functional convenience. The supermarket is just on the opposite corner, you can get everything there! Reading the guestbook on the desk, I can understand well why so many appreciation and positive comments left . I believe all gussets ever stayed were experienced the same warm and sweet feeling as we had! Of course! I highly recommend it! Bettina and Harald , thank you again!
Sunny
2014-11-12T00:00:00Z
I stayed for three nights at this apartment, mainly for business. Overall: it was great. It is a very modern, well-designed apartment with a great kitchen (coffee machine, dishwasher, kitchen/fridge, induction stove), spacious living-room and excellent bathroom (bath and very good shower included). Broadband internet with laptop available within the room, as well as cable-tv, dvd-player with dvd's and audio equipment. The apartment is conveniently located between Stuttgart and Ludwigsburg. It is 12 minutes by S-bahn from Stuttgart-central and 5 minutes by S-bahn to Ludwigsburg. The Kornwestheim station is close-by, just a 5 minutes walk. There is a supermarkt (REWE) available at the other side of the street. If I ever come back to Stuttgart, I will definitely rent this apartment again.
Wouter
2012-10-26T00:00:00Z
Room Type
Entire home/apt
---
Property Type
Apartment
---
Accommodates
4
---
Bedrooms
Kornwestheim, Baden-Württemberg, Germany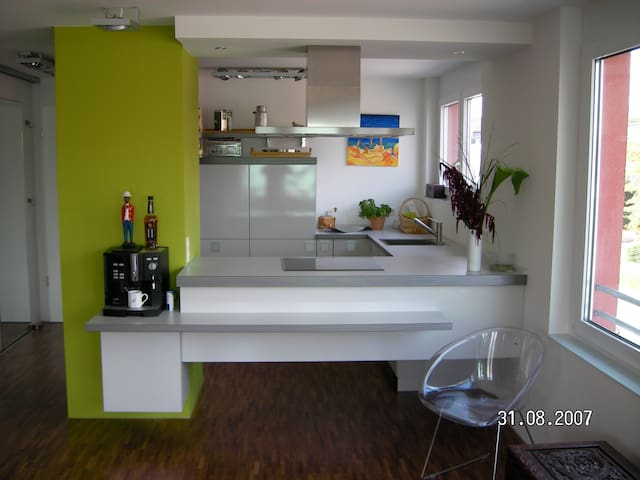 Sehr schöne, helle und modern möblierte 2-Zimmer Wohnung in absolut zentraler Wohnlage in Kornwestheim. Empfehlenswert für Geschäftsreisende, Feriengäste, Städtereisende.
Die Wohnung befindet sich 1min von der S-Bahn Station. Die wunderschöne Ludwigsburg erreichen Sie in 2 Minuten, Stuttgart-Zentrum in 13 Minuten. Das Porsche Museum liegt in der Nähe.
Alle Geschäfte sind zu Fuß erreichbar. In der Nähe (5 Minuten zu Fuß) gibt es Sportanlagen, wo man Tennis oder im Sommer Beachvolleyball spielen kann.
Really great apartment very well situated . Very cool hosts and very uncomplicated. I really enjoyed my stay
Omiros
2016-02-29T00:00:00Z
Nice place to stay
Benøit
2017-01-01T00:00:00Z
The host canceled this reservation 2 days before arrival. This is an automated posting.
Aline
2016-10-10T00:00:00Z
The host was very responsive and made sure everything was taken care of. The location is great, in the center of town and next to the railway station. The neighbourhood is a little rundown but it didn't bother us.
Susan
2016-12-28T00:00:00Z
L'hôte réponds rapidement par mail aux questions posées avant notre arrivée. Nous avons été mis en relation avec la personne qui nous a pris en charge à notre arrivée. L'appartement est situé au pied du S-Bahn, ce qui est très pratique pour aller sur Stuttgart (12 mn). Appartement très propre et identique aux photos présentées sur le site. Je recommande cet appartement.
Sylvain
2016-10-03T00:00:00Z
Genial! Mauricio y Martina son muy amables y el alojamiento está muy bien. Bien ubicado en las afueras de Stuttgart con acceso directo al S-Bahn y con todos los servicios cerca.
Ivan
2017-03-05T00:00:00Z
Room Type
Entire home/apt
---
Property Type
Apartment
---
Accommodates
4
---
Bedrooms
Kornwestheim, Baden-Württemberg, Germany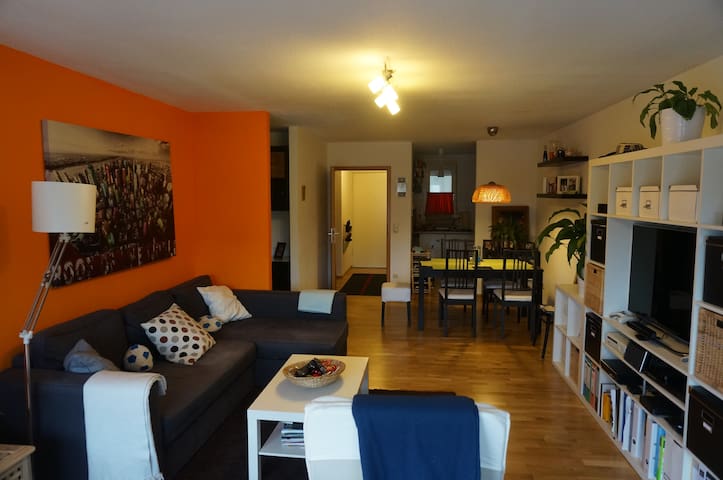 Appartement im Rosenhag offers accommodation in Kornwestheim, 9 km from Stuttgart. Guests benefit from a roof terrace, a gallery and free WiFi. The apartment features a bright living and dining area with a fully-equipped kitchen and a flat-screen TV. Guests can enjoy floor heating, a coffee machine, electric shutters and a lift. Ludwigsburg is 4.4 km from the property. The Kornwestheim train station is a 10-minute walk from the property, offering access to Stuttgart Airport in 50 minutes (19km)
Room Type
Entire home/apt
---
Property Type
Apartment
---
Accommodates
4
---
Bedrooms
Kornwestheim, Baden-Württemberg, Germany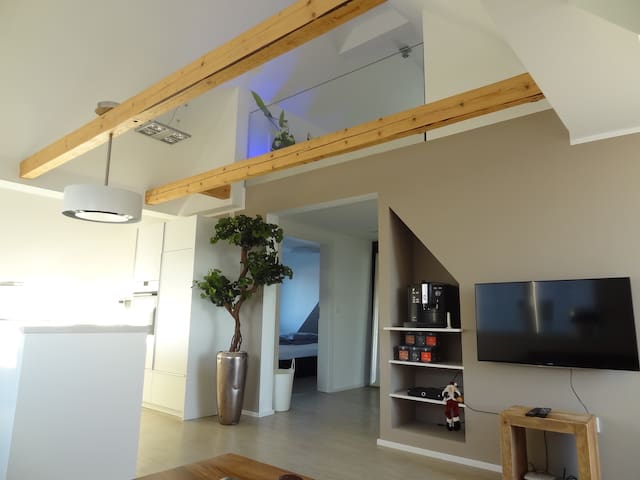 Schickes, renoviertes und gemütliches 2-Zi.-Nichtraucher Appartment (Erstbezug, 40qm) in Kornwestheim bei Stuttgart für 1-2 Personen. Ideal für Geschäftsreisende, Messebesucher, Feriengäste, Städtereisende.
Schickes, renoviertes 2-Zi. Nichtraucher Appartement in Kornwestheim bei Stuttgart für 1-2 Personen. Das liebevoll ausgestattete 2-Zimmer (40qm) Appartment eignet sich sehr gut für Geschäftsleute, Feriengäste, Städtereisende, Paare, Messebesucher, etc. Die Wohnung mit Gartenblick befindet sich im UG eines gepflegten Mehrfamilienhauses in ruhiger Lage. Die Parksituation ist sehr gut, ein Stellplatz vor dem Haus kann bei Bedarf zur Verfügung gestellt werden. Das Appartment besteht aus einem großen Arbeits- und Essbereich mit offener Küche, 1 Schlafzimmer, 1 Tageslicht-Bad mit Dusche (neu ausgestattet). Ausstattung: 1.) Schlafzimmer: 1 Designer-Doppelbett (die Matratzen sind aus Hygienegründen mit Antiallergie-Auflagen ausgestattet) mit passender Kommode, 1 Schrank, 1 Schuhschrank, 1 Beistelltisch und 1 Lesesessel, 1 Samsung Flatscreen, 1 Fön; 2.) Arbeits-/Essbereich mit offener Küche: neue Küche und Küchengeräte (Spülmaschine, Backofen/Herd, Kühlschrank, Kaffeemaschine, Wasserkocher, Eierkocher, Toaster, Geschirr und Besteck, Topf, Pfanne, Gläser, Tassen, Schalen, Schneideplatten, Messerblock), Esstisch und 2 Stühle, 1 Schreibtisch und Bürostuhl, 2 Regale. In der gesamten Wohnung: hochwertiges Laminat, grosse Fensterflächen.
Sports and shopping facilities are in close walking distance. In addition, you can reach the Kornwestheimer fields in a few minutes, so just joggers and walkers come at their expense.
Petra was a wonderful host. For us the location was perfect. Nice quiet street but close to everything.
Jeffrey
2016-08-04T00:00:00Z
Great apartment in a great location.. I have spent the last 3 months as Petra's guest at her lovely ground floor apartment. And loved it! It a nice, bright, airy, clean and comfortable. Looking forward to the next 3.. Thank you petra for your hospitality. Living away from my home and family is hard. But made easier by stay at Schickes apartment : 0)
Simon
2014-08-15T00:00:00Z
A great little place in a quiet area. Nice outside seating area surrounded by garden. Petra was great; exceedingly helpful and friendly. Many thanks Petra!
Adam
2015-10-11T00:00:00Z
I have a fantastic 5 months at Petra's appartment. Very clean and tidy. Comfortable with all modern fittings. Prefetct location. Many thanks Petra for allowing me to stay.
Simon
2014-10-14T00:00:00Z
it was comfortable stay, calm neighborhood. Petra picked me up from S-Bahn first day and showed around house and amenities. house had sufficient supplies for stay no problems faced.
Deepak
2016-10-21T00:00:00Z
Petra ist eine tolle Gastgeberin. Ich habe mich in ihrem liebevoll eingerichtetem Appartment sehr wohl gefühlt und kann es nur jedem empfehlen. Die Umgebung ist sehr ruhig und grün. Parkmöglichkeiten sind vor dem Haus und in der Straße genügend vorhanden. In die Stuttgarter Innenstadt sind es mit dem Auto lediglich 20 Minuten. Für zukünftige Stuttgartreisen werde ich Petra immer wieder gern kontaktieren.
Marie
2014-05-08T00:00:00Z
Petra und ihr Mann sind sehr freundliche und sympathische Menschen und Gastgeber! Sie waren sofort parat wenn irgendetwas war und sorgten sofort für eine Lösung. Mein Vater war nun einige Wochen bei Ihr in der Wohnung, hat sich sehr wohl gefühlt und war mit allem sehr zufrieden gewesen.Die Wohnung ist zwar klein aber vollkommen ausreichend für zwei Personen. Die Gegend ist ruhig und auch im Haus ist alles angenehm ruhig. Alles ist sehr empfehlenswert! Auf diesem Weg liebe Petra, vielen Dank für Alles! herzliche Grüße Irene
Irene
2015-01-04T00:00:00Z
Petra es ist sehr unkompliziert, super nett und freundlich. Immer bereit zu helfen, wo und wann man Hilfe braucht. Die Wohnung ist klein aber fein, und hat alles was man für den Alltag braucht. Danke für alles! LG Victor und Yurema
Yurema
2016-04-01T00:00:00Z
Room Type
Entire home/apt
---
Property Type
Apartment
---
Accommodates
1
---
Bedrooms
Kornwestheim, Baden-Wurttemberg, Germany
Fine small studio in the west of Stuttgart, directly at the stop Russian Church. Buses and trains are right outside the door. to reach the main station and city center in few minutes! Supermarkets equal near. Beautiful views day and night. only suitable for one person
That one has its peace :-)
Room Type
Entire home/apt
---
Property Type
Apartment
---
Accommodates
1
---
Bedrooms
Stuttgart, BW, Germany
We love our apartment with a gorgeous terrace. It's a spacious loft with Italian flair and all you need while your stay in Stuttgart. We invite you to stay at our home when we're traveling. It's about 15 min walk to city center or main station.
Our apartment is a large, clean, quiet and comfortable central city oasis. There is a gorgeous terrace (that we call "Sicily" - at least in summer) for easy living and chilling in the sun. Our place has a fully equipped kitchen with all cooking utentils available (oven, dishwasher, toaster etc.) A large dining & living room has a video/stereo set-up with projector & DVD for cinema experience. Of course there is WIFI in the whole apartment. There is 1 bedroom, featuring 1 double bed, but we could also provide you with 1 single bed placed in the spacious hall and another mattress or 1 kid bed if needed. There is 1 Bathroom with bathtub, shower, toilet and sink. Feel free to e-mail or message us with any queries! We'd love to help, also with making your stay the most interesting one.
My sister lives in the same house. Our neighbors in the next house are also part of airbnb family and would also help you if you need something.
From start to finish, this was a very smooth process. IIya answered any questions/concerns I had immediately, before I made the booking. Once booked, we received a full inventory with directions and pictures showing us how to get to the apartment. We were met by their sister who was more than accommodating, full of great advice and very helpful. The apartment is located about a 15 minute walk from Schlossplatz Square and the city center. Or alternatively you can get a bus right outside, or a taxi. The area felt very safe and everyone was more than friendly. There's a lovely little cafe for breakfast / lunch at the bottom of the street as well as a supermarket. The apartment itself was exactly how it looked in the pictures. Very clean and had everything we needed for our stay. There was also a lovely hand written note with four local beers waiting for us on our arrival. (Very nice touch) Lots of clean towels and shower gels etc. The property also has a lovely balcony you can sit out in the sun. It was even beautiful in November. (22 degrees on one of the days.) Overall, this is a brilliant place to stay, lovely host, great location and very reasonably priced. A+++
Andrew
2015-11-10T00:00:00Z
Very happy with my stay. Location great, place great. Would happily stay here again.
Vincent
2016-07-25T00:00:00Z
I booked Ilya's apartment for my parents to stay and they truly had a great time. The apartment itself was one of the best living spaces we have ever booked on Airbnb. The location was extremely convenient. Communication was easy and quick. I would thoroughly recommend this place to anyone.
Mio
2016-08-11T00:00:00Z
The whole process was made easy with Ilya. Booked no problem. Ilya sent me an itinerary with instructions complete with photos on how to get from the airport to his flat. Very comprehensive and I arrived to the flat without a hitch. The flat itself was lovely and a joy to come home to after a long day of walking around etc. I especially enjoyed the little touches such as the electric piano, cinema projector, right down to the candles in the bathroom and the amenities in the kitchen. Everything was very thought out and Ilya was a great guy with whom to deal.
Benjamin
2015-10-31T00:00:00Z
Schoene Wohnung in einer ruhigen Ecke von Stuttgart, aber nahe genug am Zentrum um auch mal ohne Bus loszuziehen. Gepflegt und charmant eingerichtet. Ilyas Schwester war extrem nett und hat uns alles gut erklaert. Ich kann die Wohnung fuer einen laengeren Aufenthalt in Stuttgart sehr empfehlen.
Christoph
2016-06-12T00:00:00Z
Die Unterkunft von Ilya ist einfach fantastisch und sehr empfehlenswert. Angefangen von der Anreise (die er genauestens erklärte), bis hin zur Abreise war alles bestens. Die Unterkunft ist nahe am Zentrum, und bestens ausgestattet. An sonnigen Tagen kann man es sich auch einfach auf der riesigen Terrasse gut gehen lassen.
Martin
2016-08-15T00:00:00Z
Tutto preciso e come comunicato
Tonino
2016-08-21T00:00:00Z
Ilya heeft op een hele plezierige, geduldige, manier en heel snel antwoord gegeven op alle vragen die ik als beginnende Airbnb huurder stelde. Ilya en zijn vrouw hebben ons gastvrij ontvangen en hun prachtige, schone huis aan ons toevertrouwd, waarbij we ook nog gebruik mochten maken van hun voorraden in de keuken!
Barbara
2016-02-22T00:00:00Z
Room Type
Entire home/apt
---
Property Type
Apartment
---
Accommodates
4
---
Bedrooms
Stuttgart, Baden-Württemberg, Germany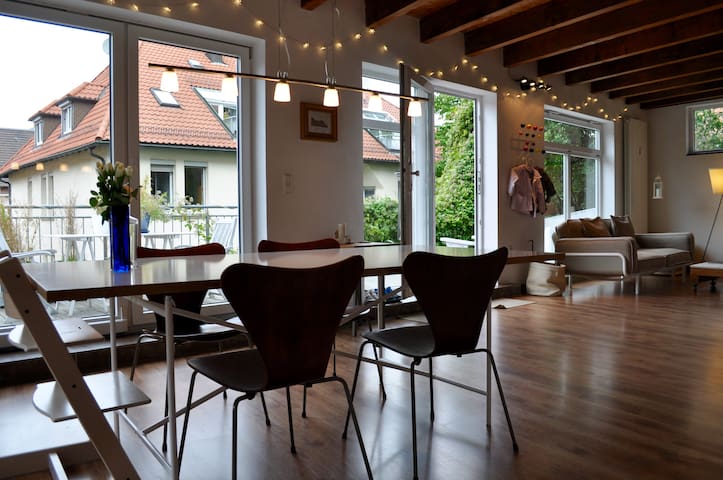 On offer is a bed in the corridor of a 2 person flat. You can share a everything but have just not the room ... Unfortunately, we do not have a key for you!
the bed is in the lobby! Not your own room... Youncan use everything in our cotenancy....
Two stops from central station. And it's only a bed, but price is good.
Changli
2016-11-26T00:00:00Z
Only 2 stops to Stuttgart Hbf, place was clean and the host was very kind. Would like to stay again if I have chance to visit Stuttgart next time.
Chih-Ting
2017-04-07T00:00:00Z
it was a short stay. i just spent a night there. Kata and her roommate are nice girls. The house is only two bus stops away from the central train station. its on the top of building, the 5th floor with stairs, so if you got a heavy luggage you might need to stand for climbing. (thanks god i met the roommate from the main door) you get everything you need. although the bed its on the middle of the corridor, but for the short stay should be fine.
Pei
2016-12-22T00:00:00Z
Super liebe und gastfreundliche Bewohnerinnen, unkompliziert entspannt. Tolle Lage, für Kurzreisen perfekt. Gerne wieder.
Melanie
2017-01-22T00:00:00Z
Katharina hat mich sehr herzlich aufgenommen in ihre gemütliche, kleine Wohnung. Der perfekte Ort für meinen kurzen Aufenthalt in Stuttgart.
Rebecca
2017-04-06T00:00:00Z
Kein Luxus, aber sehr nette Gastgeber und top Preis-Leistungsverhältnis
Wilhelm
2016-11-30T00:00:00Z
Room Type
Shared room
---
Property Type
Apartment
---
Accommodates
1
---
Bedrooms
Stuttgart, Baden-Württemberg, Germany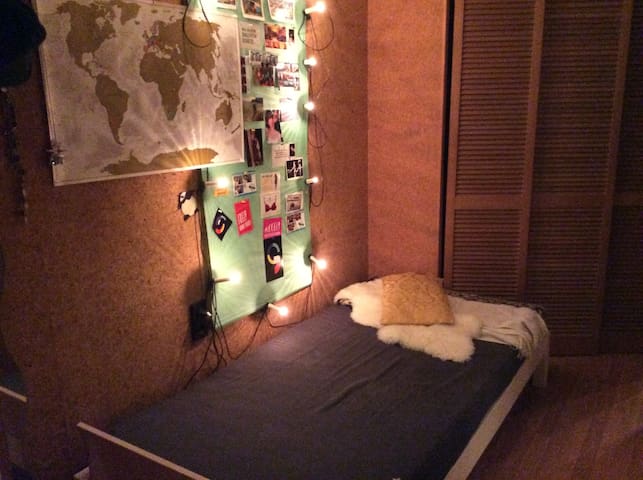 Central, modern and clean 2 room apartment for up to 5 persons next to the train station in Bad Cannstatt. The apartment is located directly next to the Cannstatter Wasen, the second biggest beer festival in the world - only 3 Minutes to walk (15. April - 07. May 2017 and 23. September - 09. October 2017). In Stuttgart City Center in only 5 Minutes, at the airport and fair in 30 Minutes. The apartment also offers you a small kitchen and all things you need for a comfortable stay in Stuttgart.
Hello, thanks for your visit on this page! This cozy, central apartment is the ideal starting point for discovering Stuttgart! No matter if commuter, tourist, family or party animal - this apartment will meet your requirements. The Apartment: The flat is furnished friendly and equipped with all necessary things for a nice stay at Stuttgart. There are two (three) rooms - the bedroom, the living room and kitchen and the bathroom. In the bedroom is one kingsize bed (1,80m * 2,00m) for two persons and a big wardrobe. The living room and kitchen have a sleeping couch up to two people and an additional bed for an eventual fifth Person. The beds will be prepared for the booked number of guests with fresh linen. Also towels will be provided (one per person). There is also a small kitchen with all utensils for cooking, coffee machine, kettle, complete crockery and dining table. The seperate bathroom has a shower, a toilet, a washbasin and a mirror. And for sure also a hairdryer. Also available; good internet connection (WiFi), cable TV with mostly German programs, a HDMI cable for using own films and videos from your notebook and WiFI. The Location: Because of the good location of the flat you are at every destination in and around Stuttgart in less time. Also the "Mercedes-Benz-Stadium" and Museum is only a 3 minute city train journey, or a short drive away. Directly in front of the building is the Bad Cannstatt Main Station. And just a short footwalk of less than 5 minutes away are the subway stations "Mercedesstraße" and "Wilhelmsplatz". The area of the second biggest beer festival of the world (after the "Wiesn" in Munich, Bavaria) the "Wasen" is only a 3 minute walk away. Apart from the "Wasen" there are also some other events, fairs and festivals on that area. If you need a supermarket, a McDonalds, an ATM or a backery, - its just a short footwalk of maybe 2 minutes. Also a shopping centre with a variety of shops and supermarkets is only a 5 minute footwalk away. The traffic: Directly in front of the apartment is the Bad Cannstatt Train Station. From here all few minutes the city trains lines S1, S2 and S3 drive to Stuttgart Main Station (1 Station, 4 minutes), and Stuttgart City Center (2. Stations, 6 minutes). The train connection is also (less often) in the night available. For that reason you are cheaply and quickly in the City Center and fully flexible till the late night. To the Mercedes-Benz-Stadium and Museum is it only a 3 minute drive with the city train. Stuttgart Airport and Fair its accessible with the city train in about 30 minutes. Also the Subway Station "Mercedesstraße" and "Wilhelmsplatz" are only a 5 minute walk away. From here also 3 lines drives towards city center. If you arrive by car: There are some free parking spaces directly in front of the building and in the streets around. There is also a drop-off parking lot for short-term parking. Mostly you find a free parking space after a short search. If you have any questions or need further information, please feel free to contact me.
McDonalds, sowie ein guter Döner Laden, ebenfalls ein Bäcker und ein Geldautomat befinden sich im Bahnhofsbau gegenüber. Weitere Geschäfte des täglichen Bedarfs sind in wenigen Minuten zu Fuß erreichbar. Netto-Markt ums Eck, "Cannstatter Carré"-Einkaufspassage mit Supermärkten, Bekleidungsgeschäften, Cafés in 3 Minuten zu Fuß erreichbar.
So close to the Mercedes and Porsche museums. Good food options very close.
Brian
2016-05-15T00:00:00Z
Michael was incredibly friendly and welcoming! My friends and I loved staying at his apartment; it was very comfortable and extremely convenient since it was right next to the train station. We very much enjoyed our stay!
Joann
2016-04-28T00:00:00Z
Very cozy place to stay in Stuttgart. The location is very nice and the apartment got everything you need.
Daniel
2016-11-25T00:00:00Z
I enjoyed this rare find in Stuttgart. Perfect location directly in front of the train station and close to other things. The apartment was spacious and clean and most certainly comfortable. Contact with owner was direct easy and fast and I'd stay here again.
Michael
2016-09-21T00:00:00Z
Michael was a great communicator and everything was just as described.
Mark
2016-10-17T00:00:00Z
The location and stay in general was perfect. Fantastic instructions from Michael about how to enter the apartment, as it is situated in a slightly complicated building. Great communication and perfect for what we needed 10/10!
Danny
2016-11-13T00:00:00Z
Our family had a great stay at Michael's place. He was super at communicating with us about how to get into the apartment as well as answering questions promptly. The place was very clean and in a great location. We found free, close parking for our car. It was an easy walk to a grocery store and bonus for our kids was the zoo just a short walk away as well. Great Stay!
Kristin
2016-06-24T00:00:00Z
It was a very nice cute apartment with all the stuff u needed!
marie
2016-03-15T00:00:00Z
Room Type
Entire home/apt
---
Property Type
Apartment
---
Accommodates
5
---
Bedrooms
Stuttgart, Baden-Württemberg, Germany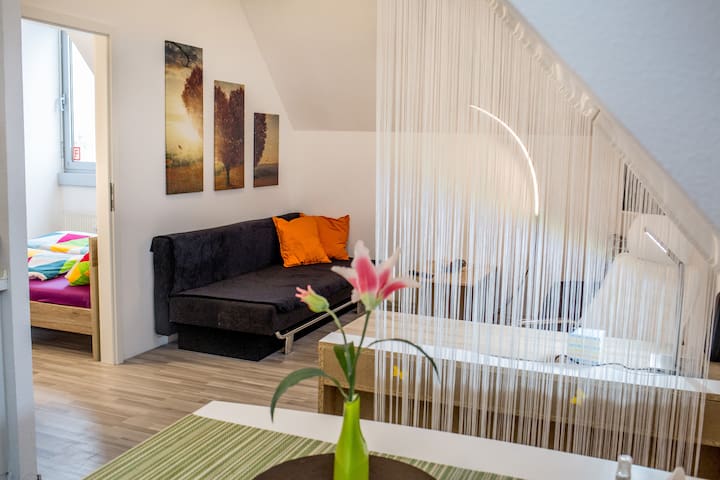 My apartment is a place to have a good time when you come to Stuttgart. I included really fast Wi-Fi, new kitchen, new bathroom and new everything:=). I hope you like it!
Having traveled quite extensively myself over the last years, I wanted to create a place to feel at home at once. It is located in the ground level of my house, with big over ground windows letting in the full amount of sunshine. Everything has just been redone, so you will encounter a place with a new bathroom, new kitchen, new furniture and new everything. Wi-Fi is blazingly fast and the 65` flat screen is ready for your favorite online TV show. Food can be easily prepared on the induction oven. After a nice dinner, the dishwasher takes care of the plates :=) The apartment style is classy, yet I could not entirely hide my compassion for the city that never sleeps, could I? In order to make it not only special but also practical, I added hangers, a microwave (with grill for Pizza) and excess to a free washing machine/dryer. Last but not least you will have a Nespresso coffee machine, a hair dryer and an iron waiting for you. In case you want to experience the lovely hospitality there are really nice places at easy walking distance (1-4 minute walk) for breakfast, lunch, dinner and a drink. You will find these placed being pointed out to you on a flyer inside the apartment.
The neighborhood is unique to me, since everybody is nice to one another. Mostly younger families are living in the surrounding. But, truth to be told, what really got my heard were all the little places around the house when I moved in. The petite Italian restaurant around the corner is just great, but the evening just gets even better, if you decide to have a good night beer in the close by bar. I would call them beer connoisseurs (does that officially exist??), and even though I am not into beer, they were able to match my taste and serve a really good one:=). Please check the neighborhood I prepared for you guide for details. You will find it on the coffee table.
Jan's apartment made my stay in Stuttgart something special. It has a very nice and special charm , enriching my time in Stuttgart . Everything in his apartment is just great. I would almost say, it's kind of secret escape place to stay. The Internet is blazingly fast, and the location is close to the heart of Stuttgart. The electronic key system to the apartment is really cool, and so is the huge flat screen TV. Jan has to thought about everything you need to have a great day , but I felt like I could've reached him anytime I wanted to over the telephone in case I would've needed to . Most certainly I will try to stay at his place again next time I come to Stuttgart.
Iris
2017-03-26T00:00:00Z
Jans Wohnung ist sehr praktisch und wohnlich eingerichtet. Die Lage ist sehr zentral. Der Hauptbahnhof, bzw. die Innenstadt kann man bequem zu Fuß erreichen. Es gibt aber auch eine Bushaltestelle fast vor der Tür. Obwohl man einfach zu Restaurants laufen kann, erlaubt einem die Küche in der Wohnung und der Penny um die Ecke, dass man sich selbst verpflegt. Das Internet ist schnell, das Bett bequem, das Bad sauber und modern. Die Logistik war einfach. Zu Jan hatte ich nur wenig Kontakt, aber mehr war auch nicht nötig. Er antwortete auf meine Nachrichten immer schnell. Wenn ich das nächste Mal in der Stadt bin, ist die Wohnung hoffentlich wieder zu haben. Ich kann sie anderen nur empfehlen!
Christiane
2017-03-03T00:00:00Z
Room Type
Entire home/apt
---
Property Type
Apartment
---
Accommodates
4
---
Bedrooms
Stuttgart, Baden-Württemberg, Germany
The completely renovated 1 bedroom apartment located on the 9th floor of a central building located in the absolute center of Stuttgart. To the Schlossplatz 4 minutes, to the main station 10 minutes. The apartment is fully equipped. Note there are no towels in the apartment.
The apartment was completely renovated and furnished. The apartment has a 1.40 times 2.00 meters large bed. For additional guests, there are mattresses.
In immediate vicinity is also the Willhelmsplatz and the popular bean district with numerous restaurants. A LIDL is located just 200 meters from the apartment.
The host canceled this reservation 9 days before arrival. This is an automated posting.
Paolo
2017-02-22T00:00:00Z
Room Type
Entire home/apt
---
Property Type
Apartment
---
Accommodates
4
---
Bedrooms
Stuttgart, Baden-Württemberg, Germany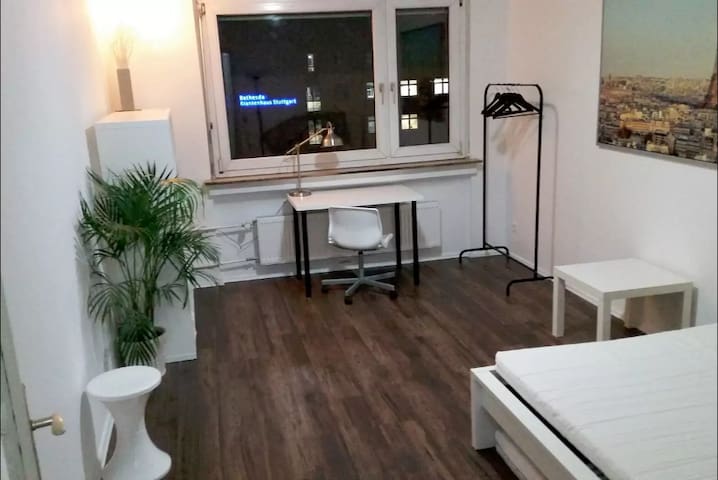 A room with about 9 square meters is immediately to collect free. Available is the kitchen, refrigerator and washing machine. The city center you need to walk 5-10 minutes. The metro, tram and bus are nearby. The nearest supermarket is only minutes away. I WANT TO EXCLUDE MISUNDERSTANDING SHOULD NOTE THAT PROBABLY ALSO HAVE OTHER ROOMS IN THE HOME WILL BE RENTED (MAX. OR 2 PEOPLE). THE BAD YOU SHARE!
Nikki is really a great person, she's informing/-managing all of the house related things on time, it's unbelievable. The house's comfort, location etc. are really higher than my expectations. I hope to come again Nikki's house, when i find a chance to visit the nice city Stuttgart..
Burak
2017-04-02T00:00:00Z
Very good. I like the room. The owner is very kind and the communication was very good. I hope i can come again.
Hong
2017-02-05T00:00:00Z
Really easy going and friendly
Pablo
2017-01-25T00:00:00Z
I stayed at Nikki's place for a week end. Nice and comfortable room, in really good position. Communication with Nikki was easy and clear.
Elisa
2017-01-22T00:00:00Z
I only stayed for one night, but both Rafa and Nikki were so nice, helpful and communicative during my time there! Check in and out was clear and easy, and the room is exactly as per the photos, with lots of natural light and in a modern, clean and comfortable apartment. The flat is an easy walk away the city centre, or a 2 min tram ride. Highly recommended! I would stay here again if I returned to Stuttgart.
Linda
2017-02-26T00:00:00Z
Nikki was not there he was in vacation but his father did everything nicely. Located in a quiet, yet central area you can find supermarkets, Bus and metro stations nearby. Also the city center is easily reachable even by feet.
Sabine
2017-01-08T00:00:00Z
Very good room, friendly host.
Marc
2017-02-27T00:00:00Z
R.A.S
diarry
2017-04-07T00:00:00Z
Room Type
Private room
---
Property Type
Apartment
---
Accommodates
1
---
Bedrooms
Stuttgart, Baden-Württemberg, Germany
Bright, cozy rooms, situated in dead end. Bus stops on stairs in 2 minutes on foot. 5 minutes travel time to the main station. Cafe, Bakery, Penny, health food store and pharmacy within walking four in minutes. Large desk, lots of light, art nouveau bed (187cm long) with high-quality latex mattress, wardrobe and shelf. The room is in the first Stock- opposite the bathroom. Our two cuddly, well-behaved cat come to eat in the house, but not in your room
Der Park "Uhlandshöhe" ist zu Fuß in 10 Minuten zu erreichen. Dort ist ein Aussichtsturm mit schönem Blick über die Stadt. Einkehr im "Werkstatthaus". Im Sommer Bestuhlung vor dem Haus, sehr schön zu sitzen.
Room Type
Private room
---
Property Type
House
---
Accommodates
1
---
Bedrooms
Stuttgart, Baden-Württemberg, Germany
The Apartment is very well located at Stuttgart's Wilhelmsplatz. There are many good restaurants in walking distance and to the main shopping street, it's a foot walk of around 5 minutes. Right below the Apartment is a great Bar and a very good Italian Restaurant.
The Apartment is relatively small, yet able to host 2 pax perfectly.
Felix's apartment was lovely, and had everything you need for a weekend in Stuttgart. The location is great - with lots of bars and restaurants nearby, and a great bakery for breakfast (Hafendörfer)! Communication was great too, and Daniela, who was cleaning the apartment, helped us out by meeting us for a late check-in.
Zac
2017-03-05T00:00:00Z
The host canceled this reservation the day before arrival. This is an automated posting.
NiQuianna
2017-04-02T00:00:00Z
Easy to find! We never actually met Felix, but we easily got the keys from one of the bars downstairs. Lots of bars and places to eat nearby! Very clean place, perfect for 2 people for a weekend, I recommend!
Breanna
2017-04-02T00:00:00Z
Felix was a really nice host. He gave us tips about restaurants and bars. He also let us use the place during our last day.
Antoine
2017-04-09T00:00:00Z
Top Lage, sauber, klein aber fein, sehr unkomplizierte Handhabung und ein absolut gutes Preis/Leistung Verhältnis. Auf jeden Fall frage ich wieder hier an, wenn ich nach Stuttgart komme.
Kevin
2017-02-13T00:00:00Z
Klasse Unterkunft.zentral gelegen.Entspannter und freundlicher Umgang.Gerne wieder!
Andrea
2017-01-15T00:00:00Z
Felix` Wohnung ist top gelegen (wenn man nicht gerade mit dem Auto anreist) und sehr sauber! In wenigen Gehminuten ist man in der Stadt. Wir hatten etwas Probleme die Wohnung zu finden, aber Felix hat sich auf unsere Rückfrage hin sofort gemeldet und dann war das Ganze auch gar nicht mehr schwer ;-) Sehr flexibel bei Check-in und -out Zeiten. Allerdings stand auf einmal seine Reinigungskraft in der Wohnung, was für einen sehr peinlichen Moment gesorgt hat... Wir würden wieder hier übernachten!
Katrin
2017-02-27T00:00:00Z
Sehr zentrale Lage, saubere und gemütliche Wohnung
Selin
2017-01-04T00:00:00Z
Room Type
Entire home/apt
---
Property Type
Apartment
---
Accommodates
2
---
Bedrooms
Stuttgart, Baden-Württemberg, Germany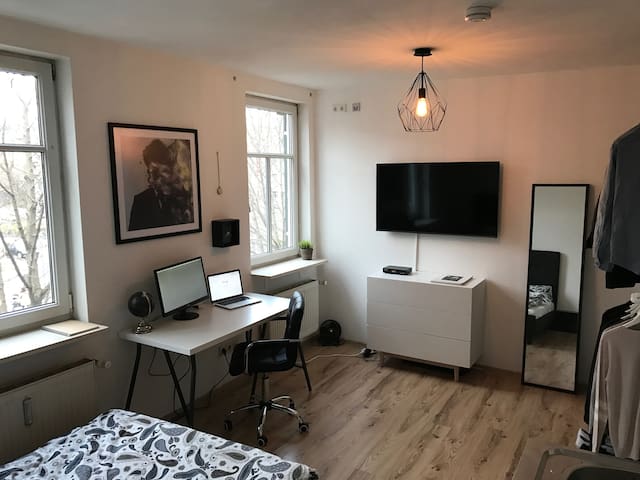 Welcome to the beautiful Bietigheim-Bissingen (Bi-Bi) in the south of Germany! Bietigheim perhaps not one of the top 5 destinations, but visitors gladly come again. Located between Heilbronn and Stuttgart, BiBi is the ideal starting point for excursions in the vineyards, a city trip to Stuttgart or culinary explorations of Swabian cuisine. Our cozy house in suburban train nearby is this an ideal spot.
Our house was built in 1928 and is purely externally may not be as cute, but enjoys a central location in a quiet, green neighborhood and its inner values ;-). We live in a detached house with an open kitchen / dining room, living room and bathroom with shower and toilet on the ground floor. On our little terrace is a cozy breakfast. On 1st floor there are bedrooms, 2 children and a guest toilet. On the 2nd floor are the guest room and a study room and another bathroom with shower, bath and toilet. Our land with a total of 350 m2 also belong garage and garden. On our porch swing it can hang. In the immediate vicinity there is also a playground with table tennis. At the Enz can also inlinern wonderful or take on the Enz canoeing.
The beautiful old town Bietigheims which is characterized by a number of half-timbered houses, is within walking distance min in about 10th Bi-Bi, as the locals call their city affectionately, offers the high recreational value and offers everything the heart desires: nice restaurants and beer gardens, City Museum and Municipal Gallery, 2 swimming pools with saunas, the largest pool in the region, 2 ice rinks, beach volleyball hall , mini golf, play golf, tennis courts and 2 cinemas. In summer BiBi score and environment with some festivals, concerts and open air cinema.
The house was beautifull. Spacious as well as comfortable. We felt right at home. The kitchen well equiped, 4 bedrooms, 2 bathrooms etc. And all of this at walking distance from the elegant historical centre of Bietigheim-Bissingen. All the proceedings were extremely well organised. We couldn't possibly think of any question left to ask. Cornelia is an excellent host and quite on top of things. Quite simply: everything was taken care of most wonderfully. We are proud to be Cornelia's first AirBnB-guests. We wish her and her family lots of happiness. And we are very confident that they will only have satisfied quest in the future.
Leo
2017-01-06T00:00:00Z
Room Type
Entire home/apt
---
Property Type
House
---
Accommodates
6
---
Bedrooms
Bietigheim-Bissingen, Baden-Württemberg, Germany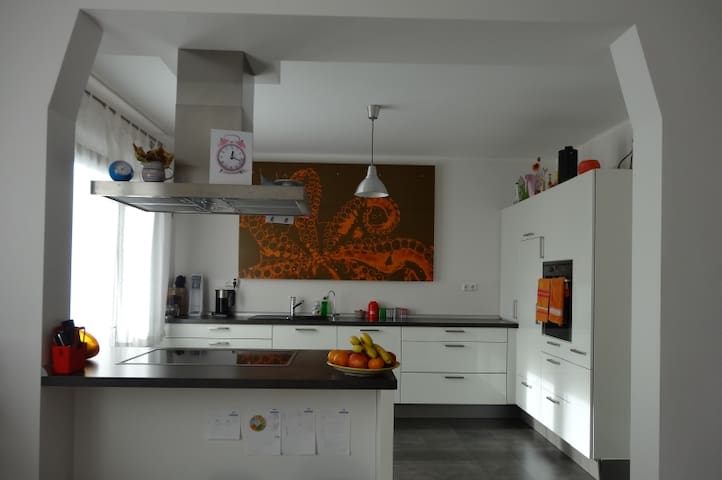 Enter dates to see the total trip price including additional fees (but excluding any taxes).