Do you want to experience the real Albanian culture? Do you want your own house not just a room? Do you want traditional home cooked organic food with hand picked vegetables from the garden? Do you want your own free tour guide? Our house is located on a hill top overlooking the lake. Enjoy your evening on the balcony and watch the sun set over the lake. The hosts are very accommodating and friendly couple. The village is a quiet and safe area with one market https://goo.gl/maps/Pnngwn5wSHm
What guests are saying:
"My boyfriend and I had a wonderful and very memorable 6 days at Shaban's. The house is located in a small village by the lake. In the village there are a couple of small grocery stores, a restaurant and a few cafes at walking distance and the lake of course is only a few minutes walk. The village is not touristy at all, you'll be staying in a community of farmers and local shop keepers so the feeling of "original Albanian lifestyle" is definitively there. The real plus of staying at Shaban's is that he will happily drive you around if you fancy doing some sightseeing in nearby villages and across the border to Macedonia. This was great for us as we did not have a car. So you could have the best of both worlds - staying in a quiet non-touristy village but still be able to do day trips and sightseeing. Also getting to the village from Tirana was very easy, buses leave from Tirana to Pogradec every hour and you can ask the driver to drop you at the village itself (Udenisht) instead of going all the way to Pogradec. During your stay if you don't speak Albanian (we didn't) you can communicate through hand gestures and charades or message Elis (Shaban's son who speaks English) and he will speak to Shaban for you, for instance to arrange tours for the next day. We also tried google translate but that didn't always work. So this is a great place to stay, especially if you are looking for an authentic quiet retreat with the possibility to do some sightseeing even if you don't have a car."
Welcome to Our Heavenly Mountain House. After hosting several Peace Corps volunteers for many years my husband and I decided to take our hosting adventure to a different level and join Airbnb. We have an adorable room in our little house on Pogradec's chestnut hill, looking both towards the Ohrid lake and the mountains; (amazing night view as well). This is going to be an unique stay experience for adventurers, nature-lovers and those who would not mind a short hike from the city center.
What guests are saying:
"This place is lovely! The family are such nice hosts. Arhid was so helpful and gave us top recommendations to travel about, and his mum is so sweet. We thought the location was perfect - we weren't too exhausted after walking up the hill but felt as though we done a bit of exercise, and it was high enough for a great view and some tranquility. And they have wifi which is a bonus! You won't regret staying here 😊 There's not loads to do in Pogradec itself but it was a great stop-off and we were able to visit Macedonia and go to Drulin"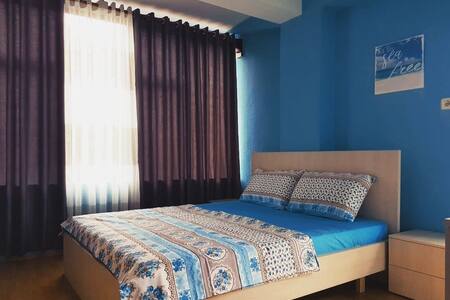 SUPERHOST
Entire apartment · 4 guests · 3 beds · 1.5 baths
Lovely Apt at the heart of the city&near the lake.
You will stay on the sunny second floor of the building. The windows of the living room and bedroom are enormous to enjoy the sunlight and warmth. The apt is comfortable,very quiet and spacious. The apt has also a balcony overlooking the boulevard. Everything is new because the apt is newly furnished with a flat TV,refrigerator, very comfortable mattress etc. The apt is only 3 minutes walk from the city center and also 2 minutes walk from the lake and the main boulevard.
What guests are saying:
"Tedi and his mother—- are very nice and prompt to respond to any question or need of yours. Place—- is very nice, simple and has all the basics down for the albanian standard. Its situated in front of the Credins Bank in the Center. In between there is a one way street that keeps quite during the night. You can sleep warm in a comfortable bed. Eating—- RESTAURANT PORADECI , located in the old neighborhood at Rruga Naim Frashëri is a highlight of not only SE-Albania but of all the Albanian cuisine. I recommend trying one of the wild dishes. You will have to spend around 13€/person there, for us it was the most worth it. We ate wild-goose in oven. Its a family place-restaurant cooking authentic carnivore dishes of the Ohër Lake region. Pogradec——in this city you can stay up to 4-5nights. If you have a 4 wheel car then you can stay more. You can go by bicycle/car/bus to Lin-village and see a paleo-christian church and mosaic. The village itself is picturesque. You can go to Drilon National Park or You can hike in Tushemisht by using MAPS(.me) as app. You can drive to Saint Naum( Shën Naumi) 20mins. Or walk from Tushemisht till there(1h). You can drive to Ohër(Ohrid) for acone day visit too. The nearest airport to the city is in Struga( Ohrid Airport) All in all a very nice place to stay. You cant go wrong staying here."