La camera Micia di 30 metri è situata al piano terra della struttura ed è dotata di un'entrata indipendente, bagno, frigo, microonde, bollitore e moka elettrica per il caffè. All'esterno un gazebo privato con salotto che si affaccia direttamente sul giardino. Inoltre ogni stanza è provvista del primo set di biancheria completa, guanciale, coperte, asciugamani in puro cotone bianco, shampoo e doccia schiuma.
What guests are saying:
"We stayed here for 3 nights, and wish it could have been more! We absolutely fell in Love with this place. Everything about it was perfect for us. The Room itself was clean, comfortable and cozy; we felt at home here. The grounds on which the room is located are breathtaking and beautiful; exactly what we pictured of Tuscany. Cristina, our host was really hospitable, attentive and helpful. She walked us around the grounds and room explaining everything. Staying at Podere Gattabiga we didn't commute to Florence centre to discover, but instead used our stay in the countryside to relax and unplug, visiting and discovering the Chianti region and its surroundings. The location was great to go out for a nice drive. We highly recommended this room to everyone! , you won't regret it."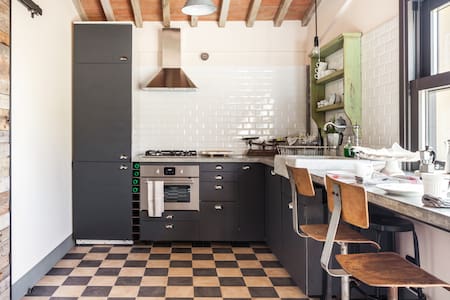 PLUS
Tiny house · 2 guests · 1 bed · 1 bath
Il fascino dell'antico e il comfort del moderno a due passi da Leonardo da Vinci
Immerse yourself in the combination of modern and vintage in this house full of details. Wake up sipping a coffee, admiring the rolling Tuscan hills and enjoying the coolness and scents of nature at sunset after a relaxing swim in the pool.
What guests are saying:
"Goodness, this Air bnb suppassed all our expectations. Silvia and her wonderful family immediately made us feel welcome and the accomodation spoke for itself. Set in panoramic views of vinyards and olive groves the setting is truely magical. The tiny house really wasnt that tiny and had more than enough space with a gorgeous kitchen, dishwasher and even a washing machine. the bathroom was simply beautiful along with the gorgeous bedroom. Nothing was too much trouble and the location is perfect for vivting pisa (1hr), florence (40mins) and Sienna (1.5hrs) along with many other stunning medieval towns and villages dotted around. We really did have a holiday of a lifetime and would definately go back. Make sure you buy some of ther gorgeous red wine and olive oil if you stay. I would say a car is essential for this type of stay. To finish there is a lovely pol overlooking the vinyards and its big enough to have a good swim and relax. One of the true little gems in beautiful Tuscany."
Dimora tipica toscana con bellissima vista panoramica. Una volta, quando era disabitata, ci vivevano le rondini, ed oggi, in estate, è uno spettacolo vederle ogni sera ritornare al luogo d'origine e volare a filo d'acqua per bere alla piscina. Così com'è unico nelle sere di maggio lo spettacolo delle luci delle lucciole o il canto dei grilli che danno il cambio alle cicale, scandendo le ore delle giornate d'estate; o ancora le bellissime farfalle dai colori unici in primavera.
What guests are saying:
"This is a great place! You're not in a touristy part of Florence, yet are still within walking distance of all there the main attractions (le David, the Duomo, Piazzale San Michelangelo, the Uffizzi, etc.). There are plenty of good restaurants, cafes and piazzas nearby, and the neighborhood is charming. Dimora's apartment is spotless and stylish, and has everything you'd need to have a comfortable stay. Dimora provides great amenities (juices, soda, milk, coffee, wafers, yogurts, snack bars."