Domek znajduje się we wsi Lipsko koło Narola. Do dyspozycji są 4 miejsca noclegowe, kuchnia i łazienka - całość 30 m2. Do przejścia granicznego w Hrebennem-ok. 20km, do Zamościa-60km, do Rzeszowa ok. 120km. Domek położony jest w przepięknej okolicy.
What guests are saying:
"Thank you very much for a great rest in a charming house surrounded by greenery. The cottage has everything you need to live on vacation, it is conveniently located when it comes to visiting the natural attractions of Roztocze. The owner is a very nice, helpful person who in addition makes excellent fruit preserves and tinctures, I encourage you to take advantage :) The big advantage is the possibility of taking a dog with me, my returned from the trip as pleased as me."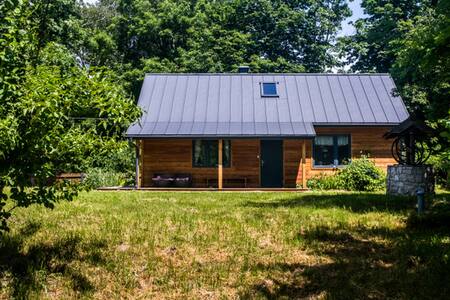 SUPERHOST
Entire house · 6 guests · 4 beds · 1 bath
Roztocze, Podlesina; Uroczysko na szlaku rowerowym
Jeśli lubisz las, ciszę, naturę i rower/bieganie to miejsce dla Ciebie. Podlesina to wioska w lesie, na trasie Centralnego Szlaku Rowerowego Roztocza. Dzieci zapominają o ekranach pochłonięte obserwacją żab przy źródełku i staczaniem się z piaskowej góry wprost na plac zabaw. Świetna baza wypadowa do zwiedzania Roztocza: Szumy nad Tanwią, Zwierzyniec, spływy kajakiem, Szczebrzeszyn, Zamość w bliskiej odległości. Lwów jest tylko 90 km. away. Edit: uszczelniony płot dla pobytów psów i SAUNA:)
What guests are saying:
"The house is recommendable, very clean and well-kept, equipped with everything you need and even more (e.g. full drawers of toys for children or anti-mosquito agents). Good internet connection. Friendly and helpful hosts. On the day of arrival, a nice surprise from Mrs. Natalia was waiting for us in the kitchen :-) Instant contact. Peace and quiet - unless they are working on a neighboring farm;) but such charms of the village and besides, they are only moments, better to remember bird concerts :) The area is large and fenced, garden sauna "barrel" available. You can really relax. Check-in / check-out is easy. The area is large and fenced, garden sauna "barrel" available. You can really relax."
Dom znajduje się w dogodnej lokalizacji (5 min pieszo od centrum Narola; w okolicy rzeka, lasy, zalew). Otoczony jest pięknym ogrodem pełnym drzew, krzewów i kwiatów. Oprócz tego na terenie posesji znajduje się duża altana z miejscem do grilowania i kuchnią polową, a obok miejsce przystosowane do palenia ogniska. Dla aktywnych oferujemy boisko do siatkówki oraz staw z możliwością wędkowania.
What guests are saying:
"Beautiful garden, polite, obliging and communicative hosts."