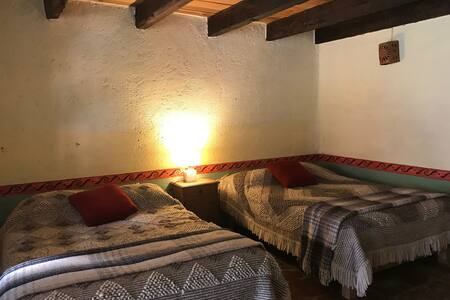 SUPERHOST
Hotel room · 4 guests · 2 beds · 1 private bath
Rancho Cumbre Monarca, ¡Habitación con descuento!
Rancho Cumbre Monarca It is a sustainable rural tourism project. Our commitment is to respect the habitat of the Monarch Butterfly. We are inside the Monarch Butterfly Biosphere Reserve, just 1.5 kms from the Rosario Sanctuary. Location: https://goo.gl/maps/r6pRtxVU8qu
What guests are saying:
"I spent one night here with my 2 children. The location was ideal, just a 5 minute drive to the entrance of the butterfly sanctuary (hot tip: turn right out of the hotel to go to the sanctuary). The property was beautiful and our room was nice. Everything is rustic and cement, but the furnishings were ok and there was a lot of space in the room. Fair warning, the room was absolutely freezing. I chose not to ask for the fireplace to be lit, due to being unsure of the safety (building codes in Mx are just suggestions). This made for a freezing evening and night. I would recommend either "risking it" and asking for the fireplace, or staying here during warmer months. We weren't able to try out the restaurant because it was just too cold to sit down and eat, but other guests seemed to enjoy it. I think they had warmer clothes!"
A second floor apartment with a separate entry 5 min from the entrance of Cerro Pelon Monarch Butterfly Sanctuary. Includes two bedrooms, shared bath, common space and mountain views.
What guests are saying:
"My daughter and I stayed at Pato's Place to see the butterflies at El Rosario and Cerro Pelon. The space represents the pictures accurately. The days were fairly warm and the nights were cool. We were never cold during our stay. There were plenty of soft blankets/quilts on the bed to stay more than warm while sleeping. The space is light and bright and was very clean. The space was very private. The home was quiet for sleeping other than the farm animals outside making their sounds, we slept just fine and required no ear plugs. Fresh lilies from the garden were provided in the sitting area and were a nice touch. Fresh water was provided, along with an assortment of herbal teas, coffee for the coffee pot and sugar. There was no powdered cream so if you don't like your coffee black then you may want to bring some with you. There was no hair drier and only one small mirror in the bathroom for getting ready, but with just the two of us it really wasn't an issue. There was plenty of hot water for showering. Pato's wife, Daleth, was very pleasant and hospitable. Communication was fine since my daughter is bilingual. However, even if you don't speak any Spanish you'd be fine to communicate given all the Apps to translate. The little village of Macheros is quant and unique. The people are so friendly and welcoming. I would recommend Pato's Place for a most memorable and comfortable stay!"
Country House, 30 minutes from Valle de Bravo, private with a large garden, surrounded by nature and peace, the house has two rooms one with a bed, the other with three bunk beds, ideal for couples or families, also the fireplace enliven your evenings, the kitchen is equipped, a bathroom, solar heater to be able to bathe up to 14 people in a single day, space to park your car. It is also about 3 minutes from an area of protected fauna and flora where you can go hiking.
What guests are saying:
"Very good accommodation, comfortable, kindness, good service and very service, ample space to store cars and enjoy the afternoon."