Express from 29 minutes by Ikebukuro It is a quiet place, 15 minutes on foot from Honkawagoe station, middle school, Kita-soba soba. I think that I can relax at a tatami room, western style, slowly. Nearby, there are department store Maruhiro, Izakaya, karaoke, sushi rush etc. I hope to help you in your work and sightseeing
What guests are saying:
"10 minutes walk from the property to the convenience store, 15 minutes to Honkawagoe Station. For 25 minutes to the sweets street, I just walked to the shrine. I didn't get on the bus at all. I had two spacious rooms and a kitchen. It was nice to be able to taste a little when I later lived alone in Japan. About cleanliness, it was all good, but mat on room with sofa was dirty. I feel like I didn't rob. Everything else is clean. I have everything. It's home. Oh, toothbrush toothpaste. If there was only one drawback, the room was cold. It was cold when I turned on the heater but I slept. I put on my clothes and slept. The heaters in the air conditioner can also be activated, but I might not have known ... The removable heaters were warm when turned on, but the entire two rooms did not warm up. But if you keep the door closed for a while, it will get a little warmer. It was nice because the owner was very kind. I feel good for the day! I will definitely come here when I go to Kawagoe!"
SUPERHOST
Private room · 4 guests · 2 beds · 1 shared bath
Kawagoe 2rooms from 1 to 4 guests. Without meals.
My listing is a home where guests and hosts live together. If you want to experience the quiet life and lively city of Tokyo, this listing is your best choice! You can reach the center of Tokyo in about 30 minutes by train. My listing is 13 minutes walk from KAWAGOE station. 1F Western-style room has 2 single beds. Japanese-style room has 2 futons. Sleeps up to 4 people. 2F It is a common space. There are TV, sofa, kitchen, refrigerator, bathroom and washing machine. 3F Host only.
What guests are saying:
"The landlord is very kind. Since I work from home, I can always ask if you have any questions. Although the place is a bit remote, I think that the landlord will pick up and drop off in a distant place, so I don't think it is a problem. Other than that, it is perfect. The first floor can be used freely. The second floor is a common space with the landlord. There are sofas, TVs, tables, chairs and kitchenware. You can also cook by yourself to save some food costs. btw thank you landlord for dessert, thank you =)"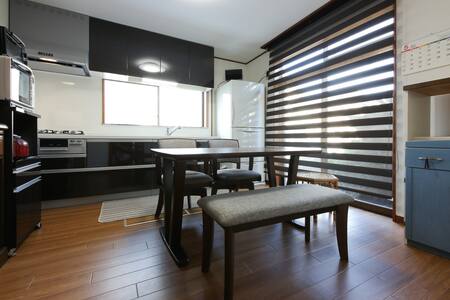 SUPERHOST
Entire house · 10 guests · 5 beds · 1 bath
Super Arena、Sonic-city、Railway Museum. Space 90㎡.
Renovated clean house, brandnew bathtub, brandnew kitchen, toaster, microwave, auto-wash and dry machine ,,, all brandnew !!! Each room has a key and nice sun shining. 5DK (1 room not available) with garden and 2 parking lots. Large groups are available. It is a beautiful house just renovated. Kitchen, bath, toilet, etc. are all new. The automatic washer / dryer and wash basin that can be dried until completely dry is a three-sided mirror, shower, and large sink. Live DVD / BD, etc. If you bring it, you can experience the arena feeling with a large screen 5.1ch surround. (You tube can also be viewed on high quality large screen) Good sunshine. We have two bicycles. We will pick you up at the super arena depending on the date and time. (Up to 6 people)
What guests are saying:
"I took care of the children. I was able to spend a very good time with great facilities and excellent hospitality. The explanation at the time of check-in was also polite, and I was very grateful to teach the children how to start the game (selection, setting) kindly to the children. There were a lot of home appliances and kitchen equipment, so I was able to stay like a living. Although it was a large car with three numbers, it is also helpful to be able to park on the premises. Cleaning was thorough and clean. Thank you for the generous share of your precious home and great facilities."