This typical Victorian chalet bungalow located amidst oak and pine forest on the Pontrey hill reflects best what the cottages of Kipling's Dull-housie can offer. The warmth of the winter sun, the whistling pine needles, the musical rain patters, the cold whiff of winds, the misty fog against windows, the sound of silence, we bet the place has covered all. Let you all be here for every season and every reason to be enthralled by the spectacular setting of the cottage. Your rejuvenating retreat.
What guests are saying:
"Ever wondered if all the roads end somewhere ? Well I have and you'll have to experience it to believe me. This place is literally on the road's end from where on the forest begins. A quick 2 min trail would lead you to a quiet spot in the forest where you can experience Dalhousie's beautiful sunsets and spend some time in solitude while the sun puts on a show for you. If you have a wish list of places where you've enjoyed a cup of 'masala chai' ( Indian spiced tea ), this will be an imprint on your memory. If you get away from the hustle bustle of a town to enjoy a fine book with a cuppa then bright sunny mornings sitting besides the house entrance will surely be an experience to remember. We spent a chilly night besides the bonfire eating marshmallows and listening to the soulful voice of Eddie vender. Heavenly experiences! The property itself is quite spacious and the common area has an old rustic feel to it. Loud music. Glaring light pollution from the markets ruining your night sky experience. Lots of tourists going by when you desire a peaceful. night walk. Not to sound too entitled, but these are the undesirable effects of being a popular hill station on the map. Well, this place is attached to the town by a loose string so that you don't lose the connect while still not being tightly pulled along the town's commercialisation. Do walk up to Bakrota hills from Gandhi chowk and have your much deserved plate of piping hot vegetable Maggi up there!"
Nature's Abode - A homestay amidst Pine trees along with the facility of a terrace, which you'll rarely find in hills. Commanding a panoramic view of the reserved forest.
What guests are saying:
"Raghuwansh's place is amazing for a small group of friends or family. Feels like home and his helper is always around if we need anything. The only setback is that of the heating situation of the house. We were given heaters and blowers but it wasn't effective against the cold. Maybe because we aren't used to it. The place itself is near a hill station market and everything is available nearby until 9pm. I'd highly recommend it to everyone."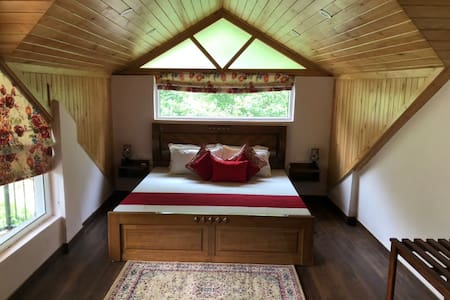 SUPERHOST
Private room · 4 guests · 1 bed · 1 private bath
Tilsharit Greens - Pine Cottage - Attic Room
Attic room is our cozy yet spacious room that can comfortably accommodate 4 adults if required. The room is set up as a wooden structure and gives a hill cottage feel. It has a private balcony where you can enjoy your morning / evening beverage with a view of the hills and sound of the birds :) This room takes our heart and we are sure it will take yours too :)
What guests are saying:
"Really enjoyed staying at Tilsharit. Before booking I asked many questions about property etc and got prompt response from Parul. After booking Parul was in touch guiding us about the climate and required warm clothing etc. Communication wise Parul was outstanding. Parul and Siddharth are great hosts. We were welcomed by Siddharth and his mother. Rooms are tastefully done with pine wood panelling. Bathrooms are squeaky clean. All modern amenities are available along with room heater. Breakfast options were their but we opted for tasty Stuffed Parathas, with Butter Achar etc. There is tea/coffee and kettle arrangement is in room itself. There is team of caretakers also for meeting any of our needs just like hotel. Parul and Siddharth guided us about local sightseeing etc. One negative: Slow jiofi (wifi). Enjoyed our stay at Tilsharit."