The Tree House Our Tree House has everything you need to enjoy your stay in this rugged part of the country. With views of the Juan de Fuca Straight and French Beach there are many trails nearby to hike and beaches like French Beach, Flea Beach, China Beach to explore. At night watch the sunset from the private "perch" in French beach, just a 2 minute walk away. The Space The Tree House borders French Beach Park and is about 100 feet away from the main house. It has one queen size bed, so it will accommodate two people but we have had guests with one child sleeping in a Pack and Play or on the chesterfield.There is a hot tub beside the main house which one may use. Access There is no bus service to Shirley so a car is a necessity. Be sure to buy your groceries and gas in Sooke as there are no gas stations or grocery stores beyond Sooke until Port Renfrew. Shirley has no cell phone coverage and wifi may be spotty at times.Be sure to have our house number and directions to our place with you. The Neighbourhood There are three restaurants within a 10 minute drive from the Tree House: Shirley Delicious, with yummy all day breakfasts, soups, wraps ,coffee and muffins,pp88 Stoked Pizza which is just 3 minutes away and Point No Point with its fine dining and beautiful Ocean view. There is a trail from the bottom of our driveway into French Beach Park which goes through the forest to the beach. At the Tree House there is a short trail into French Beach Park to the "Perch" where two chairs and a fire pit are waiting for you. Your hosts, Dale and Ineke Dale and I have lived in Shirley for close to three years after we decided to fully retire. We were attracted to this area because of its beauty and its magnificent view of the Straight. We love watching the whales and sea lions go by, observe the nesting eagles and the fabulous sunsets over the water. We will be here when you need us but we will also respect your privacy
What guests are saying:
"Ineke and Dale were wonderful hosts. Ineke me as soon as I arrived. Lovely and warm and welcoming. On the morning I was leaving I ran into Dale and had a lovely chat about the property and his workshop. The outlook is a stunning sand covered rockledge over the ocean. So peaceful and relaxing. I could have stayed for days. The driveway was tricky to navigate on my motorcycle. If you're cycling, note that it is steep gravel. All in, a lovely little spot. I highly recommend it."
Airbnb's second "Most-Wishlisted" property across all of Canada, our beautiful loft cabin has incredible views of the Sechelt Inlet and gets all the afternoon sun. The beach is a three minute walk downhill, and our community is very quiet as it sits at the end of the road. Why not come and relax for a few days?
What guests are saying:
"As many many other reviews state, I loved our little getaway to this cabin. The pictures use wide angles so what's portrayed seems bigger than reality. Nevertheless, the cabin was just as expected, cozy, quiet, cute and relaxing. The best part was the canoes we could use at our convenience from the beach that was just 5 min walk from the cabin :D ! The only thing I wished for was that when the sun rises, the bedroom gets really bright cuz of the small window with no blinds so I was kind of forced to wake up early :P, next night, we resorted to using the pull up bed downstairs :) All in all, great stay for two, it rained most of our stay but the cabin made up for it :) we loved our trip to Sechelt! Thank you!"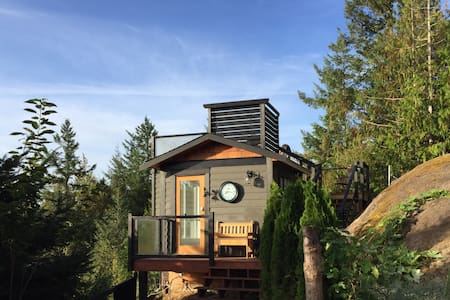 SUPERHOST
Entire cottage · 2 guests · 1 bed · 1 bath
Beau Mountain Private Ocean View Cottage - Alpacas
Come feed the Alpacas and relax! Beau Mountain is a quaint modern cottage nestled in the West Coast Hills. Your view overlooks the ocean, Olympic Mountains and an Alpaca Farm where you can hand feed the friendly Alpacas at the bottom of your private steps. As seen on https://youtu.be/LobRbR4UL3o Cook up dinner in the outdoor kitchen in the trees, and enjoy on the rooftop patio overlooking the ocean. The fire pit will keep you toasty at night! The Ocean Cliffs are just a short walk away!
What guests are saying:
"I booked my 10 year old daughter and I into this cottage based solely on the fact that there were alpacas she could interact with and feed (my daughter is llama obsessed). However, I couldn't help noticing the glowing reviews from all the other guests, and they were absolutely right! Jess has thought of everything to make a guest feel at home. From the well stocked, and rather fabulous, outdoor kitchen, to the cozy throw blankets for use by the rooftop firepit, to the welcome gifts for wine, beer & snacks, this cottage is the perfect little getaway! We of course enjoyed feeding the lovely alpacas a great deal (Jess leaves fresh fruit & veg in a basket for visitors to hand feed them), but we also enjoyed snuggling up in the comfy bed and watching a movie, gazing out at the fog rolling in over the ocean from the rooftop patio, and playing with Alexa (our first experience with Alexa, haha) The cottage was immaculately clean upon our arrival and Jess checked in with us promptly to ensure we were happy (we were). Would love to come back here for a romantic weekend with my husband, because it's the perfect little spot for it!"