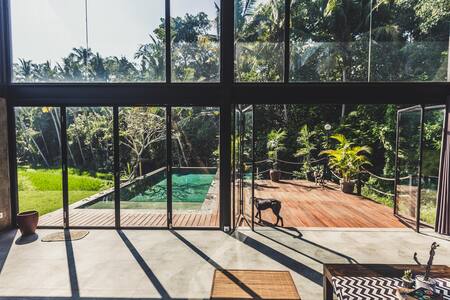 SUPERHOST
Entire villa · 5 guests · 3 beds · 1.5 baths
2-BR Designer's Loft - Rice Field View - Free Taxi
This loft-style, private villa has been named as one of the coolest Airbnb spots in Bali by The Culture Trip, Qantas Travel Insider, and also featured on Airbnb's official Instagram account. Stay here and experience the gorgeous view of rice terraces, Batukaru volcano, and tropical jungle, beautiful designer villa with 6m-high ceiling, open-plan living, a home-spa area, and a picturesque infinity pool. Set in an authentic village away from the hustle & bustle of Ubud's busy downtown. Enjoy!
What guests are saying:
"As everyone has stated it's a beautiful, very instagram-able house! And the host, Mr Dodik, is awesome. He's very responsive and attentive. A few things to consider that I think we missed when we decided to stay here... the house is a quick walk from where the car can drop you off (not a huge deal but not great in the rain); there are lizards in the house (that make noise at night and sometime leave little presents on the floor in the morning); and the smoke from the rice fields can get thick depending on the direction of the wind (not a big deal for us but could be if someone has respiratory issues). And it's well advertised but the house only has A/C in the bedrooms. During the day, we did feel like the home was pretty hot and a bit uncomfortable (even with all the doors open and fans on). Bottom line, it's a beautiful home in a very unique location. And if the aforementioned things wouldn't bother you, this place is worth it!"
It is a one bedroom villa located in a Balinese compund. It has Air Conditioning, hot water, a private pool, sharing pool, kitchenette, and WiFi available. Daily breakfast, cleaning, and afternoon tea are included.
What guests are saying:
"Floating breakfast at 100,000 won villa (even good, add 100k) And pick up drop service three times a day I think two of them are the biggest advantage The hospitality atmosphere is also very good, and the welcome drink is put in the refrigerator beforehand. The pool water is cool and spouting? Like a fountain? If it's dinner, turn it off and turn it back on in the morning. It tasted like sterilizing water (I thought it was good) Unfortunately from here on The shower is a little high and the water isn't straight, so it just spreads out. I think it's just green, so be sure to consider the bugs! Why is there only a few outlets and a spare battery charged overnight, but only two compartments? I couldn't check whether the stove was working or not. If you want a floating breakfast, I'll be back! Two American girls who went to Central together were in a week and said they were sorry!"