•Comfortable, modern cottage •20 acres of meadows & forest •Hike the trail to private Cedar Creek •Enjoy the gas wood-stove •Adventures nearby - rivers, waterfalls, Mt. Saint Helens
Cedar Creek Retreat is located on 20 secluded acres of meadows and forest along a lovely Creek. Enjoy the tranquility of nature in our modern cottage. Hike down a forest trail to private Cedar Creek frontage or enjoy the gas wood-stove in the living room. Keep your eyes out for wildflowers, deer, rabbits, humming birds, and eagles. The home is very comfortable and has a nice layout. Each of the two bedrooms have queen size beds and their own bathroom (one with bath, one with shower). A tri-fold pad is available for a fifth person guests must provide their own bedding for the tri-fold pad (sleeping bag, etc). All rooms have views of the meadows and woods beyond.
The property location is on a dead end road a mile out of the tiny town of Yacolt, Washington, and an easy hour drive from Portland, Oregon. Yacolt offers a restaurant, pub, bank, post office, gas station, and basic grocery store. Be ready to prepare your own meals as restaurant options are limited. For those who are up for time in the car, the property is a good base for exploring the south side of Mt. Saint Helens. Otherwise, there are lots of fun options nearby. A highlight is Moulton Falls park located 4 miles to the south. It offers lush forest, emerald green waters, fun footbridges, and spectacular waterfalls. There are a number of other very nice parks nearby along the East Lewis river including: Lucia Falls Park, Sunset Falls Park, and Lewisville Park. Other nearby activities include: Wine tasting at Moulton Falls Winery, Pomeroy living history farm, and the historic Clelatchie Prairie Railroad that operates a couple of weekends a month.
Amazing little cottage just as was described, despite the rain it was perfect. I will for sure be back again and this time I will bring friends.
Jamie
2016-10-12T00:00:00Z
I stayed at Dharma's place with a small group of friends for a long weekend. We appreciate that Dharma was very accommodating and flexible, so we could check out later on the last day. The house was very clean, with towels provided for us. The heating system was great, which we were grateful for after hiking in snow. The kitchen was well stocked with utensils, pots and pans, and basic cooking condiments. Most of the items in the house seemed quite new. There was no Wi-Fi in the house but we had decent cell reception, so that didn't bother us. Over the weekend we explored Ape Cave, Moulton Falls Park and Moulton Falls Winery. The location of the house gave us easy access to these activities and we enjoyed all of them. I would recommend Dharma's place for a small group getaway.
Eric
2017-01-16T00:00:00Z
This cabin is lovely, clean, comfortable, and very private in a beautiful setting. The only other creatures we saw while on the property were two deer. The walk down to the creek is pleasant, and we had no problems at all with the cabin. We didn't meet Dharma in person, but got clear communication as to how to access the keys. The nearby town of Yacolt is pretty sleepy, but that was fine for our relaxation purposes. (The Moulton Falls Winery had good pizza.) We'd be happy to stay in this comfy place again again.
Lisa
2017-04-02T00:00:00Z
Adorable cabin, and very cozy. Loved the land as well. Just lovely, even when it's rainy all day. :)
Sarah
2015-12-14T00:00:00Z
We had at wonderful stay at Cedar Creek Retreat. The home was in pristine condition and fully equipped. The 20 acres and walk down to the creek were beautiful. We recommend Cedar Creek Retreat.
Kelly
2016-08-05T00:00:00Z
Our family had a lovely mini-vacation at Dharma's cabin — wish we could've stayed longer! It's a great home on an awesome piece of land in a beautiful part of Washington.
Daniel
2016-08-29T00:00:00Z
We had a few days of very relaxing time at Cedar Creek retreat. The house was clean, well equipped and well labelled. We didn't get to meet Dharma however she guided us through checking in process and everything was easy to use. We'd come back again.
Mizue
2015-08-28T00:00:00Z
Dharma's cabin was a quiet oasis, a delightful break from the noise and bustle of the city. We were delighted by the natural surroundings and the visits of a doe and two fawns, morning bunnies, hummingbirds at the flowers and grasshoppers dancing in the grass. As we have sensitivities to chemicals, the eco-friendly products used to clean and launder were gentle on the nose and skin. It was wonderful to have a full kitchen, a tub to soak in after long and sacred days on Mount St. Helens, a comfy couch to discuss our adventures, barefoot access to a grassy yard in the morning light and privacy provided by trees. Thus, we felt deeply at ease and grateful for the dedication to a nurturing environment. I haven't had a good night's rest in awhile and this space afforded me two in a row. Quite a treat! This is a home away from home.
Jennifer
2014-08-16T00:00:00Z
Room Type
Entire home/apt
---
Property Type
Cabin
---
Accommodates
5
---
Bedrooms
Yacolt, WA, United States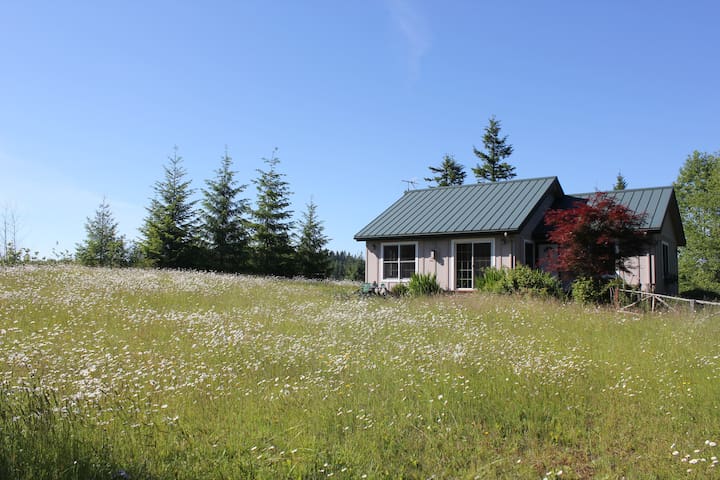 Our beautiful retreat is surrounded by woods & nature. We are close to parks, winery, restaurants. Wildlife, rushing river, pool and more! Kayaking, tubing, fishing, waterfalls, hiking & more. We invite couples, adventurers, business travelers, and families. One bedroom available but the house is 3200 sf and has airbeds, couches & futon available. Pool, Hot tub, Firepit, BBQ, Wifi.
The home is nestled in the woods, surrounded by mature forest and beautifully landscaped property. The sound of the river and the call of our eagle will bring you back again and again. Added benefits to our property is the proximity to the river. Enjoy kayaking, tubing, fishing and hiking adventures. If the river water isn't temping you, jump in the pool and relax, float and sip on your drinks. (pool open May to October). Paradise is waiting!
Room Type
Entire home/apt
---
Property Type
House
---
Accommodates
6
---
Bedrooms
Battle Ground, WA, United States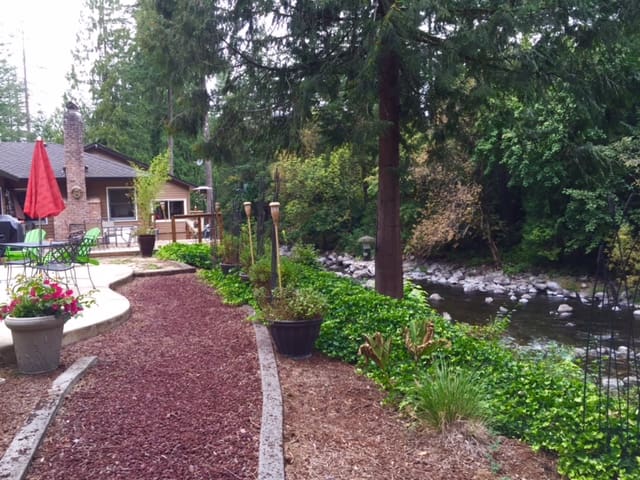 Our cabin on the East Fork Lewis River is a private, relaxing retreat with great river frontage, views, and water access. Close to Moulten Falls, Lucia Falls, Lewisville Park and Battle Ground Lake as well as many wineries. Drive time to Portland International Airport is 35 minutes (24 miles.) If you enjoy being near the water this is perfect for you. Our cabin is good for couples, solo adventurers, families (with kids), and furry friends (pets).
In addition to the hot tub there is a small sauna in the bathroom next to the hot tub. This area is detached from the house on the river side of the garage. The hot tub is enclosed on three sides with a down river view on the 4th side.
Wonderful cabin on the river that offered privacy yet wasn't far from the heart of Battle Ground. We enjoyed the layout -cozy living space and deck with a nice hot tub/sauna area that we enjoyed in the evening. We were very comfortable with an infant, toddler, and two adults. Would love to stay here again!
Brook
2016-07-30T00:00:00Z
Debbie did a great job of making sure everyone felt welcome. We were staying with our 3-year-old and 5 month-old granddaughters and their parents...there was a bed for the baby, games for the toddler, and some of her favorite juice boxes. The relaxing sound of the river will make us want to return. The set-up with the hot tub next to access to a bathroom with a shower and the sauna makes this a cozy, relaxing space for all seasons.
Michele
2016-08-04T00:00:00Z
Wow... What a great place. If you're looking for a quiet, comfy retreat a little off the beaten path, but still right around the corner from some amazing places, this cabin is for you. We slept with the windows open, the river rolling along and providing the perfect background. The deck was perfect for a batch of grilled steaks al fresco. And my daughter took an inadvertent dip in the river to no ill effect. My initial thought was to give this place a bad review, just to keep it my little secret, but I couldn't do that to Debbie, who was the perfect AirBnB hostess.
Allen
2016-07-26T00:00:00Z
This cabin was awesome! We spent 3 nights here and loved every second of it! Although we never met in person (all communication was through messaging) , Debbie is a great host. She was very prompt returning messages, accommodating to our early check-in, she even gave us the option for a late check out. I would definitely recommend this cabin for any length of your stay!
Tavis
2016-09-19T00:00:00Z
Debbie went above and beyond to make us comfortable. The Kitchen was well appointed, there was plenty of supplies (i.e.:towels, soap, trash bags, tissue.) We literally walked in with groceries and it was like being home.
Jill Ann
2016-08-20T00:00:00Z
Amazing location, and very nicely laid out house, perfect for relaxing by the riverside. The sauna and hot tub were a real treat at the end of each day! I highly recommend this place.
Petter
2016-08-31T00:00:00Z
The cabin was set up for a warm welcome. We were delighted to find a welcome kit with some home made cookies. The cabin and its vicinity in itself is so beautiful and picturesque - in fact, the airbnb photos do not do justice to how beautiful the river side is. What surprised us further was the attention to detail in ensuring all our needs (and even concerns) were adequately addressed well in advance. We look forward to going back there in winter.
Vinay
2016-09-25T00:00:00Z
This cabin was exactly what our family needed for a getaway! Deb made the reservation process easy and was very responsive whenever I had a question. The cabin is fully equipped to make your stay comfortable and the location can't be beat. The river is steps from the house and was perfect! My husband loved fishing in it and my kids loved exploring the shore, tubing in the river and catching crayfish. I loved relaxing on the deck reading and watching all of them play. The cabin is only about 5 miles from the town of Battle Ground with lots of dining options so we only cooked breakfast which meant less work for us. However, Deb had plenty of dishes for cooking plus a dishwasher! The beds were comfy and there are plenty of towels for beach and for showers. There's even a laundry room. We spent one day at the Ape Caves which were an awesome adventure!! We can't wait to go back again!
Amy
2016-09-06T00:00:00Z
Room Type
Entire home/apt
---
Property Type
Cabin
---
Accommodates
7
---
Bedrooms
Battle Ground, WA, United States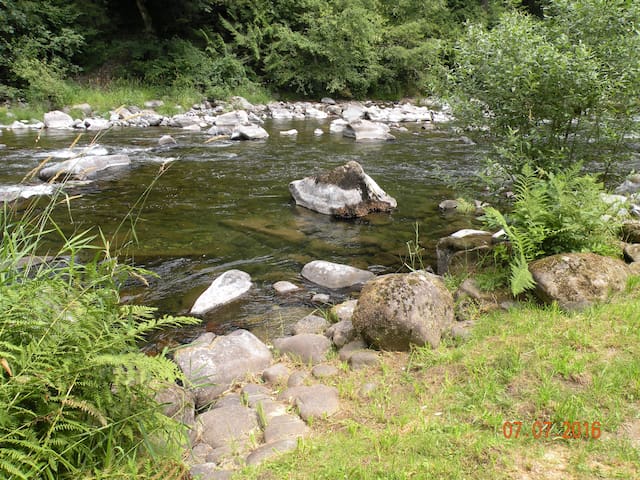 This is a private one bedroom apartment located on 4 acres with a kitchen equipped adequately to prepare basic meals ( full size range and refrigerator!), bath and WIFI. We recently added 18,000 BTU Heat and Air Conditioning, and Smart TV with cable! We're 10 min. from shopping, great restaurants and brew pubs with several wineries nearby. We are 35 min to Portland International Airport, 5 min. to Battle Ground Lake.
While our Bungalow is quite adequate in size for one to two people, it is not meant to accommodate more. There will be a $15 charge per person per night for any additional persons upon our approval prior to your arrival.
We are located on 4 acres in a rural setting with a gorgeous view of the valley and distant mountain range.
I loved the little bungalow! Beautiful views, and so peaceful. It was just the "battery re-charge" getaway I needed.
Lisa
2016-06-27T00:00:00Z
Steve was really helpful with arrival, shopping and dining instructions, and made us feel welcomed. The serenity and privacy of the place is incredible. This is a true escape from the city noise, with gorgeous Battle Ground lake and it's clear warm water just around the corner. We really appreciated special gestures from Steve like farm-fresh eggs and homemade banana-nut bread waiting in a fridge. Overall very pleasant experience.
Egle
2016-07-11T00:00:00Z
They greeted us when we arrived and were very friendly! The view was amazing! The cottage was cute and cozy. There was fruit & toast left for us in the fridge and coffee with creamer & sugar! Everything was as described, better even! Thank you! Looking forward to another vacation here!
Jen
2015-11-30T00:00:00Z
Visit was great. Nice private guest house with beautiful views.
Cindy
2016-06-29T00:00:00Z
Steve's little apartment was the perfect place for us. It is a private little bungalow not attached to any other living space so we didn't have to worry about our little guys noise level. He touched base with us before arrival to see if there was anything we needed, met us when we got there and gave us a quick tour and left some treats in the fridge to get us through until we could get to the store.
Kimberley
2016-11-08T00:00:00Z
Steve was there to welcome us and show us through the place. He apologized that the a/c unit he was hoping to have installed was backordered but we never really needed it. Even though the temps hit the 80's, the unit was always comfortable with the ceiling fans. We loved the privacy. Since we were visiting friends in Battle Ground, it could not have been more convenient. It is 10 minutes to downtown Battle Ground with its antique and collectible shops. Portland is 40 minutes and Mt. St. Helens is about an hour. We really got to see some beautiful countryside. Our GPS took us through the back roads many times. This is a great place to get away from it all.
Harvey
2016-07-25T00:00:00Z
Beyond happy with everything about our stay! Absolutely recommend!!
Natalie
2016-07-06T00:00:00Z
Loved the banana bread and tea. It is very peaceful and relaxing here. It's perfect for rejuvenating from the hustle and bustle of daily life.
Shelly
2016-06-19T00:00:00Z
Room Type
Entire home/apt
---
Property Type
Bungalow
---
Accommodates
2
---
Bedrooms
Battle Ground, WA, United States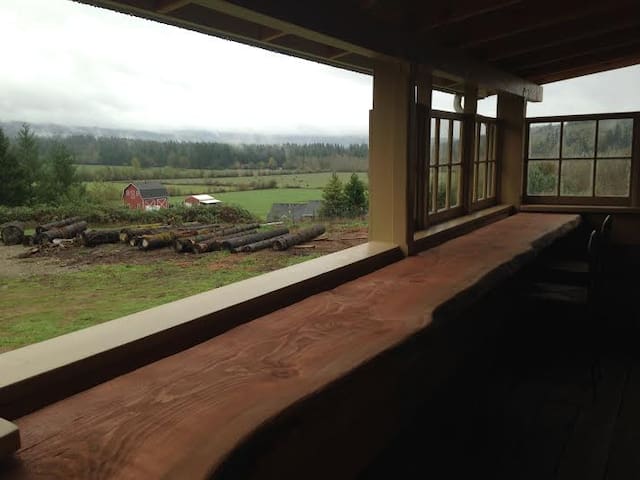 My place is close to great views, hiking, wineries, blueberry farms, and great brewpubs. You'll love my place because of the unique geodesic dome architecture, well-lit great room with skylights and view of Silver Star Peak. My place is good for couples, solo adventurers, business travelers, and families (with kids). No availability yet. This is our primary home and we are working on getting her up and running for guests. We are hoping for a November launch date. Stay tuned!
Have you ever stayed in a dome? High ceilings, skylights, and open floor plan might make you a believer.
Off the beaten path, our Bells Mountain neighborhood is secluded with access to great hiking, biking, and swimming. You will sleep soundly in this quiet neighborhood. Your closest neighbors are about 2 football fields away!
Room Type
Entire home/apt
---
Property Type
House
---
Accommodates
6
---
Bedrooms
Battle Ground, WA, United States
Yacolt - Airbnb
:
Average

5

out of

5

stars from

42

guest reviews
Enter dates to see the total trip price including additional fees (but excluding any taxes).