Enter your check in date in the format dd-mm-yyyy
Enter your check out date in the format dd-mm-yyyy
Listings you can book without waiting for host approval.
6 Rentals
· Williams Lake
6 Rentals
· Williams Lake
Enter dates to see the total trip price including additional fees (but excluding any taxes).
This July and August, you can try one of these 100 highly-rated homes, at all price points, and experience a local's view of Sonoma. 24-hour check-in, Instant Book, and local wine and snacks let you just sit back and enjoy your trip.
Nestled next to our own home, this cozy one bedroom, fully furnished suite is sure to be your home away from home. It is located in a quiet country subdivision 13km from the town center of Williams Lake and 15-20 minutes from the airport. It comfortably sleeps two with a pullout couch for a possible third person. The area offers many outdoor activities summer or winter.
This unit is bright, clean, cozy and a comfortable living space for 2 people, possibly 3, with a queen bed and a full size pull out couch with all the amenities. The surrounding area has many lakes for swimming, fishing, kayaking as well as many hiking and biking trails during the summer, and downhill skiing, snowshoeing, X-country skiing and more during the winter. With full use of the 820sq ft of living space we will provide use of 1/2 of enclosed garage with 2nd door access to the unit. We are open to have as much interaction with guests as they would like, or let guests relax and do their own thing.
Our neighborhood is housed on acreage and tend to be quite peaceful. We have a 1km paved loop around the neighborhood for walking/jogging/biking with nice views of some ranchland. The area is known for the TV series "Timber Kings" of Pioneer Log Homes, the home of Carey Price (Montreal Canadiens goalie), and the famous Williams Lake Stampede. Town offers rentals of all sorts. Cars/bikes/kayaks/quads and more For longer stays (2+ weeks) discount rates may apply. Please inquire.
Once again an excellent stay with Norm and Deb. Their place is perfect. it's a private, quiet accommodation. loved the use of the enclosed garage and everything inside the suite was perfect, not a thing missed. This is one of the best Airbnb listings I have ever stayed at. I only wish I had more work in the Caribou region to take advantage of staying more often. I would not stay anywhere else in this area of BC. Great Job Norm and Deb!!!
Brent and Christine
March 2016
Best Air BnB I've stayed at so far! Norm and deb are very friendly and so our the dogs. The place is beautiful and very well kept. They even made me some muffins and dinner once. Very Lovely hosts and suite.
Ryan
November 2016
This was a wonderful place - top notch!
COLLEEN
October 2016
We are foreigners travelling around Canada and US for the last four months in a small pop up camper. We were looking for a nice place to celebrate our daughters first birthday, have a rest and gather energy before further travel. Our stay in Deb and Norm's house was far better than we could expect. We felt just like at home. The house is super clean (which was very important to us since our baby is still crawling). Very comfortable bed. Kitchen and bathroom equipped with all useful amenities. On the shelves we found good information about attractions in the area, collection of DVD's, CD's, books and games. There was also wonderful big veranda ideal for dining and relaxing. Deb and Norm are great, easy going and very friendly people. They even prepared a birthday cake for our daughter when we arrived! We absolutely recommend them to anyone who wants to spend some time near Williams Lake. Deb, Norm, thanks so much for your amazing hospitality and hope to see you again one day!
Bartek and Marta
August 2015
Stayed at Deb and Norms for 2 months while working in the area. They were great hosts making us feel right at home. Very laid back people with a nice quiet property. The suite was immaculate with everything one would need and more. Had issues with my vehicle while staying and Norm was very quick to offer his help and tools. Would definitely return for another stay here!
Brett
October 2015
First Class all the way with this suite; equally comparable to any 4star resort suite. Norm and Deb have done an exceptional job with their detached suite. They hit the mark in every aspect. The suite had Everything you would ever need - it was perfect for my business trip in Williams Lake. Especially liked the Keurig instant coffee for the mornings and the cold beverages after work. I would easily recommend this property for any pleasure or business trip while travelling through the Cariboo region. Far better than any hotel or motel room in Williams Lake. Thanks again Norm and Deb!
Brent and Christine
August 2014
Fantastic detached suite just a short drive from everything the Williams Lake area has to offer. Great hosts, very reasonable price, super spacious and equipped with everything you could need including a great covered patio and a full garage space for car / mountain bikes / etc. We'll be back!!
ZOFIA
August 2016
This is my 3rd visit and as usual, one of the best Airbnb I have stayed at. Everything and more supplied. quiet, comfortable and easy to find (just off the main hwy). and you get your own undercover garage parking
Brent and Christine
November 2016
Room type
Entire home/apt
---
Property type
---
Accommodates
3
---
Bedrooms
1
150 Mile House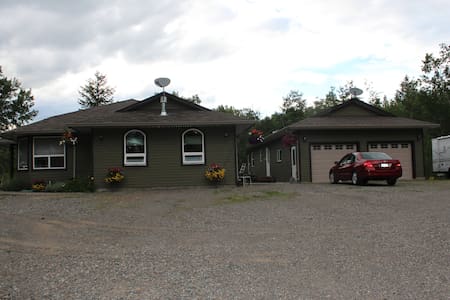 2-bedrooms in the partially finished, semi-private basement of a 4-bedroom family home on 3 acres of land, lakefront on Dewar Lake. 20 minutes from Williams Lake, BC & 20 minutes to Horsefly, BC. Fire pit, canoe, BBQ, huge lawn. Ingredients for a simple DIY breakfast also provided.
Bedrooms are located in basement. Separate entry, separate bathroom, fridge, kettle, hot plate, & toaster oven. Access to 3 acre lakefront property. Fire pit, BBQ, canoe. We are available for anything you may need during your stay.
We have a 2 year old human and an 8 year old dog who live in the house. Both are quiet unless provoked ;)
We arrived to a warm fire in the wood stove, a comfortable living room and a friendly host to welcome us. The location on the lake is beautiful!
Lori
November 2016
My wife and I booked for two nights, but liked it so much we stayed for a third which Kylie was very helpful in organising. The house is homely, spacious and comfortable with an amazing log burner which kept us so warm as it began to snow outside! We were able to relax and recharge after a quite a few days camping and Kylie was respectful with our privacy while still being available to ask questions and chat with her online and in person when we needed to. She even allowed us use of a Canoe to take out on the lake and gave us some delicious home grown carrots, potatoes and locally laid eggs for us to eat. Amazing! The house is in a remote picturesque location, approximately 20 minutes drive from Williams Lake where I was able to pick up everything I needed. Absolutely perfect for a city get away! Highly recommended.
Ben
October 2016
Sweet little suite. Gorgeous location. Kylie has thought of everything. Very friendly and efficient. I would recommend with my 2 thumbs and the extra ones on my puppies too!
kris
November 2016
We enjoyed our stay. The location is great right on the water. Fishing Access was perfect. A beautiful area well worth the visit in this quaint suite.
Harold
October 2016
My stay was very comfortable - I will be returning next week!
COLLEEN
October 2016
What a beautiful place! Had a great time here. Kylie is a great host and Dewar Lake is beautiful and full of fish which are great for dinner. Space was cozy, spacious and great for what I needed. Can't wait to come back!
Anthony
November 2016
The suite was super toasty and cozy as usual. This time i had a chance to check out tge lake. Simply stunning. We saw a guy ice fishing. How awesome! We met the smaller residents of tge house. They were great to my puppies. A great experience overall
kris
December 2016
This was my first ever Airbnb and I stayed here for 10 days while I worked in Williams lake. Excellent host and great communication for any questions I had. I will be staying here every time I'm working in the Williams lake area. I'm thinking I'll even be back for a weekend getaway this summer and enjoy some fishing on the lake.
Nathan
December 2016
Room type
Entire home/apt
---
Property type
---
Accommodates
4
---
Bedrooms
2
150 Mile House
Enjoy nature at it's best. Home surrounded by pasture, trees, flowers & creek. Beautiful, quiet neighbourhood,separate basement entrance. The room is warm with natural wood, large wool carpet & wood fireplace. Single size hide-a-bed in living room. Bedroom with a queen size bed, bed side table & closet. There is a full bathroom & a small kitchen with a table & 2 chairs, fridge, toaster oven, microwave, toaster, coffee maker & kettle.
Two lovely horses and a dog make this property their home as well. Wildlife such as deer, moose and pesky squirrels abound in the area. The home itself is assessed via a bridge over a small creek that runs though the property. Covered parking is available under the deck immediately beside the basement door that leads to the private suite. We are always available to help & give information during your stay.
The surrounding neighbourhood is true countryside, but a well-stocked store and gas bar are only minutes away. There is a small tea house and gift shop in 150 Mile House. The city of Williams Lake is twenty minutes away. There is also a family oriented ski hill, Mt. Timothy one hour south. Just north of Williams Lake is Bull Mountain with plenty of cross country ski trails. There are many lakes close by for fishing & swimming in the summer & ice fishing during the winter months. The Cariboo offers many hiking and mountain biking trails, some trails can be accessed from our backyard. The Williams Lake airport is only 40 minutes away & we can always arrange transportation for our guests. Enjoy the clear Cariboo skies and brilliant starlit nights in this rural setting.
The accommodation worked perfect for what I needed. Comfortable suite. Friendly folks.
Darren
November 2016
Thanks for the comfortable stay and the warm welcome. Felt like I was coming to stay at a friends. Loved having home made granola and the option for plain yogurt for breakfast! Wish I had more time to light a fire relax in front of it. Next time.
Trevor
November 2016
This was a great experience. We arrived quite late, but Sally was there to greet us. She responded very quickly to my messages. I would recommend staying here!
Tina
August 2016
This was a nice place to stay! It's only 6 min out of the way when you get to 150 Mile House. The hosts were very friendly and also had a friendly dog. We were provided with some fruit and cereal which we ate in the morning, and there was also TV available to watch. Overall it was a great experience, and I'm glad to have stayed here. :)
Gemma
August 2016
We can't recommend this place enough! Sally snd Stan were incredible hosts and even let us meet their horses. Their basement suite was spacious, clean and comfortable, we would definitely stay here again.
Birpaul
September 2016
Sally and Stan are wonderful hosts. The suite was fully equipped and Sally had the fridge and cupboard stocked which was above and beyond, in my opinion. This break for us was perfect with a wonderfully comfortable bed, spacious living room, and a wonderful property to explore. Our stay here rejuvenated us both.
Karen
July 2016
Sally & Stan provided us and our two dogs to an outstanding visit, they are so very kind and welcoming. The suite is great very homely and we loved being able to light the fire every evening. The land and location is absolutely beautiful. Will definitely be coming back to stay again! Thank you so much for your hospitality and knowledge, it was greatly appreciated. Kayla, Trevor, Salty and Kaya
Kayla
September 2016
Sally and Stan are amazing. They welcomed us into their beautiful home and were the best hosts. The suite was large, private, clean, and comfortable. There was a ton of food in the fridge and pantry. We even got home made pie brought to us by Sally! Location was relaxing and very easy to find. Can't wait to go back...
Joe
October 2016
Room type
Entire home/apt
---
Property type
---
Accommodates
3
---
Bedrooms
1
150 Mile House
Tyee Lake is a locally renowned trophy lake in the Cariboo region of British Columbia, surrounded by ranches, crown forest, lakes, rivers and ponds. Peace and tranquility prevail at Tyee Lake, a fabulous destination for outdoor adventure.
Lakeshore property on Tyee Lake. Large airy rooms with own private bathrooms and private decks. There are fifteen rooms available...five with a queen and twin beds and the remaining rooms have king size beds. Each room has table and chairs to relax in...rooms also have coffee maker for your convenience. We rent out rooms individually but also can accommodate large groups. A hot breakfast is included with the reservation...There is a restaurant within the Tyee Lake Lodge for other meals with very reasonable prices...or you may use BBQ and fire pit. Guests have access to dining room...sitting area with TV for movies...large outdoor deck overlooking the lake for dining or relaxing. Fire pit and BBQ area. Dock with kayaks...Inflatable Pontoon boat...paddle boats for quests use. The use of mountain bikes. Rent of 12 foot fishing boats also available. We are available with any help or information that our guests need...we love to interact with our guests but also give them total privacy if they so desire. Guests can feel free to approach us with anything and we will be more than happy to accommodate them.
The setting of our neighbourhood is serene and tranquil ...you can hear the loons calling out over the lake. Lots of nature trails...bike trails...fishing...boating etc. A hot breakfast is included with the reservation...There is a restaurant within the Tyee Lake Lodge for other meals with very reasonable prices...or you may use BBQ and fire pit. Close by there are numerous lakes and rivers that can be accessed by vehicle. Guests will need to rent a vehicle to get around as there is no local transportation.
We were welcome , nothing was too much trouble, we had a great time, great hosts
Paul
September 2016
Reminds one of a stay in Switzerland without the tall mountains. Vic & Linda are very friendly & accommodating. We enjoyed taking one of their boats out on the lake. Breakfast & supper were both very good. Do realize that you will be some distance from any stores or restaurants.
RB
August 2016
We had a absolutely wonderful time , the hosts were so obligin, could not do enough for us , a remote location but throughly worth the trip , the lake is absolutely beautiful .
Paul
August 2016
The host canceled this reservation 106 days before arrival. This is an automated posting.
Philippa
Room type
Private room
---
Property type
---
Accommodates
3
---
Bedrooms
1
WILLIAMS LAKE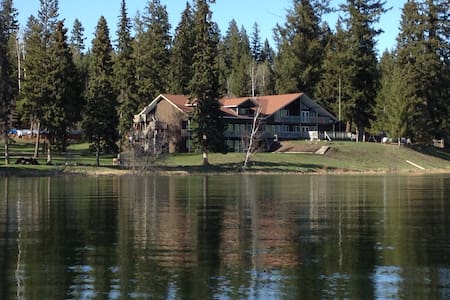 San Jose River Ranch B&B is located in Lac La Hache. WiFi access is available. Each room here will provide you with a TV, air conditioning and satellite channels. Private bathroom also comes with free toiletries. You can enjoy lake view and river view from the room. Extras include an outdoor seating area and bed linen. At San Jose River Ranch B&B you will find a garden, barbecue facilities and a terrace. Other facilities offered at the property include a children's playground and laundry.
Mariana and her family are the most gracious hosts. The house is a fabulous log home and the location is perfect to explore the area. We highly recommend and will definitely come back the next time we are in the area.
Emanuele
September 2016
My girlfriend and I had a fantastic experience staying at the B&B Cariboo! the coolest log house I've ever been in! George was an amazing host, we had great conversation and also enjoyed the islolation with the river below. Absolutely beautiful home and the breakfast alone was of professional quality and taste. Thank for the stay and for great company, If Im ever driving up to Alaska again I will 100% stay here again. (and maybe I'll beat you at Chess next time). Cheers and enjoy your winter. Matt and Megan
Matt
October 2016
Beautiful home, beautiful landscape. Comfortable bed with lake view from room. Lovely hosts providing good conversation and a delicious breakfast the next morning. Would like to stay here again!
Nick
November 2016
A really beautiful place to stay and Mariana and George are great hosts. The ranch was easy to find located directly beside the highway and as a real Pioneer Log House an eyecatcher - from outside and inside as well. We had a big bedroom upstairs with our own bathroom, so it was perfect: very big and comfortable bed and very quiet although the road outside. Mariana and her family made us feel very welcome. We had a nice evening, sitting all together in the common space of the amazing house able to speek 4 languages (English, French,Spanish and German). The great breakfast the next morning exceeded also our expectations. We really enjoyed our stay and would totally recommend it to everyone.
Arianna
September 2016
Spacious rooms and house to relax. Good breakfast by Mariana and George. They also provided a very good hospitalty. We absolute recommend this place.
Beatrice
August 2016
Our time at the San Jose River Ranch was fantastic! The place is beautiful and cozy just like the pics they post. George (our host) is very gracious, thoughtful and friendly. The beds were very comfortable and in the morning George made a wonderful breakfast for us. We would highly recommend staying here! Erik
York by the beach
September 2016
Mariana and her family were wonderful hosts! Their B&B is spectacular and is SO kid friendly! They have a huge playground on their property that our 4-year-old was thrilled to see (and play on) after 8 hours of driving. The lodge is gorgeous and very clean. The beds were comfortable, and Mariana's breakfast was delicious. We had so much fun and wished we hadn't just been passing through on our way north so we could have stayed longer. Thank you for a wonderful stay!
Shannon
August 2016
Room type
Entire home/apt
---
Property type
---
Accommodates
4
---
Bedrooms
2
Lac la Hache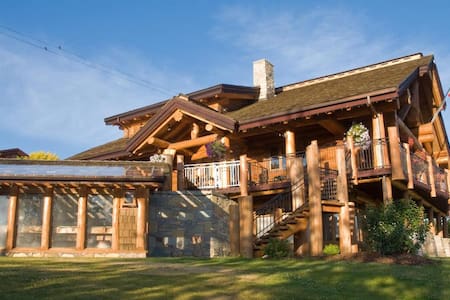 Esk'et Tiny House is a one-of-a-kind, custom-crafted cabin on wheels set in a peaceful spot in the woods. Cozy up indoors by the fireplace.. Relax in the outdoor hot tub under the stars... Explore the breath-taking rivers & canyons in the traditional territory. Find an abundance of winter fun & inspiring experiences.
Welcome to beautiful Alkali Lake, in the traditional territory of the Esk'etemc people. Situated less than 45 minutes off the main highways (Hwy 97 to Vancouver/Alaska, and Hwy 20 to Bella Coola), this area is slightly off the beaten path, and is a hidden gem. We love this tiny house cabin, and we love our community. The tiny cabin blends into its woodsy location, showcasing gorgeous woodwork, and Robert's carvings in the entry door & roofline. The interior is bright and open, with big windows, curved and vaulted ceilings, and unique ladders. The main loft features a queen bed, lots of headspace, and generous views of the surrounding scenery. The second loft has a double bed, and 2 circular windows. We designed this tiny home, and built it on a 20ft trailer with total of 280sqft interior space. A variety of quality Breakfast foods included in your stay, for you to prepare when and how you like! You have views of the valley and surrounding forest, and a good chance of seeing the wild horses grazing in the field.. The tiny house is self-contained, with full kitchen and bathroom. You have private access to the outdoor hot tub with amazing views. Aaaaaahhhh... time to relax. What's here at the tiny house? -outdoor sitting area, fire pit -kitchen stocked with essentials (dishes, utensils, spices, condiments ...) -stove/oven, small fridge -generous selection of breakfast foods for you to prepare when and how you like (organic pancake mix, eggs, bacon, yogurts, muesli mix, fresh berries, granola, juice..) -snacks (cookies, chips, popcorn) and pop/water -assortment of coffee, tea & hot chocolate -comfortable beds with cozy duvets -dvd player in the main loft, with a selection of dvds -bookshelf with books of the area -a luxury fireplace -a very comfortable couch to sink into and relax -outdoor hot tub under the stars.. Winter activities include: skating, hockey, snowshoeing, amateur cross country skiing and sliding hills (the use of our gear included in your stay) Whether you're interested in exploring the rivers and canyons, First Nations culture or taking in the incredible scenery and wildlife in the area - you will find no shortage of inspiring experiences. Maybe you're just here to relax and unwind in a quiet place... that's great too :) The tiny cabin & setting is perfect for that. We are here to help make your stay the best it can be. Our own home is located in the community, a short distance away. There is no cell service, but you can reach us through email messages (wifi available) We always respect your privacy, and individual interests and preferences you have for your stay with us.
The tiny house is located 2km away from the village centre of Alkali Lake. Listen to the sounds of the nearby creek, and keep your eye open for bears, birds and other wildlife in the field. You're in a perfect spot to explore, with the wilderness right at your doorstep. Take a trip to the Fraser River, and explore spectacular Churn Creek, Gang Ranch, and on to Farwell Canyon - the traditional territory is incredibly beautiful. Amenities at Alkali Lake: Gas station, Post office, store with basic groceries Check with us about the use of our gear (we have lots of sizes) - ice skates, hockey sticks & pucks, cross country ski's, boots, poles, snowshoes, snowpants, boots, sleds.. and so on. Children 12 and under stay free. Both sleeping lofts are accessed by ladders: please discuss mobility issues with us ahead of your stay. Your stay includes a variety of quality breakfast foods - we'll gladly accommodate dietary requirements, just communicate with us ahead of time. Reminder to ensure your vehicle is winter safe, for winter driving.
Peaceful simplicity in a beautiful location. A very calming place to stay. This is such a beautiful, peaceful place to stay and get away from the busyness of life and into nature. The big windows give beautiful views of the outdoors. Robert and Bettina are wonderful hosts! They made sure I had everything I needed and even accommodated my allergies in the breakfast food they provided. They welcomed me into their family and community, inviting me to participate in a Remembrance Day ceremony to honor the Esk'etemc veterans. I enjoyed meeting them and their community and learning more about First Nation's culture. Overall, this is an excellent vacation getaway destination!
Melissa
November 2016
This place is a real gem. The accommodation is a labour of love built to high standards and you will enjoy the experience. The hosts treated us like friends and spoiled us with a great selection of breakfast choices and snacks. The location is perfect to explore the area; make time to go on the backroads along the Fraser river and if you have a 4x4, the logging road from the Gang Ranch to Farewell canyon is fun to drive and has gorgeous views.
Emanuele
September 2016
The Esk'et Tiny House Bed and Breakfast is a great place. The house although small creates an illusion that it is bigger then it is. The hosts were friendly and make you feel welcome. I would recommend them to friends and family.
Mirjam
June 2016
Robert and Bettina's tiny house at Esk'et is remarkable! The little home was perfectly set up, welcoming and cozy. It has two loft beds and could easily be a comfortable retreat for a family of four. They had fresh eggs, milk, jams and juice ready for us in the morning - which was an unexpected treat. Robert and Bettina were the perfect hosts, who were generous with thier time and gave us some insight to the interior of BC. We were awoken to the sounds of horses naying in a spectacular setting which is well worth the short drive out from Williams lake. We highly recommend Robert and Bettina's tiny house!! Reece and Sarah.
Reece
July 2016
The Esk'et Tiny House is such a gem! It is truly worth driving a bit from the accommodation options in Williams Lake to experience staying here! My husband were blown away by our stay there and I even tried to move our trip around to stay on the way back as well but we couldn't, so we are going to make a special trip back to stay for longer. It is a pristine luxury cabin house with beautiful attention to detail inside and out. There are very comfortable beds, a cozy fireplace and an array of wonderful and quality foods provided for breakfast:) What a gorgeous spot to unwind in the Canadian countryside where we saw horses in a field of colourful wildflowers! Robert and Bettina went over and above to make us feel truly welcome and taken care of! Ask them for their great recommendations for local sights very close by. I would highly recommend you make the Esk'et Tiny House Bed & Breakfast part of your trip or even the destination!
karly
July 2016
Robert and Bettina were excellent hosts and went above & beyond to make sure our party had everything we needed and even suggested & coordinated numerous activities for us to do during our stay. The tiny house was very well equipped and is certainly a unique experience I would highly recommend.
Victor
December 2016
We arrived to a warm welcome and immediate invite to go canoeing. They showed us places we would not have found without them. Their personal commitment to our experience is what touched me most. They opened themselves up and we had a holistic meaningful experience. the tiny home has their unique touch. surprisingly spacious. very comfortable for two young boys and a grandmother. We went for a play in the local school ground and ice cream. the community was friendly. I look forward to returning next summer.
Ronald
August 2016
We spent 2 nights during Christmas at the little house and had an amazing time at this special spot. Robert & Bettina were great at communicators, right from the start. We were given very good directions to the little place and every message was responded quickly, answering all our questions. Checking in was a breeze, and the house was clean, beautifully decorated and filled with so much snacks and breakfast foods! We had a great time ice skating and sliding down the hill with Robert & Bettina and their kids (which were super cute and lovely). Robert & Bettina were great hosts, nothing ever seem too much trouble, and made sure we had everything we needed for a comfortable stay. Oh the hot tub was pretty amazing in the cold winter nights! Thanks again for the lovely stay, and all the best to your little family!
Sandy
December 2016
Room type
Entire home/apt
---
Property type
---
Accommodates
4
---
Bedrooms
0
Alkali Lake