Located in a calm and relaxing area we offer an accurate cozy indipendent apartment with a wonderful garden where, after a long day around the city, you can rest and spent time reading or having a good glass of wine! Feel home!
Very nice indipendent house with entrance, dining room, big kitchen fully furnished, bathroom, garden, two sleeping rooms and mezzanine. I'm living in the house next door ready to give you best advices on what to do and what to see in Rome; and why not, to share and spend some time together. Come and feel home. We love to meet people. Welcome.
In an island of peace but just few minutes away from life, restaurants, clubs and sightseeing!
This being our first experience on Airbnb, we were slightly unsure of what to expect. It turned out that we also happened to be their first guests and the entire experience and out stay was very memorable. The house and garden is truly an oasis, away from the hustle bustle of the city centre. The independent house is well maintained, comfortable and self-sufficient. Tunde and her family are wonderful people and were great to meet and chat with. We were able to get some very helpful tips from Mauricio and Tunde. Also arriving later were a family from New Zealand who we met and chatted with over (modest quantities) of Tunde's home-made Limoncello! The entire week flew past and it was a shame that we could not spend more time in Rome and at their place. Bus 211, which passes just outside the house, is not the most reliable; however, it is fairly straight forward and quick to get to the historic centre from Pietralata. Taxis by UK standards are cheap but we decided to soldier on using public transport. When time permits, we will surely return! Thank you for making our stay extremely memorable!
Sahil
2015-06-25T00:00:00Z
A separate house in a shared garden. It is convenient if you have a car and you come for a short stay, preferably during the summer - as in automne it was a bit wet and cold. One should not expect luxurious equipment for this price. There is 1 bedroom. There is a bed and a couch on the mezzanine (not separated at all from the living room, doesn't fit for young children).
Nadejda
2016-10-29T00:00:00Z
The host canceled this reservation 38 days before arrival. This is an automated posting.
Jennifer
2016-05-08T00:00:00Z
We had a great time at Tundes place! A wonderful house with a charming garden. I can also recommend Tundes Limoncello ;-) We had some nice conversations with her an Maurizio in the lovely garden. Thanks for all their recommendations! The best dinners in Rom you will have around the house in Via Pietralata, only some minutes to walk! Ask them and enjoy!
Sascha
2015-06-30T00:00:00Z
I stayed with a friend for 4 days in Tunde's garden apartment for a dance convention 100m away. Tunde is an exceptionally nice, kind and gentle person. She communicated very well at all stages. I really enjoyed the spaciousness of the apartment. The beds are comfortable. The price was very low. Unfortunately there were a few points that were not optimal. (1) there are lots of mosquitos in the area. The main bedroom window does not have a mosquito mesh and therefore cannot be opened at night. There is no air conditioning (2) the toilet seat was broken and seemed to have been attempted to be fixed with glue a few times. (3) the shower outflow was very slow and resulted once in lots of water overflowing onto the bathroom floor. It was not possible for two people taking short showers in quick succession.(4) the apartment cleanliness wasn't to our standard when we arrived. Lots of dust on surfaces and the tiled floor had only been brush cleaned rather than wet mob cleaned. Walking barefoot resulted in very dirty soles.... (5) there is some rather disturbing Romanian dictatorial era modern artwork in various parts of the apartment. Some murder scenes and other motives showing aspects of the very depressing historic period. Art is of course very personal. (6) the nearby nature park is only a dream that hasn't been realised. It is full of fly tipped garbage and a Roma people shanty town reminiscent of South African squatter camps. Not recommended. (7) the lighting is of too low wattage - old fashioned tungsten bulbs, especially noticeable in the main bedroom. High lumens energy saving bulbs would improve this considerably. Travelling to the historic centre of town by public transport takes 45-60 minutes. Very near to the apartment are nice restaurants. Most of my critical points could easily be rectified for future guests. I would like to stress again that Tunde as a host is a very kind and friendly person. I think the apartment has great potential that should be realised.
Wolfgang
2015-09-08T00:00:00Z
Charming Indipendent House полностью соответствует описанию. Дом большой, просторный, чистый и светлый. В доме много старинных вещей, которые придают ему особый колорит, наряду с мезонином. Дом полностью укомплектован всем необходимым, начиная от посуды и полотенец с моющими и заканчивая гладильной доской. Очень понравился сад с оливками, гранатовым деревом, кипарисами, дубом и даже розмарином. Отдельное огромное спасибо за гостеприимство хозяйке дома Tunde, которая создает неповторимую атмосферу легкости и непринужденности и наполняет все солнечным светом. Она - очень и очень интересный и позитивный человек. Хотелось бы пообщаться побольше. Мы чувствовали себя абсолютно комфортно, как дома или даже лучше ;) Район расположен несколько далековато от центра, но, если есть машина или пользоваться такси - добраться можно быстро. Если же нет - тогда автобус и метро. Но в месторасположении есть свои плюсы: воздух очень чистый, нет шума и суматохи, которые так или иначе присущи центральным районам.
Viktoriia
2015-10-12T00:00:00Z
Tunde war außerordentlich freundlich und hilfsbereit, und auch die Kommunikation vorab war vorbildlich! Das Apartment war sauber und ordentlich und hatte alles, was wir drei (2 Erwachsene mit dreizehnjährigem Sohn) brauchten, so dass wir elf wundervolle Tage in Rom verbringen konnten. Wir kommen gerne wieder!
Bernd
2015-09-01T00:00:00Z
Es war ein traumhafter Urlaub. Wir haben es wirklich sehr genossen.Schon im Vorfeld hat die Kommunikation einwandfrei funktioniert ,Tunde hat uns alles wunderbar erklärt (es war unser erster Urlaub mit Airbnb und weitere werden folgen).Wir haben unglaublich viele Tipps bekommen und wir haben uns einfach rundum wohl gefühlt.Die Unterkunft war sehr sehr sauber und total gemütlich.Leider war die Woche einfach viel zu kurz.Tundes Tochter und ihr Freund haben uns zusätzlich auch sehr herzlich empfangen und waren enorm gastfreundlich es hat sehr viel Spaß gemacht mit ihnen den ein oder anderen Abend zu verbringen und zu genießen.Wir planen schon die nächste Reise und werden,wenn möglich auch gerne wieder bei Tunde unseren Aufenthalt buchen.Eine wirklich empfehlenswerte Unterkunft mit außerordentlich tollen und lieben Gastgebern. Danke für diese tolle Erfahrung und die Möglichkeit solch liebe Menschen kennen lernen zu dürfen. Beste Grüße aus Hamburg und auf ein baldiges Wiedersehen
Lisa
2015-08-11T00:00:00Z
Room Type
Entire home/apt
---
Property Type
Villa
---
Accommodates
4
---
Bedrooms
Roma, Lazio, Italy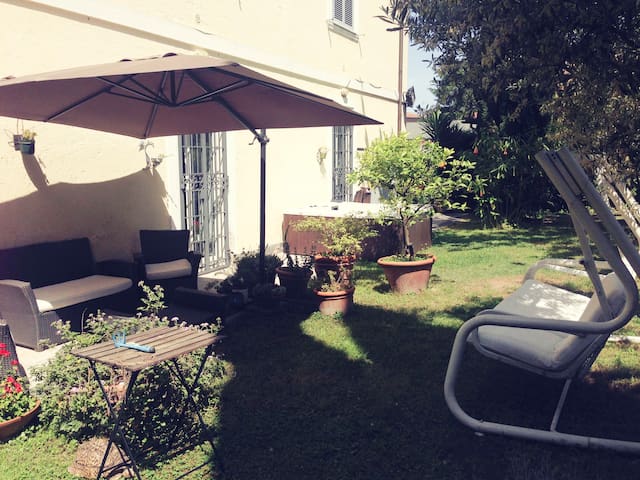 Grande villa dotata di ogni comfort. Finemente arredata e dotata di tutto il necessario per trascorrere un soggiorno lontano dal grande caos ma in posizione ottima per raggiungere il centro storico. La villa si trova in una zona residenziale, molto tranquilla e signorile.
La villa che propongo penso sia davvero unica nel suo genere per varie motivazioni. Spazi grandi e luminosi, dettagli di pregio. Luogo tranquillo e ideale per passare un periodo di relax. Tutti gli ambienti, dalle camere da letto all'ampio soggiorno con grande camino, al giardino e alla piscina sono curati e dotati di ogni confort.
La villa non è nel cuore di Roma ma state affittando una casa con grandi spazi interni ed esterni. Non un semplice appartamento. Il quartiere è ben servito dai mezzi pubblici e collegato bene con le principali arterie della città. È una zona residenziale con ville e tanto verde.
Ottimo padrone di casa,persona intelligente e corretta...un ottimo host per un altrettanto ottima location
Vale
2017-01-23T00:00:00Z
Siamo un gruppo di 10 ballerine. Abbiamo alloggiato sulle ville messe a disposizione da Mattia. Entrambe molto spaziose, ben arredate e confortevoli. Gli spazi comuni ci hanno permesso di stare tutte assieme nei momenti conviviali. Le ville sono all'interno di un gran spazio verde, ben tenuto, con anche una piscina (non agibile in qs periodo, ma dev'essere fantastica). Giancarlo, che ci ha accolte per il check in, molto gentile e premuroso. Nathan, il custode, gentilissimo e disponibilissimo anche nel portarci con l'auto al centro della città (unica pecca è la lontananza dal centro, ma con Nathan e qualche taxi tutto è stato più semplice. Le abitazioni vicine ad un centro commerciale molto ben fornito. Esperienza fantastica. Da sottolineare che Giancarlo ci ha aiutato a risolvere un disguido: è stato dimenticato un oggetto in villa e lui prontamente ce lo ha spedito (senza costi aggiuntivi per noi).... direi che questo imprevisto e la sua soluzione hanno aggiunto prestigio e sottolineato la disponibilità e immensa ospitalità dei proprietari.
alessandra
2017-04-02T00:00:00Z
Bella location.... Comoda e spaziosa... Consigliata.
Domenico
2017-02-12T00:00:00Z
Mattia é un Host assolutamente perfetto. La casa è molto confortevole e perfetta per ogni esigenza, la tranquillità e l'intimità che regala pur stando in città sono veramente da tenere da conto. La consiglio a tutti, anche a chi vive a Roma in zone magari molto caotiche e cerca un po' di relax.
Danilo
2017-01-29T00:00:00Z
Room Type
Entire home/apt
---
Property Type
Villa
---
Accommodates
10
---
Bedrooms
Roma, Lazio, Italy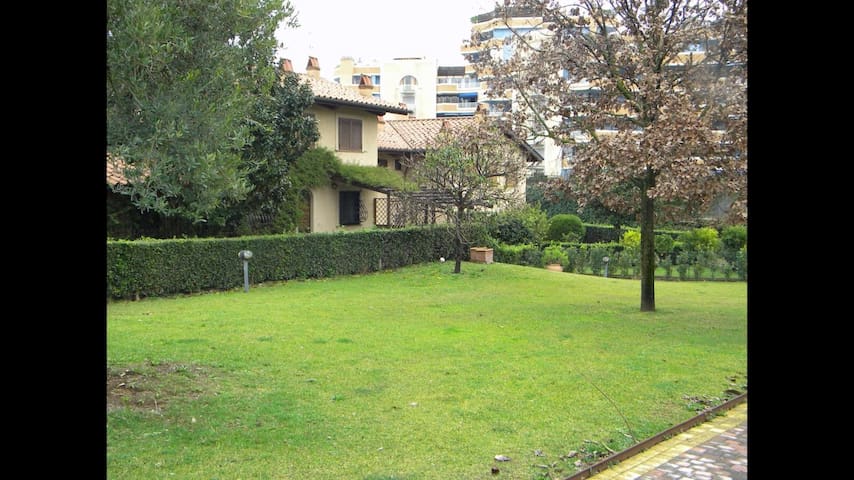 A spacious garden, bright spaces, a huge pool, AC & WiFi, 30 minutes to the city centre; this country villa is the best of both worlds. The relaxing luxury of country living and easy access to the bustling city life of the Eternal City! Kids are welcomed from 14 yrs old.
Room Type
Entire home/apt
---
Property Type
Villa
---
Accommodates
8
---
Bedrooms
Roma, Lazio, Italy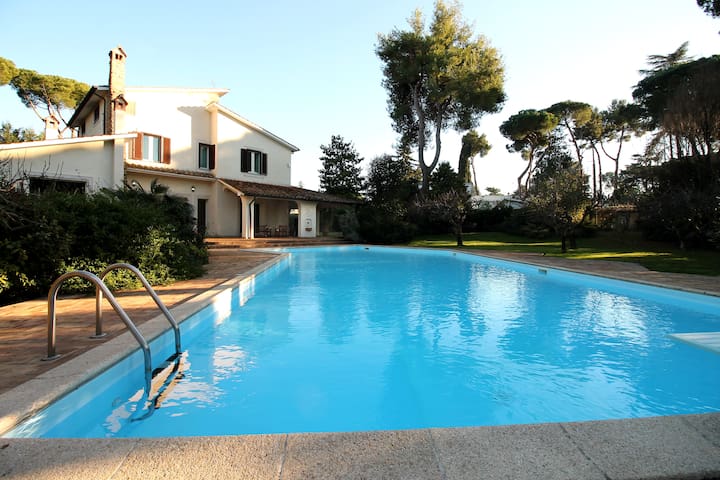 "Le Giare" è situato in un grazioso villino, immerso nel verde e nella tranquillità dell'antico agro romano a due passi dal centro di Roma. Ideale per soggiornare in n un ambiente luminoso, silenzioso ma all'interno della città.
Camere doppie, matrimoniali e una camera singola, luminose, silenziose e confortevoli, sono dotate di bagno esclusivo all'interno della camera, televisore, frigorifero e aria condizionata. Ogni camera ha una entrata indipendente, un terrazzo e il giardino.
Room Type
Private room
---
Property Type
Villa
---
Accommodates
3
---
Bedrooms
Roma, Lazio, Italy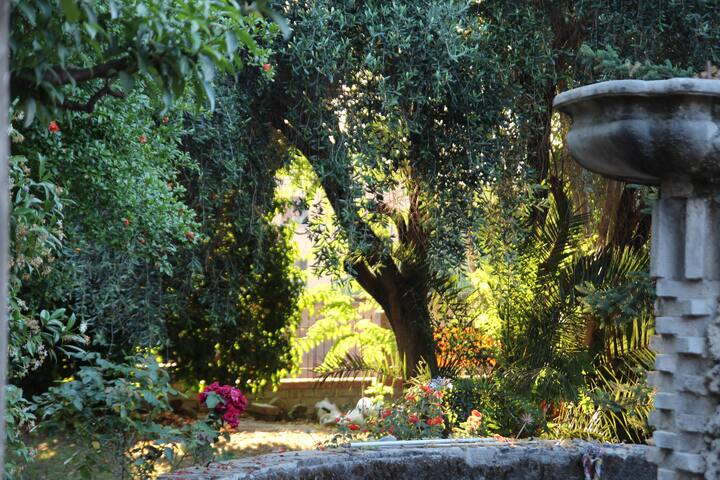 Villa liberty su due piani, composta da 3 camere da letto matrimoniali, 3 bagni di cui uno con vasca e uno con ampia doccia, un spazioso soggiorno con salone e una cucina vetrata. La villa è circondata da un giardino di 300 mq con prato, alberi da frutto e fiori.
La villa è inserita in un contesto di altre ville a pochi chilometri dal centro di Roma. È stata ristrutturata da pochi mesi con uno stile conservativo e di design.
Il quartiere è tranquillo, con possibilità di trovare a pochi passi diversi ristoranti e locali (alcuni dei quali in ferie ad agosto)
Room Type
Entire home/apt
---
Property Type
Villa
---
Accommodates
6
---
Bedrooms
Roma, Lazio, Italy
Casa completamente ristrutturata, con 3 terrazzi al piano + terrazzo superiore attrezzato nel cuore del Pigneto nella strada pasoliniana Fanfulla da Lodi, a pochi passi dalla metro C e a 15 minuti a piedi dal Centro. Ideale per famiglie con bambini.
Casa ideale per famiglie con bambini attrezzata con tanti giochi e con a disposizione la terrazza al piano sovrastante di 110 mq con veranda e barbecue. Situata nel cuore del Pigneto di fianco allo storico bar Necci gode di una vista panoramica e di una tripla esposizione. Fresca e accogliente e dotata di tutti i comfort per la cucina e il soggiorno.
Room Type
Entire home/apt
---
Property Type
Villa
---
Accommodates
6
---
Bedrooms
Roma, Lazio, Italy
In our house there is a small room on the first floor with bunk bed, extremely quiet location, enchanted garden, possibility of cycling. if you want we can also cook special dishes at your request or make a nice bbq!
room with private dining in the garden!
multiculturalism, nightlife, street art, parks, catacombs
Room Type
Private room
---
Property Type
Villa
---
Accommodates
2
---
Bedrooms
Roma, Lazio, Italy