Located just 5 minutes west of Lake of Idro and 25 minutes from Salò on Garda Lake, our lovely chalet provides amazing serenity for your family and a wonderful place to relax while enjoying the stunning beauty, with private riverside meadows and wood
The chalet is an ancient barn renovated with local décor.
The neighbourhoods have so much to offer. The walks are spectacular, both along the cliffs and inland. There is parking at the lodge for 3 vehicles.
Everything was just amazing! wonderful hosts and such a beautiful place! The fire flies were like something out of a fairy tale :) The location is great, only a few minutes from Lake Idro and 45 mins to the amazing lake Garda. We will be back. 5 STARS! Thankyou Dani and Marco :)
Roger
2015-06-11T00:00:00Z
We had a wonderfull holiday , everything was like the ad , a reception with cake & bubbels .... Dispite the weather everybody enjoyed it till the end . We loved the authentic and his establisement . Perfect spot on a perfect place just an "Idyllic authentic river chalet" . Strongly recommended for those how love it
Dirk
2016-07-29T00:00:00Z
We have spent a wonderful week in June with our three children in Dani's chalet. The place is really amazing with a beautiful environment - just absolute perfect if you want to relax and feel near to nature. Dani and Marco are really kind and helpful and gave us a bunch of good tips. And a nice surprise: Every night we could watch a nature-show when hundreds of glowworms began to gloom!
Elsa
2014-06-23T00:00:00Z
If you are looking for peace and quiet without leaving civilization behind altogether, this is the place. The house meets the (high) expectations raised by the description – if anything, it is even more beautiful than on the photos. It has been renovated and furnished with a lot of taste and loads of nice details. Most nights we cooked ourselves in the fully equipped kitchen and ate at the long oak table in front of the old fireplace. You have good bakeries and shops within a short drive where you can get local products such as the excellent cheeses of the Region (try the Bagoss and Bagossine). The area is very beautiful, very good for hiking – we even went swimming in the lake twice although it was quite fresh. And if it gets too quiet, you can always go to busy Lago di Garda which is literally only half an hour's drive. We really liked that we could switch between the alpine landscape around beautiful Bagolino (or just up the valley from the house) and the almost Mediterranean feeling of Lago di Garda. And every day it felt wonderful to come back home to the chalet in the evening... Communication with the hosts was very easy. Dani & Marco are as charming as they sound in their e-mails and gave us a warm welcome even though we arrived several hours late. All in all a wonderful experience – highly recommend.
Stefan
2014-09-08T00:00:00Z
Chalet was beautiful as well as the scenery around the house. House is decorated with great taste and during the night hundreds of fireflies were dancing on the fields which made us feel like in fairytale. Unfortunately, weather when we came wasn't good and made humidity so high that we had to leave chalet (due to health issues). We met almost whole family and they were so kind and helpful and we felt sincerely bad that we had to leave. I hope one day we can return and enjoy this beautiful place fully :)
Aleksandra
2015-06-21T00:00:00Z
We had a wonderful time at Dani and Marco's place, despite the rain that lasted for the entire week. Two fireplaces inside the nicely decorated, small but cosy house kept us warm (though packing a warm sweater doesn't hurt!) and trips to nearby cities such as Brescia and Verona made up for the rain. We wish we could have enjoyed the scenery around the house, the woods and mountains in the area as well as the lakes of Garda, Idro and Ledro more - which are all easy and quick to reach by car -, so please make sure you do if you're lucky to enjoy a sunny holiday! There's a lot of possibilities for swimming and hiking nearby, but in case of bad weather, having a car is highly recommended, as Lavenone and the towns around it don't have that much to offer. Dani was very helpful with recommendations and offered to help in case we needed anything.
Angelika
2014-07-03T00:00:00Z
We had a truly lovely stay. Dani was very welcoming and the chalet was amazing! Despite a lot of rain, the beautiful setting ensured that we enjoyed every day of our holiday. Some great hikes can be made right out of the door and the little towns along the Idro shore are nice to explore. Thanks a lot for the lovely stay, we would all come back any time!
Christophe
2016-06-12T00:00:00Z
Dani was a great host, giving very helpful advices about sights and itineraries. The chatelet is a cosy place to relax in nature and privacy! Everything there that you need. We spent a great time!
Patricia
2014-07-25T00:00:00Z
Room Type
Entire home/apt
---
Property Type
Chalet
---
Accommodates
6
---
Bedrooms
Lavenone, Lombardy, Italy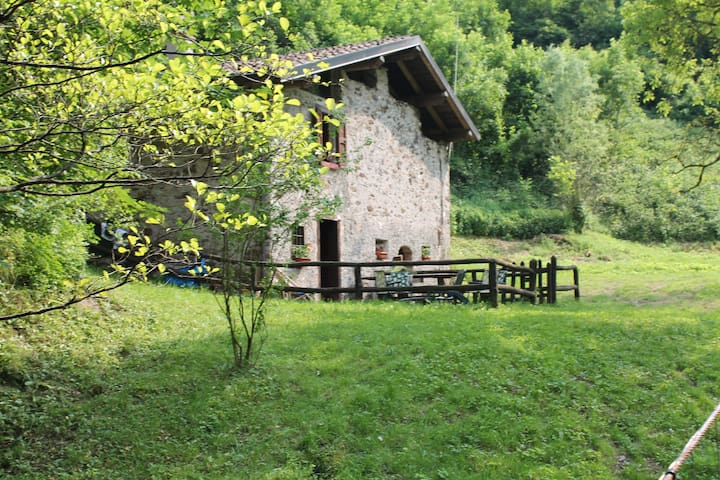 Home on wheels,for two people, fully independent with kitchen bathroom and private garden.BBQ zone. In the garden of B&Basinochevola. https://www.airbnb.it/rooms/1097987 View Photos!
If u are searching for a peaceful place aside of the typical tourist routes, Marcos caravan is a good choice. Everything of importance on a few cozy squaremeters: bed, mini kitchen, bathroom, terrasse... Marco is very helpful concerning all kind of infos that u may need, thanks especially for the hint for the good pizzeria in Barghe. To reach a restaurant or bar it's necessary to go by car. Great experience, hope to come again
Cosmin
2016-07-09T00:00:00Z
We had a perfect stay! Thank you, Marco, for welcoming us!
Eva
2016-07-26T00:00:00Z
Nice place and perfect area! Thanks Marco, we loved your sweet little home!
Mieke
2016-07-24T00:00:00Z
Nice place with a wonderful view on the mountains. Very quiet and clean place. This is a good place to rest far from city
Alexandra
2016-08-23T00:00:00Z
Beautiful cabin in a stunning location - Marco was a very welcoming host.
Claire
2015-07-20T00:00:00Z
Perfect stay. We had everything we needed! very quite and a beautiful view. you Need to travel by car but the uphill every day is absolutely worth it!
Kathrin
2016-08-14T00:00:00Z
Marco's place is a really good location to relax and have a good time. It is located in a small Italian village, very quiet and relaxed. Marco was very helpful and always easy to communicate with. I can totally recommend this place.
Anja
2016-06-28T00:00:00Z
Marcos little sweet home is a real Paradise! If you are searching for place directly in nature without any city noises you'll find here the perfect place to simply relax and enjoy the sounds of bees and wind in the trees while looking at a beautiful mountain panorama. The house itself is really cute and has a small bathroom and kitchen as well as a bed for two. Marco himself is the perfect host helping you with everything and you can ask for how to get where and where to go. The only important thing is that you need to definately have a car because it is really uphill and to far from anything else. I'd really recommend this place alone and for couples. It is also very easy to get to all the lakes around such as Lago d'Idro, Lago di Garda, Lago d'Iseo and perfect for trekking, hiking or biking!
Mia
2016-08-06T00:00:00Z
Room Type
Entire home/apt
---
Property Type
Cabin
---
Accommodates
2
---
Bedrooms
Provaglio Val sabbia, Lombardia, Italy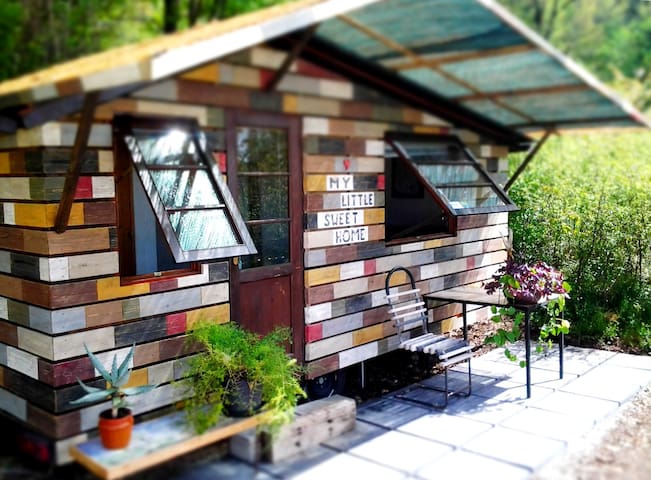 My accommodation is close aa a small public playground. It is 9 km from Salò and 31 km from Brescia city. And 'it situated in a small village, hamlet of Gavardo. The apartment is on the ground floor of a complex of houses and has an interior porch made available to customers. The accommodation is suitable for couples, lone adventurers, business travelers and furry friends (pets).
Appartamento accogliente, luminoso, pulito e molto carino, situato in una zona molto tranquilla. Proprietari molto gentili e disponibili. Sicuramente consigliato.
Andrea
2016-08-29T00:00:00Z
Room Type
Entire home/apt
---
Property Type
Apartment
---
Accommodates
2
---
Bedrooms
San Biagio, Lombardia, Italy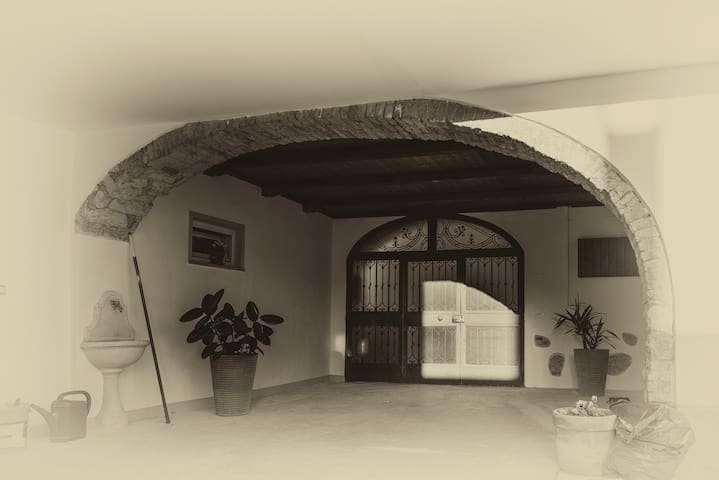 In Botticino, in the heart of Val Verde, large indipendent apartment: well-equipped kitchen, two bathrooms, dining area outside, garden access, Wi-Fi, air conditionioning.
The spacious and cozy apartment can accommodate up to 4 people. Located on the ground floor, with a separate entrance and direct access to the garden, the apartment consists of: a bedroom with a double bed, large wardrobe, desk; a very well equipped kitchen; the sitting room / TV room with sofa bed; two bathrooms with shower; a reserved dining area outside, a shared garden (equipped with relax areas), a laundry room with washer, dryer and ironing (shared). The apartment is equipped with Wi-Fi system and air conditioning.
The house is in the heart of Val Verde, renowned for its many wine cellars doc and the Botticino marble. The house is located in the centre of the village, with all the different shops nearby: post office, pharmacy, pizzeria, bar, bakery, grocery stores, tobacco shop; the major supermarkets, instead, are 2 - 3 KM far from the apartment. The hospital is 20 minutes from the house. You can take a relaxing walking trails surrounded by nature, climbing the rock wall or reach the lake using bike path (which is interrupted only for few kms). The bus stop is just a few steps from the house and connects both the city center and the underground. Around the property there are free parking open 24h / 24.
Francesco was very friendly and informed us of all the things we needed to know. The appartment was clean and all the necessary tools were present. The neighbourhood was quiet and there is a lot of (free) parking space near the appartment.
Jordy
2016-07-12T00:00:00Z
Very good apartment, include all needed for holiday, in a good quiet place.
Anna
2016-05-15T00:00:00Z
A warm and welcoming family. The apartment is comfortable and is well fitted out with everything you need. We were traveling with a small child and a cot and high chair were provided. Good location with small shops nearby. We had a lovely time.
Leonie
2015-06-25T00:00:00Z
We stayed three nights at Francesco's place. Overall, the place has a relatively good value for the price you pay to stay. However, we would not stay here again due to cleanliness issues: Lots of mold in one of the showers, rendering it unusable. A large cockroach 'visit' on one of the nights. Overall not-so-clean feel to the floor with its dirt-blackened grout lines and a large amount of dust on the heaters. We also did not meet Francesco during the trip, only his parents who are nice but do not speak English. Parking was available for free nearby.
Leah
2017-03-26T00:00:00Z
Francesco was quick and very friendly in responding. While he was not in town when we checked in, he was constantly contact with us. We were met by Nicola, Francesco's younger bother at check-in. The apartment was at advertise.
Esperanza
2015-09-14T00:00:00Z
The apartment is large and spacious and in a quiet village with easy parking. The host gave us fruit tea in the garden whilst our children played - it was magical. This is an apartment of quality fittings - we would recommend.
Petar
2015-05-08T00:00:00Z
As always, a great airbnb experience, one of the very best indeed ! For me and my son, the apartment was just perfect, much better (size, facilities, garden, etc.) than the pictures shown on the airbnb page. I am quite sensitive to cleanness, but the apartment was even cleaner than mine in Switzerland - which is rare... Unbeatable value for money ! Warm welcome from Francesco, a very nice (attitude and looking) young person. Apparently, he is an artist ! Highly recommend - be aware though, the apartment is very much demanded and please make sure to book well in advance - enjoy your trip as much as we did !
Thomas
2015-09-10T00:00:00Z
The apartment is very spacious and clean. The beds are comfortable and the area is quiet, providing for a good night rest. We found breakfast and dinning options within short walking distance. Francesco answered all our questions before and during the trip. Nonna Jolanda was so kind to prepare and shared with us a great dinner at our arrival. I could continue adding more details just like the many positive reviews that Francesco, but I would like to share here that Francesco and nonna Jolanda went beyond expectations and were extraordinarily kind to us in a time of much stress during our trip. Their help and guidance was very important to us. Thank you Francesco and nonna Jolanda. Always grateful.
Victorina
2016-07-22T00:00:00Z
Room Type
Entire home/apt
---
Property Type
Apartment
---
Accommodates
4
---
Bedrooms
Botticino, Brescia, Italy
In the southeastern area of Brescia, in the heart of Val Verde, a large loft equipped with kitchen, living room and sofa bed, small bathroom with shower, bedroom with double bed and sofa bed, air conditioning.
The spacious and cozy apartment was originally the studio of a painter and now has all the comforts you need. It can accommodate up to four people. It is on the 1st floor, with a separate entrance and with direct and exclusive access to a large terrace with a ping-pong table and exercise equipment, relaxation areas, sun umbrella, table with 4 chairs and barbeque. The apartment consists of: a loft equipped with air conditioning and 2 windows, a desk, a double bed and a double sofa bed; a living area with 2 sofas (1 is a sofa bed), wardrobe, fully equipped kitchen with a microwave and oven. Air conditioning, table with 4 chairs, TV; bathroom with shower. In addition to air conditioning, the apartment is equipped with free Wi-Fi system.
The house is in the heart of Val Verde, renowned for its many wine cellars doc and the Botticino marble. The house is located in the centre of the village, with all the different shops nearby: post office, pharmacy, pizzeria, bar, bakery, grocery stores, tobacco shop; the major supermarkets, instead, are 2 - 3 KM far from the apartment. The hospital is 20 minutes from the house. You can take a relaxing walking trails surrounded by nature, climbing the rock wall or reach the lake using bike path (which is interrupted only for few kms). The bus stop is just a few steps from the house and connects both the city center and the underground. Around the property there are free parking open 24h / 24.
Nicola welcomed us very friendly and showed us everything we needed to know in the apartment and also outside on the great patio. The apartment was lovely decorated (with fresh flowers!) and they also provide some fruits. A bit later Nicola even brought us some homemade iced tea! It was delicious and refreshing on a hot summer´s day. The apartment was the same as you can see on the photos. Everything you could need was there. The bathroom is tiny but functional. The patio is very nice, we regret that we did not have spent more time there relaxing but there is also so much to see and discover in the surrounding. It is very useful to come and stay there by car, so you are more flexible to go to the next city (Brescia), the lake Garda or any other destination nearby. But there is also a bus station just in front of the house. We really recommend staying at Nicola´s apartment because it is beautiful, modern, tidy, well equiped, inexpensive and located in an area which is not too touristic (what we enjoyed very much). Thank you!
Anna
2016-08-14T00:00:00Z
We stayed in the appartment of Nicola and his family for 6 nights. We had really a great time, also thanks to the great place we were staying. This house is amazing. We loved the design. We had a garden with bbq, all equipment was available in the kitchen. Clean shower etc. And this all for a nice price. If there was anyting we could ask Nicola, and things were fixed. Thank you!!
Joas
2016-08-27T00:00:00Z
We'd like to thank Nicola and his family for their hospitality and comfortable accomodation. The house is located between Brescia and Desenzano. It's 30 minutes to Lake Garda to travel by car. The apartment is clean and very cozy. It has everything you need for stay. Near the house there is a bar, a pizzeria, a bus stop, a small park with free parking, beautiful church. We really enjoyed all. We are ready to recommend this place to other travelers.
Leonid
2016-10-09T00:00:00Z
We loved staying at this apartment, if you have a car, the location is ideal, close to lake Garda, lake Idro and lake Iseo. Also close to Brescia and Milan. The apartment was clean, looked for the biggest part like the pictures and we loved the garden. The two cats where lovely. Nicola was very helpful and Nicolas family too. Our only complaint was the bed. It was okay for 11 nights but it made a lot of noise when we would turn around in our sleep. The matresses where good and the bedding too. We loved it there!
Eva
2016-09-21T00:00:00Z
We had the best stay ever in this gorgeous flat! Nicola and his family are so wonderful and extremely friendly! The flat itself is extremely well equipped and the terrace is perfect for a little aperitivo overlooking the Botticino marble mountains. I really wish we could have stayed longer! We were travelling round Europe and this perfectly located apartment was the highlight by far! Could not recommend more highly.
Harriet
2016-08-05T00:00:00Z
This flat is perfect if you are looking for a nice place to hang out, cook and take a vacation. Its locatated in a small village near Bresca. Not far from lake Iseo and lake Garda. We had an amazing time. The kitchen is well equiped if you are looking to cook some nights but there is also a great wood oven pizza place 1 minute from the flat. Nicolas and his familly were very nice, the flat was very clean and well decorated. Happy we stayed there!
Janie
2016-10-23T00:00:00Z
We werden hartelijk ontvangen en hebben genoten in deze studio. We hadden veel privacy en hebben genoten van de steden in de buurt, het gardameer en meer van Iseo. Ook is restaurant agritorismo Perli een echte aanrader om te gaan eten! Bij aankomst aten we een lekkere pizza bij de pizzaria om de hoek. Een hele fijne week gehad.
jacolien
2016-07-23T00:00:00Z
Nicola et sa famille sont d'une très grande gentillesse et nous ont réservé un accueil très chaleureux. Le logement est magnifique et corresponds en tout point aux photos, de plus la terrasse est très agréable pour prendre son petit déjeuner et pour profiter des soirées. N'hésitez pas à rendre visite à Nicola et à sa famille.......
Didier
2016-07-31T00:00:00Z
Room Type
Entire home/apt
---
Property Type
Loft
---
Accommodates
3
---
Bedrooms
Botticino, Lombardia, Italy
Amazing panoramic views of Salo' bay and Lake Garda in this immaculate 2 bedroom private garden apartment set in a holiday residence, with swimming pool. Recently refurbished. Free TV Satellite (TivuSat HD) Visit our website for more details.
Amiro Vista is a perfect spot for a family retreat, holiday with friends or a romantic get away. Sunbathe in the private garden or by the pool, whilst taking in the breathtaking panorama of Italian hills and Lake Garda. The holiday residence is located in a idyllic location a few minutes drive from Salo's town centre, the beach and the many restaurants and bars. Several other beaches are also reachable in just over 10 minutes. Visit our website for more details.
Very friendly and helpful throughout our stay. We were initially a little lost on our way to Amiro Vista but Anthony was kind enough to collect us and show the way. All necessary amenities provided and the apartment is well equipped. Very modern and comfortable. The view is stunning and a pleasure to wake up to everyday. Could not speak more highly off the service provided by Christian and Anthony. Highly recommended. Thanks again for a wonderful stay.
Joel
2016-04-29T00:00:00Z
We really enjoied the stay. The host did everything to make us feel at home. The communication before and under our stay were tremendus. We Can recomend this for everyone of our Friends and Rbnb users.
Thomas
2015-07-26T00:00:00Z
The apartment was great! Equipped with anything you can think of! Easy and super friendly communication via (SENSITIVE CONTENTS HIDDEN), super clean and beds/sheets/towels all there. I can only recommend the apartment! Ideal for 2 couples or a family. You need to have a car and be willing to drive down serpentine's to reach supermarkets/restaurants. The view and lovely garden will compensate for sure!
Julia
2016-05-27T00:00:00Z
Anthony was really helpful when greeting us and giving us ideas on our 'what to' and 'where to' questions. The apartment is classy, the view is perfect. We loved it! Only thing, is that you always need a car for going out (shopping, eating, sighseeing, clubbing) as the apartment is quite up the hill.
Sándor Márk
2015-08-03T00:00:00Z
WOW! What a fantastic apartment! Incredible views and so peaceful and quiet, felt very relaxed and comfortable with the apartment being kitted out with all the mod cons from Bluetooth speakers in the lounge and in the bathrooms and a widescreen Tv. The rooms where so modern and the beds very very comfortable. The sunbeds where the best I've ever been on looking over the view of the lake and can easily go for a swim in the nearby pool. On top of all of this was the excellent host christian, his communication was amazing and aloud us to feel confident about staying at Amiro Vista and the surrounding area. Would highly recommend!
William
2015-07-31T00:00:00Z
Very nice, clean and well-equipped accomodation with stunning view of Lake Garda. Uncomplicated communication and handover of the keys, also recommendable for dog owners. We enjoyed our stay in AmiroVista.
Amelia
2016-04-18T00:00:00Z
We had a great time at Amiro Vista. The views of Lake Garda are just magnificent. The apartment seems to be newly renovated and is very well equipped, including sunbeds and chairs for the garden, an iPad and a stereo for music and internet, free wifi, towels, linen, bathroom amenities, two fridges and a fully equipped kitchen. The private garden is great. But the most outstanding feature of the place are the hosts. Chris (the owner, living in London) and Anthony (the actual "host", living nearby) are extremely attentive and caring. Everything is very well organized and they have a multitude of tips and advice for the whole region, including swimming places at the lake and restaurants nearby, as well as in Verona or other places. Anthony lives nearby, so you can always contact him. You can always stay in contact with both of them via (SENSITIVE CONTENTS HIDDEN), they literally reply instantaneously! When planning a stay at Amiro Vista, you have to keep in mind two things, though: The place is quite far from Salo and the Lake, and it´s up a steep hill. The "village" it´s located at, is not a real village, but more a collection of holiday homes overlooking the lake. So there are no shops or restaurants around and you definitely need a car all the time. The pool is not a private pool, but a public pool for the whole residence, consisting of about 20-30 apartments. Therefore, the pool is about 200 m away from the apartment. The pool wasn´t really attractive for us, due to some special pool regulations. So we didn´t make use of the pool at all.
Samuel
2015-07-06T00:00:00Z
Beautiful apartment (clean and modern), beautiful view of Salo and Lake Garda (waking up to the view each morning was a real treat) and excellent hosts. Christian and Anthony are extremely attentive and made us feel very at home, both before and after we arrived. It was lovely to be based away from the hustle and bustle of the town on the Lake. The apartment is a 5 minutes drive from Salo, an hours drive from the most northern town on the Lake and 30 minutes from Sirimione, making it an excellent base to explore from. The Vittoriale in Gardone is a must see. Christian and Anthony, thank you for being such wonderful hosts and I'm sure we'll be returning for a visit soon and recommending your place to friends and family.
Meera
2015-09-18T00:00:00Z
Room Type
Entire home/apt
---
Property Type
Apartment
---
Accommodates
6
---
Bedrooms
Villanuova sul Clisi, Lombardia, Italy
Intima casetta nel bosco, dove potrai staccare la spina in tutti i sensi visto che non c'è la corrente e dedicarti ad un vivere essenziale completamente immerso nella natura. Raggiungibile solo a piedi in 5 minuti dall'alloggio dell'host o con un 4x4
La piccola casa è completamente immersa nella natura dei boschi, non ci sono la corrente(ma lampade ricaricabili e candele), la doccia (ma bidè, WC, lavandino e doccia estiva), l'acqua calda la devi scaldare sul gas o sulla stufa
VESTONE é un piccolo paese fornito di tutto quello che potrebbe servire.
We had a wonderful stay at the cosy house of Daniela!She and Sergio welcomed us warmly and we passed two days enjoying the nature and the calm!
Kevin
2015-08-10T00:00:00Z
We had a wonderful few days staying here. Daniela was most helpful (she had to come and find us!), and we arrived to find a fire already burning in the wood stove. The hut is much nicer than the photos show, with candlelight reflecting off the copper pots and birdsong all around in the morning.
Daisy
2016-04-02T00:00:00Z
Super special place, just like all the recenties mention. We had a lovely stay away from the busy world. Owners are very friendly, thank you for making this place exist!
Guusje
2016-05-04T00:00:00Z
Thank you very much for the beautiful stay at your lovely house. It was the perfect place to stay for a while. But let's start at the beginning. Daniela was very nice to communicate with, the directions we were given were perfect and we were able to find the little house quite well. On arriving we were greeted by two dogs. Other than that, no one was in sight, so we waited a while. After meeting a nice man who told us that we should just go up we packed our bags and hiked up the very steep hill. The house was so perfect. Everything was nice and clean and prepared for us. and exactly as described. We felt at home instantly. And the view…The perfect place for getting away. Thank you for letting us stay at your place. We recommend this place with no regrets. The surrounding is really beautiful and gives room for activities endlessly. Thank you for this perfect weekend!
Melanie
2016-05-09T00:00:00Z
Perfect hideaway! Cute little mountain house where you have everything you need! Super nice, friendly, helpful family! Big thumb up and 5star+ rating! Hope to stop by again!
Oliver
2016-05-17T00:00:00Z
nice place in the middle of nature. loving hosts and lots of animals.
Helmut
2016-05-29T00:00:00Z
Wonderful quiet little house on a hill. Great for couples, but also very accommodating for bigger companies or families. The road from the main house takes about 5 minutes, and even though a little steep, it is wide, paved in concrete and is not slippery even when it rains. The house itself is built for comfort, with a comfy queen bed upstairs and comfy sitting area downstairs. Don't worry if you have bad knees or balance - the upstairs bedroom can be accessed through the back door directly, sparing you of climbing the narrow stairs. The kitchen comes fully equipped and a gas-bottle cooker is easy to operate. Even though the house is not electrified, it is built in a way that in summer there is plenty of natural light coming through the glass doors and windows, we almost never had to use the battery lamps provided by the owners. The cool box comes in handy if you need to store the food, the coolpacks can be exchanged daily at the hosts house. The upstairs bedroom features an ensuite toilet, and in the summer the shower can be taken outside quite comfortably. The house itself is very comfy and clean, pleasant to relax inside and outside (2 sunchairs and an umbrella). The hosts are very nice and friendly people making you want to come back for your next vacation, and this time stay longer :)
Volodymyr
2016-07-23T00:00:00Z
Wow! This was an awesome place with wonderful persons!!! The house has a full privacy and is surrounded by nature. If you look out of the front door you see downhill and other mountains. The house has everything except the electricity, BUT there are a lot of lamps working on batteries, gas cooker, grill and coldbox SO you can buy yourself different food and cook it to yourself! The house is perfect for people who are looking for adventures, love nature and also for couples to spend some romantic time. You also shouldn't be afraid of little animals and birds (don't be afraid, there are none in the house and none of them is dangerous and won't even bother you. you can sometimes hear some noise from around the house). ;) If you are withthe rental car then there is absolutely no problem to go there or go away. With buses it's a little bit more complicated, BUT also possible!! Lake Garda is near! Furthermore Daniela and her family are SUPER NICE people! They are so friendly and kind. Although we didn't speak italian and they didn't know very much english we could talk quite much (thanks to the body language and (SENSITIVE CONTENTS HIDDEN) translate). We loved drinking coffee with the family and the dogs were very nice! We loved staying there!!!
Laura
2015-07-26T00:00:00Z
Room Type
Entire home/apt
---
Property Type
Cabin
---
Accommodates
4
---
Bedrooms
Vestone Brescia, Lombardia, Italy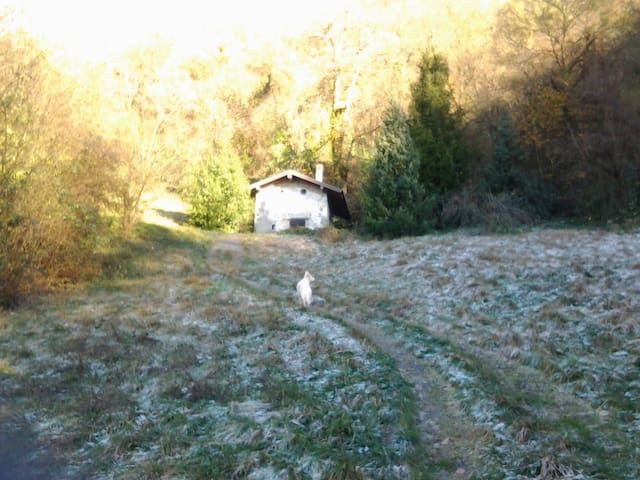 Two room flat for 2 persons in olive tree grove with pool. Living room with sofa bed, furnished kitchen, bathroom, bedroom and big terrace.
Tworoom apartment for two people with private entrance situated in a renovated farm set in an olive grove, is composed of a living room with furnished kitchen and sofa bed, a double bedroom and a bathroom with shower. Outside there is a large porch and, higher up, the beautiful swimming pool shared with the residents of the building.
The apartment is located in a beautifully restored farmhouse immersed in an olive grove and below the slopes of the Horns of Salò. After leaving the car in the car park you find yourself immersed in an atmosphere of quiet and out of the city's chaos. From the swimming pool, shared with the other tenants of the complex ,you have a wonderful view of the romantic bay of Salò.
L'appartamento è molto accogliente e ha soddisfatto tutte le mie aspettative. Arredato con gusto, curato nei dettagli e molto pulito. La posizione è ottima: con una breve e piacevole passeggiata si raggiunge il centro storico ed il lungo lago di Salò. Nicola è stato preciso e puntuale in tutte le sue indicazioni. Ho trascorso tre giorni meravigliosi! Grazie Nicola!
Rita
2016-03-30T00:00:00Z
Room Type
Entire home/apt
---
Property Type
Apartment
---
Accommodates
4
---
Bedrooms
Salò, Lombardia, Italy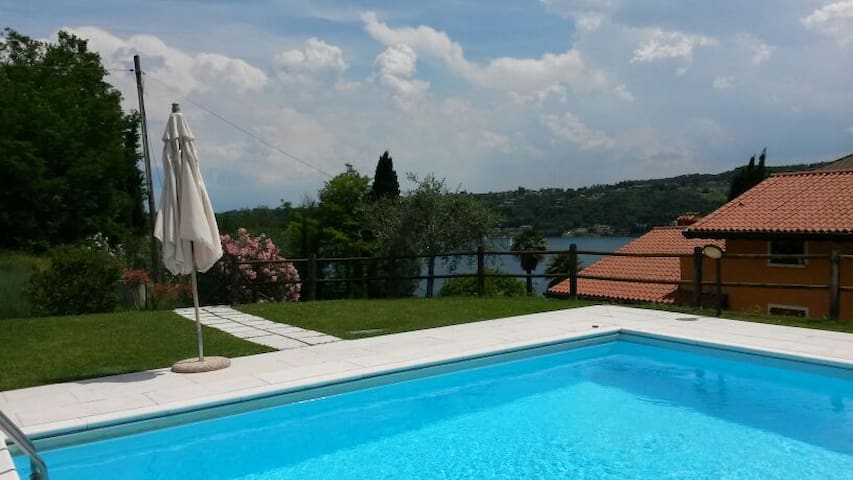 Small self-contained apartment with private bathroom, right next to an old country house, located on a sunny slope overlooking the Idro lake (on the border between Lombardia and Trentino-Alto Adige regions). The loft is renewed, finished with pine wood and with a ceramic wood stove. The main house kitchen is available for our guests to use. We also have a nice veranda and a very suggestive living room finished with antique wood and sculptures. On the outside, our guests will enjoy a spacious terraced yard: about 2.500 metres are used to grow berries (strawberries, blueberries, raspberries...) and fruit - we also grow antique species of apples and pears, while 3.500 metres are for the lawn and the vegetable garden. About 14.000 metres of bush are also part of the property, and from the house you can access some mountain tracks, that lead to the peaks around. There are a few very nice and small beaches all around the lake, for swimming, windsurfing and kitesurfing. Some other activities in the area are free climbing in equipped locations, biking and canyoning. An other option can be the artistic or historical itineraries (the area hosts a very important military fort - Rocca D'Anfo, as well as some tracks that date back to the Third War of Independence, and of the First World War. We are very close to the Garda Lake, and to the Ledro Lake, and good restaurants and nightlife are many! Pets are welcome and appreciated (we have three cats and two small dogs) and we'll find accomodation for them too. In our family we speak Italian, English, Spanish, Portuguese and a little bit of French. IMPORTANT: Both the house and the loft are old, and completely furnished with wood, on top of that we're right in the country, so please bear this in mind when booking, especially if you have any allergies to dust or pollen.
The house is located in the countryside, surrounded by meadows and bush.
Carlo couldn't have been more helpful, he even picked us up after a meal out. The breakfast was all homemade including the salamis, the loft is beautiful very well equipped. His two dogs are also very friendly. Cannot fault our stay.
Deborah
2014-08-07T00:00:00Z
We had a very lovely time with our family in this house (loft) at the lake, it is a large and beautiful chalet style house with really friendly and guest free hosts. The lake is amazingly peaceful and has a family friendly beach 5 minutes away, and the breakfast alone would be worth a stay at this place. Would definitely recommend a stay.
Gertjan
2014-07-09T00:00:00Z
A wonderful place at a wonderful location with awesome hosts - this place is really what Airbnb is about. Irene and her family were very friendly and welcoming and the location is great: peaceful with amazing views on the lake, but still quite near to awesome sights and locations. We especially liked the small 'private' beaches on lake Idro (which Irene told us about). The house itself is quite unique; as someone described before it's almost like living inside a tree :) The brunch which was served to us was seriously delicious - also vegan options were available! We were traveling with our 8month old son and had no problems whatsoever. A small downside were the bugs in the house but well, it's a really old house so can't complain. Recommended 150%
Mikko
2016-07-06T00:00:00Z
As our first point of call in Italy during our honeymoon, we couldn't have stayed in a more wonderful place! The loft is like the pictures promise, but even better. It is truly a piece of art, such craftsmanship! Perfectly sized, cosy, well insulated and equipped with everything you may need. You should stay at least a few nights to really appreciate the carefully decorated interior. We couldn't stop looking around, following the lines of the wood, broken up by Mondriaanesque patches, each corner telling a different story. But although there is a lot going on, at the same time it has a sense of calm about it and you can truly retreat here after a day of exploring. Located in the picturesque hillside of alpine Lago d'Idro, there are some charming and historical villages scattered around and if you follow the road north, the Dolomiti make their presence known with their unmistakable peaks and dramatic cliff faces. A ride in one of the gondolas from Campo Carlo Magno (or a sturdy hike), allows you to admire the Brenta mountains up close and you are rewarded with sweeping views across the valley. Back at the loft, Irene and her mother Anna were wonderful hosts and made sure we felt welcome and they looked after us very well. Their breakfasts were comprehensive and made with love, we haven't had any better since! So, if you are in the area, be sure to call this little loft on the lake your home away from home, you will not regret it! Thank you Irene & Anna!!
Kinnison
2015-07-16T00:00:00Z
This fantastic little cabin is a stunning place to spend a few quiet days in a beautiful part of Italy. The family are exceptionally welcoming to their amazing home. We spent the week travelling about visiting Lake Garda and Verona, both only an hours drive, but we could have easily spent the week drinking fabulous local wine and reading while admiring the views over Lake Idro. I would seriously recomend visiting this little island of peace any time.
Paul
2016-06-22T00:00:00Z
The loft is absolute lovely. A very creative and unique atmosphere. We felt at home right from the start. Noteworthy is also the (almost luxuriant) breakfast with lots of home made stuff like juice, bread, ham, salami and local cheese. In addition with the great view from the terrace, every day started just perfect. We mostly had to do with Carlo, who was very friendly and helpful. But the whole family was very nice and welcoming as well. We will defentily come back some day.
Sebastian
2014-09-09T00:00:00Z
Again, it was a wounderful wounderful stay. We just stayed for a few days, but it was like going on a wellness week..;) Irene, her brother and her parents are the perfect hosts.We got a perfect itanlian breakfast, with the best few in all italy. Thank you for having us again. Hope we'll see us again.
Michele
2014-06-23T00:00:00Z
Great hosts, exceptional breakfast, good location. Carlo gave us tips for places to go see and where to hire canoes.
Natascha
2014-09-13T00:00:00Z
Room Type
Entire home/apt
---
Property Type
Chalet
---
Accommodates
3
---
Bedrooms
Anfo, Lombardy, Italy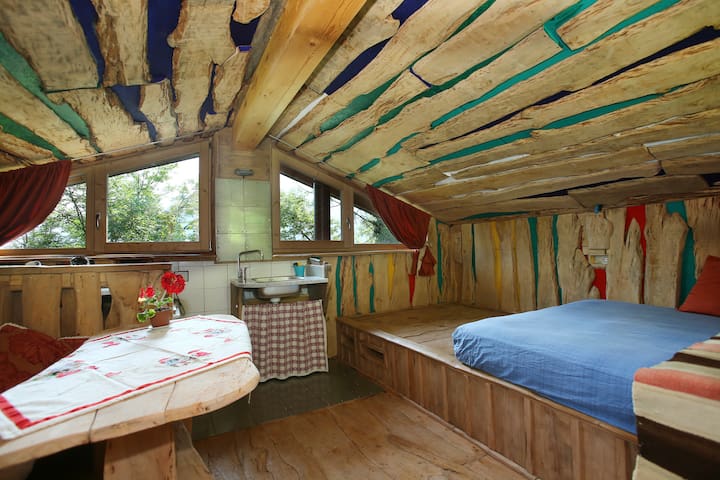 Proud of a top central lake location just few steps from the delights of Salò and close to the beaches of Lake Garda, this beautiful holiday home, with amazing view, provides the perfect retreat for your holiday! Located in an unique location with breathtaking lake view, guests can be sure of an unforgettable stay!
This awesome holiday home is located on the Ground Floor, the accommodation offers a large and inviting living room, furnished with a cozy dining area, Wifi, TV, double sofa bed for 2 persons and a fully equipped kitchen ideal for cooking delicious meals during your holiday. The first Bedroom is located on ground floor, furnished with spacious double bed makes this place ideal for romantic stays thanks to the wonderful window totally lake view. The bathroom is newly fitted with a shower, WC, bidet and washbasin. The second Bedroom is located on under ground floor, furnished with spacious double bed. The private bathroom is newly fitted with a shower, WC, bidet, washing machine and washbasin. A private parking space is fully available.
Salò is an elegant and famous holiday city in a marvelous position on the bay of the same name. The historic old town is perfect for shopping, there are many elegant boutiques. Along the lakeside there are bars, ice cream parlors, restaurants and boutiques, making the city a best place to stroll around.
Emma is great host and her apartment if really beautiful. You have access to the garden with amazing view of Lake and mountains. Also Villa district in Salo is perfect place for vacation (active - bikes, walks, or just relax). Small convenient shop is few minutes walking. Emma was very friendly and made our vacation really great. Definitely would recommend to other travelers and would love to come again! Pavel
Pavel
2017-04-08T00:00:00Z
Room Type
Entire home/apt
---
Property Type
House
---
Accommodates
4
---
Bedrooms
Cunettone-villa, Lombardia, Italy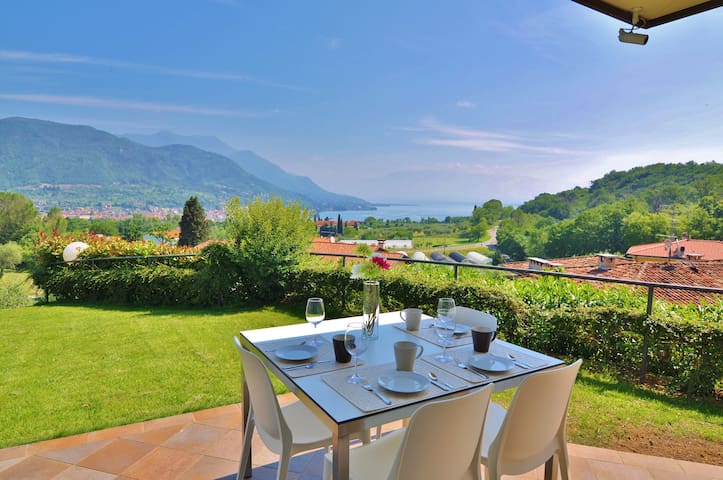 Our Villa is a delux detached villa with private pool. You'll love our villa because of the fantastic lake view. Our villa is good for groups of couples, business travellers, families (with kids), and big groups. For your comfort all bedrooms have Air conditioning, and there is a gas BBQ plus table tennis table. Our villa is totally private with stunning views over the lake
Room Type
Entire home/apt
---
Property Type
Villa
---
Accommodates
10
---
Bedrooms
Villanuova sul Clisi, Lombardia, Italy
The exceptional apartment nestled in a medieval castle-convent with a large pool and a fantastic view over the city of Salò and the entire southern lake. The apartment has its own terrace and a beautiful garden area, which also has a direct view of Lake Garda. Throughout the premises Free Wifi is available. My property is well suited for couples, solo travelers, adventurers, families (with children) and furry friends (pets).
Room Type
Entire home/apt
---
Property Type
Apartment
---
Accommodates
4
---
Bedrooms
Villanuova sul Clisi - Saló, Lombardia, Italy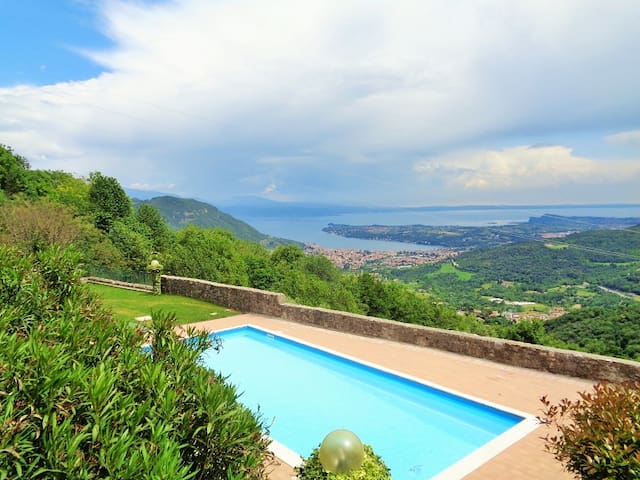 Il mio alloggio è vicino a attività per la famiglia, trasporto pubblico e vita notturna. Ti piacerà il mio alloggio per questi motivi: gli spazi esterni e il quartiere. Il mio alloggio è adatto a coppie, avventurieri solitari, chi viaggia per lavoro e famiglie (con bambini).
L'appartamento è situato sul lungo lago di Salo' posto incantevole ,piacevoli passeggiate ,il lago di Garda offre dei paesaggi incantevoli e molto rilassanti. A pochi metri potrete trovare l'accesso al battello per un giro sul lago (consigliato),la citta' è piena di storia ,chiese ,palazzi.....da non perdere il mercato rionale del sabato.
My stay in Salò was perfect. The apartment is situated in the centre of the city, 20m from the promenade along the lake. The host is also great, reachable at all times, eager to help :-) all the best
Jani
2016-11-27T00:00:00Z
appartamento modesto, ma in posizione ottima. Quieto, ma in pieno centro. Conduttore disponibile e sollecito. Il luogo, Salo', e' magnifico.. Letto sottostandard, da sostituire...
giovanni
2016-12-09T00:00:00Z
Era abbastanza centro e facile girare tutta la citta' ma la camera e' piu' piccolo di come pensavo e non c'e' il sole.
Yuma
2017-01-04T00:00:00Z
Room Type
Entire home/apt
---
Property Type
Apartment
---
Accommodates
2
---
Bedrooms
Salò, Lombardia, Italy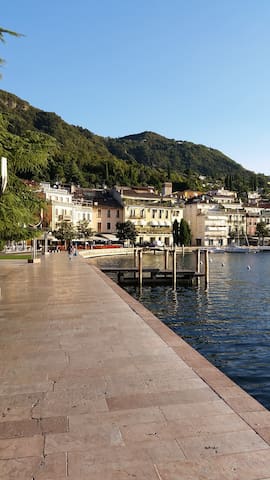 Situato in un vicolo caratteristico del centro storico, a due passi dal lungolago è organizzato su due livelli. A piano terra un ingresso, un'ampia zona giorno con pareti e volti in pietra a vista con angolo cottura, un particolare bagno con spaziosa doccia, un piccolo locale lavanderia con lava/asciugatrice e nella mansarda al secondo livello, un'ampia camera da letto matrimoniale con un ulteriore letto singolo o in aggiunta un lettino culla.
Appartamento dall'atmosfera esclusiva situato in un vicolo del centro storico di Salò, affacciato sulla passeggiata principale a due passi dal lungolago. Completamente ristrutturato mantiene l'identità acquisita nel tempo affiancata da uno stile contemporaneo degli arredi e dei decori. Organizzato su due livelli, offre a piano terra un ingresso, un'ampia zona giorno con una cucina attrezzata e corredata di tutti i comfort ( lavapiatti, forno a microonde, piano cottura ad induzione, frigorifero, macchina da caffè, spremiagrumi, estrattore di succo) situata in un caratteristico locale con pietra a vista originali a tutto arco. Un particolare bagno con spaziosa doccia. Un piccolo locale lavanderia con lava/asciugatrice, ferro e asse da stiro. Nella mansarda luminosa e ariosa al piano superiore un'ampia camera da letto matrimoniale con un ulteriore letto singolo o in aggiunta un lettino culla.
Il centro storico di Salò è noto per la suggestiva passeggiata del lungolago che costeggia l'intero golfo. Notevoli i monumenti, gli affreschi ed i rimandi che la cittadina offre nonchè spettacoli e manifestazioni di rilievo in ogni momento dell'anno. Sono presenti il MuSa – Museo di Salò all'interno del centro Culturale di Santa Giustina, il museo del Nastro Azzurro, il museo archeologico A. M. Mucchi, l'Ateneo di Salò, la bibblioteca civica. Spunti storici e culturali accompagnano i visitatori lungo le vie del centro a partire dal magnifico Duomo rinascimentale e agli innumerevoli monumenti e affreschi. Eventi sportivi di rilievo quali il Meeting internazionale di nuoto "Città di Salò", la Coppa San Geo, la Regata notturna delle Bisse, il Circuito del Garda e il rally Mille Miglia si svolgono durante il corso dell'anno. Zona estremamente interessante anche per lo shopping, per i numerosi ristoranti e bar.
Dear Ma Ninì, Thank you so much for all! The time in Salò were so great! We loved your appartement and the location too. The way to lake Garda is very short, nice restaurants directly next to the appartement and the boot starting point too! Everything we needed was there! We didn't miss anything during our time! And you and your husband were so friendly and warmful! Many greetings Hanna&Gaby
Gabriele
2016-07-29T00:00:00Z
Absolutely fantastic apartment; awesome interior design, really close to everything in Salo and moments from the waterfront. We were very lucky to be treated to some bespoke customisation of the apartment as we were on honeymoon. This was so incredibly thoughtful and reflects this amazing host. Very highly recommended.
Andrew
2017-02-14T00:00:00Z
Thank you Gianlydia, it was a blast to stay at your authentic italian apartment in salò. You could never find something like that in a hotel. •great restaurants nearby •close to lago del garda • shopping, hiking, relaxing •good atmosphere •super clean •beautiful authentic style Thumbs up
Nancy
2017-02-25T00:00:00Z
A wonderful place to stay. Beautiful apartment, clean and well designed. Contemporary design giving a beautiful relaxing place to stay. Our host was warm and friendly. Would recommend to anyone who wants a nice quiet place to stay but close to amenities and the beautiful Lake Garda
michelle
2016-08-28T00:00:00Z
We had an absolutely fantastic stay. The location was excellent, the lake is a one minute walk away and so are the bars and restaurants. It was also very easy to get the ferry to see other towns around the lake. The accommodation itself is wonderful with lovely details and decoration. I would highly recommend a stay in Salo.
Jessica
2016-08-19T00:00:00Z
Very nice contact with the host. Cute little apartment, great design. Thanks for having us!
Jelena
2016-09-24T00:00:00Z
The pictures don't do the apartment justice. Such a gorgeous apartment and decorated with real style and attention do detail. The location is perfect. It's right in the heart of Salo, just metres from the restaurants and bars. It's also just a quick stroll to the lake and beaches. The host met us at the bus stop and was extremely helpful throughout the trip. The apartment has everything you'll need. I would absolutely recommend this place and will be returning!
Caitlin
2016-07-16T00:00:00Z
Very nice appartment , we had a great time !!! Thanks a lot
Angelos
2016-08-01T00:00:00Z
Room Type
Entire home/apt
---
Property Type
Apartment
---
Accommodates
3
---
Bedrooms
Salò, Lombardia, Italy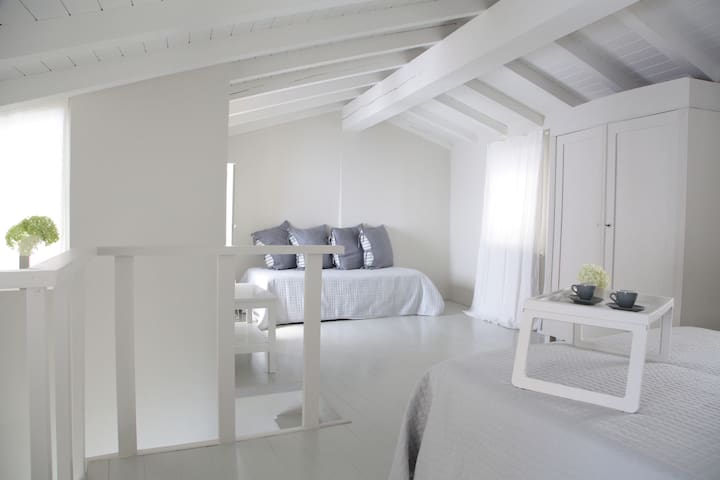 Relax tra le montagne del lago di Garda e del Lago d'Idro. Appartamento appena ristrutturato, situato in un grazioso borghetto antico, immerso nella natura. Sarete accolti nella tranquillità da splendide viste panoramiche. Trekking, nuotate al lago, cibo italiano vi aspettano.
Room Type
Entire home/apt
---
Property Type
Apartment
---
Accommodates
2
---
Bedrooms
Provaglio Val sabbia, Lombardia, Italy
Frazione Vico, via Clusure 4. A pochi minuti dalla suggestiva località Fobbia e dal lago di Idro. Qui troverete una montagna con tanta tranquillità Appartamento semplice, al secondo piano, cucina, camino, 2 camere,bagno con doccia, balcone.
Cantina per deposito bici. Private parking for bicycles.
Frazione Vico
Room Type
Entire home/apt
---
Property Type
Apartment
---
Accommodates
4
---
Bedrooms
Treviso bresciano, Lombardia, Italy
Offriamo ospitalità in una villa immersa nel verde vicino ai due laghi più belli della provincia di Brescia.
25 Km (thirty minutes) from Garda lake and 45 Km (fifty minutes) from Iseo lake we make avaible a newly built flat on Val Sabbia hills. In the apartment you can find a living area (kitchen + living room), bathroom and a double bedroom; free wifi, heating and fan. The flat is into a detached villa with swimming pool. Near the pool there is a relax area and barbecue.The villa is sourandded by great green spaces. You can park the car in an outdoor parking inside the villa.
Room Type
Entire home/apt
---
Property Type
House
---
Accommodates
2
---
Bedrooms
Odolo, Lombardia, Italy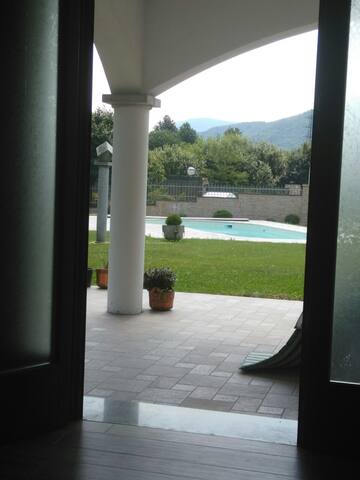 Fully furnished house, situated near the historic center of Hydro about 300 m, this area is particularly suitable for those who like to spend their holidays in absolute tranquility, in fact Hydro is a place full of forests, hills and old mountain vil
Fully furnished house, situated near the historic center of Hydro about 300 m, this area is particularly suitable for those who like to spend their holidays in absolute tranquility, in fact Hydro is a place full of forests, hills and old mountain villages, all it surrounded by beautiful surroundings. The house is arranged on the ground floor, a 'semi-independent environment of about 75 square meters suitable for a number of 4/6 persons. The environment is composed of kitchen, living room with sofa bed, double room, room with 2 single beds, bathroom with shower, private garden and pool, garage, cellar, parking and bike. Inside you will find all the necessary equipment for your stay: gas cooker, fridge, freezer, washing machine, lounge, complete kitchen utensils, kitchen towels, bed linen, towels, internet WI-FI, satellite TV and digital TV, games for children, iron. Outside the house in the garden, you will find a fireplace barbecue, table and chairs.
The resort offers mote sports and amateur, are organized guided tours for children, beginners and the more experienced. You can go cycling, swimming, surfing, sailing, climbing, paragliding or canyoning. Lake Hydro is located near Lake Garda and the historic cities of Verona and Venice.
We where nicely welcomed, the house was easy to find -and even though we where slightly disappointed at first, because the front Picture made the impression that there would be seaview, but the terrase and the small garden in kombination with 5 minutes walk to lake and center of the willage made us have 4 very wonderful days, specially because of the calm atmosphere and authentic willage of Crone. The hospitality of everybody was great. The wednesday market was really nice. Our host was very kind and helpfull. quick response.
Susanne
2016-07-21T00:00:00Z
Massimo was a perfect host! We had app contact about time of arrival and he was waiting for us. Showed us around and left. The appartment was as expected: clean, nice area and everything available.
Barbara
2016-08-04T00:00:00Z
Room Type
Entire home/apt
---
Property Type
Apartment
---
Accommodates
6
---
Bedrooms
Crone, Lombardia, Italy