The apartment was in 2013 renovated and is approximately 95 square meters. The upscale amenities offers eg washing machine, kitchen with dishwasher, induction cooker, coffee maker, toaster, spices, etc., LED TV, free Wi-Fi, WIFI.
Large spacious apartment on the 1st floor with 2 bedrooms, living room, kitchen with dining area, large bathroom, cloakroom, balcony. Our apartment is rated by the German tourism association with 4 **** stars.
In the near are: after 10min Legoland, about 20 lakes from 500m distance, swimming pools, beer gardens, shopping, bike trails, Charlotte cave goblin country, playground 20m, Gundelfingen an der Brenz with over 50 bridges, fishing, Danube dam, water, electric bike, Kneipp, carriage rides and much more.
Very nice and pleasant host.Spacious, clean and very well equipped apartment. Everything was perfect for our stay and visit to Legoland.
Benedetta
2015-07-21T00:00:00Z
Perfect location to visit Legoland, only 10 minutes by car from the house. Five minutes by car there are supermarkets and nice restaurants. The flat is very nice, spacious and comfortable, perfectly kept, with everything a guest can need. There's a good wifi conection and a very big parking place for the car. We felt as if we were at home. Highly recommendable.
Joan
2016-09-07T00:00:00Z
Very nice place, very nice people, close to major cities in Bavaria. Extremely quiet place at night, no outside noise. I definitely recommend this place for your stay in SW Germany
francisco
2013-10-19T00:00:00Z
The reservation was canceled 84 days before arrival. This is an automated posting.
Patrick
2014-07-14T00:00:00Z
Sascha made us feel very welcome, the location was handy to us as our family lived across the road. Lovely and spacious for all family sizes. Would stay there again.
Melissa-Anne
2016-07-25T00:00:00Z
Wonderful apartment, everything is modern and new and the place was completely set up when we arrived, thank you!
Annalena
2015-09-06T00:00:00Z
Sasha apartment is as good as it can be. It is clean, spacious, equipped and comfortable. In fact, it's better than the photos. The hosts are friendly and from all aid. The location is excellent if the main goal of your trip is Legoland.
Lazar
2015-08-03T00:00:00Z
Everithing went according to plan. It was a pitty that i could not book for more days.
vlad
2016-07-13T00:00:00Z
Room Type
Entire home/apt
---
Property Type
Apartment
---
Accommodates
6
---
Bedrooms
Gundelfingen an der Donau, Bavaria, Germany
completed 4 room apartment on the ground floor, in a 2 -. (live Myself, partner & 2 dogs above) family house, about 98 sqm equipped kitchen, bathroom, sep. WC; 3 Bedrooms u. Living room. (There are always 2 BR. Connected / connecting room) to reach shops and train station in about 20 minutes walk, for Legoland visitors - about 15 km
The accommodation is in a two-family house I live with my partner and our two dogs up You may use the ground floor apartment "Your kingdom" call for the time of your booking
This was our best Airbnb experience to date, and we have Iris to thank for it. We arrived later than expected, and she had left some fruit, bread, snacks, etc for the family. That helped us to get settled in quickly, and begin enjoying our 3 day weekend. The place itself is extremely clean, and has tons of space for the family to eat, sleep and play in. It has a full kitchen, and gourmet coffee maker that helped get us up in the morning. The location is perfect!! Only 10 minutes from Legoland, and 1 hour from Munich (we did both as day trips during our stay). You get so much more for your money by staying with Iris, instead of a hotel somewhere else. Iris even turned on all the radiators while we were out for the day, because the weather had gotten much colder during our stay, and she wanted to make sure we were comfortable. If you are going to Legoland with your family, book this place and be happy!!!
john
2016-09-19T00:00:00Z
The house is really big and very clean. Perfect for a few nights when visiting Legoland. Very nice people and a great service. Easy to communicate with the owner.
Marien
2016-07-24T00:00:00Z
Iris was the perfect host and her property was just what we needed as a family of 5visiting Legoland just 20 mins away. She provided food and drinks as well as access to her beautiful garden and went beyond what would be expected from a host.
Fiona
2016-08-09T00:00:00Z
The place was very comfortable and clean. The host was very nice and welcoming. We enjoyed our stay there so much that we extended our staying. It was located close to Legoland and very nice Gunzburg (13 km). I can definitely recommend this beautiful place.
Anna
2016-08-17T00:00:00Z
Minden rendben volt!
Attila
2016-08-07T00:00:00Z
Gospodarz bardzo miły. Zaskoczył nad swoją uprzejmościa. Dobre miejsce na wypad do Legolandu za rozsądną cenę. Mieszkanie przestronne i bardzo zadbane. Polecam.
Michał
2016-08-21T00:00:00Z
Wir haben uns rundum wohl und willkommen gefühlt. Wir wurden verwöhnt mit Früchten, Brot, Eier, Aufschnitt, Butter, Marmelade, Bier, Wein. Unglaublich. Wir waren überwältigt von der Gastfreundschaft. Für Legolandbesuche gibt es für uns keine Alternative mehr. Nochmals herzlichen Dank für Alles.
Andrea
2016-08-13T00:00:00Z
PERFEKT! Viel zusätzlicher Service, alles sehr sauber und gut eingerichtet. Wir haben uns sehr wohl gefühlt und kommen gerne wieder!
Simone
2016-05-17T00:00:00Z
Room Type
Entire home/apt
---
Property Type
Apartment
---
Accommodates
5
---
Bedrooms
Offingen, Bayern, Germany
The flat is 12 km from Legoland Günzburg. City center is about 12 km from here. Public transport not far Enjoy your stay at the countr- side. Space to make your own Barbecue, parking for free, playgrounds for kids in the village, public swimming pools a view minutes by car. The flat is made for two to five persons.
welcome drink (alcoholic or not) coffee for free during your stay you can buy drinks in the house supermarkets, bakerys and butchers 2 minutes by car kitchen well-appointed space for barbecue
Room Type
Entire home/apt
---
Property Type
Apartment
---
Accommodates
5
---
Bedrooms
Offingen, Bayern, Germany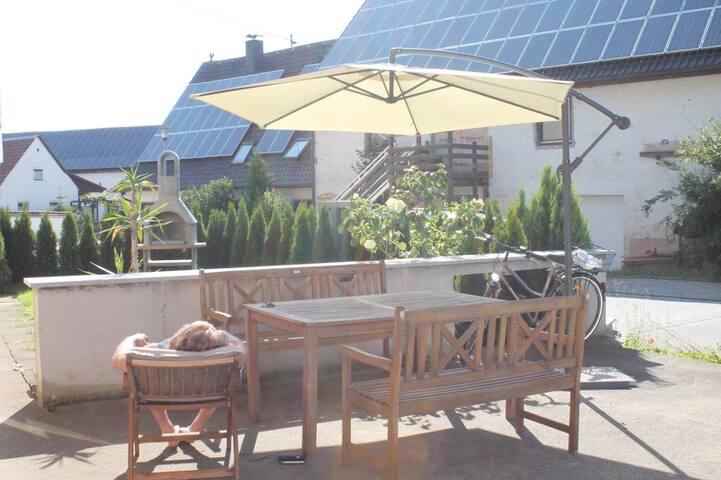 5-Sterne Ferienwohnung im schwäbischen Donautal. Die Einrichtung der 88 qm ist modern und stilvoll für gehobene Ansprüche. Ausstattung: 7-Zonen-Matratzen für den erholsamen Schlaf, voll ausgestattete Komfortküche, TV, kostenloses WLAN, Holzbadezuber
Die Exclusive Ferienwohnung im bayerisch-schwäbischen Donautal wurde neu fertiggestellt im Mai 2014 und vom DTV mit 5 Sterne ausgezeichnet. Der helle Wohnbereich ist ausgestattet mit einer Ledercouch, ein romatischen Kamin, Lesesessel, 2 Relaxliegen sowie Großbild-TV und Blue-ray-player. Das gemütliche Schlafzimmer ist mit einem Doppelbett für gehobene Ansprüche ausgestattet. Das Boxspringbett mit einer 7-Zonen-Klimamatraze bietet Ihnen einen sehr erholsamen Schlaf und ein angenehmes Schlafklima. Der Stilvolle Metallbetten mit Überlänge (2,10 m) und bequeme, hochwertige Matratzen, ein Massivholzschrank, ein Tisch und 2 Stühle, bestücken das zweite Schlafzimmer. Die voll ausgestattete, moderne Komfortküche lädt ein zum Kochen. Eine gehobene Ausstattung mit Ceranfeld und Backofen, Geschirrspüler, Kühlschrank, Kaffeemaschine, Wasserkocher und weitere Geräte sowie Kochutensilien und Geschirr. Ebenso wurde eine Waschmaschine für Sie installiert. Ein Tisch und Sitzgelegenheit für bis zu 6 Personen vervollständigt die Küche. Bad mit Dusche und 2 Waschbecken.
Viele Rad-und Wandermöglichkeiten, zahlreiche Badeseen ab ca. 2-3 km Entfernung, Freibäder, Wasserski, Legoland Günzburg, Biergärten, Restaurants, Spielplatz, Kneippen, Kutschenfahrten, Steiff-Museum, Ulm ca. 55 km entfernt, uvm.
I have stayed at a lot of Airbnb/VRBO and this one is amazing. We had a free day while staying here and hadn't decided what to do but when we got to Roswitha's place we decided to just stay there and relax. Every morning fresh rolls were delivered to the door. The apartment was very clean, quiet and beautiful. We found the location great.
Laura
2016-09-14T00:00:00Z
We loved Roswitha's place so much that we just don't know where to begin. Spacious, beautiful both indoor and outdoor. Her grounds are absolutely stunning... Garden with beautiful flowers and sculptures, spacious patio, pond with fish in it, outdoor wooden hot tub. Roswitha has her own store and stocks it with all kinds of fresh, organic, and home made items. We wanted to buy 1 of everything. We can recommend her home made jams, chutney, and local wine. Indoor was beautifully decorated. Roswitha has wonderful taste. Made it very warm and inviting, definitely a place you can (and want to) live in. We enjoyed our balcony/deck, especially in the mornings. The pictures in her listing are accurate, however in our opinion it is so much prettier in person. To my delight Roswitha had a beautiful flower arrangement in our master bedroom, fresh from her garden. It was such a personal touch! She also provided us with some small necessities like q-tips and make-up remover pads. In our opinion it is the little things that make a big difference. Communication with Roswitha was excellent, from booking all the way to check-out. She made herself available to us throughout our stay. I cannot say enough about Roswitha, she is very personable, accommodating, and a pleasure to be around. We stayed 3 nights and our only regret is that we couldn't stay longer. Overall rating 5 Stars- A+++. I highly recommend Roswitha's place and would book again without a doubt!
Linda
2016-09-24T00:00:00Z
We loved staying with Roswitha, we had complete privacy, on Xmas eve Roswitha and her husband were busy getting everything ready for our hot tub and dinner which was the reason we booked to stay here. And it did not disappoint. The hot tub was divine (a toasty 37-40c) and the food was locally sourced and three courses were homemade and brought to us IN the hot tub. We made use of the fully equipped kitchen and enjoyed the comfortable living space very much. Roswitha was very professional but warm and welcoming, nothing was too much trouble. Even opening her shop to us for private shopping when it was closed to the public. The shop had everything you could imagine, we wished we hadn't stopped at the local supermarket beforehand so we could have bought more of the local Swabian produce. Would highly recommend this quiet, private hideaway close to the romantic road which we explored at length. The hot tub and home made food is a must!
Liz
2016-12-27T00:00:00Z
L'accoglienza di Roswitha è stata perfetta, nonostante una sovrapposizione di ospiti ha risolto con una prenotazione di una camera in un piacevole albergo. La casa è molto ben organizzata e arredata, il giardino è piacevole e sicuramente in piena estate è un'ottima soluzione per state all'aperto. La posizione della casa è comoda e la cittadina offre soluzioni anche per una cena fuori. E' stata una buona base per esplorare la zona che avevamo deciso di visitare. Dimenticavo il pane fresco al mattino e le marmellate biologiche sono state molto apprezzate!
Rocco Alessandro
2015-09-07T00:00:00Z
Super Unterkunft, super Gastgeberin - alles vorhanden, was man braucht. Wenn doch 'was fehlt, dann besorgt sie es gleich. Kommen sehr gerne wieder.
Marc
2016-01-09T00:00:00Z
Los anfitriones han hecho que nuestra estancia sea SUPER agradable,. En todo momento han estado muy pendiente de nuestras necesidades. Son personas de un trato muy coloquial y accesible. En definitiva encantadores. Desde aquí nuestra mas sincero agradecimiento y nuestras feiciltaciones
Enrique
2015-08-30T00:00:00Z
Room Type
Entire home/apt
---
Property Type
Apartment
---
Accommodates
4
---
Bedrooms
Gundelfingen, Bayern, Germany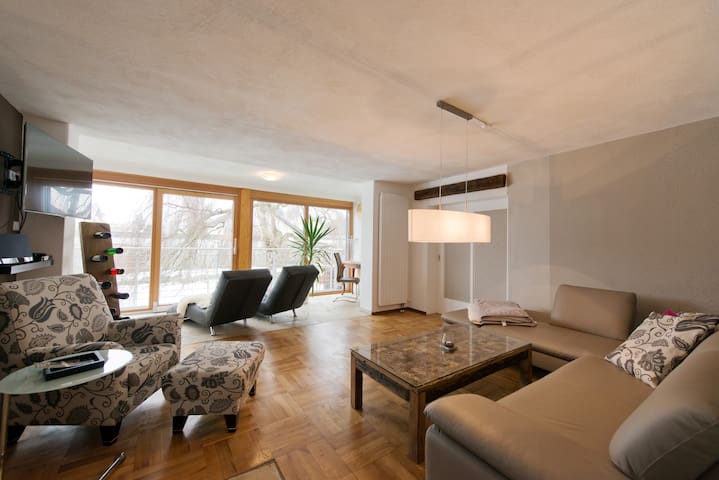 Lovingly furnished rooms (23 square meters) with a small kitchen and separate bathroom. Fitted with wooden parquet flooring, box spring (excess length 2.10 m), a 7-zone air mattress, table, chairs, wardrobe, small kitchen with induction hob, fridge, etc.
Breakfast sandwiches and a bottle of regional mineral water are included in the room rate. Likewise, tea, spices, vinegar and oil. In our grocery shop "country shopping" is a rich selection of Swabian delicacies for breakfast or snacks available. Also meat from particularly animal welfare exists. Your refrigerator is already stocked with a small range of products. DURING THE PERIOD 22.01.2017 - 06.02.2017 is not open country shopping store. Also will be no breakfast rolls service at this time. Please consider this! Gundelfingen is a structurally shaped by medieval town, located on the tributaries of the Danube and Brenz. We are in the idyllic residential area, in one of the most beautiful and quiet residential area Gundelfin- on the Danube, close to the center.
The Swabian Danube valley is rich in lakes, hiking and biking trails. There is much to discover for the whole family. Some beer gardens invite you to stay in the summer. Restaurants with typical Swabian dishes, we would recommend it.
Le mari de Roswitha nous a très gentiment acueilli en son absence. Tout a été réglé de façon très efficace.
MICHEL
2015-08-24T00:00:00Z
Room Type
Private room
---
Property Type
House
---
Accommodates
2
---
Bedrooms
Gundelfingen, Bayern, Germany
Enter dates to see the total trip price including additional fees (but excluding any taxes).