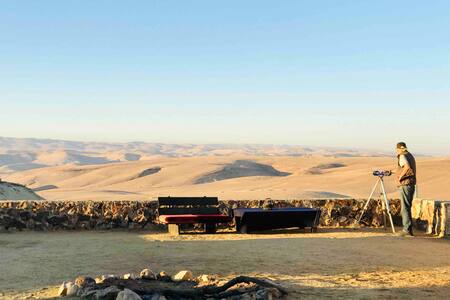 SUPERHOST
Entire guesthouse · 10 guests · 3 beds · 1 bath
Desert View. unique experience and Desert cuisine.
We are 25 minutes from Masada, Dead Sea and Ein Gedi . We only have one guest at a time!! It's a beautifuly designed apartment with a high quality beds, bedouin tent, huge garden and terrace attached to it with spectacular panoramic view overlooking Jerusalem, Hebron and the Judean desert. There is a vibrant community with great coffee shops, restaurants, art. We direct our guests how to get to the most beautiful nature areas and nice activities around. Free parking for cars
What guests are saying:
"Oki this Airbnb is a suprising one here is why: The designated area for the guests is big! The beduen tent is large, comfortable and private if you need it to be. I chose to mingle, share experiences with David, Lea and some new friends. The apartment is perfect, the fridge is a mini one(fyi), bathroom and shower are spacious as the living room and kitchen, comfy mattress. I discovered my ignorance when it came to Arad... Lol. The weather!!! i had no idea the breeze will be so... Perfect and cooling even tho it's summer. I didn't go out much since i enjoyed the space and company so much, but when i did it was a beautiful cafe place with a lovely owner and constumers... I realized i had a lot of misconceptions regarding Arad and it was transformed completely. I'm gratful for the expeirence we all created together and for the hearty space Lea and David created. Till our next dance 🙏🥳❤️"
Our guest room has 2 bedrooms, a kitchen, and a bathroom. It has a big quite balcony with mountains view, which you can enjoy by chillin' in the hammocks we put around. Outside the room, we made a fireplace for fulfilling the desert experience, which gives a magical atmosphere at night. There is also a barbecue place if you prefer to cook outside. And for families with children, there is a big grass field for having fun.
What guests are saying:
"The housing unit at Ravit and Hadar is excellent! There is everything you need, the kitchen is very well equipped and the possibility to light a bonfire for Fuika and the large garden enhance the experience. In general the whole complex is arranged with a lot of thought, looks very good and even more in reality than it looks in pictures. The place is very quiet and comfortable and you can relax and unwind between walks in the area. Ravit and Hadar are amazing hosts, had fun and hope to return !!!"
Dessert inn is good for the couples, singels as well for the families with children. We are clouse to the Ein Bokek, Masada,EinGedi. You will find yoursalfe in the midle of amaizing nature with lot of hakeing trails.
What guests are saying:
"This bungalow was exactly what we needed for a quick overnight stay after climbing Masada. Lucia was on-the-spot responsive. The bungalow was spare and compact, yet suited our needs. The neighborhood was quiet. When the neighbor's porch light shone into our room, she took care of it. When we stupidly got ourselves a parking ticket by failing to see the pay machine in a parking lot in town before arriving at her place, she offered to transmit our payment for us at a local post office, thereby saving us time and inconvenience. She was very helpful and smooth during check-in time by walking us to our bungalow. Very friendly and helpful. Smooth stay."