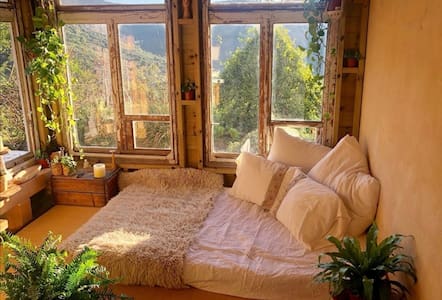 SUPERHOST
Entire guest suite · 2 guests · 1 bed · 1.5 baths
Airy small apartment, Galilee, 5 min from clil
Small cozy apartment, next to our (it have shear wall) but completely private. breathtaking view from the bed, the sun get into the bed at morning . small kitchen everything you need for tea or coffee or even small cooking דירת סטודיו נעימה ונקיה , צמודה לבית שלנו. עם כניסה נפרדת ופרטיות, שקטה צנועה ונעימה. כניסה פרטית מיטה לכיוון הנוף וקצת כמו לישון בחוץ מתאים למי שאוהב לקום עם השמש ששולחת קרנים לתוך המיטה שרותים ומקלחת פרטיים. גבול שמורת טבע, מיקום מעולה למטפסים, מרחק הליכה מצוקי גיתה.
What guests are saying:
"Stunning housing unit in its beauty, in a secluded and peaceful location, the apartment is well equipped and pleasant, the view is breathtaking, and quiet .. The owner is available and answers any questions and requests .. Highly recommend for those who want to enjoy a little quiet (and document Instush ;-) )"
Shalom! We are Asia & Yura, both artists-designer and painter. We live in Adamit, in Galilee mountings.Nice weather, not far from the beach, near Keshet Cave. We created our house: Dreaming. Planning. Collecting elements and artworks.Combining 'ready-made'. Designing. Restoring. Recycling. Working with our hands. We love our home. Our house breathes creativity,endless sky, sunsets over the sea, biblical landscape of Israel and Lebanon. Ideal place for cultural and family events. Be our guests
What guests are saying:
"Nice and clean place, well equipped, spacious (needs more services for a large group, but that's what it is), beautiful view, quiet and close to the Rainbow Cave site for a short walk in the beautiful Galilee. It is worthwhile to have everything you want because the battle place is 20 minutes away on a winding road ..."
A romantic getaway in a wooden cabin with an amazing view. Secluded. Set behind a pine wood. Cool breeze in the summer, log fire heating in the winter. Our recommendation: after your check-in, slip into a white bathrobe and take a bottle of wine and enjoy our complementary sauna and hot tub.
What guests are saying:
"We booked this place for our anniversary and were very excited for it, but this Cabin was way beyond our expectations. The cabin is located in a cosy vegetarian village with great restaurants nearby. The views are spectacular and the cabin feels quite secluded and intimate. Outside of the cabin are the hot tub and sauna, which are not exclusively yours but can be made private by closing and locking the gate(you should definitely wake up before sunrise and experience it there). Itamar welcomed us at check in and gave great info about restaurants and hiking trails nearby. He and his family were gracious and kind and even gave us a lift to a nearby bus station at the end of our stay. I would definitely reccomend this place to anyone looking for a break from urban city life."