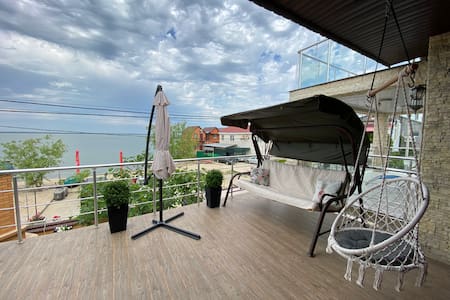 SUPERHOST
Private room · 15 guests · 10 beds · 2 shared baths
Отдельные комнаты с видом на лиман,Солнечная
5 комнат в уютном семейном домике на берегу Белгород-Днестровского лимана в пос. Затока. Стоимость указана за 1 комнату при размещение 2х взрослых и ребенка. Если вам необходимо более 1 комнаты,то напишите это в запросе на бронирование. Это не мини-гостиница, а просто семейный дом, в доме все комнаты раздельные. - 2 этажа; - ротанговая мебель и кресло-качалка на террасе; - пляж - 5 минут до моря, кафе, ресторанов и клубов. - Техника в доме: Wi-Fi, стиральная машина, кондиционеры, кофемашина, TV
What guests are saying:
"The warmest experience of staying in this apartment. Excellent location in a quiet, comfortable place on the very shore of the estuary. Equipped with everything you need. In the kitchen and bathrooms - high-quality equipment. Great barbecue area. A very beautiful green courtyard with flowers, where we enjoyed breakfast, lunch and dinner. Very grateful to the owners Valery and Irina for the hospitality, and Tatiana for the high-quality communication when booking. The owners are very intelligent and good-natured people. Beautiful evening sunsets from the terrace. At night a light surf noise. We rented 3 rooms on the 2nd floor, 2 of them with large panoramic windows and a view of the estuary, which allowed us to have our own bathroom and all the amenities for a family of 6 people. The kitchen is one on the ground floor, but large enough, there are 3 large refrigerators, a coffee machine, a stove and other accessories. To the sea and a large beach about 7 minutes walk. Highly recommend!"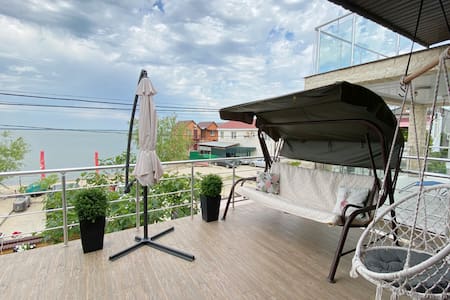 SUPERHOST
Private room · 12 guests · 10 beds · 2 shared baths
Комнаты с супер видом на берегу лимана 5мин море
Обращаем Внимание! Календарь может не соответствовать наличию мест,пишите и запрашивайте на свои даты! 5 комнат в уютном семейном домике на берегу Белгород-Днестровского лимана в Затоке. Стоимость указана за 1 комнату при размещение 2-3 человек! Это не мини-гостиница, а просто семейный дом, в доме все комнаты раздельные. - 2 этажа; - ротанговая мебель и кресло-качалка на террасе; - пляж; - 5 минут до моря, кафе и клубов. - Техника в доме: Wi-Fi, стиральная машина, кондиционеры, кофемашина, TV
What guests are saying:
"We rested together. I liked everything very much. Hospitable hosts (Valery and Irina). The house has all the conditions for a wonderful holiday, starting the morning with a cup of aromatic coffee. The house is located on the banks of the Estuary in a quiet location. The Black Sea is a 5-minute walk. If you like to hang out, then go 5 minutes to the entertainment. The owner of the house (Valery) will tell you some delicious recipes for cooking. And also where you can go and where to see the sights (Shabo factory, B. Dniester fortress). All superrr. We will advise friends and come ourselves."
Villa Veranda-это прекрасное место для спокойного семейного отдыха, в двух минутах пешей прогулки от чистейшего пляжа Лебедевки и в 10 минутах от хвойного леса. На Вилле всего 2 двухкомнатных номера-люкса 45 и 50 кв.м с собственными полноценными кухнями с бытовой техникой и санузлами с душевыми. У каждого номера отдельный вход. Номера полностью автономны. Собственный двор с мангалом и парковкой. Вилла расположена вдали от баров и дискотек, что сделает Ваше пребывание комфортным и незабываемым!