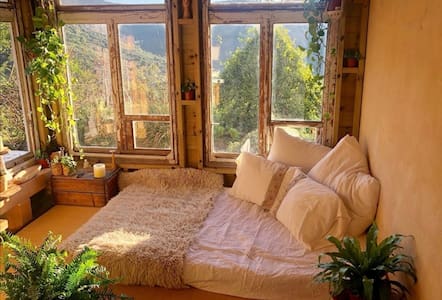 SUPERHOST
Entire guest suite · 2 guests · 1 bed · 1.5 baths
Airy small apartment, Galilee, 5 min from clil
Small cozy apartment, next to our (it have shear wall) but completely private. breathtaking view from the bed, the sun get into the bed at morning . small kitchen everything you need for tea or coffee or even small cooking דירת סטודיו נעימה ונקיה , צמודה לבית שלנו. עם כניסה נפרדת ופרטיות, שקטה צנועה ונעימה. כניסה פרטית מיטה לכיוון הנוף וקצת כמו לישון בחוץ מתאים למי שאוהב לקום עם השמש ששולחת קרנים לתוך המיטה שרותים ומקלחת פרטיים. גבול שמורת טבע, מיקום מעולה למטפסים, מרחק הליכה מצוקי גיתה.
What guests are saying:
"Stunning housing unit in its beauty, in a secluded and peaceful location, the apartment is well equipped and pleasant, the view is breathtaking, and quiet .. The owner is available and answers any questions and requests .. Highly recommend for those who want to enjoy a little quiet (and document Instush ;-) )"
Big house two floors. In the first you'll have the living room and big nice and well equipped kitchen and in the second floor I'll have 4 bedrooms and two bathrooms. The house have 2 big balcony to the very nice and wild nature of the western galil. A lot of nice places for hiking and haven for claiming
What guests are saying:
"Lihi and Maya's house was perfect for our all-to-brief midsummer escape up north. We were two families with 4 children ages 1 to 13, and there was more than enough space for us all to sleep and hang out and have fun both indoors and out. We had plans to explore the beautiful Galilee nearby based on helpful suggestions made by our hosts, but in the end we were so happy hanging at in and around the house that we didn't leave even once! The back yard is amazing! The pool was lovely and great for the kids along with the trampoline. We loved using the nearby outdoor shower. There is a beautiful and secluded deck further back, where any of us could go for some moments of peace and quiet, perfect for yoga or reading or thinking and enjoying the view. There was space for us to eat outside or in and the kitchen was well-equipped for cooking for our crowd. We also grilled out back as well as building a campfire. The youngest member of our group was not yet walking, so it was not an issue, but the back yard is on a downhill with steps and large boulders and is not all fenced in, an area that would require supervision of toddlers and early walkers. Also, there is an a/c in the common area and in the master bedroom. The rest of the bedrooms have fans. It was quite hot during our stay, but we were all comfortable at night with the windows open and only used the a/c part of the time. Lihi was super communicative before, during and after our stay with info for finding the house and answers to our questions. Her partner, Adi, met us at the house to show us around and give us tips and suggestions. They were very generous and flexible with check in and check out, which was great because it was hard to leave! We are definitely hoping to be back soon!"
welcoming you to our special guest unite, Yurt. The yurt(50m×) is fitting for a couple's quiet time and for a family's special experience. well organized with aesthetic interior and equipped with air conditioner(heating and cooling), kitchen(cooking), and bathroom, cozy sitting place inside and outside toward a garden.. The ROUND HUGE space in Yurt gives a special healing atmosphere. we assure your pleasant time with a comfortable privacy(a private entrance, garden and cozy sitting corner).
What guests are saying:
"We had a great stay! We loved Meera's yurt and would definitely recommend it. Location is great with a huge verity of options what to do in the area. We enjoyed especially the access to the balcony at sunset, the fire pit and grill cooker, which we made dinner on. The atmosphere was wonderful and the place is designed to be so cosy and inviting with nice touches like candles, great music speakers, games, fairy lights and the shower head which is a dream. There was even bug repellent lotion provided (that was much needed in the evening...) Thank you for hosting us. We really loved it and would come again!"