As you come out of the tunnel on your approach to Secret Garden, you feel you have left the world - and all its worries - behind you. Not a care in the world as you gaze down upon the beautiful, untouched expanse of Lau Lau Bay to your right. You have entered a peaceful place endearingly called "Millionaire Acres" for its magnificent million dollar views. A true paradise situated high above the panoramic blue ocean - welcome to your Secret Garden.
What guests are saying:
"The house was so nice! We really recomend the house! We had 4days trip to Saipan from Japan. First 2 days We stayed at another hotels nealy Garapan And then, We stayed at Secret Garden. It 'was much better than some hotels in nealy Garapan or north of Saipan. Mimi is very good host. She can speak Japanese well. She has very good kindness and hospitality. And, She has cute a dog. Her name is also Mimi. They made us very happy. Actually, Location is not close to Garapan. 15-20minute from there by car. But, It was not big problem for us. The place was very quiet and very beautifull. And, There is Super market and beach from the house 5minute by car. We had nice ocean view from ourroom also balcony. It was our best view of Saipan. That is so photogenic! The room was super clean and stylish, very comfortable. We had nicebreakfast with oceanview. It was great. We really relaxed in there. If we knew where was so nice, We stayed at the house all of tripdays. Thank you so much !! This is a very recommended inn! Apart from the hustle and bustle of Garapan, I was impressed by the wonderful scenery and nature. We stayed at 4 stars along the beach for the first 2 nights, but it is a wonderful hotel that is incomparable. It was like coming to another country! I really regret staying here from the first day It was a 20-minute drive from downtown, but it was a very good hotel even if I subtracted it. Supermarkets and Laorao Beach are about 5 minutes by car, so they are not inconvenient. Rooms were clean and nice! The showers, washbasins, and bath dubs that Japanese people care about are also clean and can be used without any problems. There is also a USB outlet beside the bed. The air conditioner is well-conditioned and comfortable. My host, Mimi, is very kind and studying Japanese, so I was able to communicate without any problems in Japanese and was saved! It is a host with a very good sense of distance because he keeps on and says LINE when necessary. I was a very good person so I talked a lot here! The next time I went to Saipan, it was a good place to stay here! I highly recommend it!"
Facing the sea, spring blossoms are not only the poems written by Haizi, but also the life we dream of. Lying in the living room, you can open all the glass doors, and the huge living room instantly becomes the viewing platform. The seven-color sea seems to be within reach, while the sea breeze blowing from the south shakes the coconut trees in the courtyard. When you are tired, you will fall asleep. When you are tired, you can take a coconut from the coconut tree in the yard and let the taste of summer pass through the tip of your tongue. This is a resting harbor, a place where sea water can infiltrate every inch of dreams.
What guests are saying:
"The landlord Miss has never met, but the very nice person arranged the most adorable little brother in the team to accompany the whole process. The little brother was a very cute and nice person, and arranged a very rich Chinese, Western, and fun Very happy, everyone can rest assured to choose"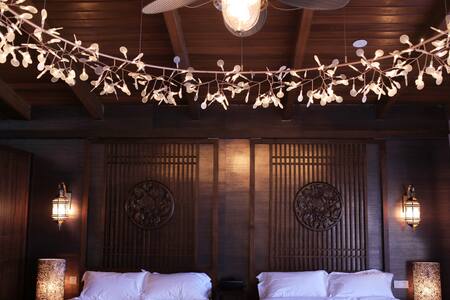 SUPERHOST
Private room · 4 guests · 2 beds · 1 private bath
SeaFun Villa #101 Suite Deluex 2 King Bed&Sea View
"Haiyue Mountain House" sea view luxury villa close to Laurel Bay Golf, Laurel Beach, airport. Back mountain sea, single-family luxury villas, high privacy and high. Villa is surrounded by an area of 1000 square meters large garden, retain the original vegetation, super oxygen bar, quiet environment, full of forest atmosphere. 6 * 20 meters independent private swimming pool can also be used for ow diving calm waters training. Each room includes a safety deposit box. Villa outdoor space, swimming pool with sunbathing area, a sea terrace, two outdoor umbrellas with afternoon tea corner. mini bar (under construction) Is located in the center of the town of La Lomba south of the sea directly facing the sea, both morning and evening can feel blowing the sea breeze, blue sky and endless sea jungle constitute a sea view beautiful; In the East slowly rising, directly feel the amazing sunrise beauty, infinite among you become a bright spot in the trip; you will love my home. My home is suitable for couples and families (with kids). Bed arrangement Bedroom 1 2 queen beds
What guests are saying:
"Super invincible comfort located on the top of the hillside of Laoao Bay, facing the sea, sitting on the huge infinity swimming pool equipment, adding private butler service according to the standards of domestic five-star hotels The boss is a very Chinese family with a very good feeling. Auntie is also very kind and asks us every day. What time does it take to order what kind of breakfast?"