About the Listing: From family vacations and intimate celebrations, to large gatherings and work functions: our island has it all. Come spend time on Kalua island to get away from the movement and bustle of everyday life. From the moment you arrive, you'll feel like lords and ladies of the ocean. Tranquil peace meets wild freedom on Kalua, where the only difficulty is leaving. Description of Space: In addition to 5-star accommodations, you'll enjoy
What guests are saying:
"Kalua was pure magic! From the minute Vanessa picked us up on the boat Luis helped us arrange, everything was just perfect. It was a special birthday trip, and Vanessa and her team made it extra special with decorations, music and the most delicious cake. I also arranged the menu with her and everything was fresh and delicious. There is literally not a bad spot on this island, just a matter of watching sunrise from the roof and then sunset from the deck up top. We loved swimming in the sea during the morning, and using the kayak and snorkels, and then moving into the pool when the waters got rough and for night swimming/star gazing. Renting our own private island was never something I would have dreamed possible, and Luis, Javier and Vanessa all made it so easy, would do it again in a heartbeat!"
SUPERHOST
Entire house · 12 guests · 12 beds · 3 baths
BED & BREAKFAST LA REINA MORA CARIBBEAN SEA HOME
This story started over 50 years ago, when Isabel Hurtado and Vicente Uribe where invited by friends to the Rosario Islands. For Isabel it was love at first sight and with an agile management of home finances and parental support she was able to purchase the land in 1964. Vicente, a mines engineer by trade, designed and built the house that still stands. It has been the vacation house for 6 children, 12 grandchildren and 3 great-grandchildren. Open to the public for the first time. WELCOME!
What guests are saying:
"We loved our stay and would highly recommend a visit to the beautiful island. It really was wonderful to get away and enjoy some seclusion in such a beautiful setting. A few things to note though. First, we stayed right as restrictions were beginning due to the corona virus so that did affect our stay somewhat. Of course that was outside anyone's control. We were unable to do any outside activities and could only stay at the house so I can't comment on anything else. Second, it was very windy at night. We were told that half the year it gets very windy and the other half be prepared for mosquitoes. It didn't bother us at all, but the water was a little rougher later in the day and we were not able to go to the laguna encantada due to the conditions which was a big disappointment. Finally, it is secluded and beautiful but it is rustic. We loved it and it shouldn't be a deterrent, but it might not be for everyone. There are some well-behaved stray dogs that come to visit (which my girls LOVED) and there was a small lizard in the shower. That said, we really had an amazing stay. If we had to be restricted somewhere, this was the place to do it. The views were amazing, the food was awesome, and it was great to spend time as a family just relaxing, playing games, spending time in the water and exploring. We would go back in a heartbeat (and we hope to when the world is back to normal). The people were great too. With everything going on and the uncertainty with the pandemic, it was great to have Miguel's help and support. He made sure that we were okay and taken care of. He repeatedly checked in and made sure to answer any questions and concerns. He also went above and beyond figuring out our transportation when the docks were shut down and we were running out of options. We really appreciated the great hospitality. Even with all the craziness, we really did have a wonderful time. I highly recommend it to anyone who wants to get away for a bit."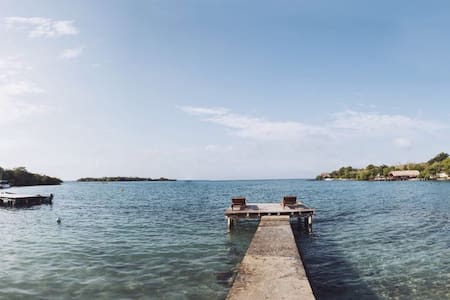 SUPERHOST
Entire house · 7 guests · 6 beds · 2 baths
Magical Island Getaway- Isla Tijereto Entire house
Unplug at this island paradise and enjoy the luxury of being by the sea. Enjoy the turquoise waters just 2 meters away from the house and swimming after hours under the sizzling Caribbean sun.
What guests are saying:
"My partner and I had a wonderful week stay at Camila's place! It seems like a lot of things have been improved since some of the earlier reviews. As someone else mentioned, they have lights and electricity. The solar battery for the outlets needs to be turned on and off when not in use, so just ask Paloma to show you how. We spent around $30k a day on fish and found it easier to give Paloma money the night before. Camila never got back to us with a grocery list so we just used the one we found on the site. We weren't able to cary enough food for a week so we ended up going shopping on isla grande. It was $40k per person round trip plus $70k in groceries for two people for three nights. My Spanish is decent but I didn't seem to be able to communicate with Paloma which groceries I should buy, or what type of things she could make. If you're staying more than two nights and want something other than fried rice, fried plantains, and fried fish everyday it would be helpful to have a recipe in mind so you know what to buy sand what to tell Paloma to make. That being said, we had the fried rice, plantain, fish combo every night and I still dream of it.. Getting there was not nearly the nightmare we were expecting it to be. We took a taxi to the Bodeguita and asked for Maricruz. We paid and we're given tickets and then waited in chairs under a tent until our names were called. Only complaint was that our boat didn't leave until 9:30 so we were waiting in the Cartagena humidity for an hour, but other than that it was a very easy and enjoyable trip. Things to do: - bioluminescent plankton in the Enchanted Lagoon $50k per person - snorkeling in coral reefs $40k per person (includes snorkel masks) - Aquarium $40k per person for boat there and back plus $30k per person for admission - Snorkel rental: $10k per person (includes mask and fins) from Hostel Erizo next door "