The lodging area is a room without meals, hot springs, and your own style. There are no quality rooms, high-functional facilities, or attentive service ... Here are "the rich nature of Doyu hot springs" and "hot springs flowing from the source" And "only custom free time" ◇ 2DK quad room, 1 to 4 people can be used according to the scene. Have wonderful memories with friends and family ... * Children of elementary school students will be 2,160 yen / person, please contact us. ◇ Facilities common to each guest room Refrigerator ・ Microwave, electronic kettle, Wi-Fi, air conditioning and air conditioning, washlet * Each room does not have a bathroom, shower room, or TV. * Since it is a room for overnight stays, there is no provision of meals, room service or amenities. * Amenity and snacks can be sold and bathing (free) is possible only during the daytime hot spring business hours. ◇ Paid rental amenity Face towel, bath towel, wearing in the hall * Please return to the front desk after bathing. ◇ Paid sale amenity Toothbrush / Women's brush / Shower cap / Hair clip / shaving cream
What guests are saying:
"Place is great it's at an onsen town perfect for a trip to ebisu track and for people just looking to chill out of the city the food in the town is great (check out the gyoza place, by far best gyoza I've had on this whole trip He whole crew is welcoming and happy to make your accommodation a fun one (make sure to bring a car rental or know how to get around a bus station kinda confusing but didn't stop us or ruin our trip, hope to come back again"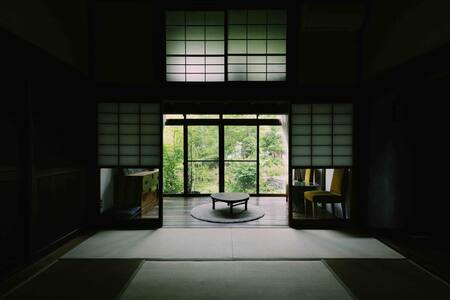 SUPERHOST
Shared room · 8 guests · 0 beds · 1.5 shared baths
『朝ごはんが美味しい』築100年の農家古民家、山野草の美しい庭でゆっくりとした時間をお過ごしください
This is the two-room-only inn "ji-kka", which Anzai Orchard has started. A farmer who produces peaches, pears, and apples in a fruit tree area. This is an inn run by an unusual and interesting farmer who has a beautiful garden handmade by a mountain lover who has been making it for many years, and has a pottery gallery. There is a tree house on the premises built by the call of Shigesato Itoi of "Hinno-ichi", and there are plenty of fresh fruits right in front of the eyes, and children are happy. There are a variety of hot spring resorts nearby, including Takayu Onsen, a hot spring enthusiast who can also mourn, as well as Iizaka Onsen, Tsuchiyu Onsen, Numajiri Onsen, Dake Onsen. Fukushima has a lot of sake breweries that people who know, acclaimed sake lovers! And it's a delicious basin-specific difference in temperature. Fukushima has a modest temperament, but that's why there are plenty of hidden wonderful benefits. I'll introduce you to really wonderful people, shops and things! We are waiting for you to prepare a renovation of an old private house with the beauty of the good old things handled by ReBuilding Center JAPAN and the sensitivity of the gallery.
What guests are saying:
"It was my first time to use AirBee, but I was worried about it, so I decided to look at your evaluation. In a wonderful space far beyond imagination, I was overwhelmed by the old private house where attention was given and I felt calm like a home somewhere. In addition, we have you make delicious breakfast from morning and are full. It was a happy trip. If I didn't go to ji-kka, this trip would not have been completed. Thank you for the truly attentive hospitality. The apple was delicious."