🌟Every time you change the bed sheet🌟 During the epidemic prevention period, complete disinfection🌟 New hotel-style management building, giving you a new environment Hello kitty theme bedroom, absolutely let KT fans be crazy about the lowest price, the most comfortable and wide space It takes 2 minutes to get on the expressway, 2 minutes to reach Hexin, Tonglian Passenger Transport, and 5 minutes to Nanzi Station, so that you can get to the hotel without getting tired again and again.
What guests are saying:
"The room is beautifully furnished, with a large window, the scenery at night is beautiful, and the room is very clean and tidy. The kitchen pots and pans are all complete, it is also very convenient to use. It takes about 10 minutes to walk from the station, but it is very close to the transfer station of the United and Aloha passenger transport, and the landlord can also communicate in real time."
The bird's language is fragrant, although it is a shallow mountain, but it has the feeling of being in the mountains~ it is not away from the city. Suitable for family travel and friends to stay and camp. Nearby tourist attractions, national geological landscape ~ mud volcano ~ Yanguo Lake ~ Zhongmu Mountain high high vision of evil terrain ~ Agongdian Reservoir bicycle tour ~ Gangshan Eye Kaohsiung City panoramic view ~ Jiguanshan Mountain Hiking, May-June Unicorn Ecology . 15~20 minutes drive to Yida Amusement World, Fo Guang Shan Buddha Memorial Hall.
What guests are saying:
"It was an unforgettable experience for our family to stay one night in this lovely, cozy wooden cabin. Though the place was a bit away from the city, it provides with a variety of entertainment for the guest, such as BBQ facility and KTV. Overall, it is highly recommend for those who wanna take a rest and enjoy spending time with family or friends in a tranquil place like this."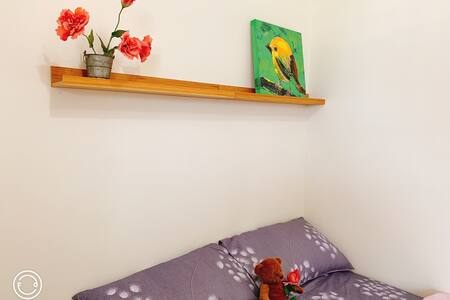 SUPERHOST
Entire apartment · 4 guests · 2 beds · 1 bath
{寓見}左營R16捷運MRT/高鐵/台鐵/小港機場/蓮池潭/瑞豐夜市/駁二/義大/旗津。2房1-4人
The listing is located in a two-bedroom, one-living room layout of the building, where more than two people will open the second room. 2 people stay in open common space and 1 room double room 3-4 people stay in open public space and use 2 rooms. It is a 10-minute walk to the high-speed rail, MRT, Taiwan Railway, and bus stations. It is easy to use public transportation to reach Kaohsiung's main attractions, nearby department stores, convenient transportation, and convenient snack restaurants nearby. If you drive to the neighborhood of the property within 3 minutes, there are 3 parking lots nearby. There are more than 20 parking spaces on the street, which is super convenient. * Receive only one group of guests a day, do not share this listing with others! * Before booking our listing, please set the correct number of occupants. Children (3 years old and above) must be calculated. Please select the number of occupants in the search room and Airbnb will help you calculate the price. All the housing amounts are displayed on the Airbnb website.
What guests are saying:
"The location of this listing, the function of living, the cleanliness of the environment, and the landlord's service attitude are quite good. Most of the facilities in the house are sufficient, but I suggest that because the bathroom is small and there is no separation between wet and dry, you can add some clothes to the rack or hook behind the door, so that it is not easy to spray wet in the bath. The other room is best to have a small wardrobe or a hanger and a small table that can be used for makeup. This time, my daughter and two girls did n't find it convenient to live in one of the rooms. One went to the kitchen for makeup because there was a large mirror on the door. Bathroom (small makeup mirror lifted)."