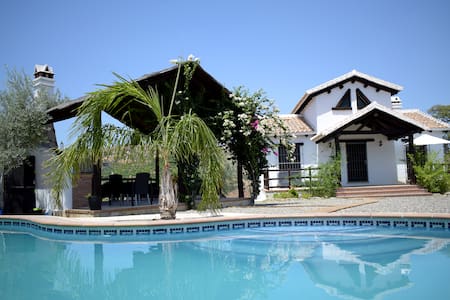 SUPERHOST
Entire cottage · 4 guests · 3 beds · 1.5 baths
Country house Jacaranda. Garden and swimming pool
Authentic country house located in Coín (Malaga). Available for four people. Tranquility and privacy assured. Astonishing panoramic views. Private pool and garden of (PHONE NUMBER HIDDEN)) reserved for guests. Location strategically located at 30 minutes from Malaga airport and the city of Marbella. Rental house officially registered with the regional government of the Junta de Andalucía (nº CR/MA/01199).
What guests are saying:
"5 star +++ This place is amazing. Jesus and Stella are perfect hosts. We did not arrive until nearly midnight owing to timings with getting our car hire and then getting a little lost in Malaga, but Jesus was there waiting patiently for us and gave us a wonderful introduction to the property without taking too much time as he was concerned we were tired, so thoughtful. Both Jesus and Stella respect your privacy and message you to check everything is ok, without interrupting your holiday. They even offered to go with us to the doctors when our Son was poorly. The property is spotless and well equipped, with everything you need for your stay. The outdoor space is absolutely fantastic, with a clean and safe pool, abundant space, lovely local flora and a superb outdoor kitchen/bbq/dining/lounge area which is covered. The vista from every aspect of the property and its grounds is breathtaking. Coín is close by, with all its shops and amenities, but you are far enough from the centre to feel you are truly in rural Spain. We would recommend a trip to Ronda, with stunning mountain roads and an amazing historic town. The caves at Nerja are well worth a visit. The beaches in the area are lovely but our favourite was Cabopino beach near Marbella. There is more than one marina in Marbella, but the Puerto Banus marina is host to the yachts of the rich and famous, designer shops and super cars a plenty. Overall, this is a lovely area to stay in, the property and it's grounds are stunning, but above all, the wonderful, friendly and supportive hosts mean holidaying here is stress free and an experience you'd want to repeat. Liz and Curt, Nottingham, England"
Casa Citerea takes its name from the Ionian island consecrated to Aphrodite, goddess of love. The space, private and of exclusive use, not shared, has been conceived and prepared so that its guests can move away from the mundane noise and to meet the carnal pleasures. On top of a small hill, next to the reserve of the Sierra de las Nieves, the complex has a private apartment, terrace and pool. The space is very intimate, surrounded by wild, almond and olive trees.
What guests are saying:
"This accommodation is for me like a lottery in the lottery! Everything fits here !!! If you like something out of the way in the middle of a beautiful landscape - to slow down from everyday life - Eduardo is the right place for you! Early in the morning you will be awakened by the first ray of sunshine embedded in a breathtaking scenery and can jump into the pool right after the first glimpse, to swim a few laps before the self-catering breakfast. Gorgeous! Another highlight is the bed on the terrace, which ensures a cozy shady spot at any time of the day. With the help of a provided Bluetooth speaker, you can indulge yourself musically inside as well as outside, according to your own taste. It almost does not take to live! The accommodation is really clean, beautifully decorated and well equipped! Only the mosquitos became a small plague after sunset ... here good precautions with Citronella and close window, then the dream vacation is nothing in the way! The air conditioning creates an ideal balance, so there are no problems with the ventilation ... Eduardo is also a very nice host who takes good care of his guests and always has a tip ready! The stay is rounded off by the daily visits of the charming Dori - who obviously feel at home in the area of the accommodation. Who likes cats, is spoiled by her with extensive cuddles. If you do not like her, she will not bother you ... She is a very sensitive cat that adapts to the needs of the residents! Just great!! Monda is really a beautiful white village and also because of its proximity to Marbella and Malaga an ideal holiday destination in Andalusia! Thanks again Eduardo, that you have brought us with your hospitality the best time of the year !!!!"
A perfect place for a relaxing holiday. A very old, authentic molino build in the 70's on the edge of town, against the mountain side of Tolox, next to a tiny river with private land, fruit trees, a car park, a beautifull !! private pool and various places around the house to enjoy the view, the sun , the gentle river, and the tranquility of what nature has to offer. Tolox is a gorgeous little village, 30 min to the beach, 45 min to Malaga and 15 minutes to Coin for your dailey shoppings.
What guests are saying:
"SUPERB! First of all the city is in the mountains, I hope you liked the roads with bends because it is part of the trip to the outskirts of the city anyway :) We found the house not easily because roads were closed, thanks to GPS waze and Marco's indiscretions we finally found the way :) ATTENTION inside the city are small roads, the city will be comfortable but otherwise it may be a little more complicated! We were greeted by the neighbor, very very nice! A quick visit and here we are: a beautiful house, spacious, with storage, complete equipment, a pool .. Really it was superb! We are 20min from a big city: "Coin", and 45min from Malaga or Marbella! So 45min from the beach. We had a great time with our doggies who also loved it! :) it is really quiet, it is 5min from a mountain and hiking it offers us, beautiful! Thank you for everything !"