The landlord's own house, a spacious and comfortable two-bedroom one-bedroom apartment decorated in a new Scandinavian style, suitable for a family of three or a few friends, both rooms are 1.8 meters in size. Located on the most prosperous Binhong Road in the south of Jinhua River Leisure shopping mall, nearby Intime Department Store, First Department Store, Carrefour Supermarket, Fortune Long Supermarket, Star Beauty International Cinema, Commercial Pedestrian Street and other good places for shopping and leisure.The rooms are fully equipped and warm and elegant.It is the most popular for your business travel and leisure stay. Jiayi station selection, we will wait silently like family, welcome everyone who is destined!
What guests are saying:
"The location of the house is in the city center, and it is more convenient to eat a lot nearby. There are two rooms, the overall layout is simple and comfortable. This price is very cost-effective. It was in the past when the aunt had not cleaned the room and smelled a little."
半园,甘守其半,故为半园。半园是天井院子,非常安静、私密,房子整层出租,独立入户(没有其他租客和主人)空间包含:琴、棋、书、画、射箭、电影、茶席等。共有2间卧室,1.8宽的床。半园是环保&无烟民宿。预订需知:因为半园面积接近200㎡(普通民宿只有30-50㎡)是普通民宿的四倍,能耗、清洁费同样如此,为了持久经营,预定半园需要按人数预订,即:1位与2位的费用相同,但2人以上每人每晚加99元,通常可住4人,如有第5、第6人入住,需提前通知加床(也可以启用第三个迷你备用房),如过程中您需要接待访客,室内一共超过5人者,需要提前向主人说明。 达到方式:需提前加房东微信,如您打车过来,社区西门下车(引导视频);如您自驾车则需在东门将车停在地下二层非私人车位上,收费20元 /天(您可提前问主人要停车引导视频)半园是天井院子,所以是从一层的夹层入户(电梯显示:负一层)右手边门,请注意:半园两个主卧兼带有庭院、六面悬空、且拥有大面积的落地玻璃窗,所以阳光很好,房子里也非常干燥。 位置:距离西湖9公里——上了高架就到西湖,如果不堵(19分钟)会很方便,但如果要头枕西湖的客户请慎入,毕竟还有一段距离。
What guests are saying:
"A very Zen house, the address is relatively convenient, there are shopping malls nearby, you don't want to go out, you can have a lot of takeaway options. It is also close to some of the scenic spots I chose, which are all about ten kilometers. There are also enough temporary parking space options for car rental."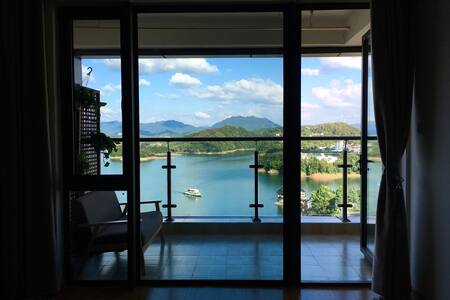 SUPERHOST
Entire guest suite · 6 guests · 3 beds · 2 baths
蒙先生【7米观湖阳台】观日出•镇中心湖景套房/高铁站酒店穿梭巴士2路直达/近千岛湖广场东南湖区
1. You will meet a sincere and enthusiastic landlord who likes adventure, walking, Buddhism, and is good at interpreting personality and talents in life digital passwords, allowing you to better understand yourself through his interpretation. He has worked in Tibet for 10 years. Footprint Almost throughout the Tibetan area, he believes that encounters between people are destined. If you are destined to see this introduction, if you also want to meet this landlord with a story, then he will take you through Same Thousand Island Lake. 2.The decoration style of the house belongs to a combination of simple American and Nordic. [The biggest feature is the lake view on the 7-meter long balcony.] In leisure, you can make a pot of tea and make a cup of coffee and sit on the sofa on the balcony. Qiandao Lake view, looking at the occasional rowing boat, extremely comfortable. The living room and master bedroom are connected to a 7-meter lake-view balcony, with large floor-to-ceiling glass doors and windows, and you can see great lake views without going to the balcony. 3. The whole room is equipped with three rooms, two living rooms, one kitchen and two bathrooms. The living room is equipped with air conditioners, triple and single sofas, TVs, TV cabinets and some accessories; the dining room is equipped with a dining table; the kitchen is equipped with a refrigerator, sterilizer, microwave oven, induction cooker, pots and pans and some spices (salt, oil, Meters, etc.), the kitchen can be used free of charge, you need to clean up after use; toilets are equipped with water heaters, washing machines, showers, etc., toothbrushes, toothpaste, towel bath towels, shampoo, shower gel, comb, etc .; 4.The three bedrooms are: a double bed of 1.8 meters in the master bedroom is in a simple American style, the lake can be viewed from the bed, and there is a separate bathroom; a double bed of 1.8 meters in the second bedroom is in the Nordic style; small room.
What guests are saying:
"I really like Mr. Meng's house. The location is very good. You can see the beautiful Qiandao Lake on the balcony. The next morning, I was pleasantly surprised to see the sunrise on the lake. The room was very warmly furnished, there was a bouquet of flowers on the table, and the kitchen supplies were very complete. I liked it very much. The landlord is also very nice, patiently recommending the local food and beauty, and will have the opportunity to choose his home in the future."