In this house, all photos are taken by mobile phone. It is close to Taiping Lake. The balcony is also very large. You can watch Taiping Lake up close from the balcony. Disposable toiletries and disposable slippers are provided. It is convenient for everyone. Room disinfection is in place. Equipped with 84 disinfectant mopping floors, bathtubs, pools, etc. will be disinfected. Bed linen and towels are disinfected with dew disinfection liquid. Alcohol and disposable hand disinfectant are also prepared.
What guests are saying:
"The location is the closest to the lake, and the windows open the window to enjoy the panoramic view of Taiping Lake. There are lounge chairs and rocking chairs on the terrace. When the weather is fine at night, you can lay on the terrace with your lover to count the stars to watch the moon. A chat is also the most romantic thing. The room focus is my favorite style, fresh and elegant, and the facilities are complete and complete. The surrounding traffic game guide prepared by the host himself is also detailed throughout the year, the service is considerate and enthusiastic, and the response is timely and effective. The whole journey is very satisfying, and the price is excellent!"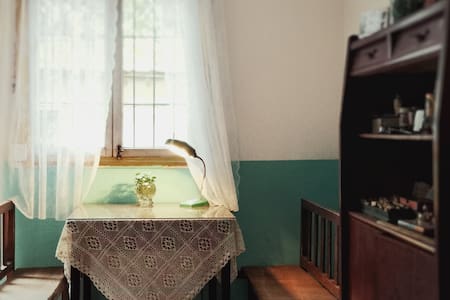 SUPERHOST
Private room · 2 guests · 1 bed · 1 shared bath
凹凸曼与小怪兽的旅行之家(AM world's Homestay)距黄山北门、太平湖仅需15分钟
The travel home of Bumpman and Little Monster is located in Huangshan District (Taiping), Huangshan City, north of Huangshan Mountain. It is very close to Huangshan, Taiping Lake or Weinan Ancient Village which you hope to explore, and is more natural. Our Travel House is a two-storey bungalow built in the 1980s. It has a beautiful and quiet garden. It turns from a modern city. The time here is still in the memory of the 80s. We offer the second floor. Two rooms are shared with you. One is a double room and the other is a four-bed. The way to go to the toilet is still the way. You need to go downstairs and walk through the hall. It is very quiet at night. After ten o'clock, you may not be loud. Calling friends, just like when we were young, we can hear the sounds of various small animals and give others a good night's sleep. It may seem too simple here, but when you grow up, each of them rushes to occupy almost all of the time, let us give memories or adventures, a little pure time.
What guests are saying:
"Seeing the photos in the 70s and 80s style has great expectations and no disappointment. Just like living in a grandmother's house, the room was clean and comfortable. There are streets around the house and you can walk around. It is close to the north gate of Huangshan Mountain. The landlord sent us up the mountain in the morning. It is very convenient. There is no one in the North Gate of the National Day. The landlord was very nice. I asked a lot of traffic questions and answered them patiently. They also took us to eat the local breakfast. In short, it was a great experience."