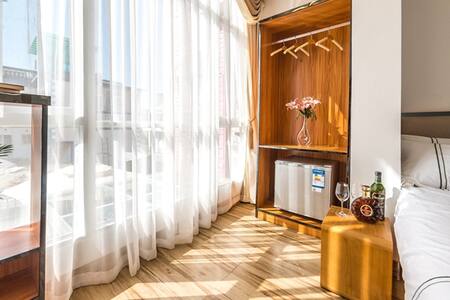 SUPERHOST
Room in boutique hotel · 2 guests · 1 bed · 1 bath
厦门特大优惠、曾厝垵日光浴房,全部房源特价促销,点我头像查看更多房源,位于曾厝垵临近厦门大学鼓浪屿
Xiamen Dingge Holiday Villa is located in the beautiful Huandao Road of Xiamen City. It is located in Zengcuo. It has been rated as a five-star brand hotel in 2016-2017 for two years. The transportation is convenient. It is a beautiful round-the-island road and the island of Taiwan. Jinmen, Dadan and Erdan Island are across the sea. Facing the sea, the hotel is warm in spring, with its majestic mountains and greenery. The hotel is close to Xiamen International Convention and Exhibition Center, Nanputuo Temple, Xiamen University, Hulishan Fort, Xiamen University Baicheng Beach Bath, Gulangyu Island, Ferry, Zhongshan Road Pedestrian Street, Pearl Bay Beach, Xiangshan International Yacht Club, Guanyin Mountain Dream Water World, etc. Popular scenic spots, convenient to travel, next to a large parking lot. The hotel's decoration style is unique, the post-modern style is perfectly combined with the industrial style. The hotel platform has a super large terrace of nearly 200 flats, a green oil lawn, and a large European umbrella. You can enjoy the sea breeze, drink red wine and listen to your leisure time. Waves, count the stars, and settle the beautiful memories and feelings in your romantic journey.
What guests are saying:
"Free travel during the Spring Festival in 2020, only stayed in this hotel for three days. Although I only lived for three days, the impact was profound. I evaluate a few points: 1. It 's in a good location, it 's close to Zengcuo'an Food Street, but it 's not at all troublesome; 2. The overall is clean and refreshing; 3. The hot water is out, I like it very much; 5. The hotel has public facilities The balcony can rest and dry clothes; 6. Very close to the platform; 7. The key boss is very enthusiastic, treats you as a friend, teaches you a lot of precautions, and prevents you from being deceived. It is very important for us to walk freely. In short, the boss's service is very good, which is the most important aspect of my evaluation of a hotel. Will go to this next time."
Tip: The landlord is more than just this house ~~ 1. On the computer webpage, click the landlord's headshot continuously to enter the landlord's profile headline, and click the bottom of the photo to view all the listings. 2.Important note: If you check in, please fill in the correct number of occupants. When checking in, we will confirm the number of occupants. Thank you! 3. Browse through the mobile app. Click on my avatar to see all the photos of our listings. The new hardcover is high in loft, and the duplex is exquisite with one bedroom, one living room and one bathroom. There are two large beds of 1.5 meters by 2 meters. Simple Nordic decoration style。 Five-star hotel standard home lobby, equipped with visual intelligent intercom system, 24-hour security and strict property management. We pay attention to every detail to provide you with the most comfortable, convenient and safe living experience. The room is equipped with free wireless wifi 、 24 hours hot water 、 Internet TV (mass movies and TV shows to watch at will) 、, air conditioner 、 refrigerator, slippers, washing machine, disposable toothpaste toothbrush, shampoo, shower gel, conditioner, etc. Another special discount: one night stay for five nights or more, the landlord provides a free shuttle or a train at the island station !!
What guests are saying:
"Tatami on the second floor is super! level! Shu! clothes! It's a pity that I can only stay for one night, and catch the plane early the next day. The community is very safe, and the surrounding facilities are also complete. It is opposite to the big shopping mall, but remind everyone who comes to live, the water heater is only plugged in with an electric card, and it must be inserted in advance, otherwise there will be no hot water when washing ... Overall pretty good ~"
Property·It is located in the bustling area of the city center, adjacent to Zhongshan Road business circle, backed by Zhongshan Park, Fujian-Taiwan snack street and so on. You only need to go downstairs to supermarkets, snacks, breakfasts, and dinners. The community is relatively simple and not complicated because it is in the school district. And there is a 24-hour security and video intercom doorbell to ensure a safe environment. The landlord loves travel and freedom as much as everyone else, so choosing a job with greater flexibility requires various locations, so the house will be vacant for some time when not in Xiamen. I am particularly careful when choosing home furnishings. I hope that the house will be as comfortable and elegant as Xiamen. So I also hope that the guests can take care of every bit of the house. The 200 * 220 king-size bed allows you to sleep comfortably. There is a bathtub in the room, as well as a separate wet and dry bathroom. Serve your own scented tea. It is equipped with an electric pan to make western-style meals, fried steaks, pancakes, eggs, etc., but it is not suitable for Chinese food at home. There is also a drip coffee machine. PS: Provide disposable face towels, bath bags, and non-disposable bath towels (if the pollution is damaged ... compensation will be sought)
What guests are saying:
"This is the second time I have come to Xiamen. What is special is the first long vacation after the outbreak. The main reason for choosing this apartment is the geographical location, very close to the bus station and subway entrance, and only a few minutes walk from Zhongshan Road. The hostess's sister is very nice. Thank you very much."