『做airbnb的故事』 知道airbnb是因为去日本旅行,朋友推荐使用这个软件来预定住宿,我们住在京都的一个小山上,虽然住宿条件不比酒店,但是那种走过社区、小路,到达小窝,可以和日本房东交流,了解当地生活,感觉格外棒。
What guests are saying:
"The location is very good, inside the West Lake, the bus station is also very convenient, but unfortunately it has been raining for the past two days, and I returned early and late, and have no time to stay in the bed and breakfast, the grandma is very cute hhh unfortunately did not see the kitten, compared to In other words, sound insulation is still not good enough. I was awakened once at night, which may be the reason for my light sleep hhh"
Hello, welcome to Hangzhou, and welcome to choose my home. It is close to West Lake; along Wulin Road, it only takes 5 minutes to walk to Hangzhou's largest shopping mall; convenient transportation, full subway and bus coverage. There are family convenience stores and Starbucks near the neighborhood. My house is on the first floor, there is no need to move boxes up and down. The house is a two-bedroom and one-living room. Now that my home is almost filled with the old props I collected, I hope you will have an inclusive heart to appreciate and accept.
What guests are saying:
"The price/performance ratio is too high, really, the location is really convenient, wherever you go quickly, anyway, it is really a happy week in Hangzhou, the last day lying in the place where I lived for a day hahahaha is really great"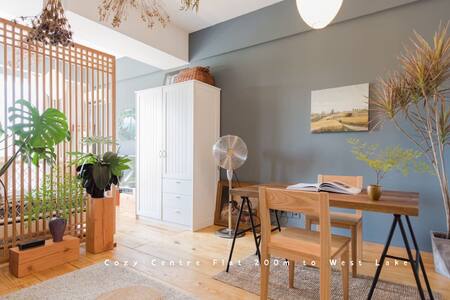 SUPERHOST
Entire apartment · 2 guests · 1 bed · 1 bath
IN-MAISON 1 / Cosy Centre Flat 200m to West Lake
• Looking back, I found that the guesthouse has been open for almost three years, and received a lot of feedback. In the comments, there are good and bad. Fortunately, more are recognized, thank you for coming, let us "be yourself" in the guesthouse. Some guests in the comments will mention noise. What needs to be explained here is that there is indeed a government project around us that is constructing some noise in the morning. We try to avoid it as much as possible. There is double-glazed glass, and each guest has earplugs. If you mind, please consider it carefully :) • Standing in front of the window and looking at the sycamore tree and the sky, a large open space downstairs turned out to be a residential group during the Republic of China, but was demolished a few years ago. It is a pity that this place was where Tony's grandparents lived. That was many years ago. Now it has been transformed into a road and a building, which is now the West Lake Xintiandi and Nanshan Road. We also like it very much, so we have completely renovated it, not only because of its excellent location. And because there are many memories from childhood. Things that have a sense of time in the house: including photos, dried flowers, pendants, fabrics, porcelain bowls, which we have bought from all over the world.Each one is rustic and has a special meaning.We share what we love, even inside the house. The books on display are our favorite! With the arrangement of your own wishes and interests, every utensil should be selected as interesting and high-quality as possible. The filling of a large number of plants is due to the passion for green life. The house shows our inner world. Hope you can find Your own warmth, welcome you :)
What guests are saying:
"Very good stay experience! Almost the most satisfying homestay I have ever stayed in! I haven't stayed in the B&B for a long time. Because the B&B is so far from the expectations, I have chosen the hotel many times, but this time I will not, even surprises. First of all, it's not much different from the picture. The buyer's show has high credibility. The room area is quite large. There are all kinds of facilities. Whether it is on the pillow in the small hall or watching TV on the sofa beside the bed, It can make people eliminate the fatigue of the journey, very warm! There will be no discount on the pleasure of the trip due to the unsatisfactory accommodation! "