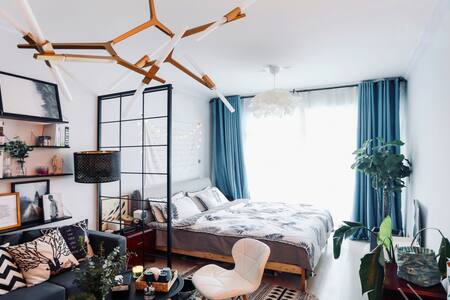 SUPERHOST
Entire apartment · 3 guests · 1 bed · 1.5 baths
【严格消毒#Club Monster】毗邻山塘街观前街近地铁站 高层景观公寓,露台迎日落/临窗浴风景
This is a modern design house with large floor-to-ceiling windows and unparalleled views of the landscape. From each painting to the neon lights to the comfort of the bed and various details of the furnishings, we have personally designed it. We reserve a bed by default for the house. Add an inflatable mattress! And the house has good sound insulation and sufficient privacy. Although the house is only about 50 square meters, all the supporting facilities and smart facilities are complete! Including the new Bose audio and high-precision magic screen projector, you can receive hundreds of satellite TV and Internet TV for convenient viewing
What guests are saying:
"The landlord is super nice, the location of the room is very close to the subway station, and the convenience store downstairs has been discounted. The sound and projection effects in the room are particularly good! Something was in the room, and the landlord sent it to me soon! People are super good! ! Come to Suzhou to choose this homestay! ! !"
Yi She, from the comfortable Wu Nong soft language of Suzhou dialect, read se yi comfortably (the lightest tone) In order to give everyone a comfortable home On the 5th, the reconstruction of winter, spring and summer was experienced, and the concept of brick and tile was hidden in the Yishe in the corner of time. Only then was it possible to show Yishe with a new look. The green bamboo in the patio swaying and looking up at the blue sky, experience the most authentic Soviet-style life in the city Souzei, zeng ge mei seyi ge!
What guests are saying:
"Very nice bed and breakfast. It is very close to Pingjiang Road of Humble Administrator's Garden, located in a small alley, very quiet and very Suzhou-like. The room is clean and comfortable. The landlord was also very enthusiastic and informed the check-in information and the specific location of the homestay in advance, and helped us turn on the air conditioner in advance. Give praise!"
Yu Yi Xiao Su [Park House-Moon Reading] is a room with a small garden platform upstairs. There is a different mood in the garden full of flowers. In the design, we also left a wall that looks like a full moon. The room has a 40-inch smart LCD TV, a separate bathroom, and a very wide and casually turning large bed. How wide is it? Waiting for you to see it in person! There are also two rattan sofas in the room. You can sit on the sofa and drink tea, or you can walk on the small terrace to see the prosperity of Pingjiang Pier. Our lodge is located in the center of Suzhou, opposite the pier of the historical and cultural street "Pingjiang Road", near the Pingjiang Road Visitor Center. Convenient transportation, quiet in trouble. Pingjiang Road is just outside the door. It is only a 5-minute walk from the Lion Forest, Humble Administrator 's Garden and Suzhou Museum, and a 10-minute walk from Guanqian Street and Xiangmen Ancient City Wall. Banks, hospitals, 24-hour convenience stores and other public facilities are nearby.
What guests are saying:
"The room was clean and well furnished. I really liked the quaint feel and matched Suzhou. The door was facing a small river. It rained in the two days I came, and it was still pretty. A few steps away is Pingjiang Road, which is very convenient to play. There is also one of my favorite small terraces. Unfortunately, it has been raining for the past two days. I can only listen to the rain from the outside. The room has been warm for a long time. The toilet is a bit small but we can use it. There is warm air. It is not cold at all. The landlord's friends were very enthusiastic and overall the stay was very satisfactory."