Комната-студия с мини-кухней! Для Вашего комфорта: - удобная двухспальная кровать; - своя мини-кухня + все необходимое в ней; - шумоизолированная дверь закрывается на ключ. - своя душевая кабина (располагается в общей ванной комнате в 1,5 м от студии). Возможно размещение до 4-х гостей (2+2). Приглашаем петербуржцев и гостей города! Для Вас удобное размещение и домашний уют.
What guests are saying:
"Settlement passed quickly. I rented an apartment for 10 days, arrived at work. The apartment is located near the metro station (20 min walk) Lesnaya, quiet, clean area. Nearby is a light, with an interesting design pier Europolis, where you can find a good Prisma grocery store with a large selection of products. The apartment is bright, clean. Drinking water can be bought right next to the house, or in the nearest store. The bathroom is clean, the apartment has a pleasant smell. The bedding is fresh. There is a small kitchen, kettle, stove. I was pleased to stay in Eugenia's apartment. The apartment has two rooms, in the second room there lived a girl to whom a young man and girlfriends came. An unpleasant situation occurred during check-in, the girl told the hostess that I allegedly washed in her bath. When I came to talk with the girl, it turned out that she had mixed something up. It was not very pleasant to hear information that was untrue, but these are trifles; you never know who your neighbor will be."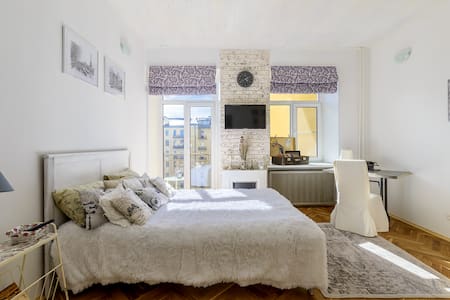 SUPERHOST
Entire apartment · 5 guests · 3 beds · 1.5 baths
Маленький Париж в Петербурге метро wifi балкон
романтичная и светлая квартира. Настоящий маленький Париж в Петербурге! В пешей доступности центр, набережная, разводные мосты, поющие фонтаны, крейсер Аврора, 2 станции метро Выборгская и Площадь Ленина, Финляндский вокзал, гостиница Санкт-Петербург, военно-медицинская академия, реабилитационный центр 21 век, генетическая клиника на Табольской, институт военной физкультуры, институт альбрехта, педиатрическая академия, центр Прогноз, областная больница на Комсомола, Спортивная клиника.
What guests are saying:
"A cozy apartment, everything is there, everything is ok with parking, the apartment is not in the center, but walking to it is real. Cool balcony overlooking the courtyard where the seagulls live)"