Remarkable Reader's Cottage in a quiet country location, halfway between Santa Cruz and Monterey. Sited in a large country garden with herbs, historic fruit and citrus trees. A farmhouse kitchen with cooking fireplace and antique oak floors. The library is a lovely retreat, with leaded glass windows, Turkish carpets, and treasures from a lifetime of travel. Located along a beautiful country road with great walking and biking. A quiet oasis retreat, guarded by red-tail hawks and hummingbirds.
This is a unique and magical 1000-square-foot cottage in a lovely valley amid rolling hills and agricultural fields. This cottage is on one acre of family land on a 10-acre hillside where we have four family houses and extensive gardens. My family has lived on this land for almost 70 years. This cottage was designed for maximum privacy and quiet at the edge of the property--so no one will drop in on you--but I and my family are available to give help and advice about the many nearby attractions, from the Monterey Bay Aquarium to antiques shopping at Moss Landing, to buying fresh fish and how to cook it in the fireplace. We also have a great barbecue grill in the back yard. We usually live with all the doors flung open to the garden. There is such a lovely quiet here that just spending a day in the sunny kitchen and in and out of the garden is a vacation.
While we are in a rural location on a quiet country road amid rolling hills, large oak trees and agricultural fields, we are not remote. It is a 20-minute drive to the local beaches, to get fresh pie at Gizdich farms, or 30 minutes to either Monterey or Santa Cruz. We are an hour and a half south of San Francisco Airport and an hour south of Silicon Valley. This is great place to stay if you are on coming down from Sn Francisco, and on your way to Big Sur (I recommend visiting both the Henry Miller Library and lunch at Nepenthe in Bug Sur.)
Lori's cottage is an enchanting place. It is not often that you enter a place and feel that it is full of spirit. We had a most wonderful time staying at this very unique cottage. We just wished we could have stayed there for ever.
Mohammad
2017-03-16T00:00:00Z
Lori has built a dream home. We felt so comfortable and cozy in this amazing cottage. There are beautiful windows, amazing beams, a gorgeous garden, and a plethora of books to enjoy by the warm fireplace. Lori was a fantastic host and truly welcomed us into her magical cottage in the country.
Kelly
2017-03-13T00:00:00Z
This is a lovely secluded cottage, perfect if you want to escape from the city. It has a really cosy feel with very tasteful decor and beautiful ornaments, a great place to relax. I'd highly recommend it!
Kate
2017-03-03T00:00:00Z
My husband and I wanted a quiet, cozy weekend away from the bay area, and this cottage was just what we were looking for. A great fireplace, some games & books and a chance to relax. Short drive to Santa Cruz, and less than an hour to Pinnacles National Park. Lori was just an excellent host. She provided us all the information we could need, and was very responsive to our questions.
Kathryn
2017-02-26T00:00:00Z
Lori is a fantastic host and we had a fabulous stay! She had a fire going for us the night we arrived and made us feel very welcome right away. the cottage is lovely.....very cozy, spacious, quiet and comfortable. The kitchen is well stocked and has all the necessary appliances and cooking utensils. There are 2 small refrigerators too. Did I mention the books!!! Truly a readers cottage! Books everywhere and I wish we could have spent more time just reading and relaxing. The garden is beautiful...lemon trees all around. The cottage is very well located, 30 mins away from Monterey and Santa Cruz. We highly recommend Lori's cottage and we will most definitely go back to stay there again!
RIA
2016-12-31T00:00:00Z
I almost don't want to let anyone else know about this wonderful secret location near to Monterey. It is so magical that I want to keep it for myself! The Library cottage feels remote, yet is within easy driving distance of anything you might want to visit in the Monterey area, including some lovely walks. We arrived to the the music of frogs singing in the night and woke to the sight of lemon trees outside our windows with the backdrop of hills and woods beyond. The house itself is cozy and welcoming, full of some of the most interesting books you are ever likely to find in one place, and so comfortable and quiet that you will want to nestle down and stay a month. Lori even put up a fully decorated Christmas tree for us as we were staying over the two nights of Christmas. Lori was on hand for anything we might have needed and was even waiting with her flashlight in the lane when we arrived. Thank you Lori for making this one of the most memorable family Christmases we have had!
Rebecca
2016-12-26T00:00:00Z
A truly delightful cottage! We spent four nights while attending a workshop and found it the perfect place to relax and decompress after a long, intense day. We sat in the gorgeous garden with a glass of wine and then curled up in the very comfy beds and slept soundly in the quiet and remote area. Communication is first rate and the little touches are so much appreciated, teas and a nice press coffee pot. We were very happy to get to meet our delightful and friendly host. Hope to come back someday!
Suzanne
2017-03-31T00:00:00Z
Lori's home was a perfect retreat. We enjoyed the beautiful decor, cooking in her eclectic kitchen, sitting in the sunroom and most of all, enjoying many hours in front of the large brick fireplace on several rainy days. The chorus of frogs put us to sleep each night. Was there a tv? We don't recall, nor would it have been needed as the decor and books entertained us for hours. Thank you Lori, for opening up your amazing home to us.
Arnold
2017-01-03T00:00:00Z
Room Type
Entire home/apt
---
Property Type
House
---
Accommodates
4
---
Bedrooms
Watsonville, CA, United States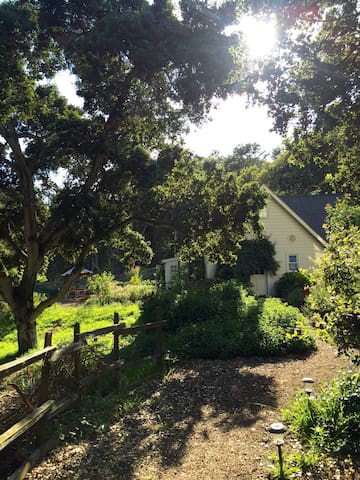 Stay just outside of Santa Cruz for a more affordable rate than the downtown or beachfront prices! Our quaint place is a newly remolded home in a suburban area. It is 30 minutes from outdoorsy, fun Santa Cruz attractions and 35 minutes from beautiful Monterey. You'll love the great vantage point to get to awesome Santa Cruz spots and sights, as well as the comfy bed, the kitchen, and the cozy vibe. Our place is good for couples, solo adventurers, business travelers, and families.
You will have access of the whole place to yourself. You walk into a cozy living room with 2 couches and a TV that has Hulu, Netflix, and Youtube (not cable TV though). The living room leads to a fully stocked kitchen with a built in dining nook. The downstairs bedroom has a comfortable queen bed with a brand new mattress. There is an upstairs loft where we provide a brand new queen sized air mattress that you can use if you would like. There is also a washer and dryer you are welcome to use.
Kelps Place is less than 10 minutes from Highway 1; which will take you north to Santa Cruz or south to Monterey. The neighborhood is very homey and is not far from several grocery stores and shops like Target, Ross, CVS, etc.
Room Type
Entire home/apt
---
Property Type
House
---
Accommodates
4
---
Bedrooms
Watsonville, CA, United States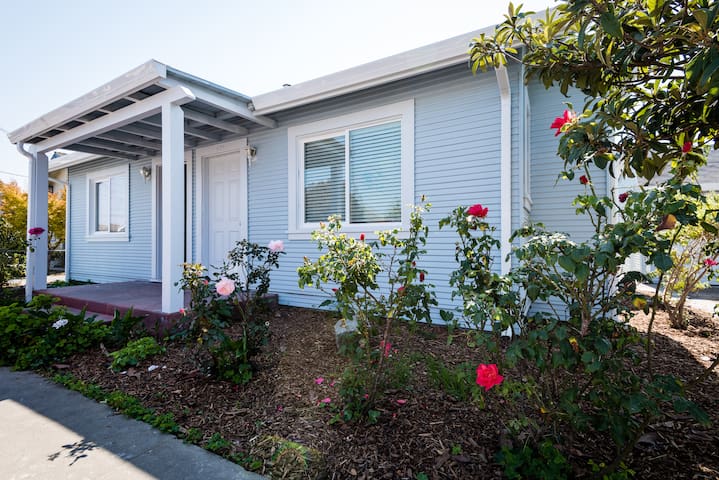 Charming ocean front cottage with views from Santa Cruz to Monterey. Located in Sunset State Park near Capitola and Santa Cruz. Path to quiet beach for great walks and glimpses of dolphins. A perfect place for a getaway or romantic weekend. Pets by request only please. 4 people maximum on the property at any time. Certified vacation rental property with Santa Cruz County.
The Sunset Cottage was amazing! The actually experience was just as beautiful as the photographs. Two coworkers and I stayed and it was more than comfortable. The outside gas grill was easy to use and the kitchen was well stocked with cooking supplies. The wifi was easy to connect to and Valerie made sure the cottage was clean and comfortable before our arrival. Staying inside of a state park was a unique experience!
Ilyana
2015-07-12T00:00:00Z
The perfect location for the end of our California vacation. Private, quiet, great weather. The dolphins, whales and seals passing by were quite a treat. A treasure of a place.
Keith
2015-09-24T00:00:00Z
A perfect getaway spot for a couple - in any weather !
Donato
2016-11-22T00:00:00Z
This place was perfect! Awesome view and awesome location! We saw dolphins every morning and were able to enjoy morning walks on the beach. The location was great with close proximity to Monterey and Carmel. Valerie was very attentive and we had no problems getting there and getting settled. Would highly recommend.
Ashley
2015-09-07T00:00:00Z
Valerie and Steve were great host and made sure that I had all that I needed and followed up quickly with all inquiries. The cottage was incredible!!! It was very nicely appointed and the view is absolutely stunning!!! I have zero complaints and would recommend to anyone looking for a private and totally relaxing getaway. I loved my time staring out at the ocean and falling asleep listing to the sounds of the ocean. I will definitely be back. Thank you soooo much for a truly unique experience. If I could give 100 stars I would.
Thomas
2016-03-10T00:00:00Z
We had the most amazing night's stay at the beautiful Oceanside cottage. Everything was so clean and arrival was really easy. The kitchen had so many useful things in it and extra blankets were handy for the late summer chill! We had a lovely time walking along the beach and watching the local wildlife. The beach was easily accessible and peaceful. The bed was comfy and everything wonderful. The best place we have stayed.
Nicole
2016-08-15T00:00:00Z
The cottage is extremely cute and cozy, well equipped with everything you'll need for a great stay. Quiet neighborhood, easy access to the beach, and what a beautiful kept secret!
Yuchi
2015-08-11T00:00:00Z
LOVE! Valerie was incredibly helpful and responsive from reservation to check in and throughout our stay. The renter who mentioned purchasing all of your groceries before you arrive is RIGHT ON THE MONEY! Once you arrive, you will not want to leave this little slice of paradise. Dolphins, Seals aplenty!! A lovely glass of wine on the deck is divine. I will be back. Thank you, Valerie!!
Kama
2016-08-30T00:00:00Z
Room Type
Entire home/apt
---
Property Type
House
---
Accommodates
4
---
Bedrooms
Watsonville, CA, United States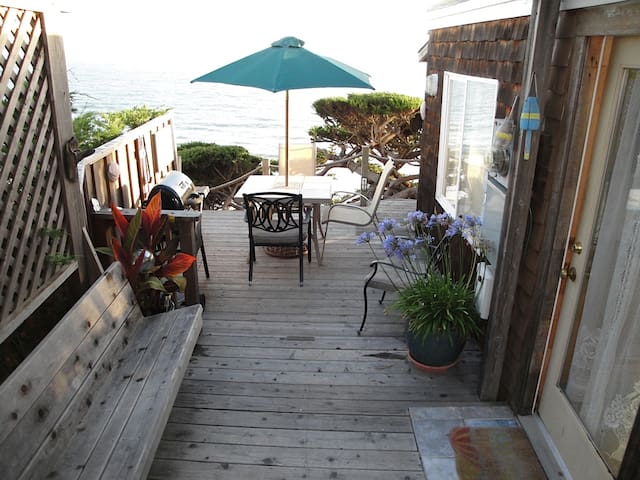 Off the beaten path, 6 acres, majestic trees and spectacular views create a tranquil and serene hideaway. Unwind and relax in a secluded back yard, surrounded by nature and 3 friendly pasture horses. For beach time Seacliff State Beach and New Brighton State Beach are a 15 minute drive, and Santa Cruz Beach Boardwalk is 30 minutes. Nearby also are Forest of the Nisene Marks State Park and Henry Cowell Redwood State Park, both having beautiful redwood trees with lovely and scenic hiking trails.
Private entrance, recently remodeled quiet and spacious back bedroom with vaulted beam ceiling, Cal King Tempurpedic mattress, & private bathroom. Futon for seating or as extra bed. Access to backyard with table & seating.
Amazing area (very close to Santa Cruz) with lots of fresh foods and good coffee available near by ;) The house sits on a hill which offers the guests amazing views. We stayed 2 days at this place. The room is spacious and clean, you have your own bathroom and private entrance. The whole house is very beautiful and inviting- all decorated with lots of love and attention to detail. We loved the homely atmosphere. Rob and Kathy were wonderfully welcoming hosts, very helpful and and caring. You felt kindly invited to live in their home but on the same time they respected your private space if you wanted to. They always had good advice and tips for places you can visit! Thank you so much for the time with you, specially for sharing that peach cobbler with us ;)
anett
2016-07-11T00:00:00Z
Rob and Kathy were great hosts. I would particularly recommend for older guests who are nervous about doing airbnb. My mom and I stayed here together and it was my mom's first experience. Rob and Kathy were very friendly and were great at helping my mom figure out her travel logistics. Their house is absolutely beautiful. There are so many nice touches that make it a pleasant place to stay. The location is very secluded and peaceful.
Alyssa
2016-08-31T00:00:00Z
Beautiful home with a beautiful view! We didn't meet Rob, but Kathy was super friendly and helpful.
Samantha
2016-07-28T00:00:00Z
One of the most beautiful places I've ever stayed. The hosts were very nice and accommodating, and the house was awesome. Super clean, really want to come back and visit some time. Can't recommend it enough.
Anthony
2016-08-21T00:00:00Z
I had an amazing time during my visit with Kathy and Rob. Their house was very comfortable and staying there felt like being with family! They provided all the amenities we needed and then some. Plus, they were able to recommend excellent places for numerous outdoor activities (like hiking, beach spots, and a place where you can see lots of sea otters) and we even visited a local brewery together! I cannot praise Kathy and Rob enough for making this visit a great experience and I look forward to going back again someday.
Jennifer
2016-09-06T00:00:00Z
My wife and I felt most welcomed into Kathy & Rob's incredibly beautiful home in such a peaceful place up on a hill overlooking the trees and other rolling hills. In the house, everywhere we looked it was like an image from a magazine, tastefully decorated with a country flair. Everything I could have thought of was mindfully placed out for us and our room was big, nicely decorated and super clean. The bed was SUPER comfortable, the linens were soft and warm. I enjoyed waking up in the morning and opened the big glass sliding door that revealed the nature that was surrounding us. Songs from the birds filled our space and the peace and tranquility of the beautiful view we had from our room warmed our hearts. We are grateful for our experience staying at Rob & Kathy's place and highly recommend it to anyone who wants to get away without having to travel too far off the beaten path. Deep gratitude!
Rachel
2016-12-11T00:00:00Z
My husband and I loved staying at Rob and Kathy's place. It was such a perfect escape from busy city life. Rob and Kathy were excellent hosts and provided numerous recommendations for local restaurants and wineries that helped us make the most of a long weekend away. Would definitely stay there again!
Gianna
2017-02-20T00:00:00Z
Very beautiful experience at Rob and Kathy's home. We were made to feel like family. Personal tour of the property was a delight!
Kathy
2016-08-04T00:00:00Z
Room Type
Private room
---
Property Type
House
---
Accommodates
2
---
Bedrooms
Watsonville, CA, United States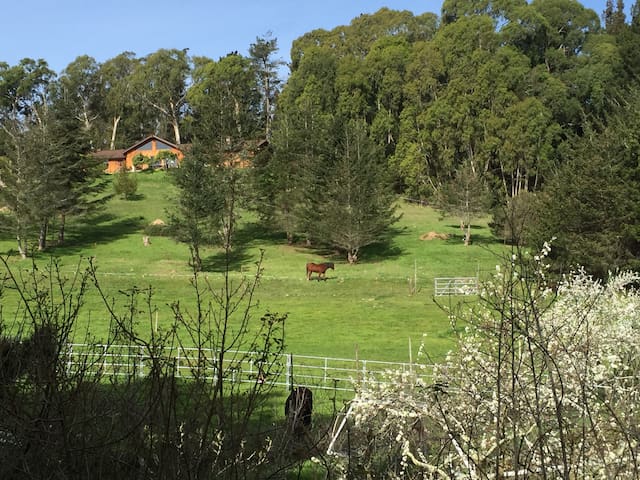 The small bedroom is perfect for a single person who does not need a lot of space. The room can accommodate a couple as well. There is private access to a shared bath (this is a private bath if there are no cottage guests). We have cats and dogs.
This is a Craftsman style country home on a sunny 1/2 acre just South of Santa Cruz. Ten min from beaches and excellent restaurants. With large decks, and patios, it is designed for indoor outdoor living. We are 60 min South from Silicon Valley, 90 min South of San Francisco and 40 min North of Monterey Bay Aquarium. Take day trips to Big Sur. or explore the local Redwoods. Or grab a bike and tour the local wineries and apple orchards on country roads just minutes from the house. Santa Cruz has a vibrant music and dance scene, a Boardwalk as well as sailing, surfing and kayaking. Access to a car and transportation from the airport is open for discussion... Bedroom and guest cottage are perfect for a couple. We can also accommodate a larger group -- up to three couples. Kids and pets welcome -- no indoor smoking please. Optional Amenity (Inquire Ahead) Wood-Heated Hot Tub: May be available depending on drought and other restrictions.
We enjoyed very much our time at the Christine's house. We only stay one night, for sure if we come back to northern California we will spend more time in this beautiful place. The house is wonderful and the outdoor so peaceful! Christine was very nice and helpful, very good energy and lifestyle that we admire. Gracias! Karen&Gaston
Karen
2012-05-29T00:00:00Z
I rented my parents a room here to stay in while I moved into my dorm, and they only had good things to say about it. The host was very nice and the house was gorgeous. They brought our dog to stay with them, and she could run around the yard and play with the other dogs staying there. I also heard that the apples from the trees were delicious.
Breyer
2016-09-11T00:00:00Z
This was my first experience with Airbnb and it was better than I had hoped. The room was perfect, the house and yard were fabulous. Very laid back and just what I was looking for. Christine is easy going and made me feel quite welcome. Next time I will be sure to take advantage of the wood burning hot tub! If you are looking for a comfortable place to stay while visiting the Santa Cruz area.....this is it.
Tami
2012-06-25T00:00:00Z
I had a lovely overnight stay at Christine's and I thought the listing information was totally accurate. Christine was most helpful and the perfect host for me.
Mary
2011-09-24T00:00:00Z
Christine made me feel welcome and comfortable. She was friendly and helpful. The room was as described in the add; convenient that the bathroom was adjacent the bedroom. Overall, i was satisfied and will use airbnb again. Thank you Christine for you hospitality.
Linda
2016-05-09T00:00:00Z
Christine was a great host. My sister and I had a wonderful time at her home.
Kari
2016-07-24T00:00:00Z
Christine was a nice host. The House is typical country style which make it very cosy, would just need refurbishment... Santa Cruz downtown is around 1/2 hour from the house. We had a great sleep as the place is very quiet. There were a dog and a cat who were very lovable!!!! People who love country side will love this house :)
Sarah
2015-08-09T00:00:00Z
Christine was awesome ! The house was beautiful the area was gorgeous . I would absolutely stay here again. Definitely recommended her beautiful home to anyone !
Alexandra
2016-08-08T00:00:00Z
Room Type
Private room
---
Property Type
House
---
Accommodates
2
---
Bedrooms
Watsonville, CA, United States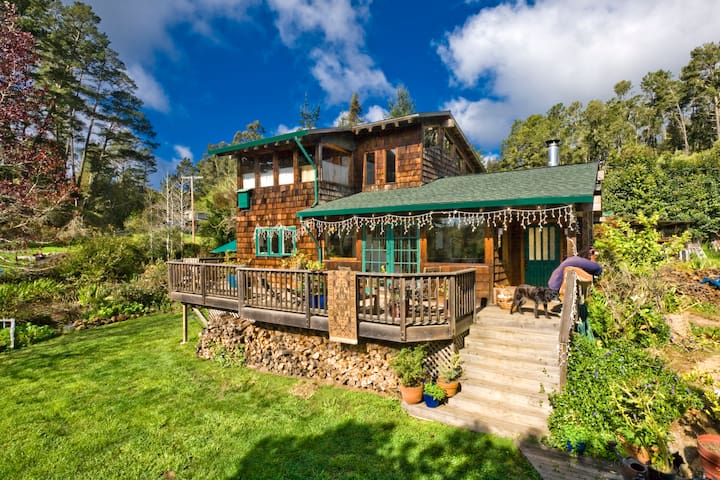 Small private studio in quiet country neighborhood. Includes private entrance and bathroom, kitchenette with fridge and microwave, double bed. Perfect location for visiting the Monterey Bay Area. Located between Monterey and Santa Cruz, 30 minute drive to either. 15-20 minute drive to beaches and state parks. Private auto necessary. Note: The bed is a double futon. There is no TV in the space since I will be renting by the month soon I did not want to invest in a TV for such a short time.
Private studio in typical country neighborhood
Quiet neighborhood located in safe area
Was great for our one night stay for a wedding! Size was really nice and was updated beautifully! Worked out great since we also had our one year old with us.
Jess
2016-10-02T00:00:00Z
Everything is very well , The studio is very nice & comftorable . I will recomend this to anyone who travels .
May
2016-09-11T00:00:00Z
Lovely people and great, clean and beautiful place. I totally recommend to stay there. You will LOVE it.
Mandana
2016-09-05T00:00:00Z
She responded quickly, which I really appreciated, and made it easy for me to arrive. I like that because I told her I'd be arriving and then leaving for dinner that they made keys available so I wasn't disturbing them. Loved the room and all the little touches! (Coffee, tea). If I'm ever in the area again I will definitely look this place up!
Stephanie
2016-09-10T00:00:00Z
This house is pink,it's very nice and clean.Gina is so so kind,she prepared fruit for us。I cooked in the (kitchen)room ,it's perfcet day。
马海霞
2016-08-18T00:00:00Z
Gina and her husband were really nice. We just saw them a couple of time when we came and when we leave since we spent most of the time outside.
Hector
2016-08-17T00:00:00Z
Accurate description of the place, and nice quiet neighborhood.
Bryan
2016-08-31T00:00:00Z
Check in was easy. Just showed up and the place was as mentioned. Easy check in and check out. Nice place to stay!
Drew
2016-08-29T00:00:00Z
Room Type
Private room
---
Property Type
House
---
Accommodates
2
---
Bedrooms
Watsonville, CA, United States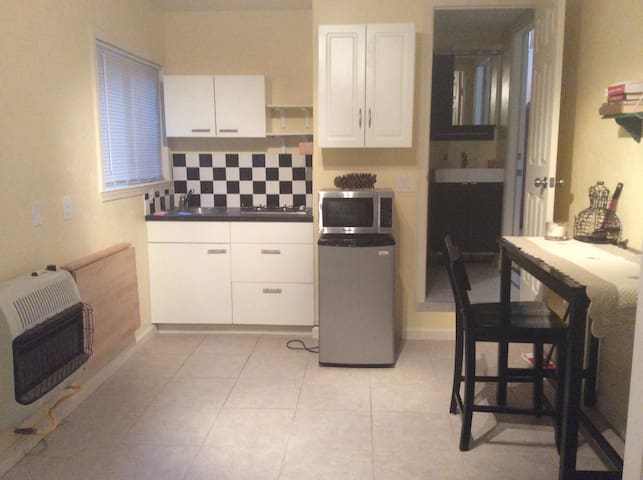 Home in the country, beautiful tree views. Corralitos Market, pizza shop, Mexican food nearby. beautiful deck, patio and outdoor space. Lots of room inside to spread out. About 10-15 minute drive to the beach, 30 minute drive to the boardwalk and Santa Cruz.
Room Type
Entire home/apt
---
Property Type
House
---
Accommodates
5
---
Bedrooms
Watsonville, CA, United States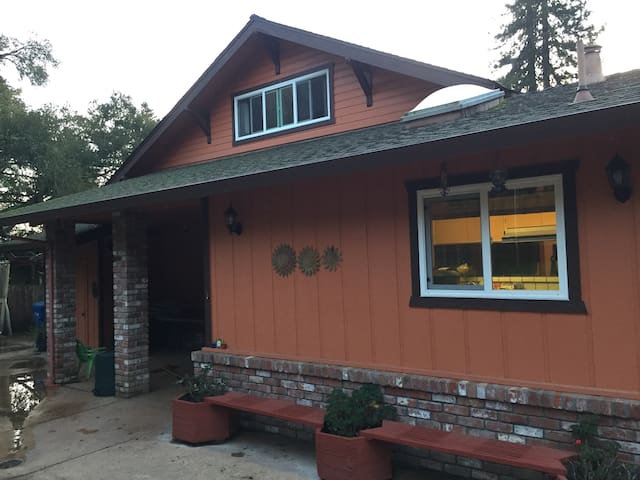 Welcome to our Horse Farm. You can stay in our 1 bedroom "cozy" guest house, on our 6 acre Farm. We have grapes (Syrah), Apples, and Icelandic Horses. Wake up to horse grazing right outside the apartment. We also offer lessons if pre arranged.
This is our guest house on our Horse Ranch. Its a cute modular home with great light and amazing views across our Horse Farm. The horses are let out to graze from 8am to 5pm and a really fun to watch graze, play, and run.
We are the border between Aptos and Watsonville California in the "Aptos Hills" area of Santa Cruz County. We are in the Santa Cruz Appalachian Wine growing region, with several local wineries close by, and close to the Beach. We are 5 minutes from Watsonville (Safeway, Starbucks, etc) and 15 minutes to Moss Landing and Capitola (opposite directions). We are also 20 minutes to Santa Cruz and 35 minutes to Monterey.
Bruce and Annette's Icelandic horse ranch is an island of tranquility in the rolling hills north of Watsonville. The apartment is clean, well-appointed, and cozy, and the surroundings are quiet and peaceful. The photos and description in the listing are accurate. Kitchen is well-equipped. WiFi is excellent. The location is convenient to Santa Cruz, Monterey, and the coastal beaches in between. Bruce was a terrific host, attending to our needs while remaining unobtrusive. He was totally available by text and email and made us feel welcome even before we arrived, providing helpful information and restaurant recommendations. He checked in with us during our stay to make sure everything was going well. He invited us to help feed the horses, and offered the use of their hot tub. We felt like guests staying with old friends! As horse people ourselves, being on the ranch among the Icelandic horses was a special treat. The horses roam the ranch at will and are a moving element of the landscape, lending a magical feel to the place. Several times during the day I would look up from my work or a conference call and see the horses grazing peacefully within arm's length. Overall our stay exceeded our expectations and we were sad to leave. This is a tremendous property that will not disappoint! A huge "thank you" to Bruce and Annette for the opportunity to share their guest apartment!
Tom
2015-02-05T00:00:00Z
My husband and I had such a great weekend here. Originally we were going to stay close to home but decided to try something different I am glad we did! It was so beautiful and peaceful. We got there a little early and Bruce and Annette welcomed us. We felt very comfortable here and enjoyed the quietness away from the hustle and bustle of home. Everything about this place was amazing and we enjoyed being able to walk around their land and pet the horses. I loved waking up to the horses eating right outside the apartment. Bruce and Annette are great hosts! They are both so sweet and friendly. They even gave us some of their delicious wine to enjoy while we were there. This was an all around great experience for us. We will definitely visit again!
Danielle
2015-07-13T00:00:00Z
This place is a real jem!! Bruce is a very welcoming and gracious host: he even left a bottle of his own wine for us to enjoy (and we did!!). The place is beautiful, cozy, quiet, clean and comfortable! The horse ranch horses are so beautiful), pond, vineyard...amazing! My girlfriend and I had a great time! Strongly recommended!
Alex
2015-07-12T00:00:00Z
It was great meeting Bruce and Annette. They let us accompany them while they fed their beautiful horses, during which we found out we were all UCSC alum and reminisced of our times there. Good people with a beautiful property. The cozy apartment was very clean and had a really nice deck to hang out on, drink wine and watch the horses. We took advantage of the hot tub which was also very clean. Whenever we come back to Santa Cruz we'll be checking to see if this spot is available first. Thanks guys!
Tavon
2015-05-31T00:00:00Z
Mountain Icelandic Farm was a perfect retreat for us! We love horses and it was so nice to see adorable Icelandic horses wonder around the farm and eat delicious apples from trees. Cozy apartment had everything that we needed, bed was comfortable, modern full kitchen, and shower had a good pressure with hot water. Bruce is a great host making us feel comfortable and welcomed. My husband and I had a really wonderful time! Looking forward to staying at Mountain Icelandic Farm again.
Ivetta
2016-10-17T00:00:00Z
We had a wonderful stay at Bruce's horse farm. The apt was a nice size, sunny (big windows) and clean. Kitchen was well stocked with cooking supplies and the bed very comfortable. One of my favorite parts was soaking in the hot tub after a long day of hiking in one of the State Parks. Also enjoyed meeting some of the beautiful horses on the farm. Bruce and his wife were wonderful hosts!
Suchi
2016-01-04T00:00:00Z
We were in town for my girlfriend's beach wedding at La Selva Beach (15-min away). It was a beautiful weekend and we're so happy to have chosen a beautiful place to stay. We have a 2-year old daughter - and what better place to stay than a horse farm?! We woke up to the sun's ray filling the room, had a nice breakfast made in the kitchen and sat on the patio while we watched the horses grazing nearby. We were able to pet a few of their friendly horses and enjoyed a nice walk around their vineyard. We will definitely be back if we're ever in town again. Such friendly and accommodating people! Thank you!!
Mylanie
2016-04-25T00:00:00Z
It was perfect. Bruce was an amazing host. It was comfortable and clean. We enjoyed the apartment with a full kitchen, bath and living room. It was very comfortable and would consider staying stay here again. The landscape and surrounding area was peaceful. The horses were definitely a plus!
Kim
2016-11-13T00:00:00Z
Room Type
Entire home/apt
---
Property Type
House
---
Accommodates
2
---
Bedrooms
Watsonville, CA, United States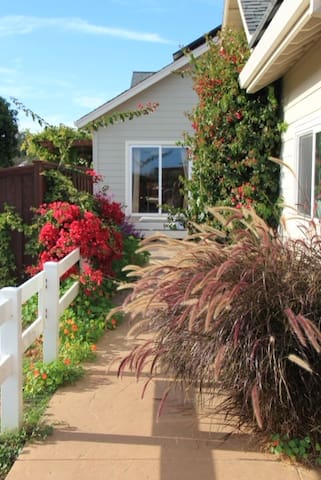 Great location in Pajaro Dunes, house has two car garage and two car drive-way. Ocean front ocean view first row house. Tennis court, Valley ball court. 2 night min stay
Ocean front single family house built on beach dune. Full beach and water views from different angle of the home. Two car garage and drive-way
Pajaro Dune beach front privated gated community on the Monterey Bay Pajaro Dunes is a bird sanctuary
This place was great for our retreat. I would definitely return. The master bedroom was lovely. This house would be perfect for two couples traveling with children.
Shellie
2016-11-20T00:00:00Z
Brandelia and the property was wonderful!
John
2015-05-19T00:00:00Z
Awesome house in front of the ocean, everything was clean and working. Thanks for everything Brandelia
Arnau
2015-05-12T00:00:00Z
Brandelia's ocean front property is a beautiful Santa Cruz experience, steps onto the beach, and within an hour of Silicon Valley for prompt business meeting schedules. Having great WiFi and many beds makes it an ideal location for a team retreat. Brandelia is very prompt and easy to coordinate with - we look forward to returning!
Adam
2016-04-21T00:00:00Z
This was a very interesting house in a great location right on the beach. The neighborhood was very secure and quiet. There are ocean views from practically every room. Lots of stair steps inside so it could be challenging to people with limited mobility. Several of the beds are bunk beds. Great for kids.
Juanita
2016-08-23T00:00:00Z
A classic Pajaro house experience: creative 80s architecture, nice common room area, lots of light, great views of the ocean.
Steve
2016-11-13T00:00:00Z
Brandelia and her crew made this an easy and great experience. The house was perfect and well worth the cost. My family and I had a time we will never forget. The kids loved the short walk to the beach and all the adults loved the peace and quiet that only the sound of waves crashing on the beach can bring. Thank you again Brandelia, we will do this again and you will be the first I call. The Cramer Clan, April 2016
SCOTT
2016-05-02T00:00:00Z
The house was great. Brandelia left us coffee cake, milk, juice and coffee. Location is awesome and getting key is very convenient thanks to a 24 hour gatehouse. House is well-equipped and very comfortable. Definitely recommend for families. Highly recommend!
Ann
2016-06-20T00:00:00Z
Room Type
Entire home/apt
---
Property Type
House
---
Accommodates
10
---
Bedrooms
Watsonville, CA, United States
This quaint little house is perfect for up to 4ppl. We have two adjoining bedrooms and a detached bungalow. A large open family room and kitchen with high vaulted ceilings. Open the french doors that lead to the veranda and imagine you are in Tuscany. Enjoy dinner or cocktails under our grape canopy while listening to your favorite music with our bluetooth sound system. Inquire about our shuttle van for a local tour of the area/brewery/wineries. Monterey 40 min,SF 1.5 hrs, Santa Cruz 20 min.
We have a small neighborhood where we all know and respect each other.
Small and safe.
Really beautiful house and an outdoor oasis in terms of different areas to hang out Loved the hammock for reading under the grape arbor loved the outdoor table for alfresco dining; the kitchen is perfect my son liked reading and listening to music right outside the French doors from the family/living room area.
Roz
2016-08-08T00:00:00Z
Welcoming easy communication with Host.... Spacious space.... Loved the outdoor and meditation room....
Nicholette
2016-07-20T00:00:00Z
The house was clean and adorable. Getting access was easy. A convenient store located in walking distance was a huge plus. We loved this place, it fit six kids and four adults perfectly and we will be staying again on our next trip to Santa Cruz.
Christina
2016-06-14T00:00:00Z
What a wonderful place to stay at. First off, Samantha and Jon are tremendous host! Very understanding and communication between one another was amazing. The place is spectacular, everything my family wanted and more. Great location where there's lots to do all around. A must stay!
Jonathan
2016-06-25T00:00:00Z
John and Samantha's quaint Corralitos casita is incredible! This was my first airbnb experience but my daughter has stayed in many and said this was her favorite place she has stayed. It is in a great, peaceful location yet close to many local attractions. It felt safe, is very clean and has tons of beautiful details throughout the house. The outdoor space is like something out of a magazine. Fantastic for relaxing and outdoor dining! I strongly recommend staying at this airbnb!!!
Lisa
2016-07-25T00:00:00Z
We loved to stay here with our family of 5. The house is beautiful, we especially enjoyed the outside area. Jon and Samantha were great hosts that helped us whenever we had questions. Loved it!
Daniel
2016-09-11T00:00:00Z
This was a wonderful (and our first!) Airbnb experience. The house was clean, attractive, inviting, and in a friendly and safe location. We were only a short distance from beaches, beautiful redwood state parks, and bustling Monterey. The hosts made checking in and out incredibly easy. They also sent messages to make sure everything was alright. If I ever get the chance to come back to this area, I would stay in this airbnb again in a heartbeat!
Laura
2016-08-22T00:00:00Z
We were greeted with a bottle of wine and house instructions upon our arrival. The house was immaculately clean. Samantha was readily available by text whenever we had questions. This house shares a back fence with a market, which is great for any items you forgot to bring. There are many sitting areas outside and we even ate at the outdoor table. We appreciated how quiet the neighborhood was. It is easy to travel to both Monterey and Santa Cruz from this location.
Diane
2016-08-01T00:00:00Z
Room Type
Entire home/apt
---
Property Type
House
---
Accommodates
4
---
Bedrooms
Watsonville, CA, United States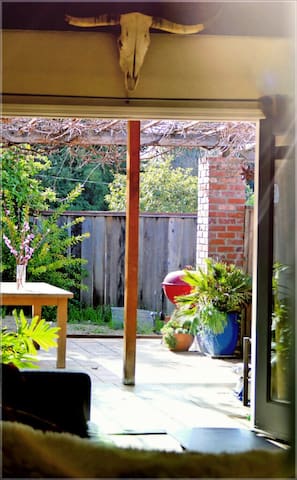 We live on the top of a rural mountain in Santa Cruz county, between San Francisco and Big Sur. Perfect for getting away from it all and enjoying nature while being close enough to explore the entire Bay Area. Santa Cruz is known for its natural beauty, mountain biking, surfing, hiking, dining, beach going, exploring and relaxing. We are also on the Corralitos wine trail; the closest winery is just about 3 miles down the road.
We have 3 dogs inside and 1 outside along with 3 cats and 14 chickens. You have to like dogs to stay here...they will love greeting you! All guest dogs must sleep in a crate, be potty trained, and be on a leash when outside. We are "fragrance free" meaning we don't use perfume or cologne or other synthetically scented products and ask that you please, please, please refrain as well as we are allergic.
Room Type
Private room
---
Property Type
House
---
Accommodates
4
---
Bedrooms
Watsonville, CA, United States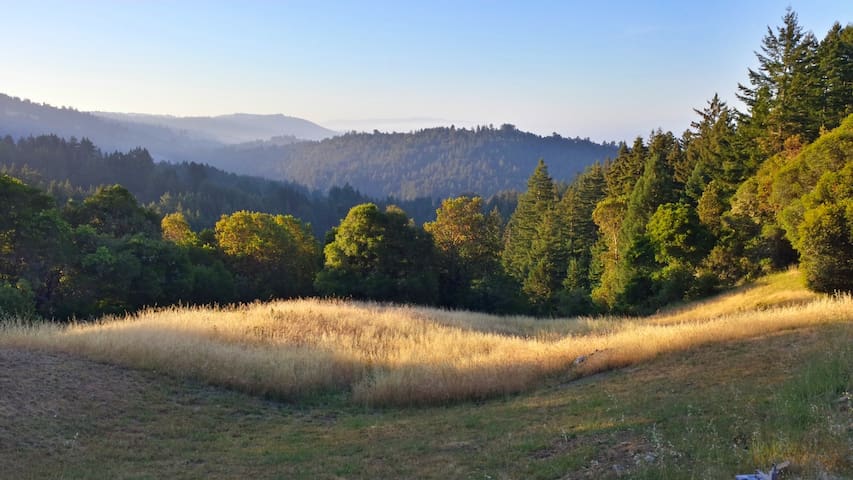 Our beautiful home sits in the foothills of the Santa Cruz mountains in a quiet neighborhood. A coastal ride to Monterey/Carmel (40mi.) Santa Cruz (30 mi) &San Francisco (90mi) Additional private 1 bed/bath available (Additional fees to be included)
Our home offers the option of one bed/bath and for an additional fee we can offer a second private room with a private bath. The second room allows an additional two people to stay comfortably. Ask about surfing or paddle board or bike rental options.
We love our neighborhood because it sits in a quit area outside the city limits near the Santa Cruz foot hills. The neighbors are quiet and respectful of one another.
Theresa's place was very clean and had lots of privacy. She was very accommodating with us changing the time of arrival and welcomed us to her house at a later time than we originally planned.
Ivanna
2016-10-02T00:00:00Z
We had a wonderful stay with Gary and Theresa. We were in Watsonville for a wedding over the weekend. Gary and Theresa were really accommodating: they had a neighbor meet us at their place because we were running late, they lent us chairs for the beach, and they let us check out late so we could get a shower before heading to the airport. Wonderful hosts and a beautiful home. Highly recommended!
Stephen and Silvia
2015-08-02T00:00:00Z
We had such a wonderful time . Theresa and Gary made us feel at home . We were travelling with a 2 month old boy and I always felt at home . Morning coffees and some chit chat was like cherry on top . Lovely house and lovely vicinity . I would always keep this as my first option if we visit that area again.
Madhumati
2016-05-31T00:00:00Z
I was unable to make thevtrip. But much husband and grand nephew went. Both said the house was decorated very nicely, and that Theresa and her husband were wonderful hosts. Nephew loved how attentive they were to his talking atonement about what he has learned in his internship at the aquarium!
MJ and George
2016-07-10T00:00:00Z
The host canceled this reservation 2 days before arrival. This is an automated posting.
Christie
2015-07-08T00:00:00Z
We very much enjoyed our stay with Gary & Theresa! The room is tastefully decorated and overlooks a lovely backyard garden, where we enjoyed lounging. Great water pressure in the shower, too. Gary & Theresa are warm and helpful, welcoming our request to store our garden purchases on the patio. We look forward to our next stay!
Maggie
2015-09-27T00:00:00Z
We really enjoyed our stay with Theresa and Gary! They made us feel welcome and we were glad we stayed in their home. We recommend this place if you want to check out the Santa Cruz area.
Susanne
2015-11-29T00:00:00Z
Gary and his wife welcoming experience was courteous and kind! They have a loving home and the land scape at the back yard was exceptionally retreat - like resort, Cozy, quiet and relaxing!!!! My stay was pleasant and comfortable. Gary and I had few times to chat and familiarized ourselves. Gary and his wife gave me a bottle of apple cider and a home made Jams. They are nice people! I wish both of you All the best life can offer!!!
Onye
2015-07-18T00:00:00Z
Room Type
Private room
---
Property Type
House
---
Accommodates
2
---
Bedrooms
Watsonville, CA, United States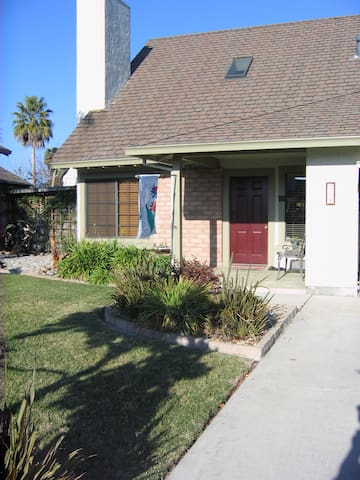 Quaint 2,000 sq foot home that sits right on the dunes of the beach. 2 patios with ocean views. 15-20 min from Santa Cruz, Capitola, Moss Landing, Monterey, and many other beautiful beach spots.
Pajaro Dunes is a private gated community with 550 beach homes, townhouses and condominiums. It's a blend of both private residences and vacation rentals on the Monterey Bay. Our home is beach front just steps away from miles of shoreline to walk and explore. The closest Gift Shop for last minute snacks, drinks & sundries is on the Shorebirds North Property. Or in town, Watsonville is a quick 5 mile drive to grocery stores like Nob Hill, Food Max, Target & Safeway in town.
Room Type
Entire home/apt
---
Property Type
House
---
Accommodates
9
---
Bedrooms
Watsonville, CA, United States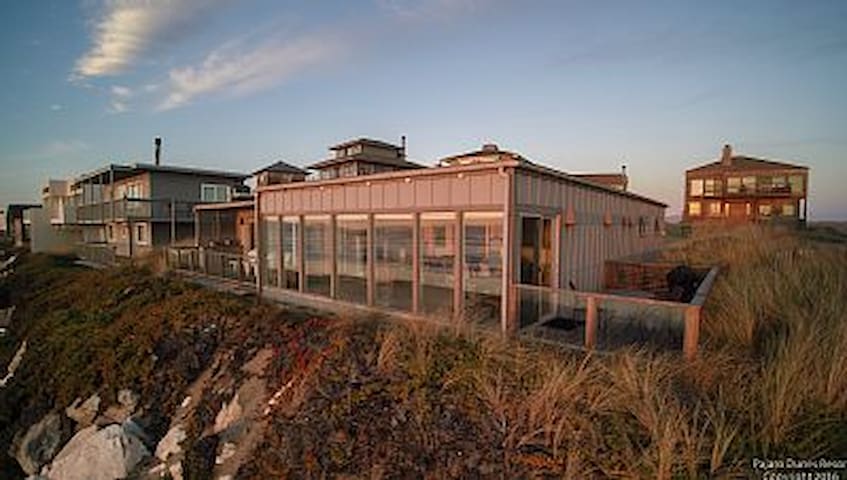 Here is your chance to visit Elkhorn Slough reserve, near Monterey and Santa Cruz, relax and enjoy the country or explore the area!
The modern structure in the heart of nature, beautiful setting to relax, enjoy or explore
We are located in the beautiful community of Elkhorn Slough which is a state reserve area. We are 10 min drive to Moss Landing, 10 min to Watsonville, 20 min to Monterey or Santa Cruz area. It's a great place to come home to while you are exploring the beautiful central coast.
Room Type
Private room
---
Property Type
House
---
Accommodates
2
---
Bedrooms
Watsonville, CA, United States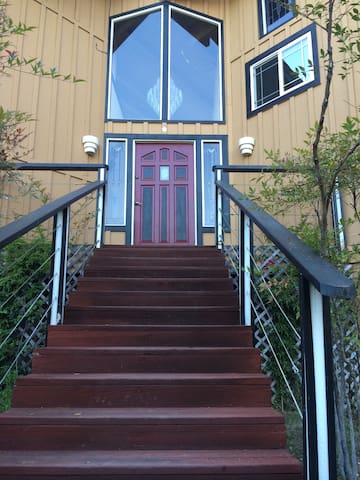 Enjoy a private room with private bath in our warm, clean home in the Aptos. The room has a comfy bed to lay your head and a large window with lots of light.
Our guests will have access to fresh, organic fruits and vegetables while in season that they can harvest straight from our backyard garden and greenhouse.
I love the quiet, dirt road at the end of the street that leads to the park.
Well, Angela, Derik and Dakota are a very loving family, and when one stays in their extra bedroom, one feels a part of that family. Being a single guy I really appreciated that feeling, and they include you right in. The room was clean and tasteful, the bathroom spacious, and once again, clean, plus, even though you're inside their home, you're given your privacy. I really enjoyed connecting with all three, they were fascinating, friendly, and helpful. But best of all, they actually made a space in their garage for my motorcycle !
Bruce
2016-08-22T00:00:00Z
Angela & Derik were super friendly and gave us a tour of the place right away. Despite my confusion on the price of the stay, that clarified everything and went the extra mile to make everything right. They also made accommodations to our special needs. Their place was very clean and well maintained with extra blankets and towels in the bathroom.
Tony
2014-05-27T00:00:00Z
Derek and Angela were extremely nice and laid back and made us feel at home in their home. They had just the right amount of balance as far as giving us our privacy and also mingling with us. We loved their backyard chickens!!
Gary
2016-09-18T00:00:00Z
My wife and I had a wonderful time with Derik and Angela. They have a beautiful home and yard.
Ryan
2014-05-26T00:00:00Z
This home has good vibes all around. Very clean, caring and accommodating hosts. Loved the options of using their surf boards, kayaks and even fruits from their garden. We enjoyed exploring the Elkhorn Slough area which is close to the house
Gaurav and Bridget
2013-10-28T00:00:00Z
We have been so blessed in all our Airbnb experiences, and this one was NO exception! Derik, Angela and new baby are a wonderful little family that anyone would be happy to stay with. They offered us their own room, and bath, because my husband is tall and needed a larger bed. Their whole house was spotless, with an extremely comfy Queen bed!! Derik is a woodworker and his handiwork is displayed beautifully everywhere in their home. They both value a simple, but, beautiful lifestyle, and place a high priority on their family. We felt like total, (although older!) kindred spirits, and felt it was a privilege to meet them. We were in the Corralitos/Watsonville area for business trip, but this would be the ideal jumping off place for the beach and all other the other fun outdoors activities the Santa Cruz area has to offer. We miss you already, Derik and Angela!
Margot
2014-08-16T00:00:00Z
Derik and Angela were wonderful hosts to my friend's friend - very friendly and attentive. The room and bathroom were just as described and perfect for one person.
Christine
2016-09-04T00:00:00Z
Room Type
Private room
---
Property Type
House
---
Accommodates
2
---
Bedrooms
Watsonville, CA, United States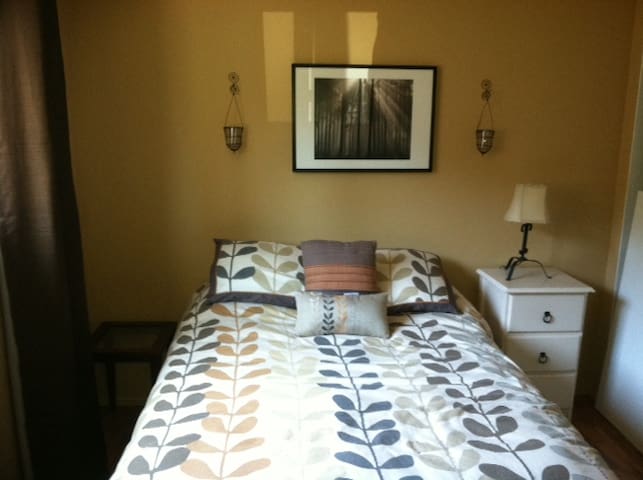 Can't get close to the beach any closer it would be on the water. Great location to enjoy being on the beach. New washer/dryer and dishwasher as of 06/28/2016 New flooring
Ocean front single family house built on beach dunes. Great beach view, two fireplaces open floor plan.
Our group of 2 adults and 5 teens had a terrific weekend at this beach house. Brandy was great to work with and very responsive. Also arranged for some orange juice, fruit and cake to be dropped off; a very nice touch. The house is right on the beach, with great views from all rooms on main floor, and is decently equipped. Everything was as described and shown in the pictures. The house met our needs for a short stay. However, it is very dated, especially the kitchen and bathrooms. Basic dishes, utensils etc. Using the electric stove with sloped coils to make pancakes was an exercise in frustration. That said, we really enjoyed our stay, the location, fire places, beautify and quiet beach, and could see ourselves returning.
alan
2015-12-21T00:00:00Z
I enjoyed so much staying at this place! Perfect set up if you have kids as it's such a spacious house, by the beach. The 2 bedrooms on the grouns floor are large and can fit a couple and a travel cot(we had ours with us). The bedroom at the Lowe level is ideal for older kids. I'd not only recommend but I'm hoping to return there soon!
Mariana
2016-07-05T00:00:00Z
We had a great stay at the beach house! Very nice location. Quiet, on the beach and interesting neighborhood.
Ole Christian
2015-06-27T00:00:00Z
Just amazing. Charming little house. Beautiful beach. Everything we needed
John
2016-08-29T00:00:00Z
The reservation was canceled 99 days before arrival. This is an automated posting.
Karen
2015-04-23T00:00:00Z
This was a great place! So relaxing and had amazing views of the water. The beach isn't that crowded. Make sure to bring sunscreen! The clouds can be deceiving.
Patrick
2015-05-04T00:00:00Z
We had a great time! The location is unbelievable (practically on the beach), the house was very well equipped and very comfortable. Practically all windows have sea views, so that's awesome We did not meet the owners but everything went smoothly so there was no need.
Dekel
2015-05-26T00:00:00Z
Excellent host!
Evan
2015-10-19T00:00:00Z
Room Type
Entire home/apt
---
Property Type
House
---
Accommodates
7
---
Bedrooms
Watsonville, CA, United States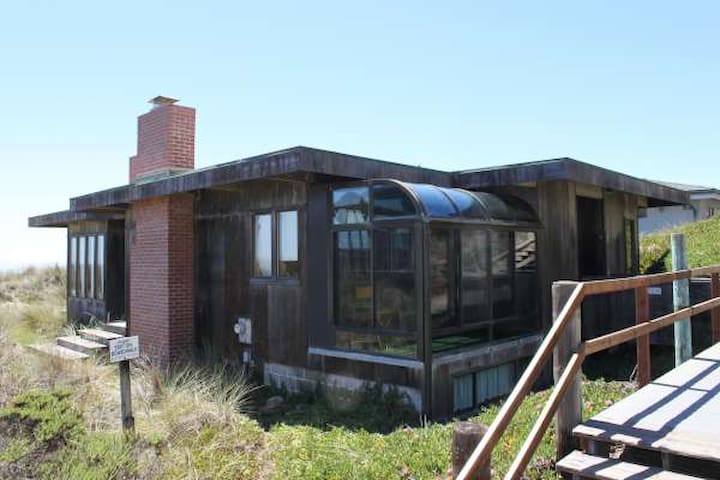 Six bedroom, four bathrooms three story house ocean front in Pajaro Dunes (Monterey Bay). Fully equiped hope. Huge back deck with bench sitting, hottub, and propane bbq grill private internet - just added as of 06/15/16
Beachfront house
Walking on the beach and bird watching. Tennis court and valley ball court.
The host was very accommodating and easy to communicate with!! She even left us some snacks, which was great! Awesome location, too!
Steven
2016-10-09T00:00:00Z
We stayed this house for 2 nights. It's really high quality and spacious house. We really like it. The house is just beside the beach, which is really nice. The security of this house is also good with parking permit and check system at gate. This is a good place for stay if visiting No #1 highway.
CHENG
2016-07-16T00:00:00Z
The place was beautiful, anfew steps to the beach. The house was confortable and well manteined. With everthing you need to have an amazing stay there. Everthing was perfect, Brandy was super helpfull and responsive. We'll be back.
sergio
2016-08-02T00:00:00Z
Overall good.
LC
2016-07-20T00:00:00Z
The UCSB Women's Club Water Polo team enjoyed their stay! The place worked perfectly. The hot tub was used, sand dollars found on the beach, beautiful view! And to make it a more memorable weekend, the team came home as champions! First place and remained undefeated the whole season!! It was a great weekend!
Agnes
2016-05-09T00:00:00Z
The neighborhood is a small community. However, small and quaint and quiet leading to a quiet time at the beach.
Kathleen
2016-08-29T00:00:00Z
We absolutely loved the house and the surroundings! Brandelia and everyone at the office made sure everything was in perfect shape when we arrived, and answered any questions or concerns right away. We knew we had just rented a beach house, and it was going to rain all weekend, but the house was so fabulous, all the kids and families had such a good time! Kitchen very well stocked, hot tub was sparkling clean, and all the fresh linens and towels were just exact perfect! We were going to have a big family meal and were worried about not having enough utensils - right away they delivered an entire box of brand new silverware, and knives! Awesome! Even had some coffee for us. We loved the cool look out deck and the bedrooms were nicely furnished with art, tables and chairs. Most definitely we will be back!
Alaina
2016-10-17T00:00:00Z
What a wonderful spot. It's set back just one house from the beach and has views of the ocean. Brandelia had everything set up for us, including handling some packages we shipped out in advance of our arrival. Overall a great experience and I wouldn't hesitate to bring our group to stay again.
Brian
2016-09-29T00:00:00Z
Room Type
Entire home/apt
---
Property Type
House
---
Accommodates
12
---
Bedrooms
Watsonville, CA, United States
Our tree house is located on the Monterey Bay within the gated community of Pajaro Dunes. We are only 50 yards from the beach access, with some views of the ocean from the common room and the master bedroom. This house is ideal for families with kids or business travels.
This home is in a beautiful setting. The architecture and construction are high standard. Unfortunately, our arrival was poorly handled and several important issues were not addressed by the office staff which put a damper on our 2 night stay. We would consider going back if these are corrected.
Peter
2016-12-28T00:00:00Z
Room Type
Entire home/apt
---
Property Type
House
---
Accommodates
10
---
Bedrooms
Watsonville, CA, United States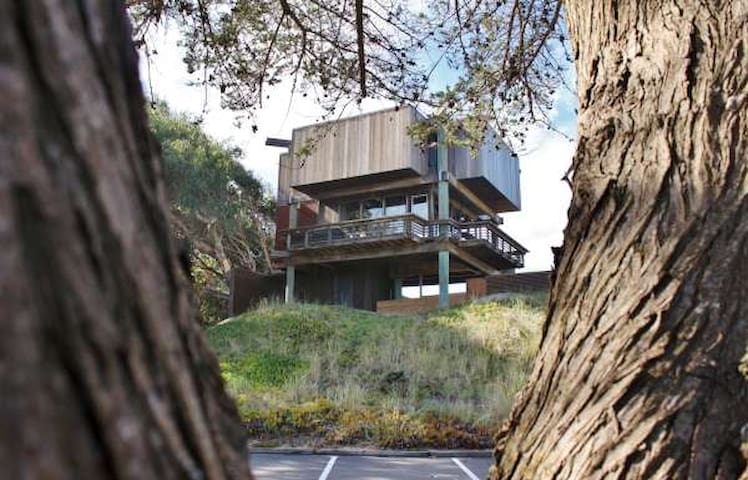 1

–

18

of

300+ Home Rentals
Enter dates to see the total trip price including additional fees (but excluding any taxes).