Come and enjoy STAYING IN OUR PRIVATE ROOMS 5 MINUTES TO THE GAYLORD CONVENTION CENTER AND NATIONAL HARBOR. Backs to fall foliage with wildlife(Pool Closed). Private Balcony.r Access to entire living areas in Villa, Kitchen, Large Wrap around deck over looking pool. Lower Level Patio area. Center. Shopping and National Harbor. Close to Tanger Mall Outlet and New MGM Grand Casino scheduled to open in December. 5 BEDROOMS PRIVATE ROOMS . CHOOSE ENTIRE HOUSE FOR YOUR GROUP. PERFECT LOCATI
Close to everything, 5 minute drive to the National Harbor, kayaking, river cruise, fine dining,movies, conventions, and the famous Tanger Outlet stores. 20 mins from DC, with National Mall, White House, various museums and shops, theatres and cinemas. 10 mins to Old Town Alexandria with its rich history. Quaint stores, antiques, consignment shoppes, farmers market, and notable restaurants. Taxi by water and enjoy the view from the mighty Potomac River, or take a dinner cruise on the Spirit of Washington.
Our Neighbor is quite, clean, safe, pleasant for morning or evening walks, and Has views of the Potomac River. The neighbors are friendly, serene setting for jogging, walking or biking.
Pamela and Keith are the best hosts! Seriously two of the nicest people you will ever meet in your life. They went out of their way to provide snacks, drinks, clean sheets, everything. Very convenient location for conferences in National Harbor and the space was as advertised. If you're coming to this area you must stay here!
Patrick
2015-11-08T00:00:00Z
Pamela and Keith were so lovely. They are great hosts. They're so great, they even cooked my friends and I breakfast in the morning. I'll be coming here next time I'm going to National Harbor!
Teeyam
2017-04-02T00:00:00Z
This place is fantastic, first because both Pamela and Keith were very kind and paying attention to what you need, secondly, the place is very quiet and during the night with open window, you just listen to the grasshopper, third the place is very clean, wide and near to National Habor. Thanks to Pamela and Keith for the way they host and to be as they are.
emmanuel
2015-10-10T00:00:00Z
The listing is NOT accurate. Don't expect to stay in the extra large suite (1st 3 pics shown). The smaller rooms are part of her 70+ pics. I was placed in a smaller room, with a small bathroom across the hallway. There is NO private bath. The house is definitely NOT a 5 minute WALK to Gaylord, but a 10 minute DRIVE. There used to be a grassy jogging/walking trail that will lead you to the Gaylord compound but it has been fenced and wired so people can't go thru. The host knows yet still continues to state it in her listing. I was initially put in a smaller room with tv & balcony, but the door will not close all the way! So she let me to stay in another smaller room. I had no choice since I don't feel comfortable sleeping in a stranger's house wherein the door to my room won't even close or lock! The pictures are so much nicer than the actual house. Carpet stairs are dirty because the host allows people to wear shoes and walk everywhere. The + side, host offers free ride ('coz it's not a 5 min. walk to Gaylord!), free breakfast, water & snacks. If you're not picky and not expecting to stay in the extra large suite w/ private bath, then book it. She usually have other guests in the room next door and I think in the basement too, although I haven't been down there. You can hear people talking & walking on the hallway even if you're inside the room. The advertising is clearly misleading. I think my first Airbnb experience may be the last after this incident. But I do have to commend Airbnb for giving a fair assessment when I complained and requested for a resolution, I received partial refund.
Kim
2016-05-24T00:00:00Z
Our host Pamela and Keith made us feel welcome. They were very accommodating. Our stay in their home was pleasant and the breakfast was a really good (bacon). Pool was not available. Path to Gaylord was closed off by a neighbor but Keith got us to the convention center and back. Other guest were there but we hardly saw them except for at breakfast.
Beaux
2016-05-29T00:00:00Z
Pamela is an exceptional host. She is very attentive and friendly. I spent four days at her house, and I felt very comfortable staying there. She is a relly respectful and lovely person. Her house is also beautiful, but most important, it is very comfortable. The neighborhood is a nice and quiet place. There are a lot of green areas, and trees as well. It is very close to stores, hotels, and malls. The location of the house is excellent.
Elizabeth
2015-11-01T00:00:00Z
Great experience, really nice people, beautiful home, super comfortable. The only thing is -- like many other reviewers have noted -- it's not within walking distance to the Gaylord. It's a 10-minute Uber ride, so not the end of the world, but is a thing to keep in mind.
Emily
2017-02-26T00:00:00Z
Pamela is such a sweet and gorgeous host, and she totally levered my trip to DC. Actually she is friend, more than just a host. This is my first time travel with Airbnb, and she is the reason make me wanna do it again. If I am going to have another conference at Gaylord, I will definitely "occupy" her house again.
Yuchen
2015-10-02T00:00:00Z
Room Type
Private room
---
Property Type
Villa
---
Accommodates
4
---
Bedrooms
Fort Washington, MD, United States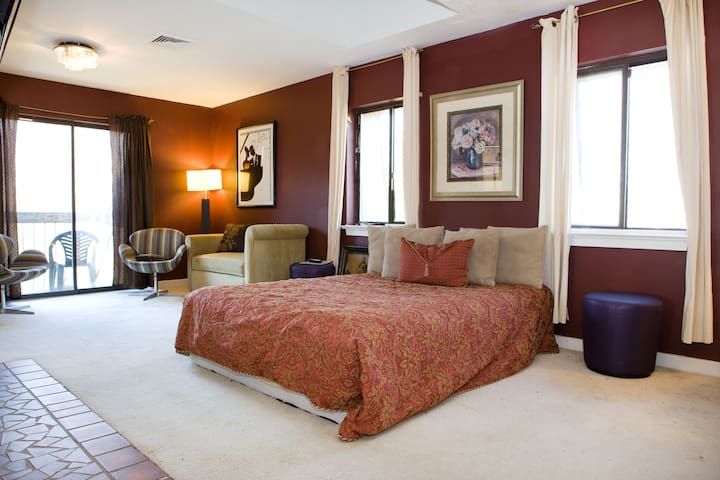 MASSACHUSETS HEIGHTS;WDC best neighborhood next to major Embassies, across from KALORAMA, Pres.Obama future residence. Close proximity to METRO/RED LINE , Kennedy Center,Reagan National Airport. Magnificent, architect designed, fully furnished home. Large oak trees in a lovely mature garden ,with ponds . Tranquil retreat in the city , walking distance(5-8 min)to mini downtown with restaurants ,food shops , wellness spa's ,swimming . Rock Creek Park ,walking distance to biking, hiking etc.
Large bedroom ,with a wall of windows ,beautiful view of the garden ,very quiet and private, adjacent marble bathroom. If requested ,for extra charge ,shared use of spacious marble kitchen, washer, drier . n outdoors patio with mature trees . Terraced garden with ponds. Perfect for summer entertaining.
The neighborhood is one of the most beautiful and upscale. It is an exclusive ,exquisite,well maintained area where embassy residences are surrounded by a lot of green,yet it is short walking distance to many city amenities ,like Kennedy Center;restaurants , wellness centers, biking and running trails in Rock Creek Park,shops,and hotels like OMNI SHOREHAM and MARIOTT.., practically across the street.
Room Type
Private room
---
Property Type
Villa
---
Accommodates
1
---
Bedrooms
Washington, DC, United States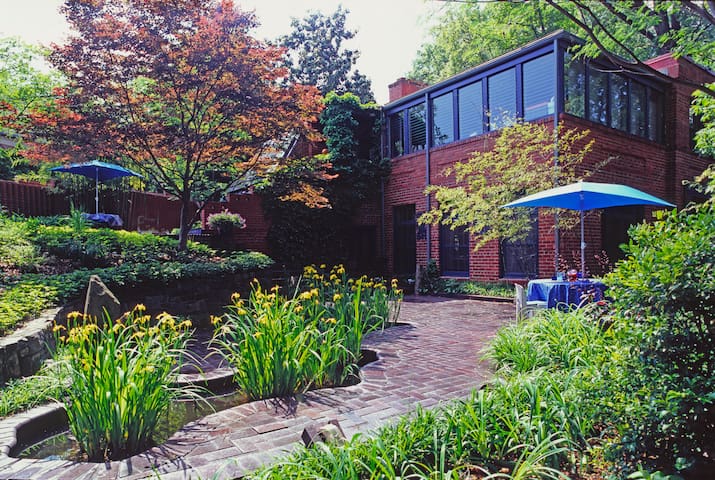 My place is close THE NEW MGM GRAND CASINO, GAYLORD CONVENTION CENTER, attend a conference, or go to MGM gaming tables.Its reasonably priced for solo travellers, small groups and couples. Take advantage of proximity to National Harbor and all the glitz the new Casino has to offer. Great restaurants and dining, the Boardwalk, family-friendly activities, and nightlife. You'll love my place it has magnificent views. Its large, fun and comfortable. Pets case by case. .
Rustic, fun and wide open concept. Sunfilled and large private yard with pool and occaisional deer and wild life. Beautiful fall foilage.
Pamela and her husband are lovely! I had an event at Gaylord resort and my uber drive was 10 minutes.. super close! The house is in a good neighborhood and its beautiful.
Ana
2017-02-26T00:00:00Z
Very easy stay. Nice, quiet neighborhood. Pamela provided everything I needed and the house was very clean. I didn't meet anyone but another guest because I was there for a conf and out early (before 6) and basically came back and slept. But Pamela communicated with me by phone to make sure I had everything settled. If you're going to the Gaylord for a conf. or whatever, note the route on (SENSITIVE CONTENTS HIDDEN) maps is accurate, you have to go all the way up and around, although the Gaylord is just 10 min "as the crow flies." I walked the long way once, it's fine, down by the river and mostly with sidewalks, but a long walk (4 miles or so?).
Roy
2016-11-12T00:00:00Z
It is a very nice quiet peaceful place, Pamela is a great host very helpful and very nice. Being this my first experience in airbnb I will consider this service as an option for future trips
David
2017-03-18T00:00:00Z
Michael
2017-04-13T00:00:00Z
Room Type
Private room
---
Property Type
Villa
---
Accommodates
4
---
Bedrooms
Fort Washington, MD, United States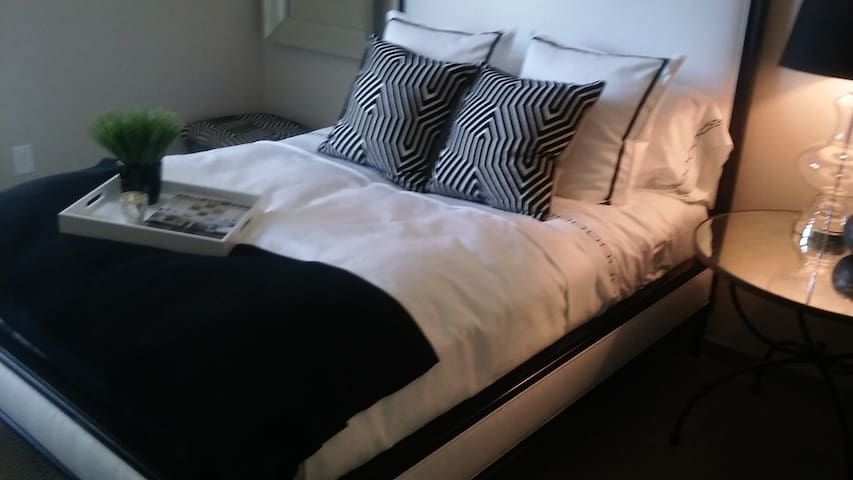 Home-style comfort, vacation ease. Chesapeake Bay views...yards from... water's edge / bay front / sand beach access / gated community pier / park with protected swim area (& our 2 kayaks) picnic tables & charcoal grills / children's playground. Sleeps 10 adults in 5 comfy beds and up to 21 max with bunk beds (8), single sofas (4) & queen aerobed (2). 3 full spa-inspired bathrooms. Perks: 5-person outdoor Jacuzzi tub, Deck, Gas BBQ Grill, Gazebo, 2 firepits & more. 6-car private parking.
5BR/3BA main house + detached Studio/Game Room (20 feet away). Deck with patio heater & BBQ Grill, 5-person Jacuzzi Spa outdoor, 2-person jetted tub in Master BR.
Our waterfront community "Arundel on the Bay" attracts nature lovers and folks who enjoy the Chesapeake Bay. We are not waterfront...but pretty darn close! Our property is less than 40 yards to the water's edge, 1 block to the gated community pier and 2 blocks to the beach park with protected swim area and kayaks (our 2 kayaks are there for your use).
Paul has been welcoming, timely, and organized throughout the booking of the reservation and during the stay! We had a question about the circuit breakers and he responded quickly; he also stopped by and checked in to make sure everything was running smoothly. Loved the space, hot tubs, and the other amenities!
Emily
2016-12-04T00:00:00Z
This place is great! Paul did a great job communicating with us before and during our visit. Everything was as expected with the house. It comfortably slept 10 of us. A gorgeous spot a stone's throw from the Bay!
Donnie
2016-10-16T00:00:00Z
Our family's stay at the Crow's Nest was perfect! We had family members in town for our wedding in Annapolis and Paul's house, just a few steps from the water, was a perfect gathering place. Paul was a great host, accommodating our needs quickly and graciously and the house was exactly what we needed. And in the midst of a whirlwind weekend, Paul's note of congratulations was really appreciated! Thanks again for everything and we hope to visit again soon, maybe even in a season that we can take advantage of the great water and outdoor access this home afford.
Ellen
2016-11-20T00:00:00Z
Paul was a awesome host. He left us bottled water and check in via text everyday to make sure our trip was going well and we weren't having any issues. The house has plenty of room for up to 18 people in beds and even more with pullout couches and a nice aero air mattress. Kitchen had everything we needed. Additional separate from the house space next to the hot tub has two sets of bunk beds. Outside spaces of the house with multiple firepits was great. Bay Area with kayaks (2 single person) and a dock for fishing and crabbing (we caught a dozen crabs using chicken necks and crab lines bought at west marine) was a short walk away and was not crowded. Quiet residential neighborhood with grocery store and restaurants close by. I would recommend this place for one or multiple families. Great value and location.
James
2016-08-29T00:00:00Z
Paul's place was amazing and Paul was very accommodating through text. We will definitely be back again for another weekend getaway!
DENISE
2016-10-24T00:00:00Z
We had a wonderful vacation at the Crow's Nest Cottage. The home easily fit our group of six (four adults and two children). We really liked the neighborhood, and enjoyed taking the kids to the playground and playing basketball on the nearby court. Paul was an excellent host -- great communication and very accommodating of our check-in and check-out times. We had a great stay!
Elizabeth
2016-11-26T00:00:00Z
Enjoyed New Years weekend with a group of friends. We didn't leave the house all weekend, yet were comfortable and entertained. The fire pit and hot tub are great features.
Andrea
2017-01-01T00:00:00Z
Our leadership team (Student Assembly at Johns Hopkins School of Public Health) rented Paul's house for a weekend leadership retreat, and we all really enjoyed our visit. The house was very clean and was located in a quiet and beautiful neighborhood. It was awesome being basically ON the water in Annapolis. Paul was very accommodating towards our group's special needs to ensure that our retreat was a success. We hope to use his place again in the future!
Justin
2016-10-09T00:00:00Z
Room Type
Entire home/apt
---
Property Type
Villa
---
Accommodates
16
---
Bedrooms
Annapolis, MD, United States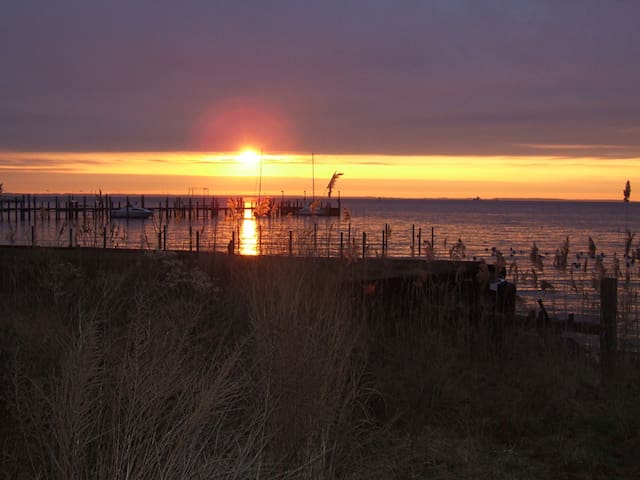 Penthouse Suite and Garden Suite in a romantic villa with private pool 20 minutes away from downtown Washington DC. Both suites for max 2 persons. Price quoted per suite and night.
Welcome in my villa in the Washington DC Metro region: a romantic Cape Cod with central air conditioning, carport and a huge garden with private pool (see photos). You can currently only the Garden Suite Book for a maximum of two persons. The Penthouse Suite is fully booked until further notice. Both suites are equipped with American Doubles queen! so you sleep like the princess (pardon: Queen) and the Pea. The PENTHOUSE SUITE has a separate entrance, parquet floor, a built-in desk, two small closets, and a full bath. The GARDEN / POOL SUITE has a separate entrance with direct access and views of the pool, wood-paneled walls, a closet and a shower. All guests are welcome to use the terrace entrance in the garden, with access to the communal dining room, living room, as well as country-kitchen with dishwasher, gas stove and a large fridge freezer. Cleaning Service (cleaning and washing) for a fee. LOCATION: The house is situated in a quiet, lush green area near several important main arteries of the Washington DC Metro region. Public transport: 10-15min walk from my villa, see the MARC train which transported during the rush hour in 20 minutes to the US Capitol. There are also several bus and metro lines nearby. By car you can reach the downtown Washington in less than 30 minutes on one of the main arteries (Connecticut Avenue or Georgia Avenue). If you would like to have less traffic lights, but more serenity, you can alternatively use the panoramic road through the forest (Beach Drive and Rock Creek Parkway). This panoramic road at Mormon Temple past you reach the downtown Washington comfortable and unstressed in 40-50 minutes (Caution: Deer Crossing!). Airport pick-up for 1 person (My car is a 2-seater): Dulles - $ 35 Reagan Nat'l - $ 25 Baltimore-Washington Int'l - $ 45 SIGHTSEEING and ENTERTAINMENT: In Washington DC, there are countless interesting museums (entrance often free), art galleries, concert halls, theaters, jazz clubs, dance clubs, cocktail parties and more, especially in summer and during the Christmas season. Ask your hostess! If you prefer to stay in the area, simply relax by the pool, your private oasis near the most powerful city in the Western world. Or go window shopping in Old Kensington (10 min walk), jogging, or take a bike tour along Beach Drive and Rock Creek Parkway. In short, there is plenty to do (or not) - you will not be bored.
LOCATION: The house is situated in a quiet, lush green area near public transport and several important main arteries Washington.
Room Type
Private room
---
Property Type
Villa
---
Accommodates
2
---
Bedrooms
Kensington, MD, United States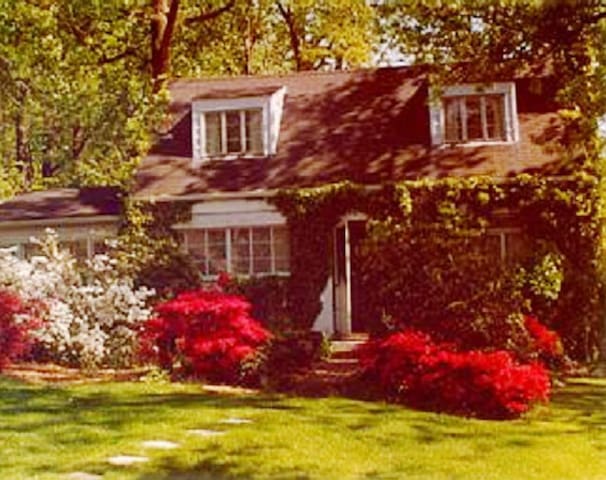 Enjoy the Cherry Blossom festival in DC.Perfect for groups travelling or solo travelers or families.Must stay two nights. Large open concept lends great space for entertaining. Let us customize your vision Chefs sized kitchen with island. HUUGE deck with seating for 25+. 3 Barbeque grills, one commercial size. VACATION AT YOUR "HOME AWAY FROM HOME"....... ! Family stays, Reunions, small bridals, girls night out, guys sports, weekend..iTS YOUR VACATION, NOT SHARED, AT YOUR OWN PRIVATE VILLA!
CLOSE TO DINING, FESTIVITIES, TANGER MALL OUTLETS, SHOPPING, PARKS, JOG , BIKE TRAILS.
QUIET, CLEAN, SAFE & GREEN
Awesome people. Very friendly and accommodating. Super easy to work with. Very spacious house that provides privacy for a large party. Would love to work with again.
Maveric
2016-05-23T00:00:00Z
Pamela was a gracious hostess and made herself available readily . The house was spacious and the neighborhood was quiet.
DeVonte
2016-02-07T00:00:00Z
Room Type
Entire home/apt
---
Property Type
Villa
---
Accommodates
10
---
Bedrooms
Fort Washington, MD, United States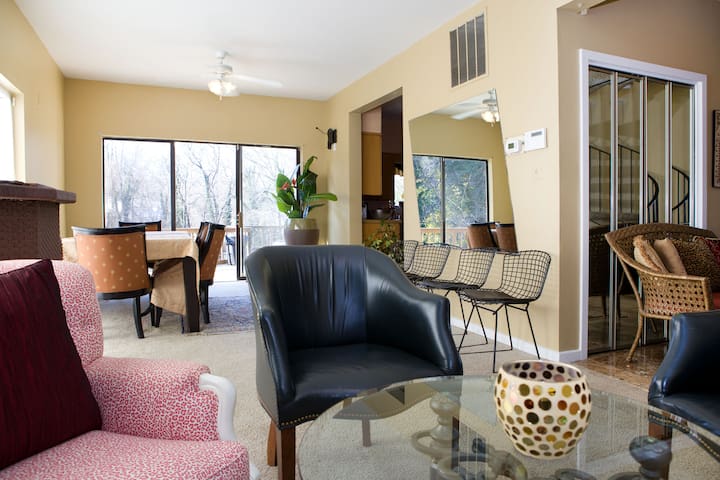 Waldorf - Airbnb
:
Average

4.47

out of

5

stars from

33

guest reviews
Enter dates to see the total trip price including additional fees (but excluding any taxes).