For those who love the mountains a quiet and typical one bedroom apartment for rent in Chete (village of Villa di Chiavenna) one of the most ancient villages of Bregaglia, surrounded by green chestnut woods, on the Swiss-Italian border.
The apartment, completely renovated respecting the original architecture, has independent access (with ski storage); bedroom, bathroom, livingroom with equipped kitchen area and a sofa bed. Washing machine availble. What to Do: Chete is strategically located. Ideal for families with children: from here simple and pleasant walks along the river or between the ancient villages of the area are easily achievable. Also ideal for hikers for the beautiful trails that offers the valley. Ideal for skiers (easy to reach the ski area of Madesimo and Engadine), for lovers of cycling or water sports on the lake or river. Very close to the renewed and starred restaurant "La Lanterna Verde". Curiosity: in Chete there is the small shrine of Our Lady of Health, erected in 1716 thanks to the contribution of Villesi emigrated to Venice, which in fact appointed the sacred building as the famous church on the lagoon.
The host canceled this reservation 3 days before arrival. This is an automated posting.
Giovanni
2015-08-04T00:00:00Z
Ottima accoglienza, appartamento molto ben curato e ristrutturato nel pieno rispetto delle abitazioni storiche della valle. Bagno e cucina in perfetto ordine, stoviglie nuove. Camera da letto graziosa e luminosa. Ingresso indipendente aggiunge ulteriore tranquillità ad una casa sita in un borgo ideale per chi cerca la quiete e il silenzio. La posizione strategica del paese permette inoltre di raggiungere l'Engadina in 30 minuti, con tante opportunità anche nella Bregaglia svizzera
Michele
2015-07-31T00:00:00Z
Room Type
Entire home/apt
---
Property Type
Apartment
---
Accommodates
4
---
Bedrooms
Villa di Chiavenna, Lombardia, Italy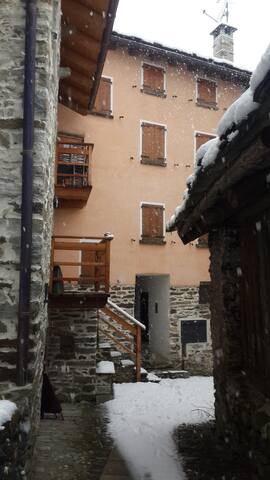 My accommodation is close to beautiful panoramic views, parks, hiking "Via Bregaglia". You will like my accommodation for these reasons: the atmosphere, the garden, the neighborhood, the comfort of the sofa bed and the light. In the frame of Piuro village rich in history, culture, gastronomy and natural landscapes. My accommodation is suitable for couples and lone adventurers. Located next to Our Crotto Belvedere.
Room Type
Entire home/apt
---
Property Type
Apartment
---
Accommodates
2
---
Bedrooms
Prosto, Lombardia, Italy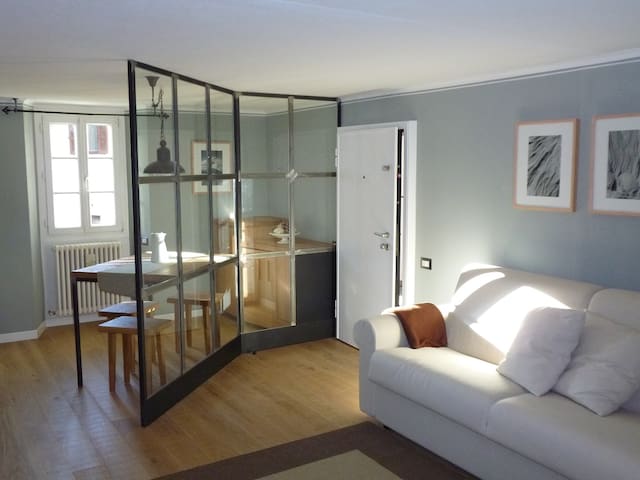 Beautiful holiday flat in Soglio. A few meters outside the town's center. The apartment offers an ideal starting point for hiking tours to the mountains and/or sightseeing the Bergell. Internet connection will be available in spring 2017!
Wir haben uns sehr gefreut in dem schönen Dorf Soglio übernachten zu können als Stützpunkt für unsere wunderschönen Wanderausflüge in der Gegend. Die Eigentümmer sind sehr symphatisch und hilfsbereit. Die Wohnung selbst ist klein und einfach, aber alles war sauber und alles wesentliche ist vorhanden. Das wir die schöne Terrasse mit Aussicht vor den Haus nützen durften, war ein grosses Plus.
Socrates & Martina
2016-09-09T00:00:00Z
Kleine, zweckmässig eingerichtete Wohnung, bestens geeignet für Schönwetterferien. Leider keine Aussicht auf das wunderschöne Bergpanorama rund um Soglio. Äusserst freundliche Gastgeber.
Christian
2016-08-07T00:00:00Z
Sehr herzlicher Empfang von den Gastgebern. Die Wohnung ist klein, aber fein und hat alles, was man braucht. Idyllisches Dorf, sehr ruhig gelegen und gastfreundlich. Wir können es wärmstens empfehlen.
Rahel
2016-07-18T00:00:00Z
Die Wohnung in Soglio ist klein aber fein und hat alles was man braucht. Die Kommunikation mit den Gastgebern war unkompliziert und das Gespräch bei einem Kaffee mit Aussicht auf die Berge sehr interressant. Auf dem Sitzplatz kann man einen langen Wandertag perfekt ausklingen lassen. Kann es nur empfehlen!
Meret
2016-04-22T00:00:00Z
Room Type
Entire home/apt
---
Property Type
Apartment
---
Accommodates
2
---
Bedrooms
Bregaglia, Graubünden, Switzerland
Elvezia The Observatory is located in a historic building, known in Chiavenna as "The Observatory", a short walk from the typical "Crotti" of Chiavenna, local restaurants are situated within the vicinity of natural caves. We are 50 meters from the train and bus, with the square where there are bars, restaurants and shops including a wine shop and a fresh pasta shop. The accommodation was renovated in 2015 keeping the original wooden elements. Enjoy the view from the living room and balcony.
In LOVE with this place, gorgeous view and local to restaurants. Very clean, private parking, and fast wifi. Absolutely nothing to complain about!
Jillian
2017-03-12T00:00:00Z
Paolo was great and accommodating when we were not able to arrive for the normal check in time. The appartment was clean,lovely and cosy, perfect for a weekend in the mountains!
Aurora
2017-02-19T00:00:00Z
Paolo was very welcoming and also gave us a lot of good advice to make the most of our visit to Chiavenna. The apartment was great, well located near the railway station, supermarket and eateries. the kitchen had everything, the bed was comfortable and wifi excellent, couldnt find fault.
Peter
2016-10-06T00:00:00Z
Ottima esperienza, centralissimo e molto bello.
Michela
2016-10-03T00:00:00Z
Ottimo appartamento a Chiavenna per posizione, pulizia, prezzo e caratteristiche.
Dimitri
2017-03-04T00:00:00Z
Room Type
Entire home/apt
---
Property Type
Apartment
---
Accommodates
4
---
Bedrooms
Chiavenna, Lombardia, Italy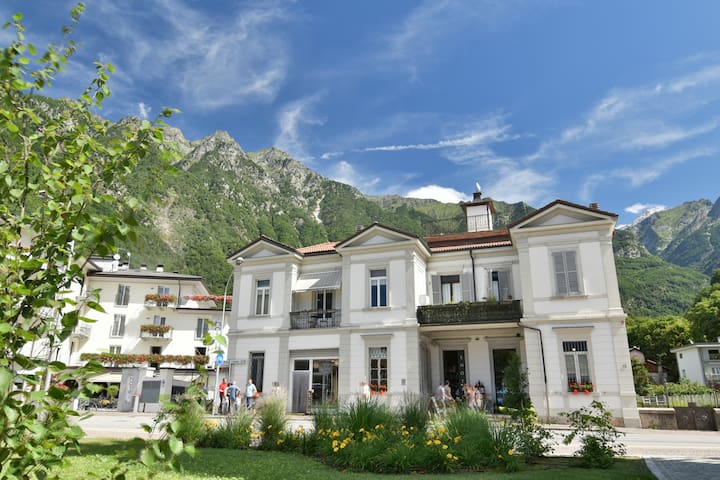 Meine Unterkunft ist im unberührten Berg Tal, Stille und Musse erwarten sie. Lieben sie das Rauschen des Flusses? Hier gibt's kleine Dorfläden, Restaurants, Crotti , schöne Kirchen, ausgezeichnete Speiserestaurants, Wanderwege, viele Kletterrouten, Bushaltestelle.. alles in der Nähe. Hier haben wir im Frühjahr bis Herbst die Wärme des Südens. Ab November scheint die Sonne auf den Südhang, ab Januar scheint sie wieder auf unser Haus. In nur 5 Fahrminuten sind sie auch im Winter an der Sonne .
Geeignet für Natur und Kultur liebende Paare und Kleinfamilien. Einfache und Zweckmässige Unterkunft. Waschmaschine. Kleine gemütliche Räume mit Arven Decken. Kein Fernseher, aber Internet. Direkt am Fluss und an der Strasse nach Soglio.(schönstes Dorf der Schweiz 2015). Gratis Parkplatz neben dem Haus. Regelmässige Busverbindungen nach Soglio (5 min. und 20 min. nach Chiavenna, ein kleines, malerisches italienisches Städtchen.
Annemieke war sehr gastfreundlich und hilfreich. Wir haben wirklich einen schönen Aufenthalt in ihrer Wohnung gehabt!
Sara
2016-12-29T00:00:00Z
Room Type
Entire home/apt
---
Property Type
Apartment
---
Accommodates
3
---
Bedrooms
Promontogno, Graubünden, Switzerland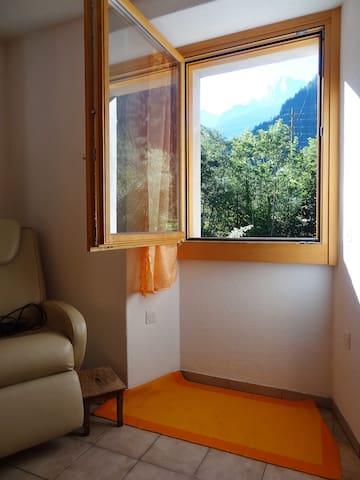 Fast Access Flat Breakfast in the historic center of Chiavenna, StreetFrancesco Dolzino 89, at 100m from the station, both station and the bus, free parking nearby, a few kilometers of the Falls, and Madesimo.
The unit is equipped with a kitchen. A TV is featured, electric heater, electric heating, Pellet stove, we have linens and Fresh Towels and laundry detergent.
Myself and a friend stayed in this apartment and we had an absolutely wonderful time! The apartment is situated in an ideal location in Chiavenna, two minutes away from the train station with a supermarket and other amenities very close by. The apartment itself is spacious, very clean, and comes with everything you need. Mariela was excellent at communicating with us, and arranging arrival and departure. Thanks for a great stay!
James
2016-08-07T00:00:00Z
The host canceled this reservation the day before arrival. This is an automated posting.
Andreas
2017-03-11T00:00:00Z
Nice place and well located.
Stefano
2016-12-27T00:00:00Z
Mariela was very kind and had thought of everything. She even gave us some good advice on sights to see.
John
2016-09-05T00:00:00Z
This was a wonderful Chiavenna experience. Thank you Mariela for making it possible. The apartment is the perfect base for discovering the old town of Chiavenna and the surrounding alpine wilderness. We were especially charmed by the apartment location in the pedestrian-only medieval town center. We were able to park the car very close by. The charm and history of the surroundings was a big positive part of our stay. The apartment is simple, but well-appointed, big enough, though not huge and very private. We cooked our own meals in the evenings and packed picnics for our day-excursions to Daloo (the cross at the top of the mountain overlooking Chiavenna - spectacular view and hike!), to the tiny, ancient Roman chapel - San. Fedelino from the 10th century - and a beautiful hike through the Swiss mountains above Sils Maria. All-in-all Mariela's apartment is a memorable and highly recommendable place to stay.
Erika
2016-09-21T00:00:00Z
This was our best experience in Airbnb. All was perfect, the location, the hosts, everything! We recommend this place for all the travelers who want to discover this beautiful city! Tks!
Ernesto
2016-09-08T00:00:00Z
The flat is tiny but well appointed. The kitchen has all you can need and The breakfast provided was delicious. We had a really pleasant stay and we would go back again. L'appartamento e piccolo ma molto confortevole. La cucina ha tutto il necessario per poter cucinare. La colazione che ci e stata lasciata era variata e deliziosa. Ci siamo trovati veramente bene e dovessimo tornare a Chiavenna ci piacerebbe tornare nello stesso appartamento.
Manuela
2016-07-27T00:00:00Z
Ho preso in affitto l'appartamento di Mariela per dei miei parenti in visita a Chiavenna.Tutto perfetto.Casa ben attrezzata nel centro di Chiavenna,a pochi passi da tutti i servizi.Mariela ha fornito tutto il necessario per una buona prima colazione e, ha gentilmente messo a disposizione prodotti senza glutine da me richiesti.Lo consiglio per il vostro soggiorno a Chiavenna!
Vittoria
2016-10-31T00:00:00Z
Room Type
Entire home/apt
---
Property Type
Apartment
---
Accommodates
3
---
Bedrooms
Chiavenna, Lombardia, Italy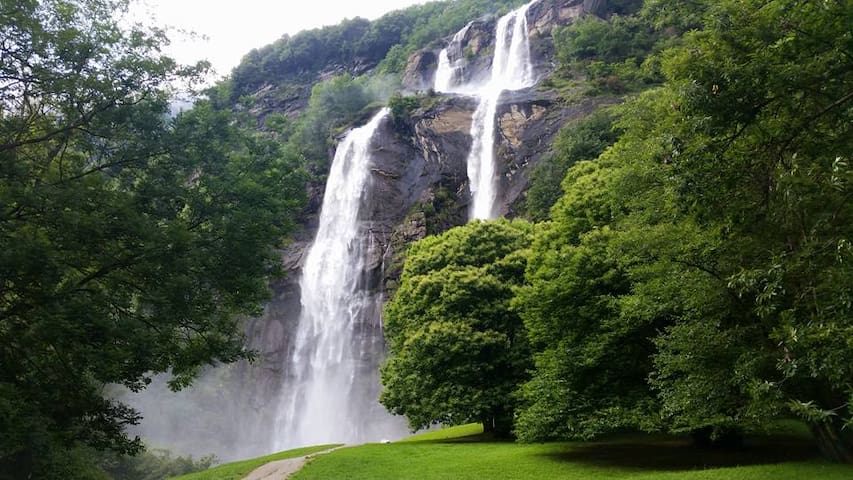 We are in the hamlet of San Carlo, a10-minute walk from the center of Chiavenna. It is a newly renovated apartment, on the second floor of a historic house. It spreads over 2 floors and is equipped with kitchen, 2 bedrooms (the first bedroom with 2 double beds and one single bed, the second with a double bed and one single bed), 1 bathroom with shower and 1 bathroom with balcony heating with pellet fireplace. We are in a quiet and panoramic area, with parking in front of the house. The slopes reach more 'rapidly in Madesimo - 19 Km, about 30 minutes by car or bus from the station to Campodolcino Chiavenna, then with Skyexpress train. Saint Moritz at 48 km from home, on the slopes in one hour by car via the Maloja Pass. Lake Como at less than 1 hour.
Wonderful experience staying in a multi story house in an old village. The house was fully equiped with good wood fired heating. The welcome was warm and generous.
Elizabeth & Ross
2016-10-16T00:00:00Z
L'esperienza nella casa di Francesca è stata ottima. Siamo stati accolti calorosamente, la casa è molto carina e calda, ci sono tutti i comfort e per qualunque necessità Francesca e sua madre sono persone molto disponibili. Consigliatissimo!
Samuele
2016-03-12T00:00:00Z
Ho trovato persone gentili e disponibili, e l'appartamento era in perfette condizioni!
Luigi
2016-05-31T00:00:00Z
Room Type
Entire home/apt
---
Property Type
Apartment
---
Accommodates
7
---
Bedrooms
Chiavenna, Lombardia, Italy
House "romantic" Chiavenna, Apartment in the city center. Via the "Montenapoleone" Chiavenna. Villa, apartment of 48 mt, "furnished with modern comforts. 1 Bedroom 1 Living room with sofa bed kitchenette Bathroom.
great location, with relaxed atmosphere
city center. You'll find shops, traditional restaurants called "Crotti", cafes and bars.
Giovanni' s place is wonderful, it's location couldn't be better and it has everything you need for a comfortable stay. Everything is in walking distance so a car is not needed but you can park for free by the train station if needed. The host was easy to contact and very helpful will definately be returning Gracie Giovanni
Glenda
2017-01-02T00:00:00Z
Excellent experience. Right in the heart of Chiavenna. Clean, functional and comfortable. The communication with the hosts was smooth and we had a nice welcome gesture. I would totally recommend this apartment.
Wassim
2016-04-25T00:00:00Z
Ottima soluzione per un soggiorno di relax e di sci (Campodolcino da cui si accede alla skiarea di Madesimo dista 20 minuti). Appartamento nuovo nel centro storico di Chiavenna. Giovanni e la sua compagna ci hanno dato il supporto necessario. Consigliato.
Paolo
2017-03-05T00:00:00Z
Room Type
Entire home/apt
---
Property Type
Apartment
---
Accommodates
4
---
Bedrooms
Chiavenna, Provincia di Sondrio, Italy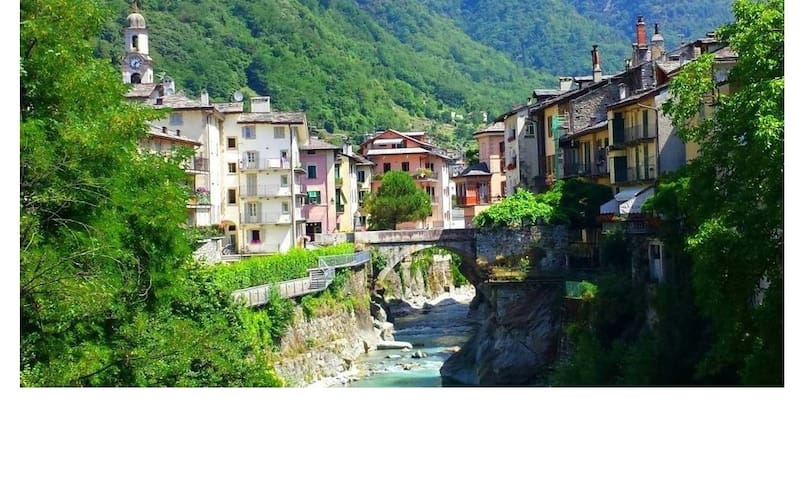 ANNEX HOTEL BREGALGIA. 145 QUADRATMETER AUF EINER ETAGE.
Room Type
Entire home/apt
---
Property Type
Apartment
---
Accommodates
6
---
Bedrooms
Bregaglia, Graubünden, Switzerland
Fantastic apartment in Chiavenna in a step from the center and a few km from Madesimo, St. Moritz and Lake Como. Very spacious and bright, with 2 large balconies, a beautiful garden and a parking space. Ideal for families or groups of friends.
The apartment is characterized by a privileged position to reach the historic center of Chiavenna, but at the same time immersed in greenery and tranquility and enjoys a unique view of our mountains.
Very close to the historical center. Many bars, restaurants, supermarkets and shops of all kinds in the immediate vicinity.
The host canceled this reservation 8 days before arrival. This is an automated posting.
Oscar
2016-07-09T00:00:00Z
Gianna was very accommodating and genuinely interested in our travels. The apartment met all of our needs and more. My husband and I had a very enjoyable and memorable stay. There are several grocers and restaurants within an easy walk. Gianna is very hospitable and provided lots of information about the points of interest in the area. We would not hesitate recommending Gianna's apartment while visiting this part of Italy.
Denise
2016-07-22T00:00:00Z
This is one of those airbnb experiences that makes you go "wow, how did I get so lucky?" The apartment is airy and beautiful—the entire top floor of the house, with a wraparound balcony with comfortable chairs to sit in while you ogle the spectacular landscape. The location is wonderful—two blocks from the center of Chiavenna, ten minutes' walk from the train station. And Gianna is a fantastic and accommodating host. Basically, it's a lovely home in the middle of one of the most beautiful places in the world.
Benno
2016-06-27T00:00:00Z
Gianna immediately made us feel at home. The home was beautiful and new, there was chocolate and water in the fridge. Chiavenna is absolutely gorgeous and a 5 minute walk to old town. Gianna in a pinch even did our laundry! She went above and beyond. Would definitely recommend this place. Easy parking too.
Lanakila
2016-07-15T00:00:00Z
We felt really welcomed and at home at Gianna's place. She is a sympatic and caring host and has receently equipped the appartment above her own apparment for guest. The appartment is equipped with everything you need and was very, very clean. Our room was orientated to the garden, so it was very calm and with a beautiful view in the morning over the valley. Grazie, Gianna!
Leonie
2016-04-16T00:00:00Z
Gianna's apartment was as described in her listing, very spacious and very clean with a beautiful view of the mountains out of the living room and bedroom. The location is nice, not a far walk from the center of town. Gianna made us feel very welcome during our stay, even with a language barrier. One can tell that she is a very caring and sweet person, and this is reflected in her apartment and how she treats guests. Thanks again, Gianna!
Shane
2016-05-25T00:00:00Z
Lovely apartment in very convenient location, perfect for us on a biking holiday. We didn't meet Gianna as she was away, but had left lovely breakfast things out for us. We really enjoyed the stay.
Lauren
2016-09-16T00:00:00Z
Everything was perfect! Sadly we only had one night to benefit from Gianna´s wonderful apartment - I absolutely recommend this place to stay and hope to come back myself.
Sabine
2016-07-24T00:00:00Z
Room Type
Entire home/apt
---
Property Type
Apartment
---
Accommodates
7
---
Bedrooms
Chiavenna, Lombardia, Italy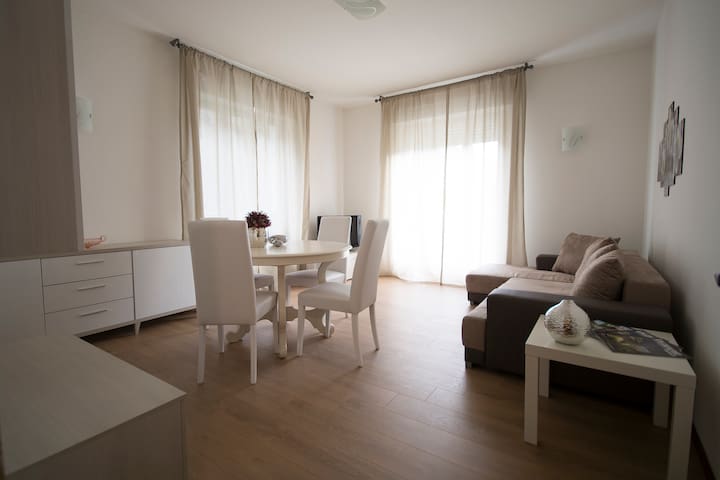 The flat was recently restructured to offer a beautiful modern bathroom and heating system, while keeping the charming wooden floors and fireplace for the winter. The kitchen is fully equipped since the flat is a primary residence some months of the year. You will find sheets, towels, appliances, TV, and even a Nespresso coffee machine. There are two large bedrooms with two king-size beds, one can be separated in two single beds if needed. A baby cot is also available. A small balcony with mou
We stayed at the appartement of Lili for 2 nights and really had a joyfull stay. The appartement is well equipped and we had everything we needed to cook and eat. Next the bathroom is very modern and has a very good shower. Also the village of Chiavenna offers the opportunity for a joyfull walk through cozy streets and offers splendid views on the Alps.
Didier
2017-03-12T00:00:00Z
Siamo stati accolti dal padre puntualmente come da accordi telefonici, rivelandosi gentile e disponibile. Tranquilla la zona, vicina al centro (zona pedonale). La casa è stata all'altezza delle aspettative e della descrizione.
Bianca
2016-09-11T00:00:00Z
Alles gut. Sehr herzlicher und höflicher Empfang und aufmerksame Umsorgung. Wir haben uns sehr wohl gefühlt.
ole
2016-09-28T00:00:00Z
Heinz, der Vater von Frederic hat uns die Wohnung übergeben. Er ist ein wunderbarer Gastgeber, mit dem wir gerne mehr Zeit verbracht hätten. Nächstes mal müssen wir den geplanten Gang in ein Café nachholen. Die Wohnung liegt sehr zentral, dennoch ruhig. Supermarkt, Pizzeria, Sportgeschäft usw., alles nur ein paar Minuten entfernt. Auch der sehr schöne, alte Stadtkern ist sehr schnell zu Fuss erreichbar. So macht Airbnb Spass. Wir wollen sobald wie möglich wieder kommen.
Thomas
2016-10-15T00:00:00Z
L'alloggio di Frederic è dotato di ogni comodità ed è vicinissimo al centro storico di Chiavenna, che è quindi raggiungibile a piedi. Frederic ed i suoi genitori si sono dimostrati davvero molto gentili e disponibili.
Simone
2016-10-02T00:00:00Z
Vicino al centro ma fuori dala zona a traffico limitato parcheggio agevole silenzioso riscaldamento autonomo bagno nuovo letto comodissimo. La casa è data contenente tutto ciò che appartiene ai proprietari comoda la seconda stanza per mettere i propri abiti e oggetti
Annalia
2017-02-12T00:00:00Z
Splendida la vista delle stelle dal balcone di casa! Ho potuto vedere andromeda e la nube di orione senza il binocolo! Amazing!! Ci e' piaciuta la casa e il washlet in bagno era veramente incredibile :) E poi come ci ha consigliato, siamo andati alla cascata a piadi, bella vista! Nonostante i muscoli mi facciano male, e' stato bellissimo. Grazie mille!
Davide Ilie
2017-02-19T00:00:00Z
Heinz ci ha accolto nel migliore dei modi:con competenza e cordialità ci ha mostrato il suo appartamento che abbiamo trovato in ordine e pulito;ci ha illustrato e suggerito itinerari interessanti e ha trovato anche il tempo per fare due chiacchiere davanti ad una tazzina di caffè! Nella casa abbiamo trovato tutto ciò di cui si può aver bisogno, la camera da letto calda e confortevole, unica (URL HIDDEN) cucina, piccola e poco agevole.
Miriam
2017-01-01T00:00:00Z
Room Type
Entire home/apt
---
Property Type
Apartment
---
Accommodates
4
---
Bedrooms
Chiavenna, Lombardia, Italy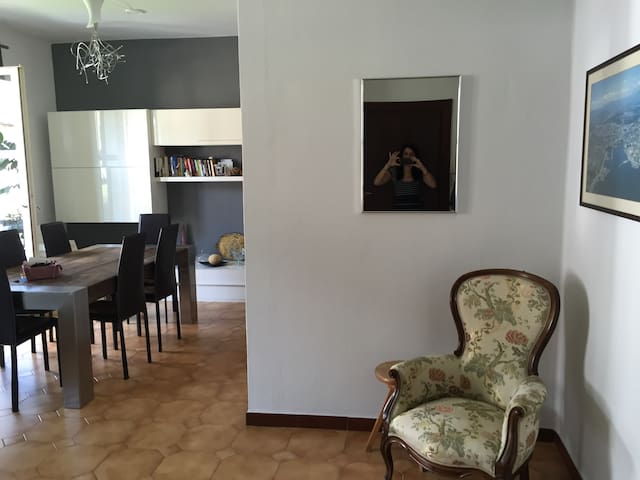 I nostri appartamenti LILLI e TITTI hanno un suggestivo soppalco con capriata a vista e si affacciano su un terrazzo di ringhiera. Completi di angolo cottura, bagno privato con doccia, sala, camera, riscaldamento autonomo, tv, WI-FI FREE e ARIA CONDIZIONATA. Siamo in pieno centro storico a Chiavenna in via Dolzino, sulla centralissima piazza Bertacchi, nel suggestivo centro storico a pochi kilometri da Madesimo, Lago di Como, St Moritz.
Curato, accogliente, completo di ogni servizio e elemneto di accoglienza.
Essendo in pieno centro storico abbiamo tutto a postatat di mano: Banca 10m Supermarket 100m Stazione treni - pulman 150m Farmacia 100m Ospedale 300m
Room Type
Entire home/apt
---
Property Type
Apartment
---
Accommodates
5
---
Bedrooms
Chiavenna, Lombardia, Italy
Our management philosophy of sensitive, promotes closer tourist service that meets your needs by proposing an offer enriched by small and important details. Our apartment is located in Chiavenna in via Dolzino, the central Piazza Bertacchi, in the historic center just a few kilometers from Madesimo, Como Lake, St. Moritz.
Room Type
Entire home/apt
---
Property Type
Apartment
---
Accommodates
6
---
Bedrooms
Chiavenna, Lombardia, Italy
Cozy apartment on the third floor of an old house renovated with elevator overlooking the most beautiful square in Chiavenna, has two bedrooms, two bathrooms, kitchen, living room with loft-studio.
3/4 people can stay in accommodation, since the first room has a double bed and in the second a bed of a square and a half. If necessary it is also a removable cot. Despite being located in the center of Chiavenna, the apartment is very quiet.
Pestalozzi square, surrounded by old houses and quaint, you can define the main point of the center of Chiavenna. The cobbled pedestrian streets, the views on the medieval streets and the Alps as a backdrop make this evocative location.
Renata was very welcoming and showed us around and made a number of useful recommendations. The property is lovely and right in the centre of Chiavenna - great location, very spacious.
Christopher
2016-01-03T00:00:00Z
Proprietari molto disponibili già dalle fasi prima della prenotazione, cordiali e veloci nelle risposte, alloggio comodissimo in centro a Chiavenna silenzioso, comodo e spazioso... lo consiglio vivamente a chi vuole rilassarsi e avere un comodo punto di partenza per le passeggiate e le escursioni nei dintorni. Ci ritornerei sicuramente... Grazie
Massimiliano
2017-01-02T00:00:00Z
Renata was op de afgesproken tijd aanwezig in het appartement. Het appartement was zo als het aangegeven is in de advertentie. Het appartement is midden in het centrum van Chiavenna met gezellige terassen en winkels .Alles was aanwezig in het appartement goede keuken .Goede bedden rustige slaap kamer achter kant appartement. Met vriendelijke groeten Freek en Inek(URL HIDDEN)
Freek
2015-09-14T00:00:00Z
Appartamento superbello e molto spazioso in pienissimo centro di Chiavenna. Assolutamente consigliabile!
Markus
2015-06-29T00:00:00Z
Room Type
Entire home/apt
---
Property Type
Apartment
---
Accommodates
4
---
Bedrooms
Chiavenna, Lombardia, Italy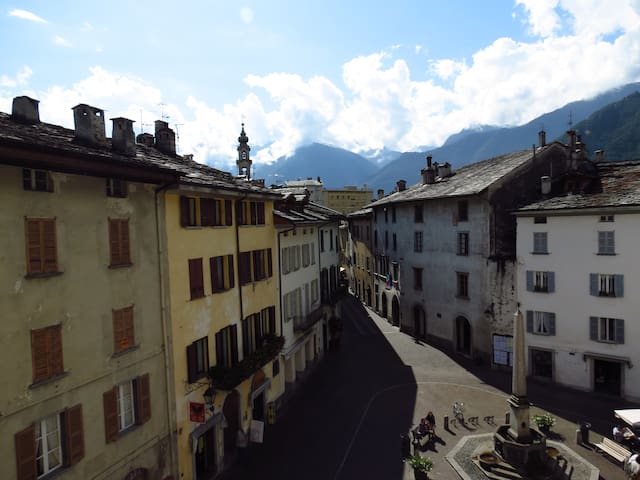 Gorgeous loft '' House on Mera '' dislocated in a quiet street of the city of Chiavenna. Beautiful historic center, a 5-minute walk. Beautiful apartment '' House on Mera '' dislocated in a quiet street of the city of Chiavenna. Beautiful old town, a 5-minute walk.
Beautiful loft of 120 square meters consisting of two double rooms, a bedroom with two single beds, large living room, kitchen, two bathrooms (one with shower and one with bath), double terrace. Apartment is equipped with crockery. More will enjoy: parking, wi-fi internet, cable TV, washing machine, dishwasher, hairdryer, iron, bed linen and towel sets are included on receipt. It can be added on request cot and high chair for the baby food (free). Beautiful apartment of 120 sqm Consists of two double bedrooms, one bedroom with two single beds, large living room, kitchen, two bathrooms (one with shower and one with bath), double terrace. The apartment is equipped with crockery. Plus you can enjoy: parking, wi-fi, cable TV, washing machine, dishwasher, hairdryer, iron, set of bed linen and towels are included in the price. It can be added upon request cot and high chair for the baby food (free).
The neighborhood where the house on Mera is very quiet and has a very strategic location close to the historic center, with the sports field where we start a beautiful bike path. Customs with Switzerland to St. Moritz is located in distance of 7 km. Splügenpass 30 km. Milano 126 km. Lake Como 30 km. The neighborhood where the house on Mera is very quiet and has a strategic location near the old town, with the sports field where it begins a beautiful bike path. Customs with Switzerland in St. Moritz is 7 km. Splügenpass 30 km. Milano 126 km. Lake Como 30 km.
This apartment is awesome. Clean, cozy, with balcony, roof terrace and great views of mountain peaks and old city of Chiavenna. Thanks to Yulia for the nice welcome and all the information about where to go and what to do in Chiavenna!
YURIY
2017-03-13T00:00:00Z
What can I say, but wow. There was a little hesitation to rent this apartment vs a different one that had more reviews but we took a change and glad we did. It was just myself and my wife but we could have had our entire family stay very comfortably. The apartment is as described and we kept the doors open at night so we could fall asleep to the sound of the river off of the back room and in the morning, we sat on the patio to drink coffee and see the sun hit the Italian alps. The walk to the city square was very close. We had delay's arriving so it was well after midnight when we got to the apartment and I was worried that we didn't know how to get in but Yulia received us that late and still showed us everything. It was a new listing so there were a few items they had forgotten to place but without asking they ran them over to make sure we had everything. They continued to show us the map of the city, the best place for breakfast and the best Caprese Salad we have had in all of Italy. I don't know if they realize the high bar that they set but they made us feel like we were family and friends for life. Thank you Yulia, Massimo (husband) and Yan (son) for such warm experience to Chiavenna, we will have to come back to enjoy all it has to offer and bring our whole family next time and stay longer, such a beautiful area and we didn't even begin to see it all.
Jason
2016-07-09T00:00:00Z
A perfect stay with Yulia in the lovely City of Chiavenna. Yulia could not have been more helpful or welcoming throughout our stay. The apartment is in excellent condition throughout and all of the kitchen equipment and appliances seem to be brand new. It was our best Air B and B experience and we will definitely return. Thank you again Yulia for all your help
Timothy
2016-09-16T00:00:00Z
This was probably one of the best places we have stayed through AirBnB. Yulia is a great hostess, who greeted us and showed apartment as well as explained all the points of interest in Chiavenna. There is a wonderful bakery short walking distance from the apartment where you can enjoy breakfast. The apartment itself is simply amazing, it is absolutely pristine and spotless. It's very large, nicely decorated and has a terrace and a balcony. We had a very good night sleep with fresh mountain air and very comfortable bed. Highly recommend this place to everyone.
Slavyana
2016-07-14T00:00:00Z
Yulia is a great, warm and caring host. We felt like staying over at a relative. She recommended best Café for breakfast & things to do. Communication's easy & responsive. We were two couples, place's perfect for with 2 doubles (there is a seperate children's room too)&2 bathrooms, big kitchen and most favorite- large balcony with great view of the mountain. We will definitely go back there again since there are still so many things to explore around. Location is not too far from the center by foot and it is in living area, rather nice and quiet. We were glad we picked this listing and can really recommend it further.
Sukrittaya
2016-08-01T00:00:00Z
Very punctual and warm reception by Yulia. Clear presentation of all facilities. Immaculate apartment, very spacious, comprehensively equipped and lovely roof terrace with spectacular views. Highly recommend this delightful listing. Well done Yulia.
Anthony
2016-08-09T00:00:00Z
Schöne große Wohnung mitten in Chiavenna. Yulia war sehr freundlich und hilfsbereit. Parkplatz direkt vor den Haus. Für eine Nacht fast zu schade. Wir kommen gerne wieder.
Manfred
2016-08-19T00:00:00Z
Room Type
Entire home/apt
---
Property Type
Apartment
---
Accommodates
6
---
Bedrooms
Chiavenna, Lombardia, Italy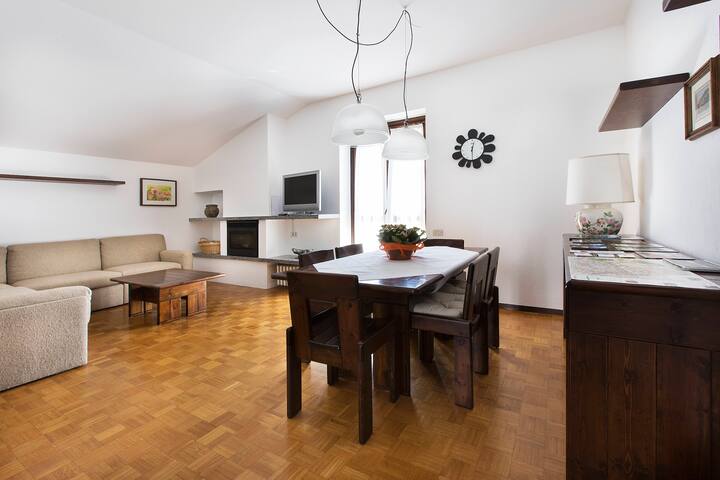 Close to the center, located in a private manor court, our property is furnished and equipped to make your stay comfortable and relaxed in Chiavenna total confidence, friendliness, kindness, peace
The apartment is nice, new and clean. We were only there one night, but it was great.
Chris
2016-05-31T00:00:00Z
What a wonderful stay in Chiavenna! Marco's mother gave us a warm welcome to the small but comfortable apartment. The mountain views surrounding the apartment were amazing and the terrace was a great place to spend a summer evening!
Evan
2015-07-16T00:00:00Z
4 out of 5 We loved staying at Marco's parent's B&B. They were very friendly and the apartment was very clean. It was very easy to find (there is a sign out front) and very well priced. The bed was extremely comfortable, the house a good size and quiet. It is close to Piper Bar which has good food and drink and awesome free internet. The one major complaint is there is not really a comfortable place to sit. There are dining chairs at a dining table and a bad futon type couch which is impossible to sit for any length of time at to read. Again, as most other people are there for such a short time, sitting around in the apartment probably isn't a high priority. I would certainly recommend the apartment to anyone looking for a quick stop over in Chiavenna. We are already planning our next trip.
Lance
2016-05-30T00:00:00Z
Appartamento spazioso e completo di ogni comfort, a pochi passi dal centro, ideale per un soggiorno di qualsiasi durata. Vivamente consigliato!
Enrico
2016-09-06T00:00:00Z
Appartement rénové à neuf, très fonctionnel.Accueilli par le papa de Marco qui nous a très bien renseigné puis hôtes très discrets.
crystelle
2015-08-21T00:00:00Z
Room Type
Entire home/apt
---
Property Type
Apartment
---
Accommodates
4
---
Bedrooms
Chiavenna, Lombardia, Italy
Large highly functional studios, modern, equipped and colorful. All composed of: - Kitchenette - Private bathroom with shower or bath tub - 1 double bed - 1 extra bed Recommended for couples and families (max 4 people) Common areas - Free Services: - Large garden - private parking - Sun balcony - wifi - Courtesy kit
NB: The apartments are part of the structure described Studios B & B Guest House Valchiavenna, ideal for couples, families and also very Groups that I can stay in different apartments (studios, two and three) all present in the same building. Last restructure: June 2015 !!! All studios, colorful, modern and equipped, consist of a kitchenette Equipped with a fridge, double bed and LCD TV, double bed in the loft with 2 beds or bunk bed, private bathroom with sink, toilet, bidet and shower tub or bathtub. The studios are located on the first floor, reachable by elevator, are equipped with large bright windows and can enjoy the spacious balcony for common use of the studios to relax and admire the surrounding mountains.
District very calm, quiet, relaxing, very sunny, 2 steps from Chiavenna center and a few minutes drive from the most famous tourist and sporting attractions of the Val Chiavenna, Spluga Valley (Madesimo and Campodolcino), Bergell and the Upper Engadine (St. Moritz) and Lake Como. Please note that the city Chiavenna is slow food where you can taste the typical products like bresaola, pizzoccheri, Sciat, Polenta ... (otherwise I will stop hungry). Everything always accompanied by famous local wines.
Marco was a great and very attentive host. He conveniently lives next door, and was always available when we needed something. The room is basically a small studio, well equipped, clean, and functional.
Katalin
2016-03-25T00:00:00Z
The room was very clean and modern, and the location is relaxing and very convenient for cyclists wishing to climb Passo di Spluga and other great climbs in the Chiavenna area. Marco was very friendly and helpful. This was a good value and a very pleasant experience for me!
Teo
2016-09-13T00:00:00Z
Appartement was spacious and nice. Marco was professional.
Izidor
2016-07-23T00:00:00Z
Super friendly service, nice bed and perfect recommendation for our activities.
Therese
2016-01-30T00:00:00Z
Marco welcomed us on arrival and was very helpful sharing tips for places to eat and see. The location is perfect for a stay in Valchiavenna. The room (mono for 4 people) we had is furnished to a very good standard, quiet and clean. Private parking and wifi are also very handy
Valeria
2015-08-30T00:00:00Z
Marco is a warm and enthousiastic host. Our apartment was small and rather 'hot' (it's wasn't easy to cool it down). But it was very clean and the infrastructure was good: (small) kitchen, nice shower, good bed, parkingplaces, a garden with rest and peace.
Kristien
2014-07-29T00:00:00Z
Marco was friendly. The room was very tidy and comfortable.
Gail
2014-08-01T00:00:00Z
Marco was a wonderful host! He was kind and thoughtful and greeted us at the door. He also gave us a wonderful dinner recommendation as well.
Natalie
2016-01-23T00:00:00Z
Room Type
Entire home/apt
---
Property Type
Apartment
---
Accommodates
4
---
Bedrooms
Chiavenna, Lombardy, Italy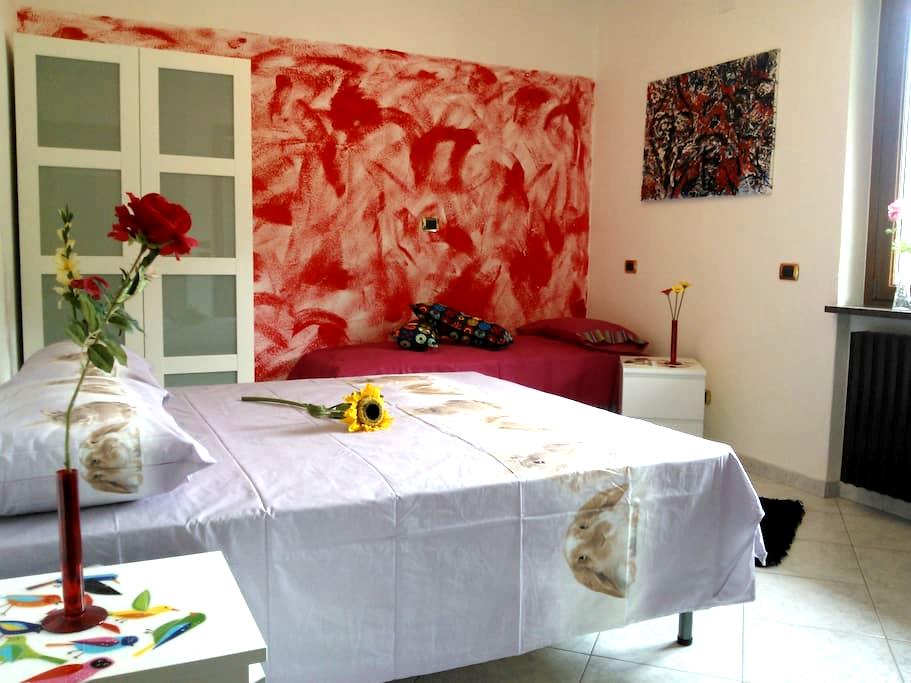 Moderno Bilocale Accessoriato con 2 balconi privati vista giardino e montagna. - Soggiorno-Cucina attrezzato - Zona notte matrimoniale - Bagno privato con doccia e vasca - 1 Camera Quadrupla GRATIS: wifi, parcheggio, riscaldamento, giardino
NB: L' Appartamento Bilocale descritto fa parte della struttura B&B Affittacamere Valchiavenna, ideale per Coppie, Famiglie ed anche Gruppi molto numerosi che posso alloggiare nei diversi appartamenti (monolocali, bilocale e trilocale) presenti tutti all'interno dello stesso edificio. Ultima ristrutturazione: Giugno 2015!!! L'appartamento è composto da una Cucina-Soggiorno con divano letto matrimoniale in pelle, una zona notte da 2 posti letto (2 letti singoli o 1 letto matrimoniale), una ampia camera da letto con 1 letto matrimoniale e 2 letti singoli, un ampio bagno privato completo di lavabo, WC, bidet, doccia, vasca da bagno e lavatrice! L'appartamento è inoltre dotato di due ampi balconi attrezzati vista giardino e montagna dove è possibile mangiare oppure rilassarsi prendendo il sole.
Quartiere Tranquillissimo, silenzioso, rilassante, soleggiatissimo, a 2 passi dal centro di Chiavenna e a pochi minuti di auto dalle più famose attrazioni turistiche e sportive della Val Chiavenna, Valle Spluga (Madesimo e Campodolcino), Val Bregaglia ed Engadina (St Moritz) e Lago di Como. Si ricorda che Chiavenna è città slow food dove potrete degustare i prodotti tipici come Bresaola, Pizzoccheri, Sciat, Polenta ... (mi fermo altrimenti viene fame). Il tutto sempre accompagnato da rinomati vini locali.
Quest'anno, io e dei miei amici, abbiamo deciso di trascorrere il Capodanno sulle piste da sci di Madesimo e ci siam imbattuti nell'annuncio di Marco! Scambiandoci le prime mail, Marco s'è subito dimostrato attento e disponibile alle nostre esigenze. Una volta arrivati all'appartamento, ci ha accolti ed aiutati a scaricare i nostri molteplici bagagli, dandoci anche indicazioni utili per raggiungere le piste da sci che si trovano a 20 minuti dalla casa. L'appartamento è un bilocale molto spazioso, con un'ampia camera matrimoniale, un bagno con sia la doccia che la vasca e un'attrezzata cucina dove, con l'ausilio di alcune tende, si riesce a ricavare una zona privata per aprire il divano letto e ricavare un'altra "camera". Noi eravamo in 7 e ci siam trovati tutti benissimo, non abbiamo sofferto gli spazi perché come bilocale è veramente ampio e, quando abbiamo avuto bisogno di qualcosa, Marco s'è subito prodigato per risolvere il problema! Insomma, scelta azzeccata e vacanza perfettamente riuscita!!! ;)
Da
2015-01-02T00:00:00Z
Posto bello in area ancora più bella, a 5km dal centro di chiavenna. ottimo.
Massimiliano
2015-09-13T00:00:00Z
Room Type
Entire home/apt
---
Property Type
Apartment
---
Accommodates
8
---
Bedrooms
Chiavenna, Lombardia, Italy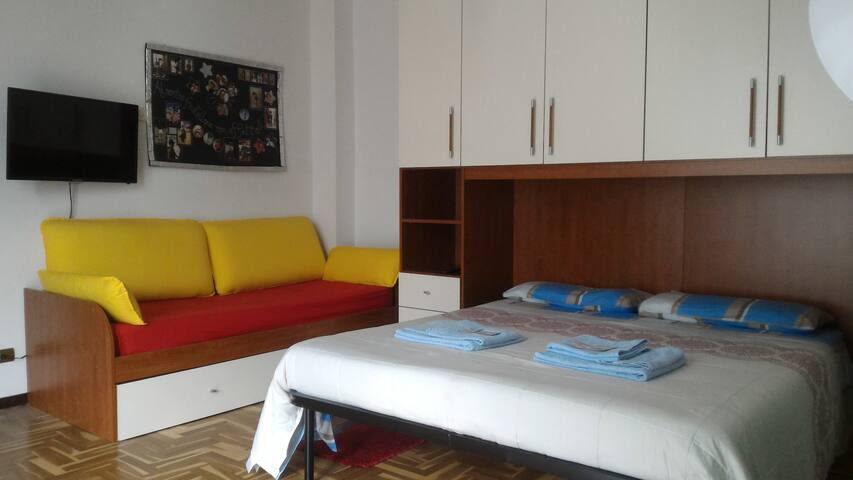 Villa di Chiavenna - Airbnb
:
Average

4.64

out of

5

stars from

111

guest reviews
1

–

18

of

19 Apartment Rentals
Enter dates to see the total trip price including additional fees (but excluding any taxes).