La casa si trova in un piccolo paesino rurale segnato dal suo trascorso storico austro-ungarico tutto da scoprire; Un'accogliente stanza matrimoniale e una cucina munita di focolare domestico riscalderanno le vostre giornate.
Gloria and Simon are one of the most lovely and friendly hosts i've Ever been. Me and my dog felt More than welcome there and I had a really good time with them. The house and my room were very nice, also the big garden and the wonderful view! If I decide to visit Northitaly again, I will Stay with them again :) Thanks for everything!
Alina
2016-07-17T00:00:00Z
The host canceled this reservation 8 days before arrival. This is an automated posting.
Yan
2016-08-31T00:00:00Z
I chose to spend my annual holiday in the Dolomite s. I booked the room at Gloria and Simon. They have opened their hearts, their home, their friends. You could say they "made" my vacation perfect. They speak a perfect English (very important). The house is located in a magical location , is centrally located for excursions around the Dolomite's and the whole middle and north of Italy. It's a beautiful mountain village, surrounded wine vineyards, like taken from a postcard. Just intoxicating atmosphere. Its simply to fall in love with it and them !!! As I went on my vacation spontaneously, I was not ready with where to go and what to see. They helped me with the itinerary with lots of patience and ideas. Places where Italians travelers visit rather than over crowded touristic places. I have no doubt I bought me a couple of friends for life. Plus as a bonus Gloria is making this beautiful jewelry, so you don't have to travel far for presents. I Strongly recommend It from the warmth of my heart, I will never forget my time with them.
Ruthy
2016-07-29T00:00:00Z
È stato un bellissimo soggiorno....Simon e Gloria sono due persone meravigliose e di un incredibile sensibilità e cortesia. La casa è molto accogliente e coccola in mezzo alla natura con un panorama mozzafiato. La colazione è squisita fatta con tutti prodotti esclusivamente di loro produzione. Consiglio vivamente,per qualsiasi occasione di permanenza,sicuramente tornerete rilassati:).
Danijela
2016-11-11T00:00:00Z
ECCELLENTE Il posto è fantastico, più che per una singola notte avrei voluto rimanerci a vivere. La casa è molto accogliente, tutto molto pulito, anche il letto è comodo. Non ci sono rumori, solo pace e tranquillità. Colazione ottima, con prodotti tipici e frutta fresca. Bagno pulitissimo. Simon e Gloria sono davvero molto simpatici e gentili, ti senti a casa.
Alessandro
2016-10-13T00:00:00Z
Room Type
Private room
---
Property Type
House
---
Accommodates
1
---
Bedrooms
Verla, Trentino-Alto Adige, Italy
L'antica casetta del casaro è situata nel centro storico di Civezzano, a 7 Km da Trento, è composta da una zona giorno con cucina attrezzata, bagno con doccia; al piano superiore stanza matrimoniale con bagno privato e seconda stanza con 2 letti.
La casetta del casaro offre un soggiorno all'insegna dell'indipendenza e del relax in un'atmosfera curata dove tutto è stato ristrutturato con gusto. I vecchi muri di sasso, le finestrelle con le aperture di un tempo, la facciata affrescata, le travi a vista e il pavimento in legno e pietra rendono l'ambiente unico. La posizione privilegiata dell'immobile permette di raggiungere in pochi minuti di auto la città di Trento, il lago di Santa Colomba, l'altipiano di Pinè e la zona dei laghi di Caldonazzo e Levico.
Un soggiorno all'insegna del relax e del silenzio, in un ambiente curato e unico, un' antica casa con zona giorno con cucina, tavolo da pranzo e divano e ampio bagno con doccia e letto supplementare; una scala in legno conduce alla zona notte interamente mansardata con travi a vista. Qui si trovano 2 stanze da letto: una matrimoniale con ampie vetrate e bagno privato e l'altra con 2 letti singoli. A disposizione lettino per bambini. Bimbi gratis fino a anni 8.
The host canceled this reservation 26 days before arrival. This is an automated posting.
anna
2015-12-04T00:00:00Z
Vicinissimo Trento, l'appartamento si è rivelato un ottimo punto di partenza per chi, come noi, ha girato per i paesi circostanti alla scoperta dei meravigliosi mercatini di natale. La gentilezza e la disponibilità del padrone di casa inoltre ha reso il soggiorno ancora piú piacevole. Assaggiate i formaggi di Mario!!!
Mario
2016-12-11T00:00:00Z
Casetta comoda situata in un paesino vicino a Trento. Host gentile e molto disponibile. Una tipica casetta del casaro.
Riccardo
2015-12-08T00:00:00Z
Room Type
Entire home/apt
---
Property Type
House
---
Accommodates
5
---
Bedrooms
Civezzano, Trentino-Alto Adige, Italy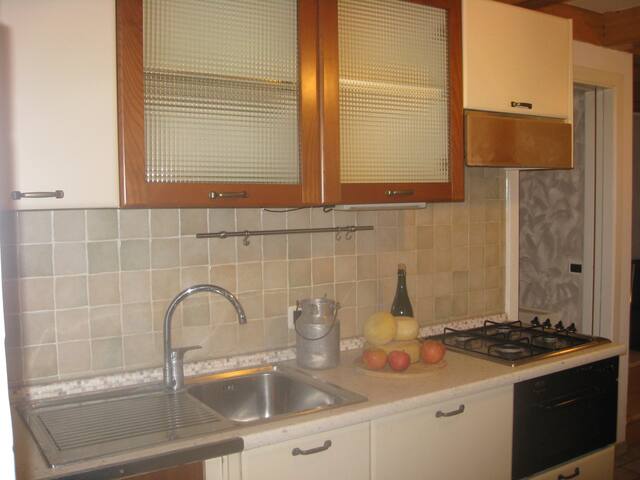 La casa si trova in un piccolo paesino rurale segnato dal suo trascorso storico austro-ungarico tutto da scoprire; Un'accogliente stanza matrimoniale e una cucina munita di focolare domestico riscalderanno le vostre giornate.
La vostra permanenza in questo piccolo paese alpino vi permetterà di assaporare le usanze e i cibi caratteristici del posto.
We spent 4 nights in Verla in august with our dog. Gloria and Simon were great hosts, it was a real pleasure being with them.  The house itself was well located: quite close to Trento in car but far enough to let enjoy the silence and peace of the mountains. Finding the place was easy and was parking as well in the garden. Our dog was not an issue for them. The bedroom was comfortable,the breakfasts delicious and  "very local",the bathroom nice and stylish, the whole house makes you feel at home. Cleanliness was not its strength but it was still OK. It's not an apartment for rent. If you go there you will get one of their rooms and will live with them. If one doesn't like such accommodation, it's better to choose a hotel. Gloria and Simon are curious to know you and your culture and open to show their lives and world. Special thanks for Gloria's extra attention to the diet my girlfriend follows and for the great goodbye-dinner. I really recommend the place and especially to single travellers or couples who are open minded and like to know people who are using airbnb to contact with others.
Zoltan
2016-08-17T00:00:00Z
Siamo stati davvero molto bene a casa di Simon e Gloria e ci siamo sentiti subito a nostro agio. Ci hanno accolto con una fantastica cena di benvenuto e durante tutta la permanenza ci siamo sentiti come a casa nostra. Il posto è un paesino di montagna tra monti e vigneti e si gode di una bella vista panoramica.Speriamo di ritornare presto a trovarvi !!! Daniela e Davide
Daniela
2016-03-28T00:00:00Z
Simon y Gloria son unos anfitriones hospitalarios y generosos. Nos sentimos como en casa desde el primer momento y lo mejor de toda la experiencia, además de la situación ideal de la casa, de las recomendaciones para hacer senderismo y las riquísimas frutas y verduras de la huerta de Simon, fue conocerlos a ellos. Todos los alimentos que se sirven sobre su mesa son orgánicos y deliciosos :) Si vuelvo por allí, sin dudarlo me alojaría otra vez en su casa.
mayte
2016-08-21T00:00:00Z
Encontrar la casa no fue sencillo, pero tampoco necesitamos contactar con el anfitrión. A partir de ahí, la experiencia fue más que agradable. Simon nos recibió como un amigo, compartimos un poco de vino casero y una excelente comida. El lugar es sencillamente impresionante, hace que te sientas muy cerca de la naturaleza. Sólo nos quedamos una noche, pero nos sentimos como en casa. Con una cocina tradicional a nuestra disposición, y unos alrededores que, si el tiempo lo permite, es perfecto para sentarse y dedicar unas cuantas horas a contemplar las montañas y los viñedos. Lo recomiendo a los que busquéis, no sólo un sitio donde dormir, si no una parada donde podréis respirar aire puro con sabor a aceite de oliva.
Andrea
2016-02-27T00:00:00Z
Un'esperienza meravigliosa, un'accoglienza d'altri tempi e un posto molto bello. Per chi vuole vivere un'esperienza rustica e naturale non può che essere ospitato da loro. Ottimo per trasferimenti a Bolzano e Merano a basso costo. A condire il tutto un ottimo vino!! :-P
Davide
2016-03-09T00:00:00Z
E' stato un piacere conoscere Simon. Sono stato accolto benissimo, con molte cose genuine da mangiare. Un bello scambio umano!
Luca
2016-02-03T00:00:00Z
Simon è un ospite generoso, simpatico e alla mano. Avrei voluto tornare da lui questo fine settimana, ma il lavoro mi trattiene. Accoglienza calorosa ed ambiente familiare. Lo consiglio.
Prisco
2016-02-25T00:00:00Z
Simon e Gloria sono una coppia FANTASTICA: sorridenti, solari, accoglienti, simpatici, spiritosi, allegri... Non credo possa esserci di meglio in questa valle, che loro amano così profondamente da esserne validissimi portavoce. Il loro amore si esprime tutti i giorni attraverso un costante lavoro nella terra, e una forma di accoglienza davvero.... speciale. Le foto non rispecchiano la casa che è molto più bella di quello che un'immagine può rendere, perchè fatta di energia, atmosfera, calore.. La colazione, che dire.. anche quella non si esime dall'eccezionalità dell'esperienza. Devo ripetere che è un posto molto più che consigliatissimo?
Giulia
2016-08-14T00:00:00Z
Room Type
Private room
---
Property Type
House
---
Accommodates
2
---
Bedrooms
Verla, Trentino-Alto Adige, Italy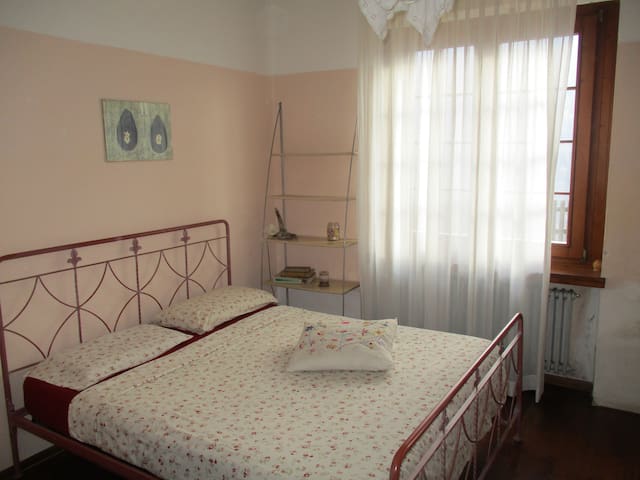 Enter dates to see the total trip price including additional fees (but excluding any taxes).