Welcome to your second home Warmly decorated room Clean and quiet Great for business travelers, couples, and flight attendants. Families with kids are welcome. Clean and Fresh bed sheets, covers, and towels (for each guest). Free body care products, coffee, water, and snacks provided. 5 Mins drive to the airport and 15 mins drive to the city. Please, read below to find out more about many beautiful tourist attractions (within 2mins drive). I DO HAVE A QUITE PEACEFUL CAT AT THE PLACE
The building: Two story new building with 2 parking spots available for guests. The building is conveniently located, with easy access to a variety of restaurants and shopping centers (MacDade Boulevard 5 mins drive). The building is 4 mins walk to the bus stop, which can take you in and out of the city. 8 mins walk to WaWa (mini market). 7 minutes drive to Harrah's Casino and Widener University. Also, a nice playground /park located in front of the building. Bars are also located within two blocks from the building. Backyard is available. Your room is located on the first floor of the building. It has a lock and I will give the key set for your stay. Very comfortable mattress and new pillows. Fresh towels, bed sheets and covers are provided (clean for each guest). Hair dryer, iron and ironing board are also provided. I have most of the necessities in the bathroom, no need to bring your own. Please note that the bathroom is located just outside your room's door. It's shared only with me.
The neighborhood is super quiet, safe and clean. People are nice and friendly. Police station is located in the neighborhood Variety of restaurants, bars, and mini markets within 2 blocks (walking distance).
It's was like a second home shadi puts his guest first!
Lauren
2017-03-30T00:00:00Z
Shadi is a generous and hospitable host! His place is very clean and cozy and a cheap Uber ride from the airport. This was my first Airbnb experience and Shadi definitely made it awesome!
Liana Alexandra
2017-03-13T00:00:00Z
Shadi was an amazing host. His communication and response time is top notch. I didn't feel as if I was staying at an airbnb home, it felt more like I was staying with a friend. The entire home was very well kept, and the room was comfortable. I slept like a baby. I would highly recommend Shadi to anyone.
Brandon
2017-03-07T00:00:00Z
Thank you Shadi for hosting my first Air BnB trip. I highly recommend Shadi's apartment to anyone flying into Philidelphia. He was a warm and welcoming host and takes great care to make sure his beautiful apartment meets every need you might have while traveling, and that you feel right at home as if visiting a friend. The room was spacious and bed and towels provided were super comfy and everything had just been cleaned, well-stocked and staged for maximum comfort and enjoyment. He made any information you might need easily available and was very communicative and helpful. I definitely lucked out with my first ABB experience! Save yourself time and book here. Thanks again!
Lenore
2017-03-11T00:00:00Z
This is an ideal location when needing to stay near the airport. The room was very spacious, extremely comfortable and well equipped. Shadi was an excellent host!! I'd highly recommend!
Lydia
2017-03-08T00:00:00Z
A great experience. The place is worth of the money
Harry
2017-04-04T00:00:00Z
I needed to spend the night near Philadelphia airport. Shadi's place couldn't be any closer. 5 min drive tops. The place is nicely decorated and clean. Shadi provides all kinds of toiletries possible, also coffee and cereal in the morning. The sheets and towels looked brand new. And most importantly, shadi gave me a ride to the airport for free, that was very nice. Thank you so much! Will definitely stay again.
Marina
2017-02-13T00:00:00Z
The place was super convenient for airport on my layover. Shade was a great host, even shuttling me over for a lunch grinder before I headed out of town. The cat (Mr Snuggles) was quite entertaining. The room was comfortable and clean, couldn't have asked for better.
Sarah
2017-03-24T00:00:00Z
Room Type
Private room
---
Property Type
Apartment
---
Accommodates
2
---
Bedrooms
Tinicum Township, PA, United States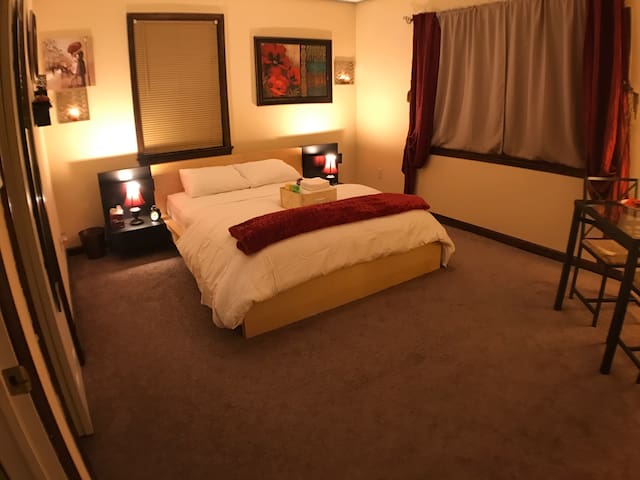 Private 2BD apt in Renovated Basement with access to a full bathroom, kitchenette (fridge, one burner, microwave, cookingware), washer/dryer, living area, wifi. Window A/C unit during summertime in living area. Fans in bedrooms. A small window in each bedroom. Two parking spots in driveway. Only guests with reviews.
Just about 10 minute-drive from Philadelphia Airport and 25 minutes to Center City. The apartment is spacious and cozy. It is a basement so you will hear all our noise/steps during the day. You don't have to share the space with anyone else, so lots of privacy. It includes clean towels and bed linens. There is no thermostat on the basement. We keep the temperature between 65-68 degrees in the winter but we would adjust it to a different temperature at your request. Also, we only host guests that have Airbnb experience and reviews. Thank you for your interest.
Essington - Tinicum Township is a quiet and safe neighborhood. Lots of families. There is a nearby playground, softball field and a track for those who enjoy running/walking at the other end of the street.
We had a very brief stay at this property, but Yatzaira made the entire experience very comfortable and convenient. We showed up later than we expected during what had to be the worst rain storm of the summer, but she braved the downpour and greeted us outside to show us the way to our rooms. The apartment was SO much more spacious than we expected it to be. The fact that it's so close to the airport made our early morning departure time much more bearable. I would highly recommend this to anyone looking for a nice, homey stay in an area that is as charming as it is convenient!
Brandon
2015-09-12T00:00:00Z
Nice place for three people. Booked this last minute for a great deal. Yatzaira was super attentive, helpful, and responsive. She tried best to accommodate our needs when necessary.
Crystal
2015-09-08T00:00:00Z
Great stay! Easy location and very close to Philadelphia. The apartment was clean and exactly what we needed for our short stay.
Sam
2016-08-08T00:00:00Z
I had a work related training to attend, the space was clean, check in was smooth. I was able to relax it, it was close to my training and beat the prices of near by hotel. Yatzaira checked in to make sure I was ok and she made herself available if i needed anything. Comforting space, she has a young child and was open about the additional noise prior to booking to see if i was ok, i appreciate her transparency and it didn't bother me at all.
Diash
2017-03-05T00:00:00Z
The house was easy to find and was convenient. The hostess was quite nice.
Linna
2016-04-05T00:00:00Z
The apartment was just as described and exceptionally clean. Yatzaira is very welcoming and made sure I had everything I needed. The location was very convenient to the hotels near the airport and I could easily take the bus to my conference. I could even get downtown easily. The neighborhood was quiet and even though seemed older, felt safe enough, even at night. This is a basement apartment so there is noise when people walk above. I am not overly sensitive so this did not bother me. Overall I enjoyed my stay and would recommend this as a great value for the area.
Carla
2015-10-26T00:00:00Z
We had a great night at Yatzi's home. The drive to the airport from her home was so short. It is a perfect place and even better if heading to Philadelphia airport.
ROSEMARY
2015-08-07T00:00:00Z
Yatzaira's place was so cute and spacious! We stayed at her place during the papal visit and Yatz was very accommodating and understanding. Everything about her place was a great experience. The rooms were decorated well and the bathroom was clean, spacious and stocked up with the necessities. The place itself was easily accessible if needed to go in and out without having to worry about disturbing others. Will definitely stay there again if in Philly :) and not to mention it's less than a 10 minute drive to PHL Airport.
Angelia
2015-09-29T00:00:00Z
Room Type
Entire home/apt
---
Property Type
Apartment
---
Accommodates
5
---
Bedrooms
Tinicum Township, PA, United States
A small two bedroom house seconds away from Philadelphia International Airport and just minutes outside the city of Philadelphia. Enjoy the city from a quiet place commonly referred to as the island.
The house has internet, wifi, and a computer that hooks both to the moniter and the television for entertainment purposes. No cable, only antenna television. A hand ful of videogame systems are also wired to the television.
The neighbors are friendly and their is a bunch of local diners and eateries walking distance from the house.
Room Type
Entire home/apt
---
Property Type
House
---
Accommodates
4
---
Bedrooms
Tinicum Township, PA, United States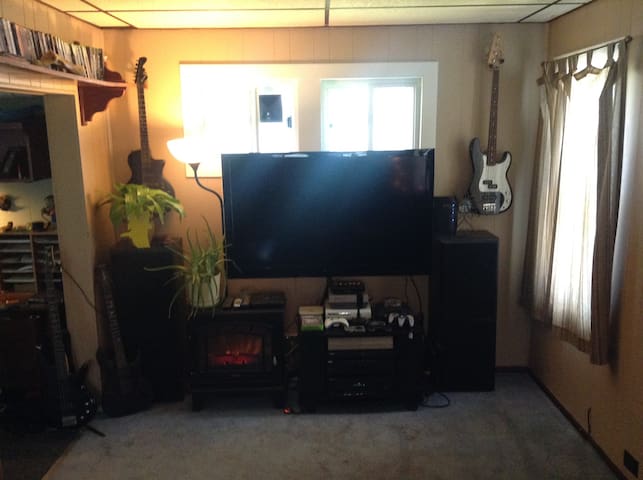 Great value! The best studio in the city! Spacious, clean and homely. Free parking. Minutes from AIRPORT, 15 min from city! Able to pick up and drop off from the airport when I'm available. Just ask. ---> FREE PARKING while traveling (savings of up to $200 for a weeks vacation with Airport parking) ---> Fast WIFI with Dryer and Washer ---> SAFE, quiet, beautiful neighborhood.
Roomy studio in a quiet area, hidden area. The place might be little tedious to find but that is what makes it perfect!
This is the outskirts of the city, so the area is very quiet with much greenery and little traffic. The airport is about 6 minutes away and you also have the convenience of a 24 hour Wawa (popular convenience store) The apartment is a smooth 5 minute walk from the largest freshwater tidal wetland in Pennsylvania, John Heinz Wildlife refugee. There is over 10 miles of scenic, beautiful trails that you can get lost in for the whole day and see hundreds of species in their natural habitats. You'll be surprised how comfortable the animals are with people.
Samiel is the best host I've ever had, he helped us so much, picked us up, drove us to the airport, he is an awesome guy. And the apartement was fabulous, so lovely, warm and stylish, We would always come back. If you want to stay somewhere next to the airport, choose him!! Thank you for everything Samiel, and let us know if you come to Germany one day :)
Laura
2016-01-14T00:00:00Z
Sam was great to work with. The place is 5 or 6 minutes from the airport, in a quiet neighborhood. Clean, neat and organized. Thanks, Sam.
Scott
2016-06-05T00:00:00Z
Sams place is extremely clean and close to the airport. We enjoyed the convenience and parking. Sam was a good communicator and easily led us to his spot. The listing is as described in the posting. We would stay again anytime.
Clay
2017-01-17T00:00:00Z
Samiel's apartment was very clean and big enough for us three (the third person has to sleep on an air mattress). However, the description said it was 15 minutes away from the city and we did not realize it involved having a car. Getting into the city in public transportation was quite long and expensive. That's why I would recommend this place only if you have a car to get to the city. Samiel answered all our questions quite quickly. However, he was 45 minutes to the check out and did not warn us. Eventually he told us to leave the keys on the counter since we had a bus to catch. Overall, the apartment was ok, but not what we expected since it was so far away from the city.
Juliette
2016-08-08T00:00:00Z
This place is absolutely amazing! It is very comfortable and cozy. Samiel was very accommodating and helpful, even while he was in another state. The area is peaceful and located just minutes away from everything you would need. My trip was made perfect! Samiel even provided us with breakfast and an amazing array of spices that I greatly enjoyed. I would highly recommend Samiel's flat.
Jacqueline
2015-11-08T00:00:00Z
Sam was more than accommodating the place was very clean looks just like the pictures, amazing place for the price whenever we come back we will absolutely be staying here again if the place is available. Thank you again sam!
Caterina
2017-03-31T00:00:00Z
He was real cool and catered to our every need. Place was clean convient and he left suggestions for places in the area to eat and visit .
Racheal
2016-01-29T00:00:00Z
What an unbelievable host! , Wasn't hard to find at all, and We Arrived super late, yet everything was still amazing. Thank you for all you done, and thank you for your military service
Thomas
2016-08-06T00:00:00Z
Room Type
Entire home/apt
---
Property Type
Apartment
---
Accommodates
3
---
Bedrooms
Philadelphia, PA, United States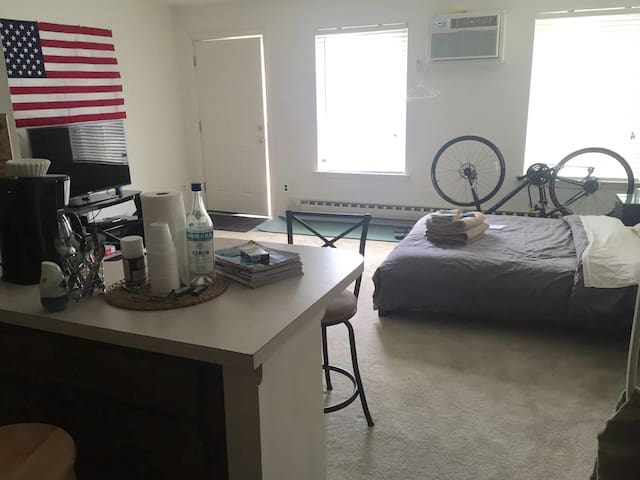 AAThis is a modest taste of living in the city , with Philadelphia as the base. This site is in area within a 5 minute proximity from the Philadelphia International Airport. This a 2 bedroom apartment , with one private av. The room has a privately regulated air and heat accommodation. Flat screen , and internet access and Wifi availability. Guests has access to in apartment facilities. There is enclosed patio which is the only one two in this unit.
Amenities of home. Tv , air conditioner , heater, Exercise bike, Wifi available
This neighborhood is Quiet. Pleasant, Friendly . Across the street from complex is a wildlife preserve is across the street. (John Heinz). It is free and open to public. This an apartment complex with diverse population of residents .There is an international community here . The complex. 7 minutes from Philadelphia Int. Airport. There is adequate access to public transportation to center city , local supermarket and a variety of local stores there. Generally one will find neighbors and other local residents to be helpful. Philadelphia is an up and coming thriving metropolis. There is a complex social arena in Philadelphia overall as there is a growing wave of expanding academic institutions. This has created an influx of a world wide citizenry and congruent atmosphere of Philadelphia being a city of brotherly love in the human family.
A great place to stay for any traveler. Eric is very attentive and kind. I'm very happy with my time there.
Arielle Alissandra
2017-04-03T00:00:00Z
Nice guy, who talks about life and how people relate in our world.
William
2017-04-07T00:00:00Z
He's a good man
Bright
2017-04-08T00:00:00Z
Room Type
Entire home/apt
---
Property Type
Apartment
---
Accommodates
2
---
Bedrooms
Philadelphia, PA, United States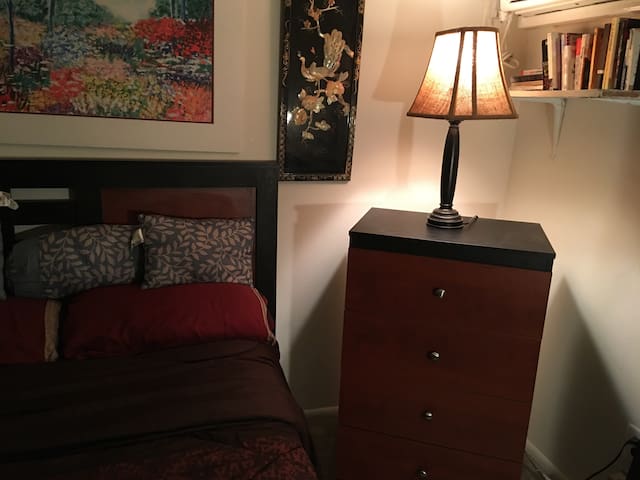 Free onsite Parking, Queen sized bed, free long-term parking, complimentary rides to and from the airport available w/ notice(usually off business hours since we both work full time). The room is rather small (55sq ft), but perfect for those just seeking a cozy, quiet, clean and friendly home to crash for the night!
It's a cozy private room just 1.75 miles from the airport. Lots of natural sunlight throughout the day. Most guests are primarily at least one of the three: fun seeking travelers, working professionals, or individuals with an overnight layover or delayed flight seeking a spot to stay at based on value.
It's a nice place. Siqi was very very helpful. She lest the garment streamer for me because I was having an interview the next morning. She was very kind and offered me food and cheesecake. I highly recommend her
roaa
2017-01-25T00:00:00Z
Close to the airport which is great for an early flight. The bed was extremely comfortable. I slept well. Siqi was very kind and offered food.
Cheminant
2017-02-25T00:00:00Z
I had such a wonderful time staying in Philadelphia. From the moment I got off the plane, I was in contact with Siqi who met me from the airport and took me back to the apartment! I couldn't believe that she would do that and I was taken aback by her friendliness and willingness to make my stay the most enjoyable that it could be. We went back to the apartment and she also offered to take me anywhere I wanted to go whilst she was on her lunch break from work. She took me to independence hall which was where I graciously asked to go. The room was perfect for my needs, the apartment was in a great location and her husband was very friendly when we eventually met on my last night there. She offered me food which was amazing looking however I had just eaten otherwise I would have loved to have tried some. Siqi woke up on my last day and took me to the bus stop at 6am from where I was catching a bus to New York, I honestly couldn't have asked for better hosts, both her and her husband are fantastic people and I look forward to staying in contact with them both, thank you so much guys for everything!
Anthony
2017-03-01T00:00:00Z
Siqi is a great host! Communication was easy! Perfect for layover!
Matthieu
2017-01-06T00:00:00Z
Quiet place near to the airport!
Sonia
2017-03-27T00:00:00Z
If you are in Philly and Siqi's room is available you have to take it!! Most awesome experience.. Siqi was out of town. Her husband and his friend received me at the airport. Me her husband and a friend went to a Restaurant downtown.. really easy going guys and good natured.. I misquoted my departure time to Rob for the next morning and realized my mistake like 15 minutes before the gates close. Long story short I am writing this review from the plane that I caught only because of Rob.. 200% recommended for anyone who wants to feel at home in Philadelphia
Niranjan
2017-02-05T00:00:00Z
Nice and hospitable couple who go beyond to make it comfortable
Lloyd
2017-01-27T00:00:00Z
Siqi and her husband Rob are among the most hospital hosts I've ever met while using this app. They really make an effort to make you feel welcome and at home, and their cat is adorable.
Ryan
2017-03-20T00:00:00Z
Room Type
Private room
---
Property Type
Apartment
---
Accommodates
2
---
Bedrooms
Philadelphia, PA, United States
We have a nice room with great price and a window view for long stay roommate. It is conveniently located near airport, center city, subway lines and shopping district.
We are currently looking for roommates, month stay long preferred but daily rate is also available. We love to travel and see new places and meet new people. We welcome guests from all over the world. So, either you're stranded at the airport for a canceled flight or stay in Philly for school or vacation, our rooms are for you. Our rooms are cozy and big enough to provide you with a good night sleep. Plus, free street parking & there are plenty of space to park. For Multiple Guests: two children under 12 count as an extra guest. We can accommodate groups of up to 2 people. Important: We ask guests to go green and conserve our energy, so please turn off lights when you are out, and please clean up after use. Ah yes, please no access to our bedroom. Thank you. My wife works at home so she will be available most of the times to answer any of your questions. We also have two small kids who are very well-behaved. Please let us know in advance if you have any guests coming. Guests stay overnight will need to pay extra person fee.
Good place
Pedro
2017-03-25T00:00:00Z
My only complaint is that the host had two small children who were rather loud. Otherwise, I loved Quoc's place. It was exactly what I was looking for location and price wise. I had a car and parking was very easy. My room locked with a key which I really appreciated. Lots of natural lights and two huge ceiling to wall mirrors! Very friendly and accommodating host.
Tiffany
2017-02-27T00:00:00Z
First, yes, they really do have Christmas decorations up year round. We stayed there for a short tourist visit. Quoc, was extremely accommodating and timely in his communication with us arranging the visit. I value this the most in a host, and anyone, especially considering the bind we were in. The hosts largely left us to ourselves, in a 'Our home is your home' kind of way. It bears mentioning that they do have a baby and a kid and babies cry and kids can be noisy. Not a problem for us in the least, but some of you out there might mind this. The Quoc's were great hosts and we will stay there again when in Philadelphia.
Justin and Limin
2016-07-09T00:00:00Z
awesome
Mark
2016-05-08T00:00:00Z
Very friendly host and his wonderful wife, accomodation was nice, clean, privacy kept accordingly, very close to trolley which brings you to the downtown though the area where Quoc lives is not safe enough, this is my opinion, if someone need complete safety, better chose area closer to downtown. Thank you, Quoc for ur hospitality and warm welcoming.
Liubov
2016-06-20T00:00:00Z
Stayed for a little over a week. No complaints whatsoever. Room was clean, the neighborhood looks rough at first but its a safe area. Quoc is a very nice guy as is his wife. The price is great as well. Internet works fine, etc. There is a toddler here in the rooms across from the ones being rented, most nights you can hear the young kid screaming and crying. But its not a big deal, we were all toddlers and we all screamed at night.
Alvin
2016-06-17T00:00:00Z
I stayed here overnight before my flight early next morning because of its proximity to the airport. Quoc and his family were very good hosts, they were extremely welcoming, offering water, and were extremely polite. My only concern was as a single traveler arriving at night, the neighborhood didn't appear to be the most affluent neighborhood and I was therefore concerned about safety.
Christopher
2016-11-16T00:00:00Z
Great place. Comfortable bed, conveniently located. Couldn't ask for more
Daniel
2017-03-06T00:00:00Z
Room Type
Private room
---
Property Type
House
---
Accommodates
2
---
Bedrooms
Philadelphia, PA, United States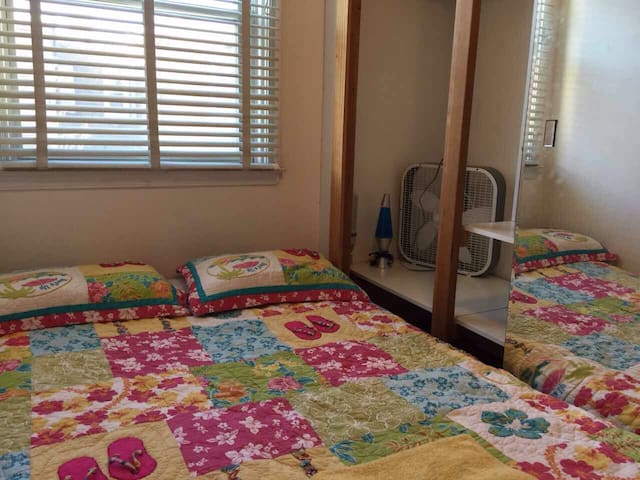 The apartment is just by the airport and you'll love it because of the coziness. It is good for couples and families (with kids) and is also ideal for business travelers.
The place was nice and clean. It was also super close to several shops. Ify was a great host and I would definitely recommend staying here if you're ever in the Philly area.
Rida
2017-02-05T00:00:00Z
This was our first visit to Philadelphia, and we had a wonderful experience all around (except for the temperatures and snow, but that wasn't Ify's fault!). :-) The apartment was excellent, at the end of a quiet, safe cul-de-sac that was a quick drive from nearby amenities and maybe 20 minutes from downtown (for which we used Uber, which was also awesome). From the moment we walked in until the moment we left we felt at home. Bare bones furnishings, for the most part, but that's all we needed or wanted, and everything worked. The shower was terrific. Our visiting friend was glad to find a washer and dryer for her cold, wet clothes. Street noise was nonexistent, and there was plenty of parking, too. Ify was the perfect hostess, replying to every question we asked within minutes. We will definitely put this on a favorites list if we're ever back in Philadelphia...and I hope we will be!
Bill
2017-01-08T00:00:00Z
The house is very nice and well kept. I recommended bringing extra items for parties over 2 people (towels, blankets, etc)
Alan
2017-04-01T00:00:00Z
Ify's place was very clean and spacious for four people. The location was safe and close to restaurants and attractions. My friends and i really enjoyed our stay. The only downside was the beds being pretty uncomfortable, but it's nothing a mattress topper can't fix! Considering the value and the location I would definetely recommend staying at Ify's place!
Kailyn
2017-02-26T00:00:00Z
Ify's place was clean nice and off the beaten path but close to everything.
Emily
2017-01-26T00:00:00Z
Ify was a great host, the place was very clean and well taken care of and is only a short drive from the city center. The neighborhood was clean and quiet. I was very impressed and would definitely stay again.
Allan
2016-09-11T00:00:00Z
AMAZING! Definitely going to stay here again. Ify was very friendly and informative of the surrounding activities and restaurants. The place was very clean and looked exactly like the photos. Very well kept and lovely.
Shante
2017-03-05T00:00:00Z
Ivy's place is much better than I expected, we got access to the entire second floor. The floor looks clean and it smells so good. The kitchen as well as the laundry room are well-equipped. I would definitely choose this place again if I'm coming back to Phily
Cynthia
2016-12-20T00:00:00Z
Room Type
Entire home/apt
---
Property Type
Apartment
---
Accommodates
6
---
Bedrooms
Philadelphia, PA, United States
No more feeling boxed in while staying at hotels as you travel. Experience home away from home in my welcoming unit with California King bed, awesome living room, full kitchen and bath. Just 5 mins from airport with courtesy pickup/drop off and a wet bar to welcome you during your stay. Happy travels.
It's home away from home.
Relaxing, safe and quiet environment. Shopping within sight - grocery, rite aid, fast food, etc.
Room Type
Entire home/apt
---
Property Type
Apartment
---
Accommodates
4
---
Bedrooms
Philadelphia, PA, United States
Fabulous & convenient location near airport & public trans. Close to downtown Philly & Philadelphia Art Museum (the World Meeting of Families locale). Walking distance to restaurants & shopping. A clean & comfy place to stay! More than 6 pple allowed
Room Type
Entire home/apt
---
Property Type
House
---
Accommodates
6
---
Bedrooms
Philadelphia, PA, United States
My place is close to the city center, public transport, the airport. You'll love my place because of the ambiance and the neighborhood. My place is good for solo adventurers.
Room Type
Shared room
---
Property Type
House
---
Accommodates
1
---
Bedrooms
Philadelphia, PA, United States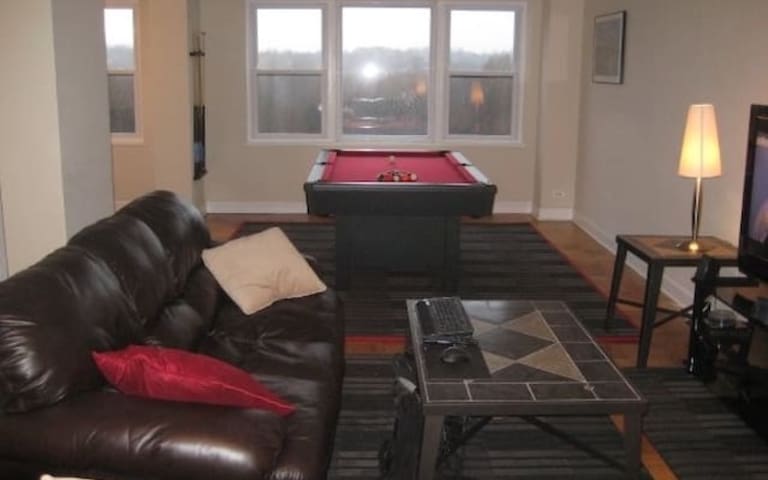 This large apartment has one bedroom a large sectional sofa, TV, Wifi, Microwave, Queen Size bed, dining room table, electric stove & oven, fridge. Bed sheets are the only linen provided.
Large apartment approx 800 sq feet
Room Type
Entire home/apt
---
Property Type
Apartment
---
Accommodates
4
---
Bedrooms
Philadelphia, PA, United States

This apt is located in vibrant West Philly. It is near the U of Penn, USP, Drexel, trolley to Center City, and much more! It is a great 1 bd in a private building (the outside looks dated but the apt is newly remodeled). You'll have to share with my very sweet cat Pretty Kitty who is very low maintenance (she has an automatic feeder and litterbox) but will love your company! If you are looking for a private, quiet place to stay on a budget, this is it!
It seems that a lot of airbnb's these days are second properties that people own, they use cleaning people and are super fancy with free drinks and snacks and so on, but I'm in grad school without a job and this is where I live so it's a low frills, budget deal kind of place. It is certainly everything you need for a nice stay but it is my home so please treat it as such.
Everything at Katy's was perfect, especially the cat. I'm more of a dog person, but this cat was awesome. So friendly and playful, but also very easy going and unobtrusive.
Carrie
2016-12-03T00:00:00Z
Katy's apartment was neat, and larger than it looks! She had everything ready, and took exceptional care with directions. She was responsive the entire process, and her house is located in a great spot in town. Very convenient to commute everywhere!
Fred
2016-09-06T00:00:00Z
Katy is super reachable, enjoyed her tea! Kitty is lovely and clever too. A vital reason I fall in love with Philly! Though the street is a little bit further from UPenn as I expected, but zipcar station is near also, that might be a good choice for tourists living here.
Noel
2016-10-23T00:00:00Z
Great place homey cozy apartment in a nice neighborhood. Parking does get rough at night. Bed is comfortable.
Ashley
2016-10-10T00:00:00Z
Lovely apartment. We never met the host face to face but she was available at all times for instructions or anything else we might have needed. Definitely recommend
Pavlos
2016-09-04T00:00:00Z
My boyfriend and I stayed here for about a week and loved it! We didn't get to meet Katy in person, but she was a very friendly and attentive host over text and made sure to check that we got in fine and everything was to our liking. The place looks just like the photos, the price is more than reasonable, and everything was clean and welcoming. Katy's resident cat Pretty Kitty stole our hearts. Would definitely stay here again!
Ann
2016-08-13T00:00:00Z
Cute little one bedroom apartment that we had all to ourselves. No frills, and privacy, just what we ordered. Lots of street parking was a plus! We were welcomed by Katy's adorableeee cat, Pretty Kitty who was lovable and followed us around. For the price that we paid, this place was absolutely perfect. Would highly recommend this place for anyone looking for a comfortable good night's sleep.
Nadhirah
2016-08-08T00:00:00Z
Katy was very communicative, and her place is perfect. Pretty Kitty is adorable!
Greg
2017-02-22T00:00:00Z
Room Type
Entire home/apt
---
Property Type
Apartment
---
Accommodates
3
---
Bedrooms
Philadelphia, PA, United States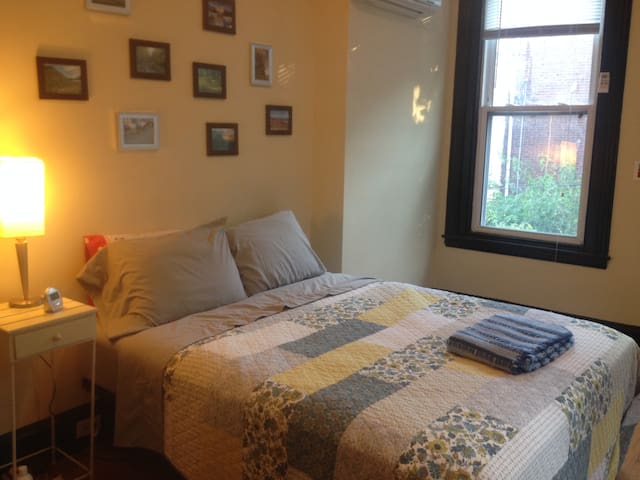 Beautiful single family home in the midst of National Wildlife Refuge. Fantastic opportunity to be closer to nature yet not too far away from center city. Equipped with mini gym cycle, Cable TV, Internet, Heating/Air conditioner, Hot/Cold water.
Room Type
Private room
---
Property Type
Apartment
---
Accommodates
1
---
Bedrooms
Philadelphia, PA, United States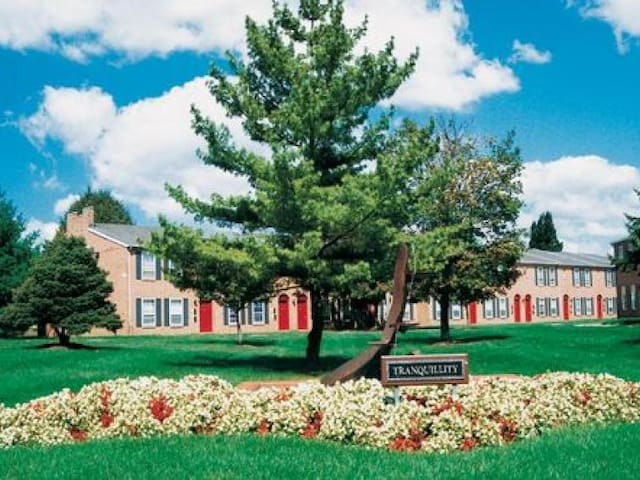 This is a clean and cozy room on the third floor in a large historic house with crown molding and original hardwood floors. Has desk, under-bed storage, a locking door with key, and my housekeeper is Hilton certified. Located just off of Drexel, University of Sciences, Penn, near parks, farmers markets, the Mariposa food co-op, Dock Street Brewery, so many restaurants/cafes/bars, and incredibly convenient to downtown - step out the front door and right on the Trolley line on Baltimore Ave! :)
This bedroom is a snug little room that has soft natural light in the mornings, comfortable full size memory foam bed with Egyptian cotton sheets. Desk for working (wifi included), under-bed storage for your goods, and hooks on the door and wall for your hanging clothes. Door has independent lock so you can rest knowing your possessions are secure. The whole house is at your disposal -- comfortable living room, large eat-in kitchen, and two bathrooms.
There's a brewery, bike shop, coffee shops, parks, restaurants, shops, a food co-op, and parks all within walking distance.
In an excellent spot in West Philly; right across the street from the best co-op around (Mariposa), close to a great brewery and bars, in walking distance to Clark Park, and close to public transportation, so very easy to get to University City and Center City. The house was super clean and Micah left very nice touches in the room: water, chocolate, and a towel to use during my stay. I was in briefly for school; my room was a very nice place to work. Definitely plan on staying again. Would highly recommend this airbnb!
Sara
2017-01-21T00:00:00Z
Micah was a great host! He had knowledge of the area and how to get around. The room was wonderful; clean, accommodating, and great for our time spent here!
Dallas
2017-03-21T00:00:00Z
Micah was our first AirBnB host and thanks to him, we had the best time in Philly. Great conversationalist and knew some awesome spots for us to check out. Also wonderfully accommodating. The home was beautiful with a minimalistic decor yet still chalk full of character and charisma. Super convenient location too with the trolley that can bring you to center city stopping right out front. Micah is still renovating the home so I'm sure it will be even better the next time we stay! Thanks for everything again bud.
Vince
2017-02-03T00:00:00Z
Good place in west Philly! Close to public transportation = easy access to downtown.
Edouard
2017-03-03T00:00:00Z
It is a cozy little room in a big house. The location is about 30 minutes walk from UPenn, and would be a little bit far from downtown. Trolleys are available nearby. The decoration is nice and artistic. We loved the big round mirror in the room! Micah is a really welcoming host.
Xiaohe
2017-03-25T00:00:00Z
If you want a prefect airbnb experience: stay at Micah's place. Perfect host, perfect house and room. Two nights were not enough. The organic shop right across the street is a must!
Matthias
2017-02-24T00:00:00Z
I enjoyed my stay at Micah's. You definitely get more than you pay for. Micah's a great host and the bedroom is comfortable. You'll share a clean bathroom with others but everyone in the house is chill and respectful. Micah has an interesting past if you have some time to chat with him and he's put a lot of love into the house. If stairs are hard for you, this room may not be for you. It's on the third floor. Otherwise, no issues I could foresee besides not being able to stay longer with such great host!
Isaiah
2017-02-10T00:00:00Z
Micah is extremely friendly and very available. He always gets back to your messages/calls in the shortest possible time. His house with clean and cute rooms is located in an exciting neighbourhood of West Philly with many restaurants and space for Recreation. Highly recommended!
Martin
2017-01-17T00:00:00Z
Room Type
Private room
---
Property Type
House
---
Accommodates
2
---
Bedrooms
Philadelphia, PA, United States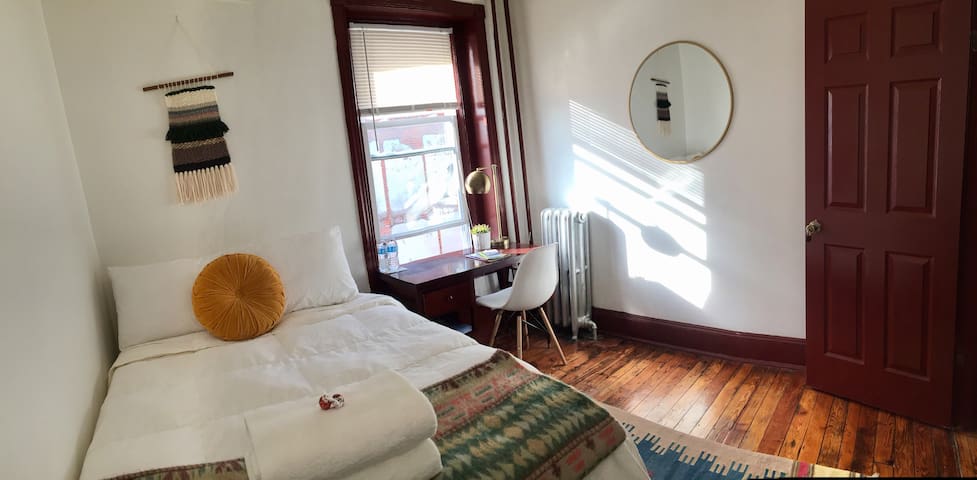 WIFI! PARKING! PRIVACY! 1st floor boasts an open floorplan w/ beautiful sun porch, hardwood floors, formal dining room, gorgeous new kitchen with a deck (and grill!) Sunny bedroom upstairs has tempurpedic mattress, dresser, and is next to full bath!
This beautiful home was built in 1925 and recently renovated/restored to its original glory! It is the perfect blend of Victorian and modern with all of the beautiful finishes and a brand new kitchen. There is plenty of natural light both upstairs and downstairs, and the private little back terrace provides an outdoor sanctuary in good weather. Your room is sweet and comfortable with three windows and a lovely antique dresser, a beautiful side table (made by my Uncle, a wood craftsmen) and a bed side lamp. The bed is soft and comfy with a 2-inch tempurpedic pad and pillow top mattress pad. I provide a fan in the summer and extra blankets in the winter, if you should need them.
My neighborhood is a quiet and family-filled delightful little community! I love the neighbors, who are always looking out for each other, the corner store just steps away, the fact that the bus runs down my block with a stop at the corner, the neighborhood cats who sun themselves in stoops and greet passersby. I love that the old-school trolley still operates out in West Philly! It's fun to ride if you haven't before, and feels like going back in time. You can pick it up just blocks from the house and ride it all the way into the city for just $2.25! I also love the murals - there are not too many in my direct neighborhood but the Mural Arts project is an amazing urban beautifying initiative and has painted murals all over the city! Check it out for mural tours and maps at (URL HIDDEN) (There's also a Chinese takeout place called Danny's Wok, about 3 blocks away, that is famous for their chicken wings... if you're into that!)
The place was very wonderful and clean and comfy. Emma wasn't there while we stayed but was extremely easy to contact and was great at replying very quickly. The room was cozy, and only downfall was that the room upstairs it does lack a fan or air conditioning in the room. Of the 3 nights we stayed one of them did get extremely hot in the room and was at times very uncomfortable, but that was the only negative out of a pretty great listing and room. Emma does have two very playful cats that did add alot of fun to staying in the house. The house is very close to transportation to the city, overall would feel comfortable recommending this listing.
Ronak
2016-06-14T00:00:00Z
Emma's Villa is a peaceful and relaxing location for anyone traveling to Philadelphia or just passing by. It was a great opportunity to rest before I continued my drive from NYC to Georgia. Emma was very clear with the rules of the Villa and communicated particularly well in person, through the App, and via text. She has two cats who are absolutely adorable as well. If I ever visit Philadelphia again I would most definitely stay at her villa again!
Danny
2016-05-19T00:00:00Z
Emma was friendly and helpful. Place as described. Very nice cats.
Anastasia
2016-05-28T00:00:00Z
We flew in very late, and it was great that we were able to access the key from a lock box. Emma's place is very cute and she is a welcoming host. We came and went as we pleased and she had some great recommendations for local places! I would love to visit again, however I think we will come in the spring or fall, after the hot summer's months are over! Our flight didn't leave until the evening and we wanted to see some more of Philadelphia, so after we checked out, Emma let us keep the key and our luggage in her main foyer so we wouldn't have to lug it around. Thanks for everything, Emma!
Joanne
2016-07-30T00:00:00Z
Our experience was really nice. She answered all my questions and help me with anything I needed. can't wait to go back to Philadelphia and stay at Emma's house again!
Nathan
2016-07-01T00:00:00Z
Thank you for the staying. You are friendly. Greeting from Germany
Christian
2016-09-09T00:00:00Z
Emma was easily accessible for any concerns with the place. I didn't realize prior that it was a pull out sofa so with that regard the price seemed rather steep... Home was clean and the Cats were nice.
Geoffrey
2016-11-26T00:00:00Z
Emma was easy to get in touch with and made the stay very convenient. She was very accommodating and pleasant.
Shashidhara
2016-10-07T00:00:00Z
Room Type
Private room
---
Property Type
House
---
Accommodates
2
---
Bedrooms
Philadelphia, PA, United States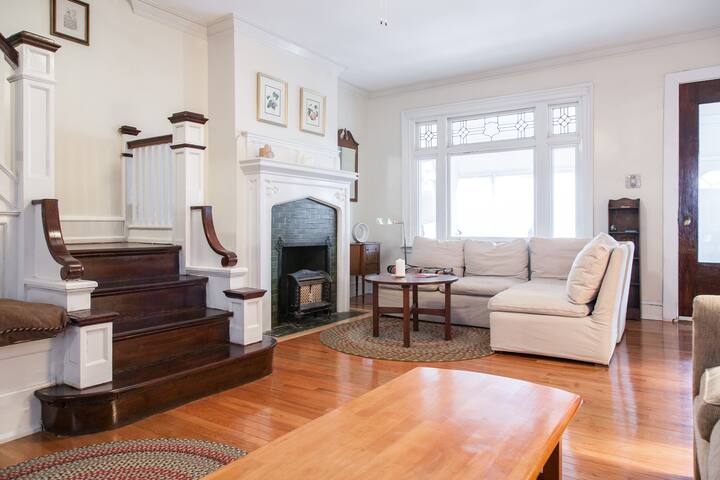 The apartment is conveniently located 5 minutes from Philadelphia airport. It has a contemporary feel and boasts of brand new appliances - dishwasher, coffeemaker, stove, refrigerator, microwave, washer, dryer etc. There's free parking and center city is only 15 minutes away. You would love the quiet and serene environment which makes it suitable for business travelers; couples, families and friends on holiday to the city of brotherly love!!!
Clean, quiet and comfortable. Uber to the airport less than $10.
The stay was good. Would recommend.
Chia
2017-01-02T00:00:00Z
It was clean and the host was very kind.
Luis
2017-03-12T00:00:00Z
Ify was very helpful throughout the stay and incredibly flexible with check-in and check-out. Great stay.
James
2017-03-09T00:00:00Z
Room Type
Entire home/apt
---
Property Type
Apartment
---
Accommodates
4
---
Bedrooms
Philadelphia, PA, United States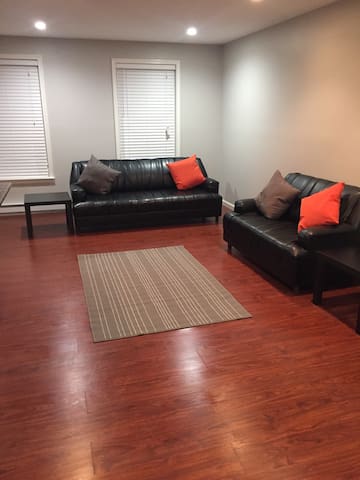 My place is 5 minutes away from the Airport. Check in at 12:00 PM but I'm flexible. You'll love my place because of the location and the ambiance. My place is good for solo adventurers and business travelers.
Colorful and vibrant space
Quite and friendly area near public transportation
Well it's a funny story I booked Sherrise's home and it was approved automatically by the site so when I showed up to her place she was completely unaware I booked her home, so i'm already a little nervous about staying with her. Sherrise quickly redeemed herself. Sherrise was such a great host and very accommodating and super sweet. Her place was quite a ways from the downtown happenings but the trolley stop is about a 5 minute walk from her place. Sherrise made available her kitchen and wash/dryer for use. The neighborhood was quiet and within walking distance of a shopping plaza with a grocery store and fast food restaurants. I trully enjoyed my stay with her!
Jamila
2016-09-06T00:00:00Z
Room Type
Private room
---
Property Type
House
---
Accommodates
1
---
Bedrooms
Philadelphia, PA, United States
Enter dates to see the total trip price including additional fees (but excluding any taxes).