Unique accommodation from the founder period in the 19th century. Here even the horses of the famous department store Wertheim were shod. Experience of Berlin's history first hand!
Welcome to our beautiful old smithy with renovated interior in the CITY CENTER of Berlin. With a 5 minutes walk you reach the National Gellery, Potsdamer Platz (Berlin's Film-Festival), the State library and the Philharmonie. Also 5 minutes walking distance to the Metro station Kurfürstenstrasse. Our brick house is located in a private garden protected by the surrounding houses. It is very silent and peaceful even though it is in the city heart of Berlin. The historic brick walls and house front makes the special attraction of this unique accomodation. In the summertime you can take your breakfast in the romantic garden just in front of the house. With the bike it takes no more than 5 minutes to reach Tiergarten, one of the biggest and most beautiful parks in the middle of Berlin. Another close by park is the brand-new Park am Gleisdreieck, which offers Beach Volleyball fields, a skate park, playgrounds and natural gardens. Also a vital art gallery scene has established in the last 2 years in the quarter, which attracts Berlin visitors who are interested in fine arts.There are now about 40 art galleries in the area. Culture and subculture are close together in this neighborhood . Shrill bars such as the Kumpelnest 3000 in Lützowstrasse, which was styled by art students from the Academy of Fine Arts, where it really gets started at least 1 clock at night and maximally fashion designers in the building complex of the former publisher TAGESSPIEGEL shake hands.The winter garden on the opposite inspires visitors with constantly changing shows. Right next to it, located in a beautifully restored old Berlin building with fantastic landscaped courtyards, is the Camaro foundation with numerous cultural institutions. Our house: In the period before the automobile, it was the smithy of the renowned department store Wertheim where the firm's horses were shoed. 15 years ago we found this jewel of a backyard, which we then converted and designed according to our own ideas. You live in 2 floors with 2 bathrooms, a modern kitchen, 2 bedrooms, a studio with a double bed, a little office and a living room. From above you can look over the balcony into the studio, the sleeping area below however is secluded. Even though you stay in the middle of the city, you will value the feeling of living on a little house on the country side, and quietness in the night. The whole area is calm, clean, secure and very family friendly. We look forward to hear from you! Restaurants: Roth-Diele, Maultaschen-Manufaktur, Facil, Restaurant Lochner EDD's, (one of the best Thai restaurants in the city is on the premises). Bars: Kumpelnest 3000, Victoria-Bar, Bar am Lützowplatz, Trompete Public Transport. BUS: M48, M85, M29 U-Bahnhof: Kurfürstenstrasse
Definitely recommendable: EDD'S Thai restaurant directly on site. The chef was head chef at the Thai royal family, Here dine completely unspectacular and without special treatment people of international celebrities.
The location of the Apartment was good. Easy to get to the local sights, the grocery store and to hire bikes. The information booklet was informative and we did try a restaurant that was recommended. We liked the private courtyard because we could lock our bikes away there.
Heather
2016-01-01T00:00:00Z
Just as promised, the house provided us with a spacious, calm, and inspiring accomodation for our 4-day Easter trip to Berlin. We received helpful information regarding some practicalities and transport from Claudia ahead of the trip. A perfect AirBnB experience!
Thomas
2016-03-24T00:00:00Z
Claudia's home was exactly as advertised - located in a private garden protected by the surrounding walls ... quiet and peaceful ... private and secure ... clean, modern and very elegant. We were met promptly on arrival and everything was ready for us. The location is wonderful ... walking distance to Potsdammer Platz and 20 minutes to the Brandenburg Gate. The access to the U-Bahn was convenient and it was easy to get anywhere we needed or wanted. It was perfect for our family of 5 and we would recommend this accommodation to anyone ... and would absolutely stay again ourselves on a subsequent visit.
Dean
2015-04-30T00:00:00Z
our staying was amazing at the house. Great Home to spend an holiday at. The location is perfect, close to the sony center. The description that the owner Claudia did here is precise and accurate. Thanks Claudia for the amazing place you let us stay in berlin.
Giancarlo
2016-05-03T00:00:00Z
Our family had one week at Claudia and Peter's house. We loved the home. It was as portrayed in Airbnb. Beautifully furnished and stunning art work of Peter's throughout the home. Claudia was excellent with communication throughout the experience. There was an excellent book outlining the operation of the house. The home was very quiet and spacious. Thank you very much for the opportunity of staying in your lovely home.
Stephanie
2015-12-27T00:00:00Z
We had a lovely time in the little oasis that is Smithy's place. We felt secure, even with some of the trade being offered on the street outside. Having two levels was great and two bathrooms although the shower in the main downstairs bathroom wasn't really functional. Having a bath there was great though. The kitchen is a little small and so for a family of five, we didn't really cook there. Lovely big table to sit around though. Having our own private courtyard was great although it rained throughout our visit so we didn't get much use from it. Ww would recommend this place to families though as you are fairly secluded while still being within a stones-throw of the centre of the city. The No. 85 or No. 48 Bus was all we needed and three stops later we were there. Great place in Berlin.
Michael & Rachel
2017-02-24T00:00:00Z
From the first moment to the end, Claudia was great, gave us all the details we needed, even we came very late her housekeeper waited for us and welcome us very nicely. The studio is beautiful with all what you need to have a perfect stay. The location is great, close everywhere.
Yohai
2016-03-01T00:00:00Z
It was a lovely little hideway, very close to the centre of the city. Very easy to find and good and safe possibilities to park your car. On arriving, I was met within 5 minutes and shown around the house: made me feel welcome. Claudia herself always responded very quickly and adequate to any questions I would have.
Monique
2015-06-25T00:00:00Z
Room Type
Entire home/apt
---
Property Type
House
---
Accommodates
8
---
Bedrooms
Berlin, Berlin, Germany
We had a nice stay at the Anke'home. She was helpfull and always ready to answer at our requests. The flat respond of the information's schedule published by the host. The site is quite and super green as it is just close to the Tiergarten park and to the zoo. The only lack we noticed is the distance of the closest shops and supermarket (10 minutes by bike). We finally fully recomanded the Anke's flat. We fully reco
Andrea Luigi
2014-08-24T00:00:00Z
The reservation was canceled 88 days before arrival. This is an automated posting.
gary
2015-02-22T00:00:00Z
This flat is really great, confortable and well-designed. Anke was very welcoming and accomodating regarding arrival and departure times, we had the most perfect time there, close by foot to giant park and to the magestic Branderburger Tor :) Thanks Anke
Léa
2015-01-02T00:00:00Z
The reservation was canceled 11 days before arrival. This is an automated posting.
andrea
2015-03-09T00:00:00Z
Die Anke war sehr zuvorkommend und informativ. Sie hat uns herzlich willkommen und war äusserst hilfsbereit. Die Wohnung war sehr ideal fuer eine Familie. Sie war geschmackvoll eingerichtet, sehr geräumig und sehr wohnlich, genau so wie von Anke beschrieben . Die Umgebung war sehr freundlich. Viel Gruen und der Tierpark unweit von der Wohnung. Ideal zum joggen, radfahren und spazieren.
Anders
2014-10-28T00:00:00Z
Le logement était conforme à la description, avec une belle petite terrasse et beaucoup de verdure. Nous en avons apprécié le calme. Anke a toujours répondu à nos questions et nous a donné de bons conseils!
Benoit
2015-08-14T00:00:00Z
Room Type
Entire home/apt
---
Property Type
House
---
Accommodates
4
---
Bedrooms
Berlin, Berlin, Germany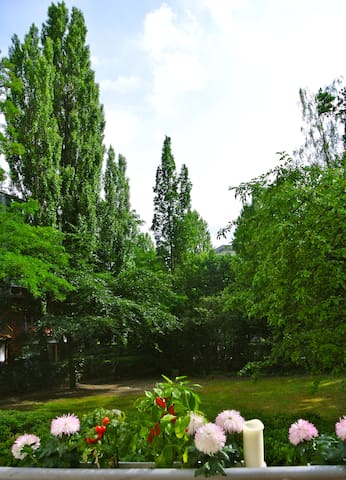 Mitte - Airbnb
:
Average

4.46

out of

5

stars from

101

guest reviews