Welcome to Banban Homestay a peaceful and relaxing place in a green environment in the city center ,Cozy-Simple setting ,family friendly, We also have a cafe/restaurant/mini bar, motorcycle rental and Tour in Chiangrai:) We have 2 rooms. if this room is not available in your schedule, you can check and book my another rooms from my profile (click my photo) in airbnb app or contact us :)
Our place is an old style wooden house, nice garden .Although being situated in the city center but our neighbourhood is quiet and friendly,
Central Plaza ( 5 mins walk) Local market, 7-eleven and many restaurants (100 meters away)
This is a beautiful spot to stay for an authentic Thai-style house. Can't beat the price too! Everything is as described and we had a great time. The night bazar and restaurants are about a 15 minute walk away (or a minute in a tuk tuk), so everything is very accessible. Herve and his family were so kind and welcoming and even offered to drive us to get our motorbikes. Thanks again and we highly recommend!
Angelica
2016-12-31T00:00:00Z
Ahri and her husband were very good hosts and helpful. The accommodation is nice with a simple room and a very big yard to eat, sit, and relax. It was perfect for our one night transit in Chiang Rai. They gave us good recommendations on things to do, where to go, or how to get around town.
Pauline
2017-03-25T00:00:00Z
Travelling alone made me feel lost a little when I arrived in Chiang Rai, but this beautiful hostfamily let me feel at home from the moment I arrived! They showed me around, gave me some nice tips to do, and they really took care of me. The wonderfull dinner at the last evening was again a proove of the love for their guests. I will never forget them, the beautiful place and their sweet little daughter!
Jan
2016-12-10T00:00:00Z
Banban and his wife are hospitable for they offered ice water as soon as we arrived there and Banban also took us to the rental shop. Morning we also had a big American breakfast made by his wife(sorry for not asking her name). Their daughter and cat are cutie. The landlady gave us her handmade bags when we left. Generally speaking, the wooden house is quite in a special style and suitable for living. Of course, it would be better to improve the equipment and environment of toilet.
Suki
2016-11-25T00:00:00Z
We had such a lovely time me here. Very nice and welcoming family.
Lexi
2017-03-10T00:00:00Z
Ahri and Bear's home is absolutely lovely! A wonderfully serene and natural environment in a traditional wooden Thai house. I am so grateful to have been given the opportunity to stay with this sweet family. Everyone was so kind and helpful, and the kittens were a pleasure to have around as well! As for practicalities, the internet service was excellent. And note: the toilet is traditional as well, which may not be everyone's cup of tea, though it posed no problem for me.
Jane
2017-02-11T00:00:00Z
very good room!I will be come back again
佳男
2016-12-27T00:00:00Z
'Banban' in Thai means very home-like or down-to-earth, which is a perfect description for the place. Recommended for those who seek chill, relaxed stay.
Rachata
2016-12-29T00:00:00Z
Room Type
Private room
---
Property Type
House
---
Accommodates
4
---
Bedrooms
Mueang Chiang Rai, Chang Wat Chiang Rai, Thailand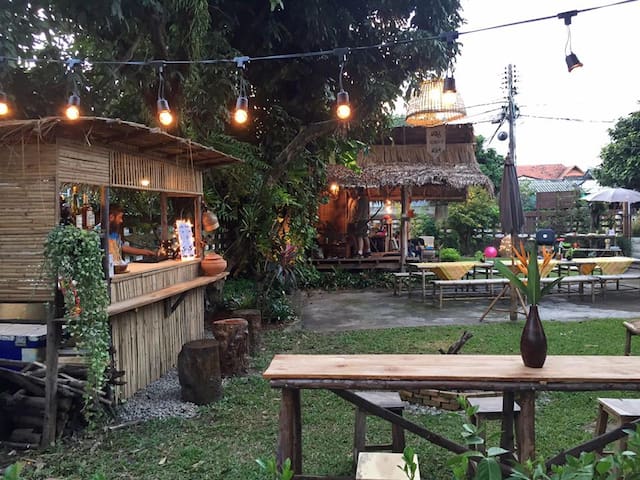 Near Khun Tan's pagoda More than ten temple nearby, Item shop community local food& massage. people are nice ,friendly,smilling. at home is beautiful mountains view and fields, very clam at night
Away from Chiang Rai city 80 km and 45 km from Chiang Khong border On highway No.1020 Travel by Bus Chiang Rai - Khun Tan. (In front of the property at all)
Near Khun Tan's pagoda More than ten temple nearby, Item shop community local food& massage. people are nice ,friendly,smilling. at home is beautiful mountains view and fields, very clam at night
Room Type
Entire home/apt
---
Property Type
House
---
Accommodates
4
---
Bedrooms
Chiang Rai, Chiang Rai, Thailand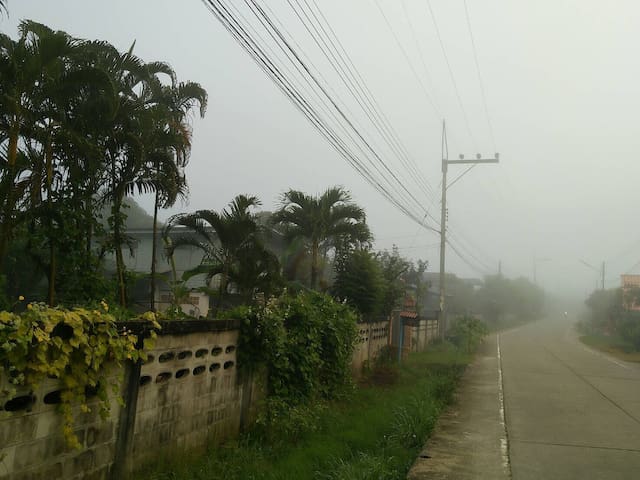 Get away from the hustle and bustle of big city life and get back to nature in this charming country cottage. The perfect escape for someone looking for a relaxing vacation with lots of open space and great views.
This artistically decorated house is on 7 tastefully landscaped rai (11,200 sq. meters) of land with beautiful mountain views. It has two bedrooms and two bathrooms with hot water heaters. The bedrooms are both very large with attached bathrooms so the house would be convenient for 2 couples. There is an air-con in the main bedroom. It is the perfect retreat for someone looking for a peaceful vacation as it is remote enough to "get away from it all" yet only 15 minutes to the city. It is fully furnished including a king size bed in the master bedroom and a queen size bed in the second bedroom. An extra mattress can be put on the floor or a child can sleep on the sofa. The kitchen has a Japanese style table, fridge, microwave and gas stove and complete kitchen utensils. The veranda has a teak table with 4 chairs, great views and a BBQ. The pond has a swim raft for kids and there is a sala on the water. The views of the mountains are outstanding and in the rainy season it can not be beat for sunsets. WiFi included.
The neighborhood is great in that it is very local. You will have an "authentic" experience interacting with the locals at the market and if you go to one of the many restaurants in the area, try real Thai food. About 1 km away are 3 restaurants, one is organic where the vegetables are grown in the back yard, one is an artsy inexpensive Thai food restaurant and one is an upscale restaurant with great views in Singha Park (which is right out the back door.) There is also a local market that starts about 3 pm and has both fresh ingredients to cook as well as already prepared food. It is about 3 km away and at the market you can shop with both locals and hill-tribe villagers. A great experience! There are lots of little shops in the local villages as well as a 7-11 at the market. The White Temple is 5 km away and offers coffee shops and restaurants. Khun Korn Waterfall and National Park is 15 minutes away up a very beautiful country road.
This place was amazing! I originally booked it for 1 month and ended up staying 2 and a half so that alone should speak for itself. I was able to enjoy a month of the monsoon and a month of dry season while I was there. Being in the house during heavy rains is really cool. The way it is set up, with the huge entrance door and the windows that open allow you to feel like you are inside the storm, except your sheltered by an incrsdibly cozy house! And the sunsets during monsoon from the property, which faces the setting sun are out of this world. The house itself is modern to western standards, but decorated with an oriental theme so you have the comfort with the feeling of an exotic home. The property is great! I hadn't swam in a pond since I was a little kid and I wasn't sure how much I would use it, but I found myself taking at least a few swims a day. It is really cool being out on the floating raft in the pond, it feels like you are floating in the middle of the tea fields. The house is surrounded by tea fields, which make it really cool to watch the farmers At work, and also the local cattle herders walking by with there cows, letting them graze In the grass fields nearby. If you want a true look into thai countryside living stay here. The village the house is in is full of local people, all smiles, minding there own business and very mellow. The scooter is a gear touch. From the house it is a 15 minute ride into the city (although in 2 and a half months I only went 4 times.) everything you need is nearby. There is an amazing organic restaurant, very cheap. The local market is awesome, all the vegetables and produces you might want to cook with from chicken to fresh fish, there are a few ladies who will filet fresh water fish right there for you. There are also a few other tasty thai restaurants near by. The tea plantation next door has a restaurant with tasty food, a little more pricey but not that bad, and it has an amazing view of the tea fields, also a great place to have a cocktail during sundown. They have a live band a few times a week. If your into thai noodle stands, there are enty of those scattered near by, which you can get a tasty bowl for $1. There is a restaurants called toms kitchen near by the white temple which is like a 5 minute scooter ride. You take a left before the temple and follow the signs. Tom is a nice guy and he has a great menu of shrimp and seafood , both thai and Chinese style. He also knows a lady who will go to the house and give you a decent massage for very...
Alvaro
2014-10-21T00:00:00Z
Had an amazing week here with my girlfriend. Absolutely beautiful spot. Tranquil. Will stay here again when in the region, if it isnt booked out.
Steve
2014-11-20T00:00:00Z
This place is simply amazing! The house was very well equipped and comfortable. The property is beautiful and just super relaxing. Jeffrey is a very nice host and its been a real pleasure to follow all his great tipps on restaurants in the area! Thanks for the great time!
Nawid
2014-12-20T00:00:00Z
Wow. Just wow. My wife and I stayed at this house for 4 nights and enjoyed every second. Jeff was kind enough to pick us up from the bus station. On the way to his house he suggested a few restaurants and activities, showed us around the area, and was very accommodating to our questions. The house and yard are amazing. Very well groomed and clean. We picked fresh limes from the trees to add to our food and drinks. The yard spread down to a big pond. I woke up each morning and watched the fish eat along the shoreline. The house has all the amenities you could want. The water gets instantly hot in the shower. We used the motorbike several times to explore the local area. The organic restaurant and the local market were two of our favorites. There are insects (bees, ants, mosquitos), but that's expected. Just be diligent about not leaving food or drinks out and cover the trash can. We loved our time in Chiang Rai and highly recommend Jeff's home.
Mike
2014-09-10T00:00:00Z
Awesome property for the family to relax. Will plan to visit again next year. The perfect country getaway for the city family. My son and I played in the large yard and we rode back into the nearby farm area to see the animals. Big thank you to Jeff for being a great host.
Nathan
2014-12-23T00:00:00Z
I arrived into Chiang Rai with my wife and after being dropped off by taxi Jeffrey collected us & brought us to his country cottage. Fabulous place - with a great soul. It felt as if it was our own home. The garden area including several fruit trees, a lake and gazebo were a big plus and balanced the property. Although the place is out of the centre of Chiang Rai - we had use of the cottage scooter to go exploring. A peaceful setting with wildlife all around - we particularly enjoyed watching the geckos climbing around the walls and rafters. One word of advice is to make sure you learn the directions back to the cottage by night - before you attempt to find it in the darkness - lucky for us I have a good visual memory - because when night falls - it really gets very dark and you wont find sign posts. Thank you Jeffery for the pickup/drop off and letting us stay.
James
2014-07-22T00:00:00Z
When I discovered Jeffrey's house and surrounding plot of land on Airbnb I instantly fell in love with it! The house and surroundings are breathtakingly beautiful, clean and green! I couldn't stop taking photos. Unfortunately we were only able to spend 2 nights at this magical place but we enjoyed every minute of it! Jeffrey is a welcoming host and very easy to talk to. He showed us around, gave us tips on what to do in the area and even took us out for lunch at a nearby restaurant on the day of our arrival. We had access to Jeffrey's scooter, which we used to ride around the neighbourhood and to visit the White temple and Singha park. He also has two mountain bikes you can use. The accommodation is off the beaten track (which in my opinion is a good thing). To get to Chiang Rai city we took the scooter to the white temple and from there took a taxi or a sawngthaew (small pick-up truck with 2 benches in the back) to the Chiang Rai bus station. On the day we left Jeffrey was kind enough to give us a lift to the bus station which was great. I would definitely recommend this place to anyone.
Lisette
2014-11-13T00:00:00Z
Jeffrey is a very helpful host, he even help us to get a Car from a local Agency, as the international ones have all been sold out due to the Thai-Holidays, thanks a lot for that! The nice House with it's Park with Swimming-Lake is beautiful situated with sight to the mountains an Tea plantations. The privacy of the place gave as the feeling to be very fortunate to enjoy this all alone. The recommendations for restaurants and shops/markets have been very helpful and the Baizon Restaurant had good food and friendly staff. As we travelled with a Baby, it was worth to have a Car, but if you like to discover also little streets, we recommend to rent a Off-Roader. In the House, the shower is good, the bed is soft, 2 Geckos are very large, cooking enthusiasts should bring their own knives and the area is nice to go Jogging early mornings and have a swim in the lake afterwards makes it even better!
Adi
2014-10-28T00:00:00Z
Room Type
Entire home/apt
---
Property Type
House
---
Accommodates
6
---
Bedrooms
Chiang Rai, Chiang Rai, Thailand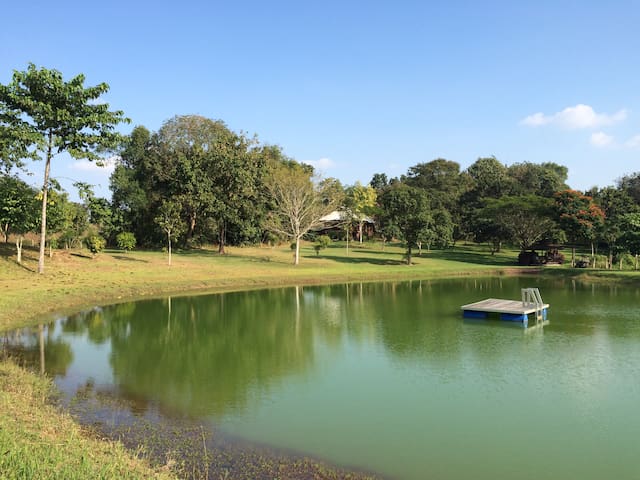 TongPun Escape Hostel is located 30-min away from Chiang Rai downtown. You can bike, hike or walk around our neighbour area. There are shared kitchen&dining area with garden views. Close to Doi Mae Salong, Doi Tung, Lady Lagoon, Mae Sai, Chiang Saen
My name is Meo, I'm open this space for every guest to visit and stay with us like our friends come over. I'd like tourists to know more about my small hometown. TongPun Escape Hostel is very clean and has simple beauty, only 5-10 minutes walking or biking away from our place, you can access rice field, hills, local markets and exotic scenery.
We're quiet, peaceful, slow life & really local living, no tourist traps. It's also not hard to find the ways to go to Doi Mae Salong, Doi Tung, Lady Lagoon, Mae Sai (Burma's border), Chiang Saen.
It is a peaceful place~ I didn't want to go out. Because house was so nice. If you stay here you could understand me. But I couldn't sleep well because of mosquitoes... you need to mosquitos spray. Anyway i love this house.
Young Seok
2016-06-10T00:00:00Z
Meo is awesome. We had a nice time cooking together and she was very helpful with everything. The room is very airy and open and very clean. The feel is very natural and the garden and straw roof made it such a calming environment. I was also very happy that Meo showed me the night market. I didn't want to leave.
Kalia
2016-10-07T00:00:00Z
Meo is a nice girl who at your garden house and my daughter and other friends really it either. We had eaten home made dinner with her that was my first experience in Thailand .Meo also taught my daughter how to speak numbers in Thai language .That 's so finny time which made me more (URL HIDDEN) I will go back again in the next holiday at Chiang Rai .
Steven
2016-08-02T00:00:00Z
Simply put, Meo's Hostel is the nicest place I have stayed during any of my dozens of visits to Thailand over the past 25 years. It is a comfortable and peaceful place, despite being on a relatively well-travelled roadway. The garden and the other green spaces are most lovely, and Meo is extremely helpful with any questions one might have about visiting various points of interest in the area, and beyond. The kitchen is fantastic for cooking, eating, and generally hanging out, and the cottage itself is a wonderful place to sleep and relax. Further, I would strongly recommend Meo's Hostel for cyclists, either solo or in groups of up to 7 or 8. The place itself has been excellent for me (as a cyclist), but there are dozens of cycling days trips from Maechan, mostly less than 50k, and one can easily take public transportation back to Maechan, if the outbound ride is more than enough distance. And once back at Meo's place, the day feels even more complete, since it feels a lot more like home than a hostel, and relaxation is at a premium here. All in all, I cannot say enough about this most wonderful place in northern Thailand.
Glenwood
2016-02-29T00:00:00Z
We loved everything about our stay here, nice and quiet in a small village, good host, nice food, ...
vicky
2016-11-20T00:00:00Z
Meo is an amazing host and TongPun is one of the best hostels we have stayed in during our 4 months of travelling. The Bungalow is quaint and cozy with hot showers and lots of space. Upon arrival we were greeted by Meo who picked us up from the bus stop and took us to our destination, we were shown the kitchen where you can get creative and cook whatever you please and relax. The town of Mae Chan is situated directly between Chiang Rai, Mae Sai and Chiang Saen (The Golden Triangle) and is tourist free. There are shops, markets and a Tesco in town and all of the busses are super cheap and regular taking you to any destination in the vicinity. Meo will give you so much great advice and will show you where everything is, she is a great host and makes you feel completely at home. She offers bikes to get around, will help you rent a scooter and (if you are free in the evening) will find fun and productive ways to spend the evening. One evening we had no plans so Meo and her friend Jesse (who is also a delight to be around) invited us to the Chiang Rai Street Market where we ate and danced the night away! It was so much fun and leaving was a hard thing to do. Thank you so much for sharing TongPun with us, we hope to see you again one day.
Elisa & Jack
2015-11-29T00:00:00Z
è stato più bello di ogni aspettativa. Meo mi è venuta ad accogliere alla fermata del pullman.Un giardino molto ben curato una stanza da letto molto fresca ed una prima colazione da Re. Ho trascorso tre giorni fantastici. Sono partito lasciando un pezzo del mio cuore.Conto di ritornare.
Salvatore
2015-08-18T00:00:00Z
Room Type
Shared room
---
Property Type
House
---
Accommodates
6
---
Bedrooms
Mae Chan, Chiang Rai, Thailand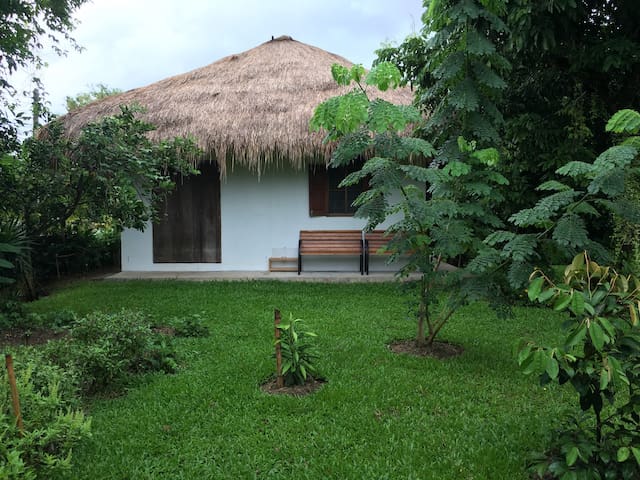 Surrounded by tropical fruit orchards, The Elephant House is perched on a hilltop overlooking the nearby lake with its backdrop of mountains. Located 15 minutes from Chiang Rai City and 30 minutes from Chiang Rai Int'l Airport.
Airport transfers are complimentary. For extra travel, car and driver are available at THB1,000 per day.
We are 15 minutes from Santiburi Golf Course, and 5 minutes from Rai Cherntawan Meditation Centre, which also sits by the lake. Take our dinghy (seats two adults) for a tour of the lake. The local village of Ban Haui Sak has a mini-mart, 7-11, wet market and ATMs.
Beautiful place in the middle of the nature. Perfect for couples who wants a quiet place to relax. The house is well equipped and Sakda and his wife are very nice and helpful. Great to have the breakfast on the terrace with an amazing view of the mountains and lake.
Damien
2017-01-01T00:00:00Z
Host - Andrew and super responsive and been very helpful during and after the booking process. We're also grateful that he accepts pets in his property. Property manager P.Sakda and his wife helped look after our stay and they are super nice and friendly people. Always armed with a smile, P.Sakda is ready to help out with our different needs in the property (breakfast, buying dinner and setting up mosquito repellent as etc). He has also placed a great level of details when setting up meals. Just the different usage of the different type of glass for different drinks just show how attentive he is to the details of things. The service level is definitely 5 stars level. P.Sakda wife even did laundry for us which was a nice surprise. Even the resident dog "Mu Wan" is super friendly. She will greet you happily when you return to the property. You can also hire P.Sakda to take you around Chiang Rai if you did not rent a car. Property surrounding - The house is set in a tranquil setting where you can listen to the different sounds of nature throughout the day. It is so peaceful you could listen to the birds chirping and the faint sound of chanting from the nearby temple. You could see the lake and greenery from the house. We were enjoying breakfast with the great view at the pavilion. We were even greeting by the morning mist in our first morning. Convenience stores and dinning places is a close distant by the property. Property - The house is huge and well designed. The layout looks simple but there is a sophistication around the design. The living room can easily fit in more people if you are travelling in a group. We love the bose sound system that Andrew set up in the house. Playing your favorite music while chilling in the wonderful house is an amazing experience. Andrew even prepared cards and board games which you could play with your friends if you're looking for something to do in the house. Overall we enjoyed the stay a lot. Will not hesitate to book another stay at "The Elephant House".
You Teck
2016-07-18T00:00:00Z
Magical location on top of a hill overlooking a small lake and mountains. The house is comfortable, and a great place to chill out. Caretaker quite friendly and helpful. Only thing to be aware it is a secluded location and you need to drive up a fairly steep hill to get to it.
Boris
2016-12-11T00:00:00Z
Great genuine place that is actually even nicer than the pictures.
Robin
2016-12-19T00:00:00Z
Great relax place next to ChiangRai city nice host and well welcome. WiFi is not good but better to rest in the nature. I will be back for next trip.
Tee
2016-12-27T00:00:00Z
Stunning view. We enjoyed a quiet retreat at khun Andrew's house.
Piyathida
2017-02-16T00:00:00Z
It was our spontaneous trip to Chiang Rai. I was anxious about finding a nice spot at the end of the day but Andrew managed to response to my message within a few minutes and very flexible to my last minute booking and requested. When we arrived we were speechless. The house is very beautiful and unique. The design and architecture are based on Lanna (Northern-Thai) traditions which provoke the feeling of the luxury and elegant like staying in an old Lanna royal family's residence. Also the other details of the house can't be missed e.g. the decoration. All the amenity are new and modern. They also have good wifi and very comfortable bed. The house located in private land overlook range of mountains and dam. All in all this is one of very beautiful and unique space that you can't miss. The serenity and peaceful atmosphere also good for yoga or retreat. His manager also very helpful, friendly and provide exceptional service. I show my pictures of this place to my friends and every single person ask me where it is and want to stay... I truly recommend this place.
Talisa
2015-09-08T00:00:00Z
Staying at the Elephant House is a wonderful experience. The house is situated with an lovely view of the hills and nearby reservoir, and the design and furnishings really are inspiring. A great place to relax and spend lazy afternoons. Andrew was very responsive and Sakda was a great host when we arrived. He picked us up from the airport, helped us find yummy local food, and served a nice breakfast. I highly recommend the Elephant House for those who want to get away from it all near Chiang Rai.
James
2016-05-09T00:00:00Z
Room Type
Entire home/apt
---
Property Type
House
---
Accommodates
2
---
Bedrooms
Mueang Chiang Rai, Chiang Rai, Thailand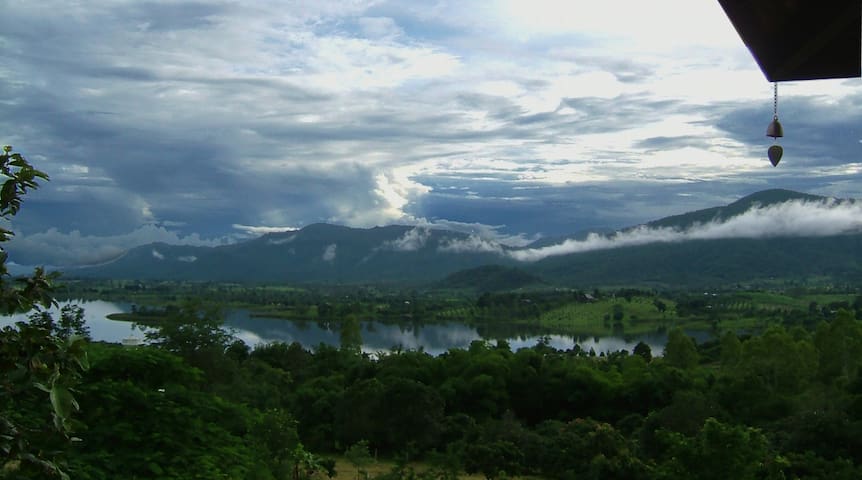 Our clay-home is located in a small village in PHAYAO, a small province of the North of Thailand. You will enjoy staying with local people, clean food and activities that bring you to the new great experience.
the house was made by clay. there is an ancient knowledge to balance whatever season is, the inside is only comfy.
our community is a Thai-Lua tribe and also a safe village. we have Ka-La-Mae, Traditional home made Thai style coconut caramel.
Staying in the clay house was indeed a unique experience. The place is pristine, nestled in between paddy fields. It is ideal for people who wants a break from the concrete jungle. We travelled by road to the clay house from Bangkok. Though it was slightly difficult to reach the place using our navigation, our host, Ms.Bee helped us navigate. The clay house is beautiful, well ventilated with cool breeze flowing through the windows and doors. The interiors are done very well with lot of attention to the details. The furniture is nice and relaxing. More importantly, Bee, with her friendly and helpful nature, made it a very memorable holiday for us. Her entire family was very welcoming and hospitable, we were allowed to use their bikes, to enter their kitchen and learn Thai cooking. The local dished cooked by Bee's mom were delicious and we were supplied with fresh fruits all through our stay. Bee took extra efforts to bring home an expert to cook and demonstrate a local delicacy for dinner. She took us on a trip to a nearby royal project cultivating vegetables. Our son made friends with Bee's cousins and enjoyed catching crabs from the paddy fields and playing with them. Thanks to Bee he had a most memorable holiday with many Thai friends, and he cherishes their friendship even after return. We all felt that we were part of Bee's family and are happy that we chose to stay at clay house.
Deepa
2016-10-25T00:00:00Z
Beautiful environment, lovely hosts, delicious food. It's about a 90-minute drive from downtown Chiang Rai, so quite rural. Great for people who really want to get out of the city, but doesn't necessarily have every creature comfort. Recommended for a wonderful, local experience.
Nathan
2016-03-09T00:00:00Z
We are a family of four from Montreal. We stayed for 4 nights and loved our stay. Wonderful hosts , super food and unique experience. A real asset to Airbnb.
Nils & Anita
2016-02-16T00:00:00Z
We loved our time at Bee's place - surrounded by the rural remote countryside of northern Thailand, yet with every comfort in our beautiful hut. I'm vegan, and Bee's family were happy to customise all food (fresh from their organic garden) without meat, seafood, eggs and dairy. To be honest, I've never eaten food so healthy that also tastes so great - and the diversity of dishes was much appreciated too. We loved cycling around the paddies, riding a bike through the countryside, waking up to the birds chirping, and not seeing another traveller during our time here! I only wish we spoke some Thai to be able to communicate with Bee's beautiful family :-) Her cousin Teck speaks English, which was very helpful! We stayed 3 nights and could've easily stayed longer; a blissful experience, and as authentic as it gets in Thailand!
Shivya
2016-06-01T00:00:00Z
Bee's place is perfectly awesome. Not only the relaxing environment, but the people (Bee and her family) make you feel great here. They prepared a memorable Birthday Party for my girlfriend, and cooked sets of tasty dinner and breakfast for us. Definitely one of my best Airbnb experiences ever. It might take some time to arrive there (~4.5 hrs from Chiang Mai, ~2hrs from Chiang Rai), but it's totally worth it. Highly recommend to stay overnight for 3 or more days!
Chung
2016-05-03T00:00:00Z
This is THE amazing place I've ever booked via Airbnb. Perfect location in the middle of rice paddy, giving wonderful view of surroundings Unique design and decorations of the house, just like a quiet and sweet home. Bee is very friendly and helpful, so are her parents. We really appreciate all they did to give us a comfortable stay.
Spring
2016-10-18T00:00:00Z
Whoever looking at this place right now, and thinking whether you should make a stay here. Please do not hesitate! This is the most exceptional place you could ever think of. Trust me!!! :) This will be long! The summary is in the last paragraph. My girlfriend and i stayed for a night here and this offered us nothing but the most cultural experiences, liveliest atmosphere, and yummiest food. Lets start off with the location and ambience. This place is located in the middle rice field, which is very beautiful and peaceful. The clayhouse itself is well built and pretty as it is shown in the pictures. The wind always flows throughout the living room where you can lay down all day. Our hosts are super super nice. And we are so lucky to have them. They grow their own food including veggies and fruits. Even meat, they have fish and chicken just behind their house. So these definitely ensure you guys with high quality food cooked with local people style. (Note: you will miss out if you did not order dinner). About breakfast, they give us an opportunity to be a part of local chefs. :)) loads of fun. The bikes are free for you guys to ride around 3-km rice fields to enjoy morning breeze. To sum up, this place just makes our Phayao trip to become one of the most memorable trips and will be the very first reason to visit Phayao again! :) love this place!
Krirkchai
2015-12-29T00:00:00Z
Bee is really a great host. Her parents are very friendly and they treat you like you are part of the family. If you are open for new experience, you could catch opportunities to learn how the locals living their lives which I'm certain it will be a memory hard to forget. The food is really authentic. You could even pick a fresh vegetable from an organic garden in Bee's parent house next door. The place is also kids friendly and I'm sure this will be one of their memorable experience!
Sarunyu
2017-02-12T00:00:00Z
Room Type
Entire home/apt
---
Property Type
House
---
Accommodates
4
---
Bedrooms
CHIANG KHAM, Phayao, Thailand
Well-positioned in City Center, My room lies 0.2 km from the city center and provides accessibility to important town facilities.
This place was just as described. Keep in mind if you are tall, might not be the best place for u as the ceilings are 1.8m. But for me it was just fine. The place is Quiet, little outside the city, around 15 min walk from bus station but it was fine. Host was very responsive and even messaged me with things to do. Would recommend!
Ferique
2016-11-19T00:00:00Z
The place was great as shown in the pics, and yanee was always helpful and communicated really fast. Location is great just outside the night market. Highly recommend this place.
Luis
2017-02-18T00:00:00Z
Wonderful experience. Good value for the money. Excellent location. Hope to visit again.
Stefano
2016-11-05T00:00:00Z
cosy, beautiful, very clean and organized. They helped us with the tuk tuk to know the places in Chiang Rai. Thanks!!
Maria C
2016-05-19T00:00:00Z
Yanee was an incredibly wonderful host. We didn't get to spend almost any time with her but she offered to take us to the bus stop after we checked out so we could go about our day sight seeing. The room was very clean and cozy. The low ceiling is about 5 feet 10 inches but thankfully we are both just under that and found the room to be very comfortable. The bed is quite firm but amazing on our backs and we slept like lambs. The air conditioning worked great and the room is on the second floor. It is a 15 minute walk to the markets and restaurants and it's on a quiet street that doesn't have taxis driving down it, but taxis all knew the building and didn't need direction (rare for us on this trip). We would definitely recommend and stay again.
Alice
2016-06-03T00:00:00Z
The host is nice. Simple room. About 5 mins drive from clock tower and night market. During my stay, the water heater is not functioning. Toilet cleanliness need improvement. Ceiling height is very Low, not suggested for traveler more than 165cm. Anyway it's value for money.
MAGGIE
2016-06-28T00:00:00Z
Our host was here for us, very understanding, we had all informations we needed. Thanks for your time.
Matthieu
2016-08-30T00:00:00Z
My friends and I were doing a day trip in Chiang Rai, so we wanted to have a cheap stay for one night. It looks exactly like the picture provided. We arrived pretty late at night, and they were being very helpful. The place was neat and clean, but the washroom could be not the best choice if you cannot stand the smell. But overall, we really enjoyed the stay and I would recommend if you are tight on budget.
Heesuk
2016-06-07T00:00:00Z
Room Type
Private room
---
Property Type
House
---
Accommodates
3
---
Bedrooms
Mueang Chiang Rai, Chang Wat Chiang Rai, Thailand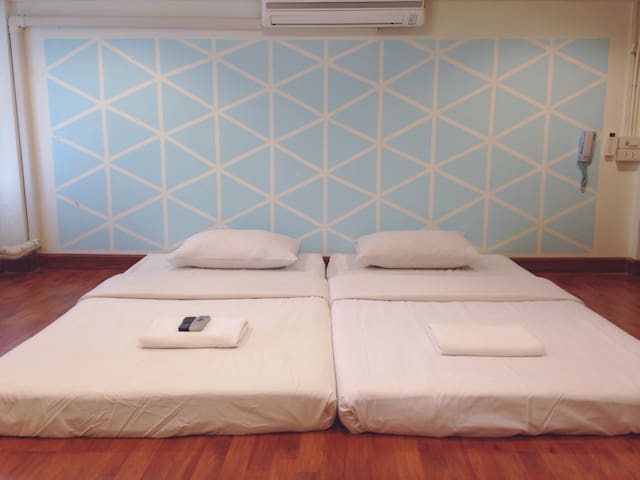 Maunjai Homestay is located close to Chiang Rai downtown and airport. Let's discover and enjoy local life with us.
Free - Breakfast - WiFi - Coffee corner - Book/Magazine Facilities - Air conditioner - Hot shower - TV LCD/Cable Tv - Wifi - Refrigerator - Laundry
Wow - what a wonderful find! I have stayed in dozens of Airbnb places, but Lalit's place is a 10 out of 10 on every level. This is a giant and lovely home, with everything in perfect order. The home is both beautifully designed and also spotlessly clean. The staff could not have been more gracious or more sincere. Bright clean rooms, sparkling clean and spacious bathrooms, beautiful public spaces, and a very tranquil neighborhood. We showed up with a group of 14 of us on a staff orientation trip, and we received the most wonderful reception. I can not speak highly enough about this lovely home or the gracious staff - fantastic choice! We will return again soon.
Henry
2017-02-26T00:00:00Z
My family and I (5 people) rented four rooms and had an amazing time. The view is amazing and the house was spacious and extremely comfortable. It's in a great location for doing things around Chiang Rai.
Rob
2017-03-01T00:00:00Z
ความสะดวกสบายสะอาด
Dariga
2017-04-04T00:00:00Z
เจ้าของที่พักน่ารักมากครับ เป็นกันเอง ให้ความรู้สึกเหมือนอยู่บ้านตัวเองครับ อาหารเช้าอร่อย
Tor
2017-02-18T00:00:00Z
Room Type
Entire home/apt
---
Property Type
House
---
Accommodates
10
---
Bedrooms
Maung, Chiang Rai, Thailand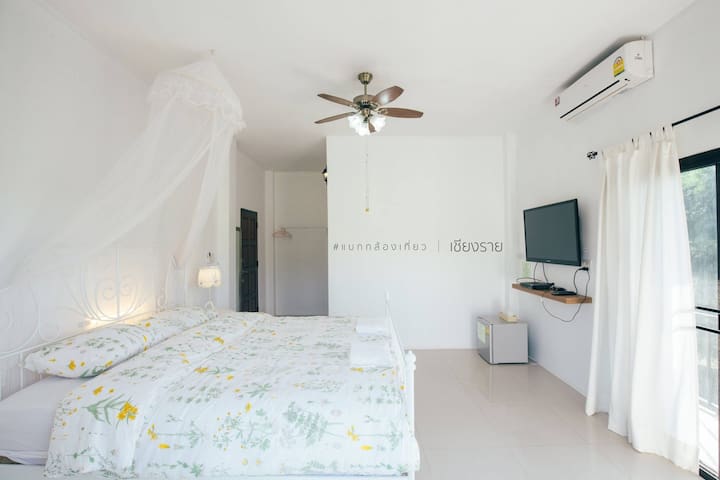 This beautiful room is one of 3 in our unique stilted traditional wooden longhouse, offering 50 m2 of living space (spacious bedroom, stylish bathroom & large private terrace) with superb views over the surrounding rice fields and mountains.
This beautiful room is one of 3 in our unique stilted traditional wooden longhouse, offering 55 m2 of living space (spacious bedroom, elegant bathroom & large private terrace) with superb views over the surrounding rice fields and mountains.
Yet close to town, our location and surroundings are tranquil, green and full of bird life. Directly from our location you'll find rice fields, rural roads, hiking trails and 2 waterfalls at biking distance and also the famous Black Temple (900 meters). Also we are close to the vibrant area of a university with many shops, restaurants and markets. Our place is an excellent base to explore the highlights of Chiang Rai province: Doi Mae Salong (authentic Chinese settlement on a mountain ridge), tea & coffee plantations, hill-tribe villages, Burmese and Laotian border (towns), the impressive Mekong river bordering Laos, Doi Tung Royal gardens and many more... You can self-explore by motorbike, bicycle, on foot or we can offer you a private tour you will not forget!
My boyfriend, parents and I were in Chiang Rai for just a day and this was the perfect place to come to after visiting a couple temples. Our hosts were very welcoming and made us feel right at home. We got to ride bikes around the countryside and Ya also cooked us a wonderful traditional thai dinner. It was the best curry we had on our ENTIRE trip! We loved watching the sunset and also playing with their dog des. Everything about the place was unique and we really had a great time.
Sherlyn
2016-02-17T00:00:00Z
What a wonderful place! Much needed quiet time to reflect and see the wonders of nature and explore the beauty of Chiang Rai. Your artistic and peaceful place is a feast for the eyes!
Joe
2017-04-06T00:00:00Z
We cannot say enough good things about this place. After almost three weeks traveling through Thailand, our favorite memories are sitting on the peaceful terrace overlooking the mountains. Each detail of the property and the rooms is uniquely beautiful and thoughtfully crafted. Ya and Mark are the ultimate hosts -- from the delicious homemade dinners and breakfasts, to the thoughtful and detailed advice, to their warm and kind care across the board -- we would only wish we'd stayed longer! Thank you for everything, Ya & Mark!
Sarah
2017-01-28T00:00:00Z
Amazing place. Extremely quiet and peaceful. Host were great and are always ready to help you with any info or if you want to get taxi. Would recommend this place to anyone.
Puneet
2017-03-13T00:00:00Z
Kallaya's place is absolutely amazing. Close to all the attractions in Chiang Rai but secluded and surrounded by beautiful nature. The rooms are spacious, clean and comfortable. Kallaya and her husband were very accommodating and gave us a lot of guidance during our time there. My friends and I stayed there during Thanksgiving and she made us an amazing traditional Thai feast. Such a beautiful experience. When I return to Chiang Rai I know exactly where I'll stay. :-)
David
2016-11-27T00:00:00Z
A great place to stay. We booked 2 rooms ( see comments on other review). Basically - highly recommended for Mark/Ya's hospitality, Ya's cooking and the relaxing rural outlook.
Bernie
2016-12-21T00:00:00Z
Lovely place to stay in the middle of the rice fields of Chiang Rai. Great beds, super clean, friendly owners. We were friendly welcomed and Ya prepared a nice meal for us. It felt like arriving in a oasis after the busy life of Bangkok and Chiang Mai. Lovely design, nice garden. We liked to bike around and to walk trough the village. Great place to escape.
Maud
2016-07-24T00:00:00Z
Awesome place. Beautiful garden, room, breakfast area. Very welcoming and friendly owners. Great advice before and during our stay with all things like sightseeing, transportation etc. Home cooked dinner and breakfasts. Couldn't ask for more. We will be back.
Graeme
2016-12-28T00:00:00Z
Room Type
Private room
---
Property Type
House
---
Accommodates
3
---
Bedrooms
Tambon Nang Lae, Chang Wat Chiang Rai, Thailand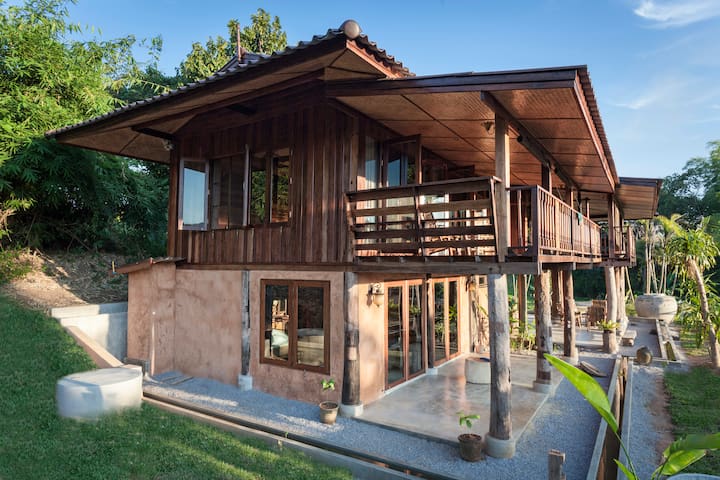 If you travel to Thailand and need to feel like #Lanna artistic (it's an antique house with northern thai style). I invite you to stay at #HuanKawin hostel where immemorial about 60 years include some household goods too.
If you travel to Thailand and need to feel like #Lanna artistic (it's an antique house with northern thai style). I invite you to stay at #HuanKawin hostel where immemorial about 60 years include some household goods too. My hostel is the real antique not the mimic one to feel like Lanna artistic, It has attachment along time with my grandparent and my mom. Such as bed it's 57 years old. The wardrobe is 57 years old since my grandfather was building this house.
walking street, Clock tower by artis, my hostel located at city center so you will convenient
This home is a absolutely lovely as are the hosts. Chiang Rai is a beautiful city and this home made me love the area even more. Would deft stay here again.
Shainul
2016-11-19T00:00:00Z
we just loved to stay here! they made us feel very welcome and helped us with everything we needed. it's a beautiful house and the veranda is great for relaxing after a day exploring the surrounding. the place is in a quiet neighborhood but still within walkingdistance to the center. we really recommend to stay here if you are looking for a quiet and cozy room.
Sarah
2016-02-05T00:00:00Z
We really like this little hostel! Its in a quite area and the host is very kind.
Remy
2016-02-26T00:00:00Z
Somluk is a very helpful and fast response host. Her mum is friendly and good chef. Location is within walking distance to night bazaar, monument tower and clock tower. Breakfast is nice and the house is clean and spacious. Highly recommended.
MiKuan
2016-05-22T00:00:00Z
The listing was accurate and the hosts were very sweet and accommodating! Thank you! Great location!
Carrie
2016-04-08T00:00:00Z
It is a charming place to stay. The host and her mom was always ready to help. We liked the free washing machine.
Fabien
2016-08-22T00:00:00Z
Somluk was very nice and helpful. Shame that I didn't get too much time to talk with her and the family. The wooden house reminded me of my grandma's old place. Try this out if you want a taste of original Chiang Rai life in the 1960s!
dan na
2017-02-08T00:00:00Z
very nice house in a strategic position and clean mennaged by smiling Anoy and her mummy and they are just wonderful Very good thai breakfast
Francesca
2016-02-16T00:00:00Z
Room Type
Private room
---
Property Type
House
---
Accommodates
2
---
Bedrooms
Mueang Chiang Rai, Chang Wat Chiang Rai, Thailand
Ann's Green House. A Home-stay Experience in Chiang Rai Come experience authentic rural Thailand with the comfort of home in the countryside of Chiang Rai Province in Northern Thailand.
Our home have 4 rooms available: Room #1 (Double Bed) https://www.airbnb.com/rooms/8963414 Room #2 (2 Twin Bed) https://www.airbnb.com/rooms/7719882 Room #3 (King Size Bed) https://www.airbnb.com/rooms/8963414 Room #4 (Sweet Room) https://www.airbnb.com/rooms/15694433 Come stay in our traditional Thai house homestay. Experience how to live like a local thai resident. Right next to all the great tourist hot spots, the home is ideal for seeing the city. Within 5 minutes walk to some top rated Northern Thai Restaurant, cafes by the Rim Kok river. Fresh farmer thai market is nearby, which you can home cook your own food at home. King Mengrai Monument and Saturday Walking Street are a 10 minute walk away. White temple, Black house, Singha Park are a 20 minute drive away. Our house is a traditional Thai house and it was build 60 years ago. The house is from the original owner passed down from generation to generation in the family. Your private room include two twin beds, fan, clothes wardrobe, table, and chair. We have an traditional Thai outdoor shared bathroom. It is fitted with modern amenities of hot shower machine and flushing toilet. If there is anything you need to help make your stay easier just let me know. I can gladly pick up any food and prepaid sim card. Any groceries you think you'll need also just let me know. If you forget we're always within 5 minute walk to a farmer market or a 7-11. Morning people are free to enjoy our delicious local Thai coffee. Free Fiber Optic Wireless Internet through the house. We have a lcd tv in the living room connected to a media player, which you can relax and watch a movie. If you're looking to workout, there is a free public sport complex down the street. The sport complex have gyms (weight/cardio), swimming pool, running tracks, football field, basketball court, and tennis court. There is also a muay thai gym with a great english speaking trainer nearby. Similarly we have bicycles at the house,if you are interested in riding around the area. There is plenty of parking space on our property. We can also help with motorbike/car rental if you need one. If you need restaurant/activity recommendation just ask and we'll point you in the right direction. Similarly we can help you if you if you're interested in seeing the White temple, Black temple, Singha Park, Khun Korn Waterfall, Doi Mae Salong, Doi Tung, Phu Chi Fa national park and the Golden Triangle. Every Saturday there is an awesome outdoor walking street market, which is a 10 minute walk from our house. The market has many street food, concert, performance, and hand made goods. We have two Jack Russell dogs on our property. They are friendly dogs once they get to know you. You are welcome to bring your pets during your stay. Conveniently located near: 2 blocks to 7-11 2 blocks to farmer market 3 blocks to Rim Kok River (many trendy cafes and restaurants along the riverside) 5 minute walk to Lab Sanam Keela (#1 top rated local restaurant in Chiang Rai) 5 minute walk to sport complex gym 1 km to King Mengrai Monument 1.2 km to Saturday Walking Street 1.6 km to Blue Temple 2.7 km to Night Brazzer Night Market 5 km to CentralPlaza Mall 8.8 km to the airport 10 km to the Black House 14 km to Singha Park 14 km to the White Temple 33 km to Khun Korn Waterfall 57 km to Doi Tung 68 km to Golden Triangle 71 km to Doi Mae Salong 95 km to Phu Chi Fa Forest Park Additional Services Available: Airport Pickup/Drop off: 200B Motorbike Rental: 200B per day Cooking Class (Cooking with Ann) 4 Course Meal: 1,200B per person 1 Day Full Chiang Rai Tour with Lunch Buffet: 1000B. per person Laundry Service: 30B per kilo
great experience! "Family" friendly ! you have the opportunity to live as a Thai ;)
Jonathan
2016-05-16T00:00:00Z
I stayed 4 days in Ann's green house. It was exactly like the add and the comments I've readen. Ann is a Super hostess. Really kind, warm and I felt she really cared about her guests as she found time chatting with me several times. She also took time to explain what I could do all around. She lent me a bike. And I also took a cooking lesson as she also a cooking instructor, which was a delightful moment from choosing my menus, going to the local market, cooking, to enjoying delicious meals. I hadn't time to see many things in Chiang Rai. So if I have the chance, sure I will come back.
Maureen
2017-03-21T00:00:00Z
Our stay with Anne and V was beyond amazing. Their Guesthouse is the epitome of what the Airbnb experience should be like and we highly recommend them. Their description is perfectly accurate, they are situated in a perfect location, provide you with a lot of information about the area as well as what to do and are more than willing to help out in any way they can. The room is comfortable, they allow use of their amenities and they really make you feel at home. We left knowing we would definitely visit them again and gained a friendship we will value forever. Xo
Sabrina
2015-11-07T00:00:00Z
Definitely recommendable!! Ann tells everything you need!!
지윤
2016-07-29T00:00:00Z
Staying at Ann's place was a wonderful experience, she wss very helpful with giving advice about touring around Chaing Rai. Her place is as advertised, the room was very clean and everyone was very friendly and accommodating, she was quick to respond to any messages and talked with the taxi driver when I got to the airport to give him directions to her place. I would definitely stay there again.
John
2016-03-05T00:00:00Z
Ann was and is a very kind and gracious host. She helped with everything you could want, organizing a tour, informing us about the local area (where markets are and good places to eat, etc) My partner got travel sickness the day before we had planned to do a jungle trek and decided to rest for the day while I still went off on the tour. Ann looked after her for the day, made her some food, and gave us some local medicines to help recover faster. Her house has a fully stocked kitchen for your cooking delights, or if you're not much of a cook she offers very personal cooking classes for a reasonable price. I highly recommend Ann and her lovely house to anyone visiting Chiang Rai!
Dylan
2016-01-18T00:00:00Z
Anne and V made me feel welcomed in their place. Local food, check. Local sights, check. Everything at her place was amazing. The garden, the dogs. Everyone made it feel like home. Anne and V always takes a step further to make me feel at home. Wished I had stayed longer. I've found my home in Chiang Rai. I'll be back.
Mitchell
2015-11-27T00:00:00Z
My only regret is that I did not stay longer. Ann is absolutely lovely! Perfect location for me to bike to the white temple and the black house. They can help you with tours and even a cooking class with Ann! I would definitely come back again!
suki
2016-02-11T00:00:00Z
Room Type
Private room
---
Property Type
House
---
Accommodates
1
---
Bedrooms
Mueang Chiang Rai, Chang Wat Chiang Rai, Thailand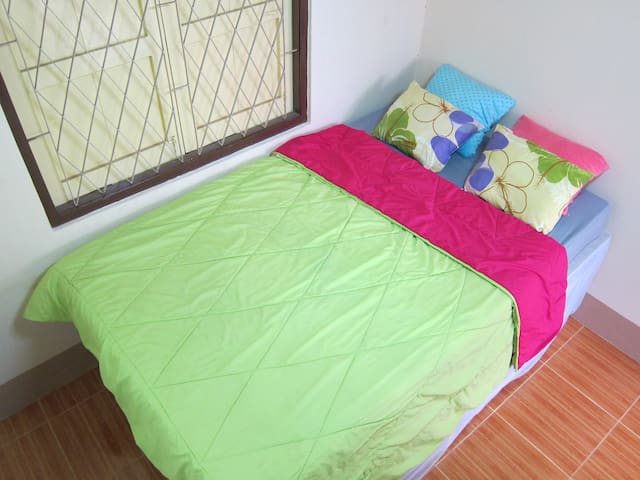 Situated in a quiet, leafy village 10 minutes to the city and airport, this large modern house is surrounded by natural vegetation and is ideal for people looking to experience authentic Thai rural life yet with all modern amenities and easy access to the city and main tourist activities. The village has all you need to enjoy a comfortable and relaxing stay but we offer a complimentary trip into town each day. There are 3 bicycles free for guests to explore the flat leafy lanes.
The house is very spacious with 2 large bedrooms, one with en-suite bathroom, both with air conditioning and can cool the whole house. The open plan living area has a dining area and a separate TV area with sofa and armchair. Off the living area there is a second bathroom and a fully equipped kitchen with microwave, stoves , toaster , kettle and coffee machine. There is a large balcony where you can have your breakfast watching the sunrise and a smaller balcony off the kitchen where you can watch the sunset.
The village is very well maintained with the roads lined with beautiful pot plants and colourful trees. It is a safe clean environment full of proud friendly locals and is surrounded by rice fields and lakes with mountain views. There is a local market which opens every afternoon offering local produce such as meat, fish, fruit and vegetables , a smaller market open in the mornings as well as local stores close to the house for everyday items and alcohol. There is also a large Buddhist temple just 5 minute walk from the house as well as a huge religious monument. There is modern Thai restaurant offering amazing Thai food a 5 minute bike ride from the house, called KP's. There is a 24 Hr convenience store 5 minutes drive along the road into town. There are two major shopping malls in Chiang Rai, BIG C and Central Plaza, both about 10 minutes away by car as well as a Macro, close to the airport, good for fresh fish and meat but also frozen food. There are many flat leafy lanes good for leisurely bike rides, and 3 world class golf courses all within a 30 minute drive, as well as fishing lakes. A 2 minute bike ride away is a newly built, free badminton court and we can supply guests with a badminton set free of charge.
Richards' place exceeded expectations by far; safe, super clean, spacious, comfortable, amazing bed and linnen, pillow is soft and comfy, fully stocked kitchen with all the appliances and gadgets that one would have at home. All the shelves are full of tea, coffee and a whole array of spices, sauces and whatever one would need to get going in the kitchen. My wife and I loved the outside area where we spent many evenings listening to the night sounds or music. We loved the small town atmosphere, the small market, sound of locals busy with there chores in the evenings. The house has high end fittings like the toilets and good functional ac's. Two large and comfy bedrooms. We enjoyed cycling through the rice fields. This is not a place prepared for tourists with low quality towels, hard bed and a few token appliances and gadgets in the kitchen and bedrooms, it is basically a liveable and fully functional home where you can step in, relax and enjoy from the word go. It is a bit out of town but not far from anything at all. It was exactly what we were looking for and we will not think twice to stay there again. Kunchaya stays on the property and although she was always available, we only saw her when we parked our car or when we needed some advice with our planning. Chiangrai is spread over a large geographical area and there are so many things to do and see in and around the city that it is better to rather stay outside of the city center. Much easier then to negotiate your way in and out of the city. I can go on and on but we can conclude with giving Richard and Kunchaya a 10 out of 10 for every aspect of our stay.
Buks
2017-02-28T00:00:00Z
We had a wonderful time, it was everything we needed and a whole lot more! The photos really don't do it justice. The house is huge and it really is a home from home with everything you need. Kunchaya is a wonderful hostess, and now friend. She will tell you the best places for food, markets whatever you want. She will offer you a ride into town but if you want to make your own way taxis are incredibly cheap here. We really could not have wished for anything more.
Diane
2017-02-06T00:00:00Z
This airbnb is a gem! While I never met the host, Richard, in person, the lady staying on site was more than accommodating with all of our needs. They picked us up from the bus stop and provided a feee ride to town every day, which we appreciated greatly. The place is far bigger and more spacious that what we expected - plenty of space! Located in a quiet area not far from the main part of town. We also rented the motorbike they had available for several days. Very reasonable price, and it's a newer and better bike than most of the other rental companies have to offer. Clean, spacious, quiet, and quaint - we loved it and would have extended our stay if possible!
Simone
2017-02-16T00:00:00Z
This place is great!! Our host was just wonderful and went out of the way to drive us places, provide advice and information, make sure the house was cleaned regularly and that our laundry was taken care of perfectly. It was so nice to stay in a place where we felt totally welcome from the first day until the last (we stayed for a month). We actually felt that we were part of a family but with just the right amount of privacy. When we left, we hugged and cried—it was sad to say goodbye and, in addition to a great place to stay, we felt we had truly made friends. The listing doesn't do justice to the home. With really good ACs in both bedrooms, the entire house can be kept really cool even in the hottest of times. The kitchen is a real room and well stocked with nice pots and pans and the frig is huge. The house is big and roomy and the furniture is quite comfortable. The neighborhood is quiet and pleasant and not touristy at all. The local markets, morning and evening, are within a short walk of the home and are great places to buy fresh fruit, vegetables, meat and fish. As with a lot of Thai markets, there is an abundance of prepared foods as well. There are also several restaurants within walking distance. If we wanted to go to town, our host would either drive us or arrange an inexpensive taxi. I would not hesitate to wholehearted recommend this place to my friends and I am sure we will return.
Cheryl
2016-12-01T00:00:00Z
Alles war perfekt vorbereitet, Kunjaya hat uns empfangen, sie war eine sehr hilfsbereite Gastgeberin. Das Apartment ist über 135 m² groß und verfügt über 2 Schlafzimmer mit richtigen europäischen Betten mit hohem Liegekomfort, viel besser als die sonst lokal üblichen Betten. Die Beschreibung entspricht den Gegebenheiten. Man braucht für die Mobilität ein Auto. Die unmittelbare Nachbarschaft ist rustikal, durchaus ein akustisches und olfaktorisches Erlebnis. Wir erlebten sowohl extrem kalte wie extrem heiße Tage. Schade, dass das größere Schlafzimmer keine Aircon hat. Die vorhandene Aircon im zweiten Schlafzimmer ist extrem leise und effizient.Die Küche ist perfekt, der Samsung Kühlschrank super. Insgesamt ist das Preisleistungsverhältnis sehr gut für den gebotenen Komfort. Das Internet ist brauchbar, der Empfang für mobile Daten von True oder 1 2 call AIS ist perfekt. Wir haben uns wohlgefühlt und kommen gerne wieder.
Egbert
2016-03-10T00:00:00Z
Room Type
Entire home/apt
---
Property Type
House
---
Accommodates
4
---
Bedrooms
Mueang Chiang Rai, Chiang Rai, Thailand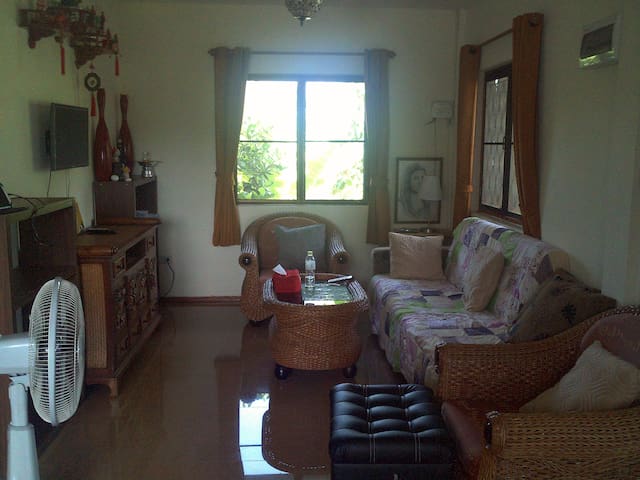 My near public transportation. My accommodation for solo adventurers and business travelers.
Room Type
Private room
---
Property Type
House
---
Accommodates
2
---
Bedrooms
TH, Thailand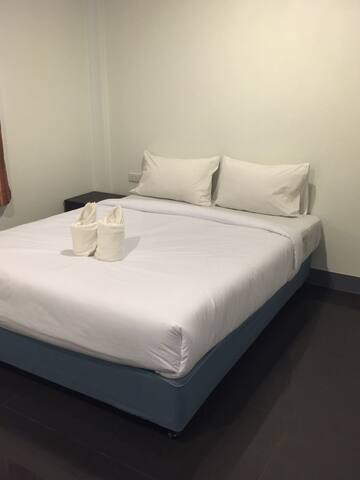 At The Garage, our humble homestay renovated from daddy's auto garage, now open for our traveller friends to stay closer to the culture. Try our family's homemade Northern Thai cuisine. Biking, riding around to explore the beauty of famous White temple, Singha Park and many more.
2 Queen size Double Bed in 30 sq.m. Private room with breakfast and full amenities. (Available for 4 persons and 1 extra bed on sofa-bed) - TV - Soap and shampoo. - Towels. - Hair dryer. - Sofa. - Reading/working desk. - Wardrobe. - Water heater. - Air con. - Refrigerator, drinking water, dishes, TV, daybed, dining space etc. at common area.
The Garage fill with greenery space andcloser to a real cultutal area of the city of Chiang Rai. Located at main road, Phahonyothin road., easy to find. - 7 minutes to the famous White temple. - 15 minutes to Singha park. Full of activities, scenery place. - 10 minutes easily access to city center, the clock tower, night market. - 20 minutes to airport. - 5 minutes to bus terminal. - Easily access to another attractions on this main road. Recommend: Try biking/motorbiking around to explore the natural and cultural side of Northern life.
Host is great and helpful! The area is located on the outskirts of Chiang Rai, spacious rooms and also breakfast provided.
Harry
2016-08-08T00:00:00Z
The place is easy to locate and convenient to access other tourist attractions and not far from the city. Host is kind and informative.
Pear
2017-01-06T00:00:00Z
Big verry clean room, good breakfast, and helpfull and friendly staff. Only the location is a bit out of the center an close to a big street so you heare the traffic.
Gian
2016-11-23T00:00:00Z
房东人很好,会给你介绍景点,准备的早餐也很好吃!
Eleven
2017-02-07T00:00:00Z
房东是个帅气的年轻人 人非常热情 出发前就帮我找好了车在机场接送 价格也很合理!房间很整洁 早上有免费早餐吃 也会推荐我们去一些景点!总之是次不错的体验!
qi
2017-01-24T00:00:00Z
Room Type
Private room
---
Property Type
House
---
Accommodates
5
---
Bedrooms
Muang, Chiang Rai, Thailand
Big house with big private swimming pool and full service. The house is in a quiet area perfect for relaxing and have many very nice temples around and have a very nice golf course close. In the house includes -Pick up to the airport -Cleaning every day (if you want) -Laundry -Wifi -4 bikes Not included Electric Car Motorbike
Room Type
Entire home/apt
---
Property Type
House
---
Accommodates
10
---
Bedrooms
Bangkok, Krung Thep Maha Nakhon, Thailand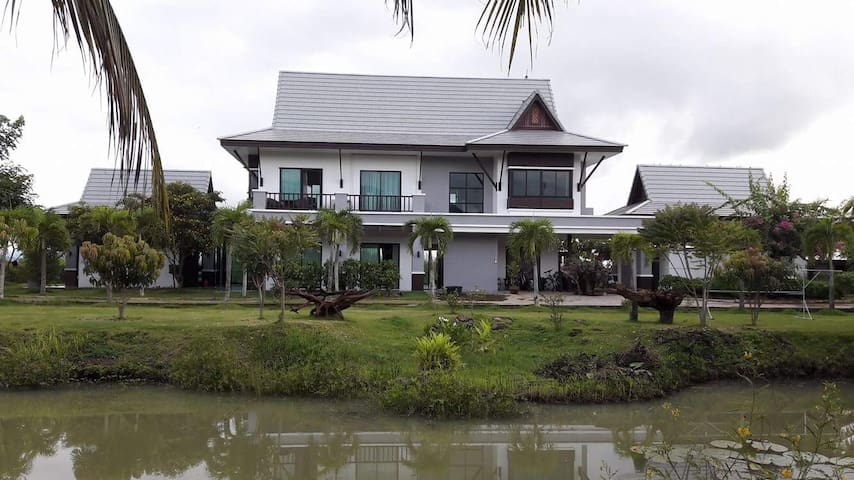 2階建てのメゾットタイプ。 室内は使い勝手のいいお部屋です。 ポークンメンライ像がすぐ近くで市内も郊外へ行くのもとても便利な場所です。 キッチンで自由にお料理を楽しめホームパーティーOK! 長期滞在(1か月単位)割引あります。 生活するのにとても快適で、室内にいるとタイにいることを忘れてしまいます。
1階がキッチンとリビング、トイレがあり2階にシャワールーム、トイレ、ベッドルーム2部屋の作りです。 ベッドルームはエアコン付き。
Room Type
Entire home/apt
---
Property Type
House
---
Accommodates
3
---
Bedrooms
Chiang Rai, Chiang Rai, Thailand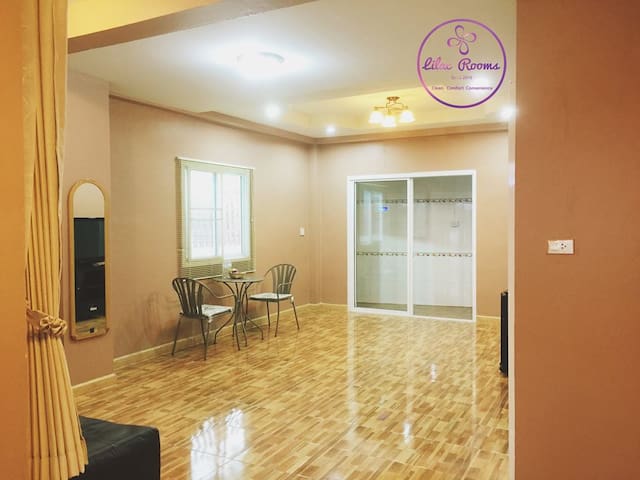 I sat near the Temple of the Earth Phu Chi Fa, you will love the place because of my nature. My accommodation for solo adventurers.
Situated in the middle of rice fields and friendly neighborhood, this airbnb, even hard to reach, is a must for traveller who longs for local and genuine local lifestyle. Good amenities and warm welcome from hosts together with great food they made for us. Nothing to complain and for this price, this airbnb is just pure bliss.
Chaitad
2016-12-27T00:00:00Z
Room Type
Entire home/apt
---
Property Type
House
---
Accommodates
4
---
Bedrooms
Phayao, Phayao, Thailand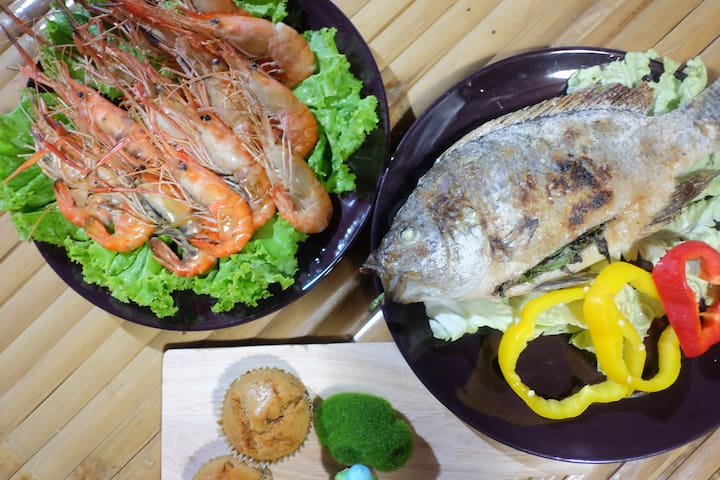 Rimkok terminal Accommodation tranquil river and mountain safety with amenities such as air conditioning , TV, refrigerator , water heater, not far from downtown restaurants . 3 miles from downtown Hot Springs, 8 miles, cycling can be .
Host be aware you overbooked when you tried to host a 2 day wedding plus provide us with services the 3 days we stayed at the resort. It would have been better to reschedule our visit when your staff was not so exhausted & when we could have accessed & enjoyed the resort. It was very noisy late each evening g
Elizabeth
2017-01-31T00:00:00Z
This is a great spot I'd you want to take a break from the city. It is right on the river, with unbeatable views. Staff is very nice. We really enjoyed how unique this place was. The only reason we are giving it a 4 is because the spare mattress was very uncomfotable. Also the tub and shower area could have been cleaner. Still one of the coolest places to stay.
Yuri
2016-11-12T00:00:00Z
Hidden Diamond!!! I was finding an authentic place close by Kok river. This place is worth more than we expected. It's not far from a downtown but surrounding by nature. I woke up and saw the lively kok river through windows directly from our bed. A young lady working there is really nice and kind. Food from the host's restaurant is incredibly delicious and cheap. I would say that this place is perfect to stay if you want to find a peaceful and authentic place. Only one thing that I do not like is bathroom and towel. Other than that i would say that this place made my trip even more memorable.
Pooncharas
2017-01-21T00:00:00Z
The whole area of this place is very nice and relax but it is for long stay. No one at this place know that we have a booked the room. They are quiet people, not talk much just look at us and wait for us to say hello (3times). One staff jump in a few minutes later and she is the best for the rest of our stay. She went away to check the room for us. Came back to walk us around and let us choose the room. Room could be better, fix floor, make bathroom cleaner and add hanger where we can hang or put our cloth while shower also something to hang inside the room beside wardrobe. If you are going to stay there for long time is good because it is not easy to get in and out from ChiangRai city. It is very nice area by the river just to relax, read a book and eat there but if you stay for short time jus to explore ChiangRai then it is not a right place. We drove back with our car at 8:30pm, It was not easy at all. Some road look like no one have been use for years. It would be nicer if staff there start to communicate with us more. We walked to restaurant for breakfast but they said it is not included. It was my bad to not read carefully but then its fine. We know it is not included so I left to get ready and leave for our breakfast and next stop. My boy friend was sitting there for a while and no one talk to him or ask if he need/want anything until 15 minutes later when he got up to leave. One start to ask :( They are nice people but I think they just not know how to do this business or to please people. Room is nice and it would be nicer if they pay more attention in details. If these two things are good then the distance will maybe consider as a minor.
Ann
2016-11-29T00:00:00Z
The room is actually a little bungalow on the river. It's small and simple but clean and with a little terrace from where you can see the river flowing. It's a very quite place 10' driving from the city. We rent a motorbike and we enjoyed going around. The restaurant is very good and the family is so nice, they cannot speak English very well but they help as they can.
Margherita
2016-12-23T00:00:00Z
There were only two bungalows for rent and we were the only guests there. We stayed for two nights there and it was exactly what we were looking for, quiet place for ourselves, to read and do nothing. Only thing I must mention is the sound of the motor boats, they are not so frequent but can be loud. The owner was so lovely and gave us a lift to the bus terminal!
Kim
2017-02-13T00:00:00Z
When I arrived, the staff seemed very confused that I was there, though I sent a message to the host two days in advance, and never received a response. I had to wait around for a while until they figured out that I, indeed, had a room booked with them. The hut itself was in a beautiful location, view of the river. Cute little hut, some bugs but I expected that. Linens seemed a bit dusty, but clean-ish all in all. I had to rig up my own curtain with towels in the bathroom window so that people boating by on the river ( and the construction going on across river) didn't see me showering. I ordered dinner once, it was very good. They told me kitchen was open for breakfast at 9:00 AM and at 9:30, I had to find somebody to order coffee/tea in the morning. Id say if you have patience and don't mind just a bit of dirt, it's worth the experience. Can't beat the lication, I had so much fun driving my scooter to the waterfall and hot springs, it's on the road to get there. With better management it could be a GREAT stay.
Cheyenne
2017-01-16T00:00:00Z
Rim Kok terminal is a hidden gem! It consists of only 3 bamboo huts set right on the river bank - all with good amenities. Beautiful views of the river and set in the countryside with no sense of being 10 mins from CR centre. You'll need a scooter or at least a bike in order to leave and explore from the resort (or the owner can arrange driver). River valley is beautiful and I found it great location for cycling. There's on site restaurant and cafe which is great if you're feeling lazy and the wifi was good enough for us to work. English isn't spoken a lot but communication was fine - just took a bit longer.
Luke
2016-12-15T00:00:00Z
Room Type
Entire home/apt
---
Property Type
House
---
Accommodates
3
---
Bedrooms
ตำบล ดอยฮาง, เชียงราย, Thailand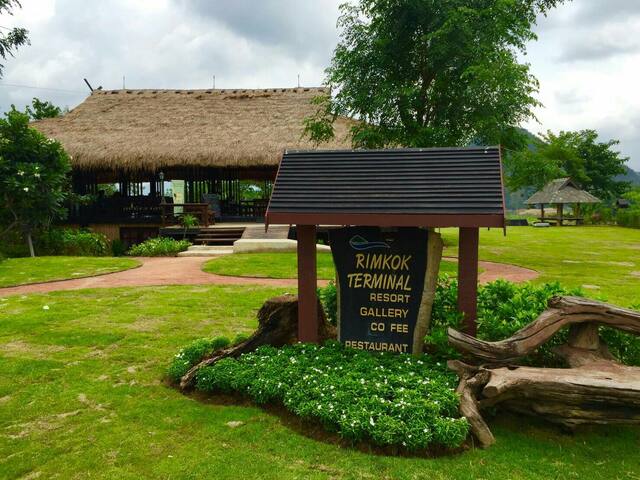 1

–

18

of

88 Home Rentals
Enter dates to see the total trip price including additional fees (but excluding any taxes).