MY HOME IS 5 minutes one BLOCK FROM THE BUS STOP to NYC THAT GOES BACK AND FORTH TO NYC EVERY 20 MINUTES, AFTER A GREAT DAY RELAX IN YOUR COMFORTABLE ROOM WITH DECK, AND GARDENS***PARKING IS FREE OF COURSE ALSO A WITH A QUICK CAR DRIVE TO NYC AS WELL. TAKE IN THE SITES THAT NYC HAS, AFTER THEN YOU CAN THE BEST STORES IN THE LARGEST MALLS IN NJ. MY TOWN HAS GREAT RESTAURANTS STORES AND MOVIE THEATER AND MORE. I AM AN ARTIST AND EVERYONE CAN USE MY STUDIO AND EVEN PAINT YOU WANT.
My home is in a 1850's farmhouse in a historic town in Bergen county one of the biggest shopping area in the country as well close to NYC. I am an artist and parts of my home is my gallery and work space, including library. You may be able to see me working at my paintings, collage and assemblage mostly all of the time. Therefore my home is eclectic and unusual. The grounds have a pond, beautiful plantings and trees.sit in vintage seating. Comfortable spacious sky-lit studio attached but separated for privacy from the main house. My home is situated in lovely tree lined neighborhood with express buses one block away going to and from NYC daily every twenty minutes during the day and part of the night. During the weekend the bus schedule is limited at late night and and at different schedule then the week both at the Port Authority on 42nd street and eighth avenue. Driving to NYC without traffic can by twenty minutes in traffic more. .Weekend different schedule. Our spacious studio has a full bathroom with shower, toilet and sink, towels and small size shampoo and conditioner and other goodies. The bed is a comfortable mattress on a antique extra large from Bali twin sized. It has its own thermostat for heat and an air conditioning unit. Work out equipment in basement. Parking always available. There is a separate entrance to the studio and a specious gardens where at times deer and rabbits while you check out the greenery that you can see in the deck. I actually wrote a and published a book sitting while thinking and dozing, near the pond and the green grass. The town has many restaurants, a movie theater, shopping with many such as clothing, food, books, eclectic presents, nail, shops, florists, yogurt, bagel shops, super market and CVS only a short walk from my home. Oh yes we have many yoga , Pilates and many other fitness stations in Tenafly and as well. Bergen County is known for many shopping malls and is about less than a two miles drive. Wireless internet is always available, Television and most amenities available including bagels, muffins and coffee in the morning and the first class restaurants, are minutes to my home breakfast. lunch and dinner , many of the eateries are also in NYC as well but if not you will be in the greatest eateries you can find think NYC door steps. All I can say is enjoy, enjoy
Beautiful beautiful specimen trees, with gardens with wonderful flowers , it is an older neighborhood with great neighbors and a quick walk to town, that have concerts through out the summer. The best thing is that at one block there is a express bus stop to NYC Port Authority. We have a movie theater with currant movies, great diverse restaurants, CVS, and more. Supermarkets, gift shops, clothing stores, a running track, and specimen trees and gardens and so much more.
I spent a very enjoyable month with Lynne. Her house was exactly as described and she is a very warm, caring person who is not only an accomplished artist, but a very accomplished gardener. The gardens and historic house were what drew me to her place, and it was a wonderful stay. I am leaving not only enjoying my stay there, but feeling I have made a wonderful friend.
Pam
2014-07-11T00:00:00Z
Lynne is amazing!!!!!!! I knew I made the right decision the moment I started speaking with her. She is warm and kind and generous and she made me feel home. The room is great and beautiful!!!
Raz
2016-10-25T00:00:00Z
Check in to Lynne place was easy. The area was great. The room has its own entrance and bathroom. Fairly close to groceries and restaurants. Not that far from the city. Th Lynne and her dog ware cool hosts. She was nice to talk to. I would recommend staying at her place.
Pranil
2017-02-07T00:00:00Z
Lynne is such a kind soul. She has a beautiful home and garden, with gorgeous, lovely animals. The town is amazing and would highly recommend staying here to anyone.
Joan
2016-05-29T00:00:00Z
Lynne is very kind. She took care of me very nice. The room a lots of nice works and any one who falls in love with reading will be recommended here.
Soraret
2016-05-02T00:00:00Z
The host canceled this reservation the day before arrival. This is an automated posting.
Susan
2015-05-19T00:00:00Z
The host canceled this reservation 49 days before arrival. This is an automated posting.
Cassandra
2016-11-11T00:00:00Z
I loved lynn, she is great person, the house is cozy old and nice! I loved all her pets!
Ahmed
2016-09-28T00:00:00Z
Room Type
Private room
---
Property Type
House
---
Accommodates
2
---
Bedrooms
Tenafly, NJ, United States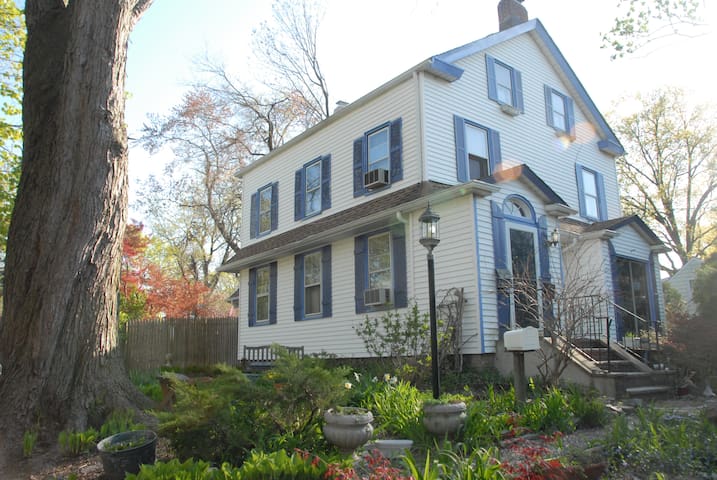 My place is good for solo adventurers and business travelers.
Convene vt place for us.
Jake
2016-10-09T00:00:00Z
Good location and hospitable hosts) cozy room in the house!
Andrey
2017-03-15T00:00:00Z
Nice room with big tv and two beds and a couch. Don and his wife were usually out but were very good hosts overall. Nice area and very safe.
Carmine
2016-11-11T00:00:00Z
As I said, nice area ! Short walk to grab a bus to the city. Great host, very private. Lots of local restaurants within waking distance. I spent a week there with my son and had the best time in years !! Thanks again Don !
Jason
2016-12-31T00:00:00Z
Amazing host. He was very welcoming, and willing to help. Great guy and I can't recommend this place enough to anyone looking to stay in the area. The room was as described and very clean. It's obvious that he takes good care of his property. Just a little too far from my work. Its in the basement, which is very quiet for a good sleep.
mainul
2016-07-01T00:00:00Z
Thank you Mr. Yoo for everything. Your Host was the BEST!
DONG-GEUN
2016-10-02T00:00:00Z
The basement room is spacious and comfortable. Fridge and microwave available too. 10 high stairs between room and bath, so not good for anyone with mobility issues. Small dog onsite. Wonderful hosts who are most helpful. A nice place to stay!
Nancy
2016-12-06T00:00:00Z
Room Type
Private room
---
Property Type
House
---
Accommodates
2
---
Bedrooms
Tenafly, NJ, United States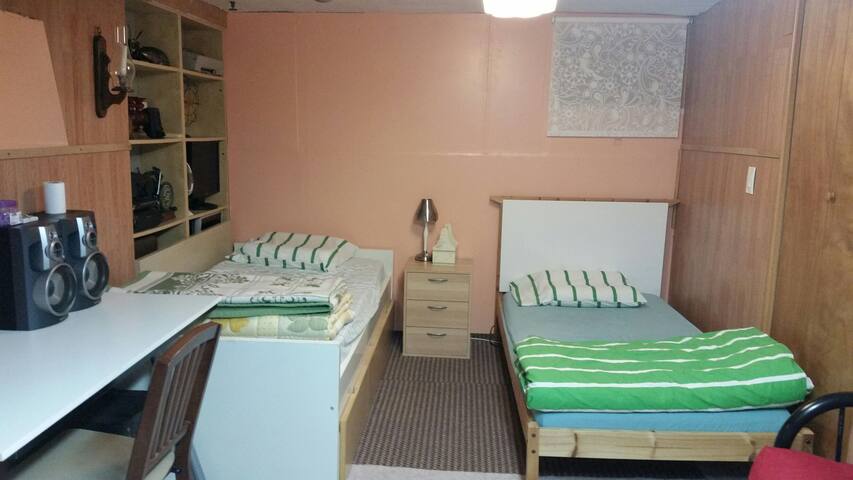 My place is close to public transport, New York City. . You'll love my place because of the high ceilings, the coziness, and the location. My place is good for couples, solo adventurers, and business travelers.
Room Type
Private room
---
Property Type
House
---
Accommodates
1
---
Bedrooms
Tenafly, NJ, United States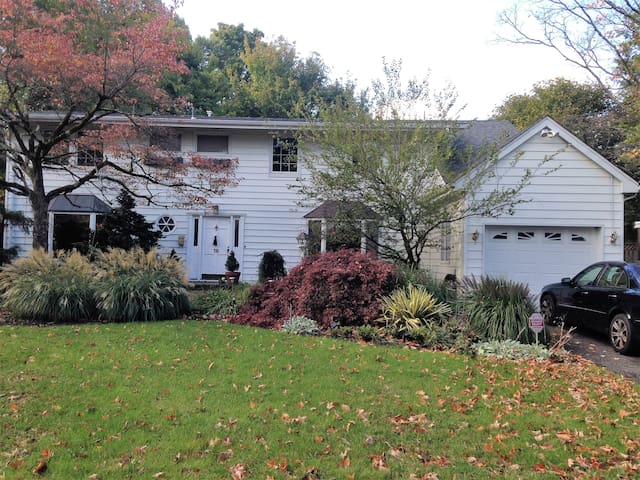 Free parking and close to bus stop to NYC. Private room and private bathroom with free WiFi with access to kitchen. Friendly collie dog to provide relaxing affection during stay. Ceiling fan in room, air conditioning unit available if desired. Walk to quaint town, restaurant and movie theatre.
Desirable commute to New York City. Bus stops at end of street and express bus scheduled to arrive at Port Authority Manhattan within 30 minutes.
Beautiful, private and quiet residential neighborhood within walking distance of two parks.
Jill is a very pleasant person. She gave us a warm welcome and we felt very comfortable during our stay. The family is very nice and my wife and I enjoyed the stay. I would stay here again.
Mandar
2016-11-23T00:00:00Z
This is a very affordable room with necessary amenities in a lovely NJ town of Tenafly. It's walking distance to town center for those who are visiting Tenafly (as we actually were). For those wanting to go into NYC (as we had done on a couple of occasions during this stay) George Washington Bridge is 10 minutes away. The host family is lovely and very accommodating. This is not for those who seek luxury, but a good value for an individual or a couple who need to stay in the area.
gregory
2016-12-30T00:00:00Z
I came to the US for an internship and did not have a place to stay so I tried Air BnB and ended in this wonderful house. It was definitvely the best decision I could have made. It was great staying with Jill, her family and the lovely dog! I spent almost 3 weeks there and enjoyed the beautiful neighborhod as well as the good bus connection to the city. Jill provided everything for me starting from towels, outstanding cockies up to a delicious bottle of wine. I can absolutely recommend this place both for travelers as well as for people that want to work in NJ or New York.
Immanuel
2016-09-01T00:00:00Z
Jill, her husband, their son and the family dog are amazing hosts! They are kind, friendly and easy to talk to. And Jill was nice enough to drop me off at my new place, which is near their house, after checking out of the house. Over all, I had such a great stay at Jill's!:)
Summer
2016-10-07T00:00:00Z
I had a great 6 day stay here in Jill's family home. She and her husband are super nice & made me feel very welcome, the room & bath were spacious & private and I loved the presence of their wonderful collie. I had a car, which was no problem to park in the driveway, and there is a bus into the city one block away. I will definitely stay here again next time I am in the area, I felt very comfortable here.
Stephanie
2016-11-30T00:00:00Z
Room Type
Private room
---
Property Type
House
---
Accommodates
2
---
Bedrooms
Tenafly, NJ, United States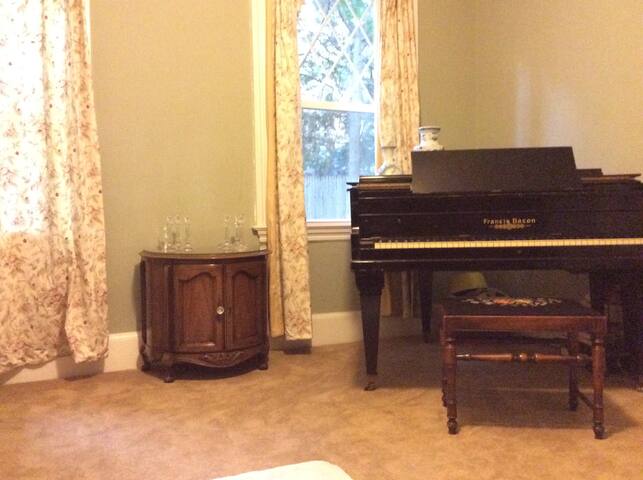 New construction apt 1,200 sqft! features: 2 large bedrooms with TV, separate kitchen with new appliances includes NESSPRESSO coffee machine, spacious living area with dining table, washing/dryer, computer. only step away from bus station to NYC!!!
Best location!
The host canceled this reservation 43 days before arrival. This is an automated posting.
Sarah
2016-07-19T00:00:00Z
The host canceled this reservation 36 days before arrival. This is an automated posting.
Monica & Vambah
2016-04-08T00:00:00Z
Another great stay at Gili's! Clean, convenient, modern apartment. Gili is very accommodating and quickly answers any questions we may have. Will continue to book with her!
Monica & Vambah
2016-03-22T00:00:00Z
Gili is very accommodating and responsive. Her place is in a great location and convenient for me when I am visiting my son in NJ. The unit is spacious, clean, and has its own entrance. The driveway spot is a great help. Would definitely recommend this listing to others.
Monica & Vambah
2016-02-22T00:00:00Z
The host canceled this reservation 133 days before arrival. This is an automated posting.
Jerry
2016-05-21T00:00:00Z
Room Type
Entire home/apt
---
Property Type
House
---
Accommodates
4
---
Bedrooms
Tenafly, NJ, United States
A great location - walking distance to bus to NYC. A modest warm small apartment (large in comparison to a suit in hotel). Separate entrance although attached to our home. Has two small bedrooms and a small living area with TV. One parking area.
Very quiet lovely town close to NYC and to the Hudson river.
Room Type
Entire home/apt
---
Property Type
House
---
Accommodates
2
---
Bedrooms
Tenafly, NJ, United States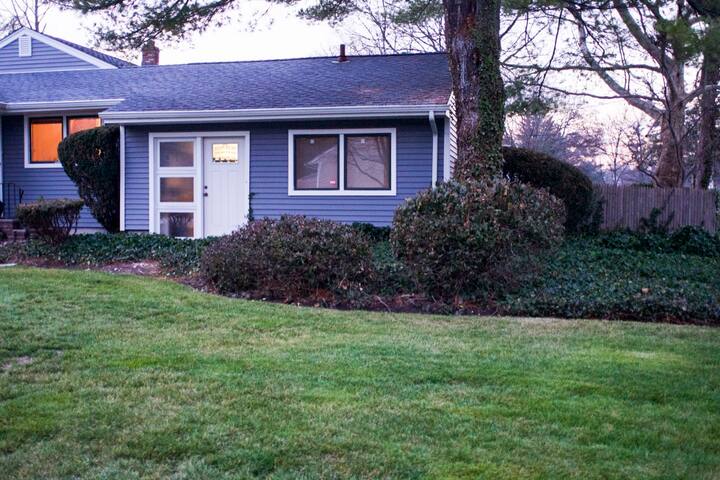 Private Space available in room off of a shared efficiency apartment in a private home centrally located in a very good neighborhood in yonkers within minutes of the prestigious town of bxville - ample avenues of navigating and ample street parking
I stayed at Trish's house for 2 days, she is one of the most generous and kind person I've ever met in my life! When I arrived she helped me on better understanding the public transportation's route, she suggested me what to do and what to see. In the same evening we had pizza together and I had wonderful time! She's funny and so sweet! She put me in comunication with another guest in the house to share uber at night during the return trip and everything went fine. It was a pleasure to me to meet a person like Trish and I would reccomend her to anyone, she has a big heart!!
alice
2017-01-01T00:00:00Z
I really enjoyed staying here. Trish is a very nice and friendly lady. The space was comfortable and clean. Everything was perfect! I definitely recommend this place.
jerrica
2016-12-10T00:00:00Z
Trish was very welcoming, kind and considerate. Her 2 cats were welcoming too! She gave me good ideas of places to go and was interested in hearing about my adventures upon my return. I didn't have any trouble parking on the street.
Julia
2016-06-25T00:00:00Z
Trish es una persona muy generosa, fue excelente anfitriona y siempre está muy pendiente con sus inquilinos. La casa está muy bien ubicada, con buen transporte público. Gracias por todo Trish!!!
Alexandra
2017-02-25T00:00:00Z
Room Type
Private room
---
Property Type
House
---
Accommodates
1
---
Bedrooms
Yonkers, NY, United States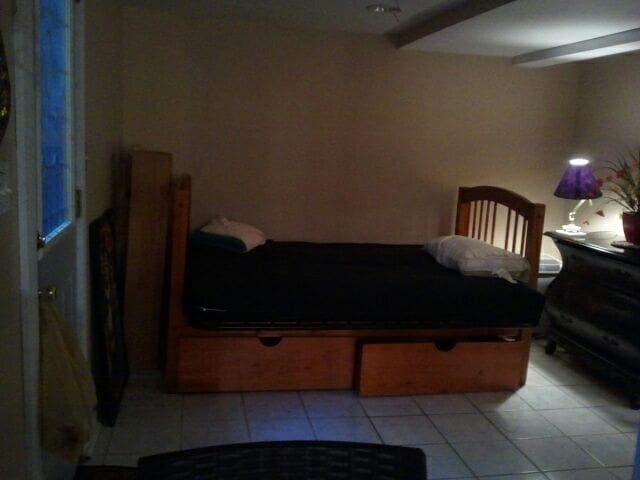 The apartment is an art lovers dream, every room has artwork ranging from oils on canvas, prints, pottery and so much more. The apartment is spacious and clean, a full kitchen which includes a Vitamix. The building has 2 elevators and 3 entrances.
The listing description was way better than how it looked in the pics. Its a beautiful and a homely environment. Very high standards for cleanliness. Also Carmen is very warm. I could not have asked for a better host as I was travelling first time to the NYC.
samriti
2016-04-18T00:00:00Z
Carmen was so nice and very welcoming. The appartement was clean and neat. We had a wonderful stay. We felt safe in the neighborhood.
Luc
2016-05-04T00:00:00Z
Carmen and Victor (her son) were such lovely hosts! We thoroughly enjoyed our stay with them in Washington heights. Their apartment is soooo beautiful -- the pictures don't do it justice :). The room was way more than enough! Thank you!!
Tiana
2016-04-26T00:00:00Z
Carmen's home was beautiful, safe, and a great place to stay in NYC. It was a quick walk from several metro stations but far enough to be away from the noise of the city. We enjoyed our stay here.
Rochana
2016-05-18T00:00:00Z
Thanks so much for Carmen and Victor. I enjoy the stay here greatly and thanks so much for your help. Be immersed in fantastic river view , it's a overwhelming enjoyment. BTW , the room is far more beautiful and comfortable than the pictures in Ads.
Doris
2017-03-12T00:00:00Z
CARMEN is a wonderful lady! she is so helpful, kind...! Also her son...we are more than thankful for the great time that we have sent at her appartment. The room is really nice and big enough for 3 persons...the subway station is close.. Everything was just perfect. All my family was happy (URL HIDDEN) was hard for us to leave Carmen! Gros gros bisous dear Carmen from all of us, Sonia, Fathia and Abdellatif
Rym
2016-04-12T00:00:00Z
Carmen graciously accepted an 11th hour request to book even though she was a new host. I had to rebook from a different host who had misrepresented their space and was trying to get to a concert at Carnegie Hall the first evening so I was a little stressed out. The room was very warm, nice towels, the bed very comfortable and the host and her son were very accommodating. She even picked up a few staples from the market during the huge temperature drop/snow so I wouldn't have to brave the elements. I was very grateful for her hospitality. Beautiful building and big windows for a nice view of the Hudson.
Faith
2016-02-17T00:00:00Z
Carmen and her son Viktor made our visit in New York a total success. We had no problems to set up a chek in and a check out time and it was easy to stay in contact to update travel schedules. The apartment is very nice (even better then the pictures show) and it has plenty of room for 3 People. Everything very clean. Clean beds, sheets, towels bathroom and kitchen. Free Waterbottles will be in th room every day. Carmen welcomed us and even invited us for lunch one time. Very polite and nice people. The neighbourhood is a nice place as well. The hudson river, bars and stores right next door and you have easy excess to manhatten via the subway which is about 6 min walk from the apartment. We (3 Guys from germany) are very happy that we choose carmen and would do so again. thank you again.
Hänsson
2016-03-30T00:00:00Z
Room Type
Private room
---
Property Type
Apartment
---
Accommodates
3
---
Bedrooms
New York, NY, United States
Bright room with king size bed with closet and cabinet High speed internet Private Bathroom 20 minutes driving distance from NYC(GW bridge) Right in front of the bus stop to NYC Outdoor parking
조용한 동네입니다
Samuel and his family were very charming and inviting. The room was very comfortable. I have a very full work week (crazy clinical hours) and my schedule was accommodated.
Kimberly
2016-03-11T00:00:00Z
Samuel was a wonderful host - very polite. The bedroom was very comfortable and bathroom was perfectly clean. Loved that pillow!
John
2016-02-17T00:00:00Z
I was greeted at the door by Samuel and his cute little girl. He introduced me to a pair of slippers (no shoes in the house). I can appreciate the care taken for the flooring. My job is overseeing construction of commercial buildings and flooring quality is important. Samuels wife even asked if I had had dinner yet. The room was neat and clean as described and the bed was very comfortable. I slept like a baby. I love the huge tree in the driveway. Thanks Samuel and Family, Wes.
Wes
2016-04-30T00:00:00Z
We had a very nice experience. Samuel's wife is extremely nice and accommodating. Thank You very much for hosting us!
Marlena
2016-01-18T00:00:00Z
Sam and his wife are super nice and accommodating.
George
2016-06-13T00:00:00Z
Samuel and his family were great to stay with. Plenty of privacy and your own bathroom. Beautiful home
William
2016-06-10T00:00:00Z
Samuel and his family were very welcoming and friendly. The room, bed, and bathroom were clean, comfortable, and plenty large enough. The WIFI connection is very good. No TV in the room, but that didn't bother me at all. The home is very nice, and in a very nice neighborhood. The location is a short walk from downtown Tenafly. There are very frequent buses to Port Authority and Times Square in NYC. The express buses ((PHONE NUMBER HIDDEN)X) take only about 25 minutes to NYC. About an hour for the slower bus 166. I would stay here again. Hotels in the area and NYC are very expensive, and this is a great alternative.
Ernest
2016-03-31T00:00:00Z
Samuel was very accommodating and welcoming, though we checked in late Samuel and his Wife welcomed us with happy face. Room was very clean, spacious. One cannot expect better host and room at this price. Best AirBNB experience so far.
nihal
2016-01-01T00:00:00Z
Room Type
Private room
---
Property Type
House
---
Accommodates
2
---
Bedrooms
Tenafly, NJ, United States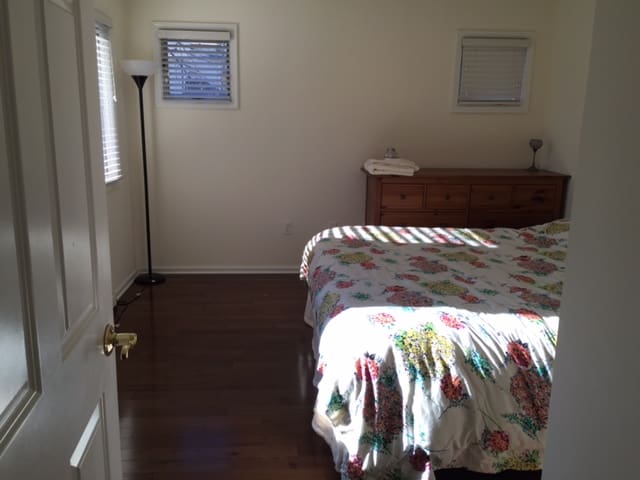 Absolutely Huge Basement apartment over 2,300 sq feet of space in Huge House in upscale area. Own entrance. Very private. Bus stop is right in front of house. 17-23 minutes (express) to Manhattan. This unit has TV, fridge, microwave, toaster, mini oven and a crockpot, coffeemaker, hairdryer, iron. 12 min walk cedar lane. And walking distance to Marriott hotel conventions Thankyou
This house is in a beautiful green neighborhood with a beatiful back yard with a huge gas barbacue and patio to hangout It's close to cedar lane which is full of beautiful restaurants markets and a very friendly Irish pub It's also very close to the Marriott hotel that holds constant conventions
We stayed one week, the apartment is clean and comfortable. The area quiet and very nice. Pamela is a great hosted, friendly and helpful all the time.
Victor
2016-08-19T00:00:00Z
Pamela had the place ready when we arrived. She greeted us with information, including a map, about how to get around in Teaneck and in New York. She made recommendations for restaurants. The place exactly as pictured. There was enough space so that everybody felt more than comfortable. You could not beat the fact that the bus stop to New York is right there in front!
Colina
2016-08-05T00:00:00Z
Pamela is a wonderful host and came to meet us when we arrived (past 10 pm). The apartment was clean and very comfortable for our party of seven. My only disappointment was that there is no washer/dryer and that can be a setback if travelling with kids (we have three). Either way, we loved the apartment and neighborhood and would stay again. Thank you Pam!!!
Rebecca
2016-08-10T00:00:00Z
Nice clean place and best service by host Pamela. Together with uber and nj express bus this place is a perfect match exploring NYC. Also a pluss for high speed WiFi when traveling with teenage daughters.
Morten
2016-10-14T00:00:00Z
The stay was fantastic. Pamela was very helpful and she helped us to plan better.
Niteshwar
2016-09-07T00:00:00Z
This rental has a nice, spacious living area and kitchen/dining. Great table for eating and playing cards. One bedroom is large, but others sleeping areas are best for family or children where privacy is not a big issue. Nice private entrance and easy parking. This was a perfect spot for us as we were visiting family who lived close by.
Maureen
2016-12-27T00:00:00Z
This was one of my very best Airbnb experiences. Pamela is a very welcoming host and she bent over backwards to accommodate us. The house is very spacious, comfortable and clean and was in a perfect location for us. It was a very memorable stay for us!
Elad
2016-09-18T00:00:00Z
Our host, Pamela was awesome. My mother, 2 sisters and myself wanted a really nice place to stay and we took a chance and selected Pamela's apartment. Our flights were all delayed and I mean delayed, so that meant we got to our destination after 2:00am and as late as 4:00am. Pamela was up and welcomed my Mom and sister, showed them around and was not at all rushed, even at that late hour. The apartment was as portrayed in the profile but the photos did not do the rooms justice. The space is beautifully laid out and everything was clean and just lovely. There was a great amount of space for the 4 of us and all the amenities were first class. The beds were comfortable and the linens fresh and clean. The kitchen had everything you could need. The apartment is only 21 minutes from downtown Manhattan/Time Square by bus which has a stop directly outside the house for the small cost of $4.50. I highly recommend Pamela's place if you want a beautiful location that really feels like home. Thanks for your hospitality Pamela and we'll come again.
Mel
2016-06-28T00:00:00Z
Room Type
Entire home/apt
---
Property Type
House
---
Accommodates
8
---
Bedrooms
Teaneck, NJ, United States
My place is close to nightlife, public transport, and parks. You'll love my place because My place is clean and spacious. The rooms are located on the first level with a full bath for guest and access to washer and dryer.
The host canceled this reservation 12 days before arrival. This is an automated posting.
Brian
2017-01-10T00:00:00Z
Allison's appartement was really neat and comfortable. She was very nice and agreable, and available if I needed it. The bus stop to Manhattan was close from the house and took about 30min. I had a great experience staying at her place.
Daniel
2016-10-15T00:00:00Z
Room Type
Private room
---
Property Type
House
---
Accommodates
1
---
Bedrooms
Teaneck, NJ, United States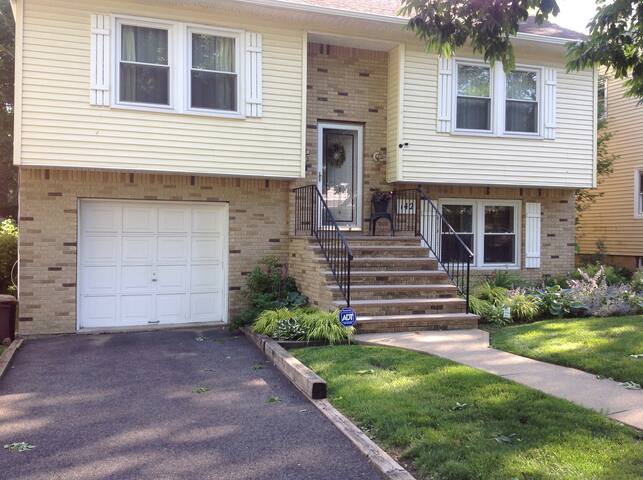 If you need a quiet, affordable accommodation right outside of NYC then look no further! We have a private, sub-level apt in the beautiful suburb of Teaneck, NJ close to everything! We are gracious hosts that can guide you to your dream vacation.
We live in a quiet suburban neighborhood 10 minutes away from NYC. Teaneck is the best of both worlds because you can explore, shop, wine & dine and party in the biggest city in the world, NYC! Then come home, relax, unwind and sleep in beautiful quiet Teaneck. This charming, private apartment is located in the sub-level of a single family suburban home with plenty of parking and a beautiful landscaped yard for summer BBQ's and winter bonfires. The apartment includes a living area with sofa, eating table or work desk, private bedroom with a full bed and walk-in-closet, private full bathroom with standing shower, access to washer & dryer, fridge, microwave and coffee pot and air mattress. The house is located 10mins/4.6 miles away from NYC George Washington Bridge/ Port Authority Bus Terminal. Also 17mins/8.6 miles away from MetLife Stadium, Meadowlands in East Rutherford, NJ and 11mins/5.3 miles from Westfield Garden State Plaza & Bergen Towne Center (Premium Outlets) in Paramus, NJ. Highlights: -Private single family house w/ private sub-level apartment -Private/ separate entrance -Off-street driveway parking -Landscaped front & rear yard -Outdoor BBQ, cooler, lounge furniture and fire pit. -Wifi internet service -42" LCD flat screen TV with premium HD cable package, Xbox & DVD -Dining table/ work desk -Board games & books -Bright natural light -Ikea furniture -Laundry facilities -Iron & Board -Fridge -Complimentary soap, shampoo, lotion, toothpaste, towels -Can accommodate up to 5 people. - Full size bed/ sofa & air mattress -Minutes from Manhattan, Queens, Bronx, Paramus, Hackensack, Jersey City, Hoboken, Westchester, Secaucus, East Rutherford
We live in a quiet suburban neighborhood 10 minutes away from NYC. Teaneck is the best of both worlds because you can explore, shop, wine & dine and party in the biggest city in the world, NYC! Then come home relax, unwind and sleep in beautiful quiet Teaneck. The house is located 10mins/4.6 miles away from NYC George Washington Bridge/ Port Authority Bus Terminal. We also live 17mins/8.6 miles away from MetLife Stadium, Meadowlands in East Rutherford, NJ and 11mins/5.3 miles from The Garden State Mall in Paramus, NJ. We also live three blocks away from the huge, beautiful Votee Park which has baseball, football and soccer fields, tennis and basketball courts, playgrounds, running tracks and exercise grounds.
Gaby and Kirk made us feel very welcome throughout the duration of our stay and were very accommodating. We would definitely stay here again.
Emilee
2016-06-29T00:00:00Z
The place is completely independent, clean, charming and cozy, just as it´s shown on the pictures. Has everything you need for a pleasant stay, in fact, had more than we expected, like coffee and tea, among other amenities, a good bed, clean towels and a good heating system. The neighborhood is quiet, has a good transportation system and there is some good restaurants and coffee shops around. Gaby and Kirk, were really attentive, always giving us tips and asking if we need something. We strongly recommend it, we loved the time spent there.
Andrés
2015-12-27T00:00:00Z
Gaby and Kirk were very kind and hospitable during our stay at their Teaneck home! Check in was very quick and easy, the room was just as advertised, and we even had a parking spot for our stay. They provided bottled water which was a huge bonus for us as it's one of the things we always forget! This was the perfect place for us to unwind after long days with wifi access and premium cable tv. We could not have imagined staying anywhere else. This place is highly recommended!
Lindsey
2016-10-01T00:00:00Z
In Gabi & Kirks place you have everything you need, it is cozy & cute. Shops & restaurants are close. It was great staying there!
Zdenka
2016-04-01T00:00:00Z
Gaby and Kirk are some of the best hosts we have ever encountered during our Airbnb endeavors. It says it's a private room, but it really is like a private apartment. You have your own bedroom, living room with fridge, microwave, coffee maker and your bathroom. On top of that you there is a private entrance. Place is clean, nicely decorated and Gaby and Kirk made us feel like home.
Voyta
2016-04-07T00:00:00Z
Amazing location & great host!! The stay was very comfortable & the house was very neat & clean. It was very thoughtful of Gaby & Kirk to provide water, coffee & other small items which made my stay very comfortable & I did not have to run around to arrange basic things.
Anubha
2016-12-31T00:00:00Z
We had to book a place last minute nearby to family and friends and Gabby & Kirk accommodated us with ease. We stepped out from the snow, inside the studio with an easy code they sent us upon arrival to a toasty warm room which was a great welcoming gift! It was a really cute place and had everything we needed for our 3 day stay. Gabby left a note with their numbers and the wifi code as well as water for our whole stay, fresh towels and linens, cutlery, microwave and toiletries. The bed was the most comfortable Airbnb bed so far! We could have stayed in it all morning. We never met our hosts but the communication was exceptional and would recommend their place for anyone looking to stay in the area. Thanks again guys and wish you well with your future endeavors!
Marianne
2017-02-01T00:00:00Z
Always enjoy staying with this wonderful family! They go the extra mile to make sure I have everything I need.
Richard
2016-11-26T00:00:00Z
Room Type
Entire home/apt
---
Property Type
Apartment
---
Accommodates
4
---
Bedrooms
Teaneck, NJ, United States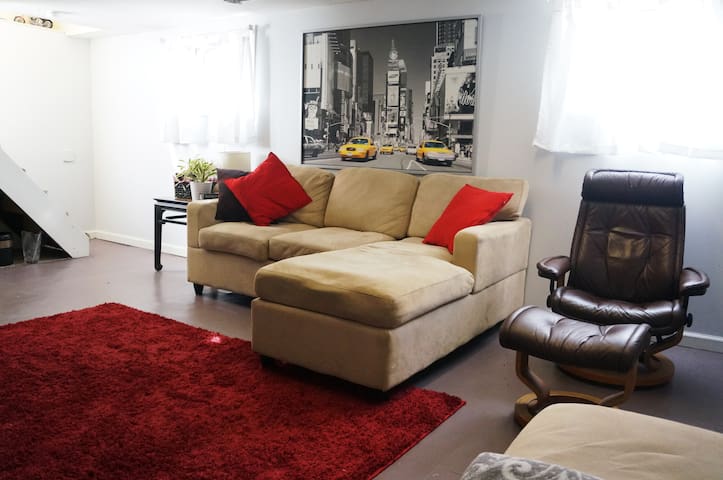 •2 Queen bedrooms on 2nd floor, + 2 twin beds if needed •1 private bathroom (shared by both rooms) •The entire 2nd floor for guests only •Each room has own microwave, CABLE TV, toaster oven, mini refrigerator • FREE WIFI. -- THIS IS NOT AN APARTMENT. There is no kitchen.
This space is on the second floor inside a cape style house. The host lives in the same home on the ground level. • The entire second floor is for guests only. •It consists of 2 large bedrooms- each room has a Queen size bed. An additional twin bed per room is available upon request. • there is a full bathroom with shower (no tub) located in the hallway between both bedrooms. • Free WIFI included • Each bedroom has its own CABLE TV, microwave, mini refrigerator and toaster oven. • Washer and Dryer are in the basement. Host will do your laundry free of charge if you are here at least 5 days. Guests do not have access to the basement. • Separate entrance for guests. Front door opens into the living room and from there you will go straight upstairs to the second floor. (The host uses the side entrance which leads into the kitchen.) • The Living room is off limits for guests . Please kindly remain in the rooms. Thank you. • Kitchen available upon request and is on ground floor, shared by host if needed.
Neighborhood is quiet with New Jersey's largest private university (Fairleigh Dickinson University) 1 block away. Suburban feel. There are several shopping malls 15 minutes away by bus. There are also local shops, restaurants including Chinese and Italian cuisine, a 24 hour CVS, International House of Pancakes, Kentucky Fried Chicken and boutiques a short 2 blocks walking distance away. Walk 10-15 minutes to Target, McDonald's and Burger King.
Room Type
Entire home/apt
---
Property Type
House
---
Accommodates
6
---
Bedrooms
Teaneck, NJ, United States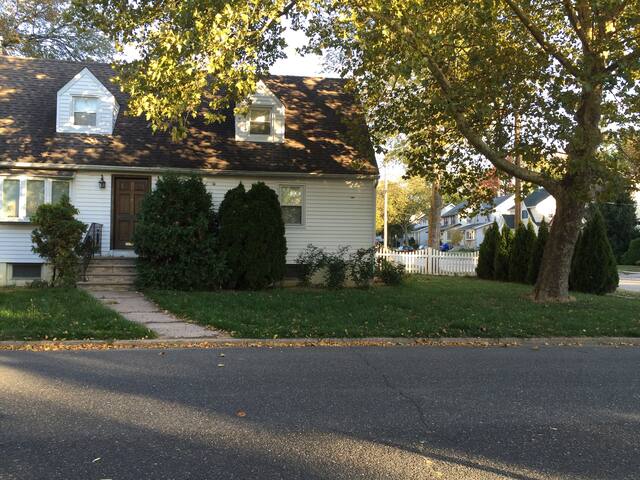 My place is close to Holy Name Hospital , Fairleigh Dickinson University . You'll love my place because of This is a cost family home close to restaurants and dining and public transport. Located 15 mins from downtown NYC in public transportation. You'll love my place because of the ambiance, the outdoors space, the neighborhood, and the comfy bed. My place is good for solo adventurers and business travelers. I will provide with continental breakfast and lots of smiles:)
Room Type
Private room
---
Property Type
House
---
Accommodates
1
---
Bedrooms
Teaneck, NJ, United States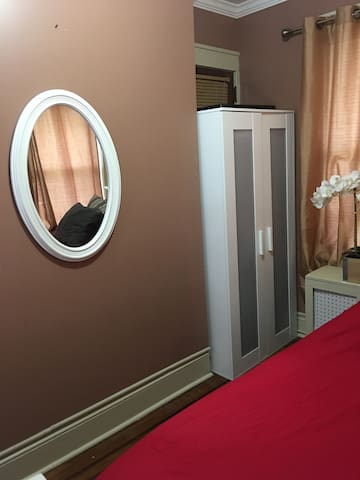 Room in a house.
Room Type
Private room
---
Property Type
House
---
Accommodates
1
---
Bedrooms
Teaneck, NJ, United States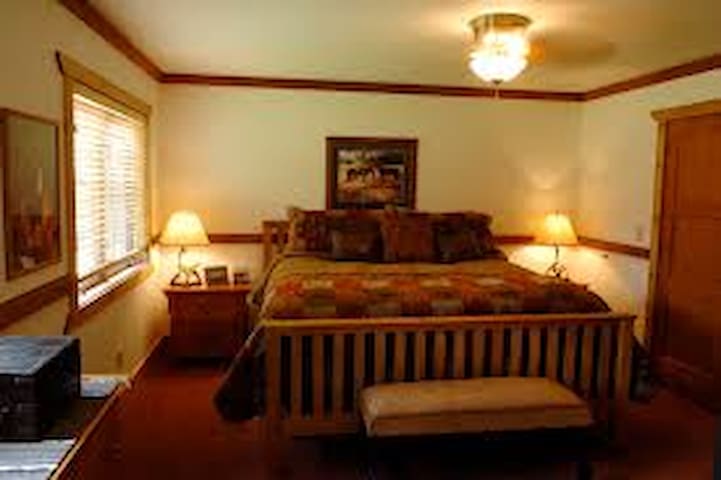 My place is close to Holy Name Hospital, F.DU,Hackensack Medical Center Hospital,Englewood Hospital, Voltee Park, NJ Transit bus to and New York City ,New Jersey and city center, parks, restaurants and dining. Two Malls one of which is the famous Garden State Mall .You'll love my place because of the comfy bed, the kitchen, multiple areas to relax ,the diverse community the nonsmoking environment the coziness. My place is good for solo medical professionals
This is s large front room with great view to the front garden , lots of closet space . Verizon Fios internet with HBO. Small fridge,Iron and iron board .Bamboo pillows nice white towels and a great gift for your comfort Filtered blinds with drapery for better daytime sleep.
Walking distance from a great park. Large variety of restaurants, shopping malls and easy public transportation for New York City or New Jersey. Walking distance from car rental service . Approximately 30 minutes from Newark airport. Great suburb ,quiet yet close to the city for your fun and adventure days.Rich cultural mix catering to all people. Multiple house of worship for all faiths.
Perfect!
Beau
2017-03-13T00:00:00Z
Very comfortable place and warm host. Quiet and safe neighborhood. Convenient street parking. Dorret goes out of her way to give her guests a memorable stay. Thank you!
Lois
2017-02-03T00:00:00Z
My experience staying here was great. It was 8-10 mins from GWB, 7 mins away from North Paramus (route 17), 15 mins away from Hackensack during rush hour (about 8mins without traffic). There is also a Walmart, coffee shop, and gas stations nearby (if you drive a lot like I do). Dorret will take good care of you. Her home is newly renovated. Her house is beautiful, clean, and smells amazing! If Dorret is not available (which was never the case), her son Andrew was available. Dorret is thoughtful, but mindful to give you privacy; I didn't run into her through most of my stay just because our schedules did not overlap. Dorret's home is perfect for medical students rotating nearby or for couples visiting NY/NJ for a weekend. Dorret's house is a home away from home & it located in a family friendly/ safe neighborhood.
Saba
2016-11-26T00:00:00Z
Very well organized, extremely hospitable host. Enjoyed the stay
Madhu
2017-01-22T00:00:00Z
My stay was just AMAZING!!! Dorret's home is beautiful, cozy, a wonderful place to come back to every night, and she is simply an angel of a host, super-friendly, the most positive energy, providing everything needed to relax or be productive - wireless internet, tv, room fridge, comfortable bed, plenty of closet space. The location is very convenient: a few minutes walk from restaurants, there was a nice park and bus stop on the corner. By car it's just 5 minute to the malls in Paramus and about 20 minutes to midtown Manhattan. I couldn't recommend more strongly if you need to be in the northern suburbs or near Manhattan.
Anthony
2016-12-30T00:00:00Z
Room Type
Private room
---
Property Type
House
---
Accommodates
1
---
Bedrooms
Teaneck, NJ, United States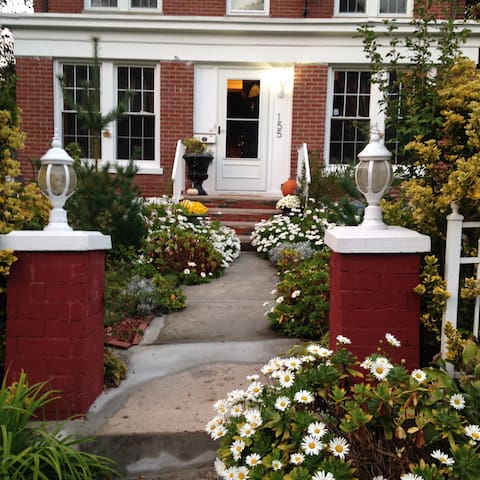 Lovely SHARED room in charming Cape Code style home in Teaneck, NJ only 20-30 minutes from Manhattan. Lovely furnishings, hardwood floors and central air and heat. All amenities provided. Come and enjoy all the comforts of home!
My stay in Teaneck was excellent. The house was beautiful and comfortable, and J was an excellent host. The price was perfect and being located so close to NYC makes this a great spot. I would highly recommend staying there.
Zac
2015-08-03T00:00:00Z
J was very welcoming before via email and immediately on arrival in person. He was completely thorough and thoughtful as to the location and function of house and room amenities. He went out of his way to provide everything that i needed for a comfortable stay.
Patrick
2015-09-20T00:00:00Z
Made sure all bedding, towels, & even the lighting were set up right!
Patrick
2015-09-30T00:00:00Z
All great with J and his place. Booked with very short notice and J went out of his way to accomodate us.
Chris
2016-08-04T00:00:00Z
I enjoyed my stay at J house a lot and he allowed me to feel at home the first hours by inviting me for home made burgers. The neighbourhood is quite and save and travelling to Teaneck is not that far from Manhattan. Would recommend the room it to other people coming to New York.
Rami
2015-07-29T00:00:00Z
J made sure i was setup right, including getting a privacy curtain to go over the glass panes in the door to my room!
Patrick
2015-09-25T00:00:00Z
So this was by far the worst trip ever. For one, there is a train that goes by every three hour and blows its whistle from the station. Hence you better not be a light sleeper, otherwise you'll never sleep. You have to move your car before 10am or you will get a ticket. He never wanted to put the heat on, the only time I would warm up was by taking extra hot shower repeatedly throughout the day. He constantly wanted to know exactly when I would be home or if I was coming back in as if I had a curfew. Lastly someone flatted all of my tires in front of his house. I left early and he didn't want to give me a refund.said I needed to give him my original police report and my paperwork from my new hotel for him to consider. And I never got that refunded anyway. If I had to guess about the crim done to my property it would be aimed towards one of the different woman he had every night. The only good thing would be the house is exactly how it looks in the picture.#PRICELESS#
lovell
2015-12-07T00:00:00Z
J was great! He took the time to welcome me and walk me through his home showing me where things were. His home was very comfortable and the location is beautiful! Good neighborhood with a short drive to NYC. Would definitely recommend.
Tristan
2017-02-19T00:00:00Z
Room Type
Shared room
---
Property Type
House
---
Accommodates
1
---
Bedrooms
Teaneck, NJ, United States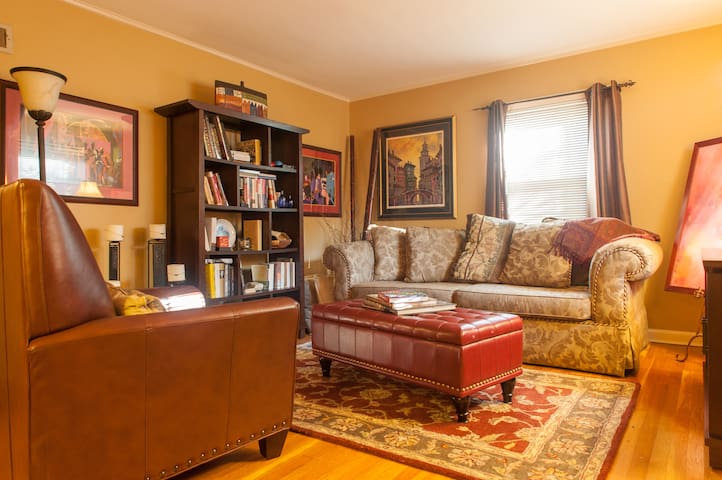 * Gorgeous One Bedrooms Spacious Apartment with balcony * 5 min to George Washington Bridge * 25 min to Midtown Manhattan by bus * Kitchenette Equipped with All Basic Necessities * Cable TV & Wireless Internet * Free Parking * All You Need for a Business Trip or Vacation With Kids Exclusive park-like secluded location minutes from Manhattan. Great apartment in a private, new house on a dead end street. Proffessionally decorated, fully furnished with the smallest details in mind. The apartment is overlooking wooded land, has wall to wall carpet in the bedroom and living room, hardwood floor in dining area and the kitchen. Gorgeous one bedroom 750 sq ft / 70 m2 apartment: - On a quiet dead end street, free and safe on-street parking - On the 2nd floor of a residential house 24/7 security and management - Everything new, meticulously clean, in excellent condition Great Location: - 15 minutes drive to Midtown Manhattan - One block to 3 major bus lines to New York (less than 5 min walk) - 25 minutes to Manhattan by bus (Port Authority bus terminal, 42nd Street & 9th Avenue) - Walking distance to deli/supermarket, restaurants, coffee shops, bakery, laundry/dry-cleaner - Nearby 18 holes golf course and equestrian center - Nearby county park, jogging trails, tennis courts, pool/ spa/ fitness center - Holy Name Hospital 0.03 miles - Fairleigh Dickinson University 2.7 miles Amenities: - Wireless Internet, Cable TV with 32" TV - All utilities included - Southern exposure spacious balcony - Kids friendly /large safe backyard with swings and basketball hoop; board games, baby play pan, baby high chair. Memory Foam mattress topper for the safabed available upon request. Special Offers: - Airport pick up/ drop off from/ to JFK $ 120 flat rate - Airport pick up/ drop off from/ to La Guardia $ 120 flat rate - Airport pick up/ drop off from/ to Newark, NJ $ 95 flat rate - Drop off or pick up from Manhattan (Port Authority - 41St and *th Ave.) $ 45 flat rate up to 2 people $ 65 flat rate for a group of more than 2 people - A free ride to the local supermarket - Mountain bike rentals $ 10 p/day ( $ 30 p/week ) - Child care $ 8 per/hour - Laundry - $10 per load (wash, dry, fold) - New York guided tours available upon request Sleeping Accommodations: -One queen size bed (sleeps 2), -Couch - sofa bed (sleeps 2), Memory Foam mattress topper available upon request -Baby play pan available upon request. Dedicated hosts: Family with two lovely daughters (12 and 16) are ready to help you with any needs you might have to make your short term or extended stay as comfortable and worry-free as possible. A perfect place for family vacationing , the world traveler or corporate housing. Short Term Rental and Daily Stay available. Staying with us you'll be getting more than top quality accommodations, for sure you'll be looking forward to come back again and you'll be telling your friends what a great place you have found. References furnished by request.
We were return guests from 2015 and had a most comfortable stay once again this year. We were so close to the venue and within driving distance to all major stores and restaurants needed. We had everything we needed to feel at home and then some. Highly recommend to anyone looking for a home away from home
geri
2016-07-04T00:00:00Z
We had a great time staying at Silvia's appartment when visiting NYC for 5 days. The location is very safe and peaceful, which is nice when coming back from the rush of the city. The flat is great, entirely renovated and everything is very clean. Very like the pictures on the website. Our 3 kids slept in the living room on futon and air matresses, they enjoyed it. The room was very nice for us parents. The car can be let in front of the house for free at night and during the day. The road is a dead end so very quiet. A supermarket is 7 minutes by car. The connection to NYC is very easy by bus, which stops at 3 min by car or 12-15 minutes walk. Then the bus ride ($8.5 roundtrip per person, half price for children under 12) is about 25 min to downtown Manhattan, very convenient. Silvia and her husband were very nice and welcomed us very nicely although we arrived much later than expected. Hence we highly recommend this place!
Blaise
2012-12-31T00:00:00Z
My upstairs unit's living room was bright and cheery, with lots of sunlight from south-facing windows and balcony door. Bedroom, bath, and kitchen all had windows too. Cable TV, WiFi, kitchen with new stainless steel fridge, microwave, gas stove - all the comforts of home! Quiet residential location on a cul-de-sac. Perfection!
Michael
2017-02-27T00:00:00Z
Very clean and quite place to stay. Good for family with kids too. We (2 adults & 2 kids) stayed 3 weeks and was our first Airbnb. We had a good experience so far. The kitchen is totally equipped and the fridge is great. The only thing I would like to add is that at least one change of towels and bed sheets for long stay guests and a more comfortable bedsofa's mattress would be appreciated and an improvement to the apartment. Apart from this Silvia and her husband are great hosts. Thanks for everything. I recommend it and would stay here again.
Abnerly
2017-01-04T00:00:00Z
This is a great place to stay. Renovated appartment with a good style in a house with a great green backyard. All is set for short and long term stay. We stayed for 2.5 months with the whole family of 2 adults and 2 kids. Convinient transportation to New York via bus to Port Authority or Washington Hights. You can stay here and really relax after days in City. Hosts were just very helpful and kind. Thank you Silvia and George!
Vasiliy
2015-07-01T00:00:00Z
Silvia was a wonderful host. This apartment was clean. great colors and large. It had everything I needed to feel comfortable. I look forward to booking again with Silvia next year.
Ben
2014-07-07T00:00:00Z
This apartment was a haven for us. I was surprised and happy with how big it is, and well furnished. Sylvia was delightful and helpful. The upstairs apartment is private and the internet connection was pretty solid. We stayed for a month and a half in winter to see doctors in Hackensack and New York. The location is perfect. It's close to everything while being far enough away to feel like a little oasis from the chaos of New York.
Jennifer
2016-02-22T00:00:00Z
At the home of Sylvia our family stopped a second time. This year we stayed in her new apartment. The apartments are very clean and beautiful. Sylvia is very welcoming and responsive host. Comfortable accommodation if you are traveling by car. Our family would recommend staying at the Sylvia.
Svetlana
2013-07-02T00:00:00Z
Room Type
Entire home/apt
---
Property Type
Apartment
---
Accommodates
5
---
Bedrooms
Teaneck, NJ, United States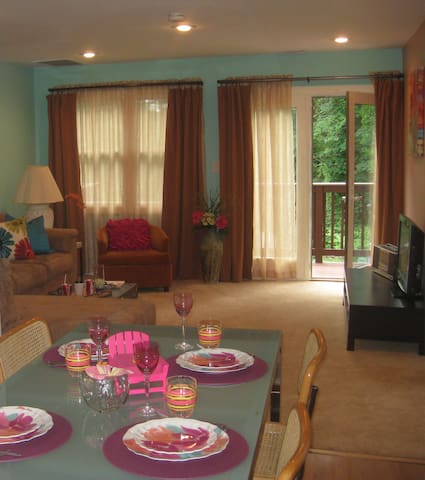 Tenafly - Airbnb
:
Average

4.66

out of

5

stars from

155

guest reviews
Enter dates to see the total trip price including additional fees (but excluding any taxes).